I like LinkedIn.
I like that is mostly about Business. I like that there are people working there; getting things done. I like that there are so many entrepreneurs there striving to build something special for their customers, their employees and their families; putting food on their tables. Sure, many of them will fail--repeatedly, only to try, try again. But the ones that succeed, oh my!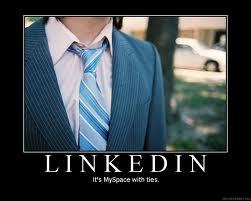 Yes, I like LinkedIn (LI) for all these reasons but I also like it because of the facts I don't really like Facebook and Twitter for the converse reason: there's nothing evident being accomplished in those social networks.
Now whether you're a full-on Capitalist, Socialist or outright Communist; an anti-Globalization operative or Occupy anarchist, let's agree on one thing right here, right now: Business allows people to do things, use products and services; and make money to live. No business equals no society, no families and no happy human beings. It's that simple.
So if you're like me, you are absolutely devoted to the pure idea of Business & Entrepreneurship and recognize that generally speaking, for everything you sincerely put into entrepreneurship, something good comes out--like Newton's Laws of Motion.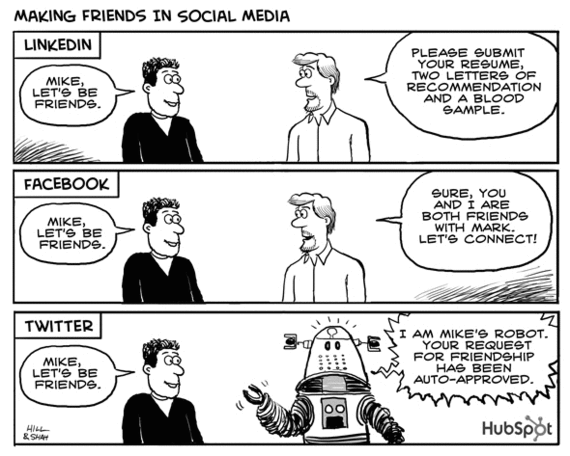 In the Tech Sector, the concept of the 'first-mover advantage' is worshiped and lionized. When everyone was so busy posting, 'liking' and Tweeting mindlessly, LinkedIn and its founder were head-down, busily building a first-mover in Social Networking for Business. They own this niche.
I also strongly believe that, as the old Sicilian proverb so accurately states, "The fish stinks from the head down." To me this means that any terrible organization, necessarily has a terrible founder/leader. And, visa versa that any great business has a great leader: Edison at GE; Watson at IBM; Ford at Ford Motor Car and so on.
And so, it is in that context that we look at the progenitor of LinkedIn, Reid Hoffman. I like Hoffman a lot. Hoffman saw the opportunity to do something completely different in the social network space.
Superbly well-educated, thoroughly experienced and always looking for the next big thing, Hoffman is no slouch.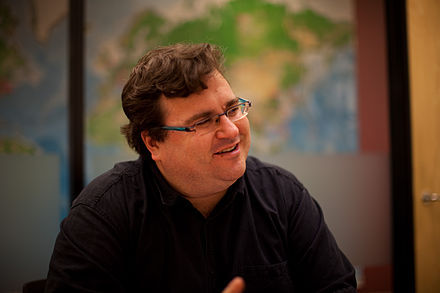 Growing up in the Bay Area, Hoffman studied at Stanford where he earned a Bachelor's of Science degree in Symbolic Systems and Cognitive Science (are those specific enough topics for you?). He won numerous awards and scholarships at Stanford, then moved on to study and obtain his MA in Philosophy at Oxford University. Then, Hoffman might philosophically ponder symbolic systems.
"When I graduated from Stanford my plan was to become a professor and public intellectual," Hoffman has said. "That is not about quoting Kant. It's about holding up a lens to society and asking 'who are we?' and 'who should we be, as individuals and a society?' But I realized academics write books that 50 or 60 people read and I wanted more impact."
Wisely I think, Hoffman chose the business path before him and in 1984 started at Apple. It would be a momentous first job.
Working on eWorld, Apple's early online social network attempt, Hoffman found himself right in the thick of things between Apple, Steve Case and the early beginnings of AOL. Funny how the two "walled gardens," the highly-proprietary, 'closed platform' organizations of Apple and AOL were so closely intertwined. But it must have been a frantic, frenetic and opportune time for Hoffman, who apparently even then was soaking up as much as he possibly could from the masters about this 'social network thing.'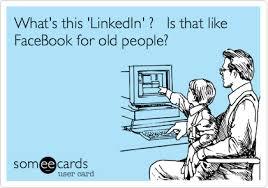 After eWorld was acquired by AOL in 1996, Reid had a short stint at Fujitsu and then took the plunge. He started SocialNet.com, his first company which 'tech-stars' such as Peter Thiel have said was way "ahead of its time."
Quietly acquired in early 2001, SocialNet was not such a stunning financial success but brought Hoffman the serious opportunity he must have craved: he was asked to become a "founding board-member" of PayPal. Combined with Apple, SocialNet and now his studying at the board-level knees' of the "PayPal Mafia" tech icons and billionaires, Theil, Elon Musk and Max Levchin, gave Hoffman an unquestionably priceless education in the nascent Internet and how to build a better network for people.
Though Hoffman has moved on; he's currently a Partner at Greylock Partners and presumably more involved in investing in tech companies than building them, Hoffman still sits on the board of directors of his LinkedIn as "Executive Chairman."
There's an important business value proposition to LinkedIn that it first brought to the forefront: helping LI' users get jobs. This activity, above all other activities, will determine the success or failure of LI over the long-term. If LinkedIn can improve upon the performance and then disintermediate the services of Monster.com and Yahoo! HotJobs out of existence--and I think they're ready to go--then LI can also begin to eliminate Facebook. But it won't be easy.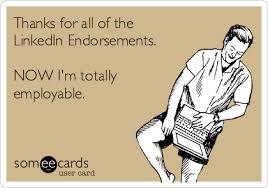 Facebook (FB) has seemingly ignored the necessity for them to figure out a way to turn their participants, productive. Until FB does this, it will continue to exist at the pleasure and whims of the fickle youth market. What LinkedIn apparently understands very well--that people no matter what age, above 18, need gainful employment instead of false 'friends,' 'likes,' and utterly unproductive gibberish.
LinkedIn has the upper-hand here. But it must execute swiftly and efficiently. It's done a fairly good job of offering career services thus far, but in order to really reign supreme and put the others out of the 'jobs' business entirely, it will have to be perceived as the reason people get jobs that without LI, they wouldn't have otherwise gotten. LinkedIn needs to help people get jobs directly and while inside LI; right now, I'm afraid that LI only stimulates people getting jobs which result from them hearing about them on LI but then, getting them very much outside of LinkedIn's environment.
So though LinkedIn has gone public and met a lot of its promised financial metrics, the jury's still out on its long-term success. Only time will tell now that Hoffman's not running the show. If LI continues to be a career-path enhancer and eliminates the traditional, early-days Internet job services, then it will be an enduring success.
Fail ... and it will drop off the radar screen into the 'Internet black-hole of obscurity' along with Webvan, Myspace and increasingly, Yahoo!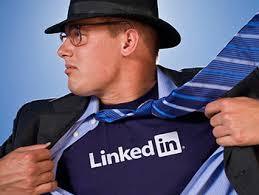 Even Clark Kent is on LinkedIn