 I remember thinking when hybrid, electronic, technology-oriented, almost Metal bands like Linkin Park came out, "Wow, now THAT'S interesting music." The incorporation of sampling of other music in their compositions reminded me of The Moody Blues' 'borrowing' of Bach and Muse's embedded appreciation of Rachmaninoff.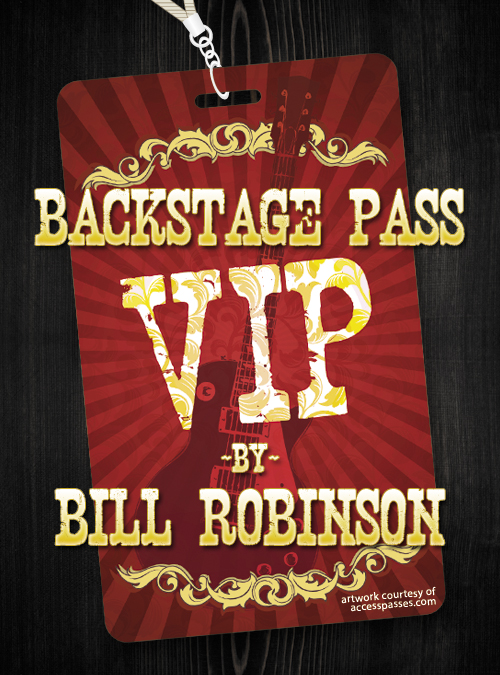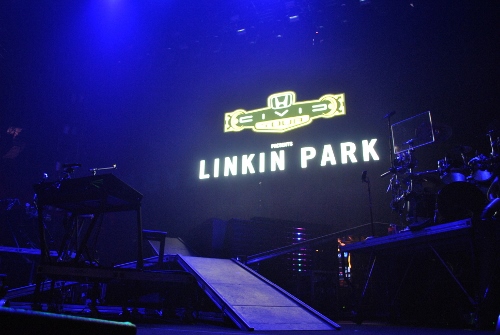 But fans of Linkin Park (LP) look and behave nothing like the powdered-wig set of Bach and Rachmaninoff... no, they don't. Although there's a good cross-section of older rockers and alternative aficionados, hard-corps (hard-core?) LP followers seem to be fiercely loyal, extremely patient and though there's the widespread presence of lots of tattoos and facial piercings, they are an educated group employed in professional careers of all sorts. (Chester Bennington, LP vocalist sports plenty of both and has trademark 'ear gauges.')
Though I sport none of the above and am not familiar with all of LP's songs, I can honestly say I like Linkin Park's music and have since I first heard "Breaking the Habit" from their monster-selling (800,000 copies in its first week alone) second effort, Meteora. Their first album, 2005's Hybrid Theory was certified Diamond; sold over 24 million copies globally; and was the best-selling album of the decade.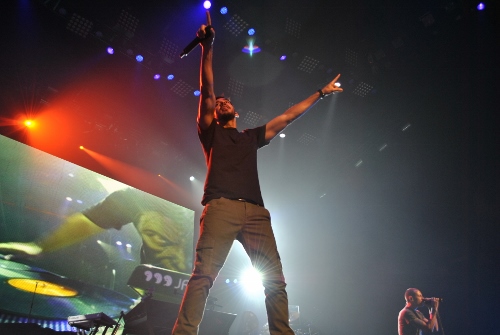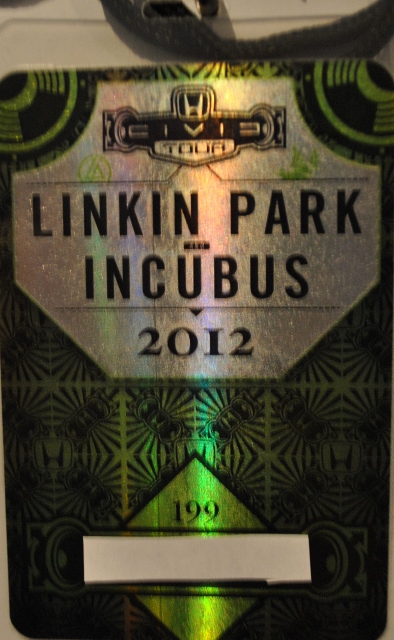 THE PERFORMERS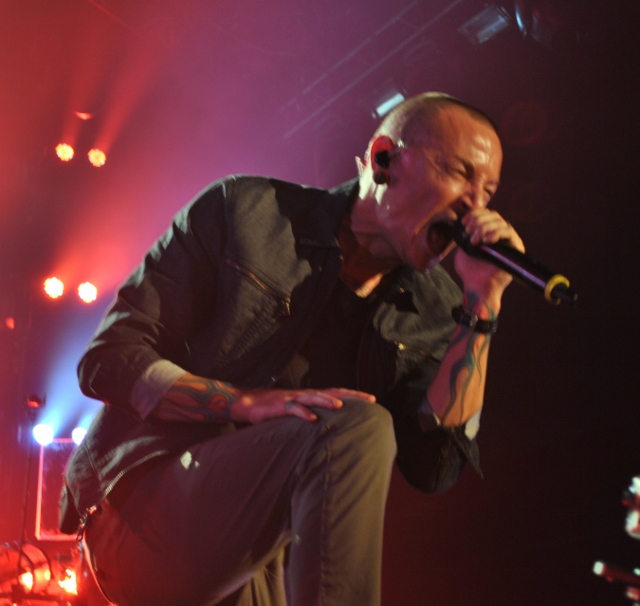 Chester in a common pose menacing the squashed fans upfront
Chester Bennington, Lead Vocals -- Chester Bennington had a perfectly dreadful childhood and adolescence. Without going too much into detail, let's just say there was abuse of all kinds at home beginning at age seven followed by years of bullying at school. What is truly remarkable -- and I want the word remarkable to sink in a bit ... is how Bennington triumphed in the end realizing incredible success. Good for him.
After his divorce from his first wife, Bennington married a former Playboy Bunny, perhaps every man's fantasy. So things tend to work out for Mr. Bennington at this point in his life.
Had Bennington not fortuitously moved from his native Phoenix to the LA area, to audition for a band then called "Xero," (where he met Shinoda, Delson and Bourdon) he would've never been in Linkin Park.
Bennington's health however, has been shaky. Several falls on tour have resulted in hospital stays and ill health made the recording of Meteora difficult. Bennington is also the only person I know unlucky enough to be bitten by a Brown Recluse spider whose bite can be lethal or cause a leg to be amputated should one be bitten on the ankle.
Bennington's trademark 'scream-singing' (what I would call it) is awesome when you're within 3 feet of him in the photo pit ... or anywhere else for that matter. Juxtaposed with Shinoda's rapping and the band's high-tech, throbbing bass sound, Bennington's voice contributes the core of Linkin Park's sound.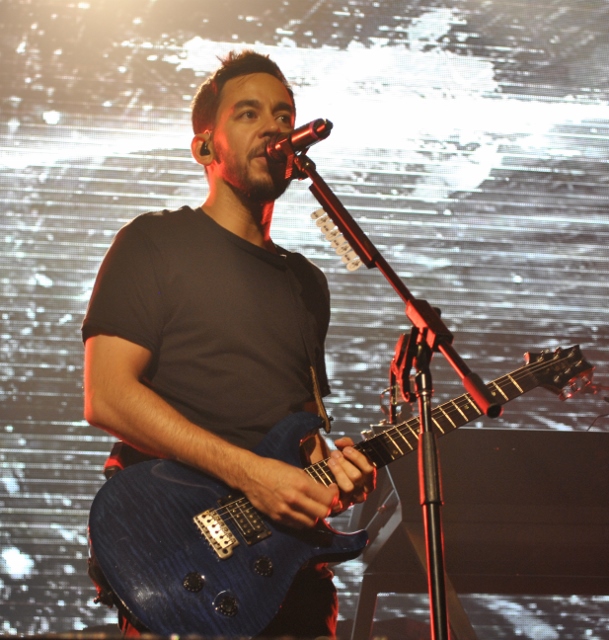 Mike Shinoda, Emcee, Vocals, Keyboards, Piano, Guitar -- This man is a very nice guy ... and smart too. Upon meeting Shinoda backstage, we immediately launched into a TechChat and started rapping heavily about all things technology.
Adding to Shinoda's intense technology interest is his vast creativity in things artistic. While studying Graphic Design & Illustration at the revered Art College Center of Design in Pasadena, he met Joe Hahn, LP 'turntablist' and the two proceeded to design most of LP's graphic art. It was after graduating early with a bachelor's degree in Illustration and a job as a graphic artist that Shinoda experienced the incredible rise and success of Linkin Park.
Shinoda, whose father is Japanese-American and mother is Russian-Hungarian, had the great good fortune to see Japan on LP tours and get to know and understand his father's culture; what a super experience that must've been for him. His mother's desire for him to start piano at age four was a prescient precursor for Linkin Park's sound and Shinoda's work on all manner of keys and synthesizers is crucial. Add Shinoda's baritone rap-style singing voice and you have a major foundational building block for this trailblazing band's style.
Though the addition of Bennington and his unique voice to Linkin Park ensured the band's success, it was Shinoda's founding sweat along with Delson and Bourdon that made the band possible at all. Shinoda continues this artistic and operational input to this day.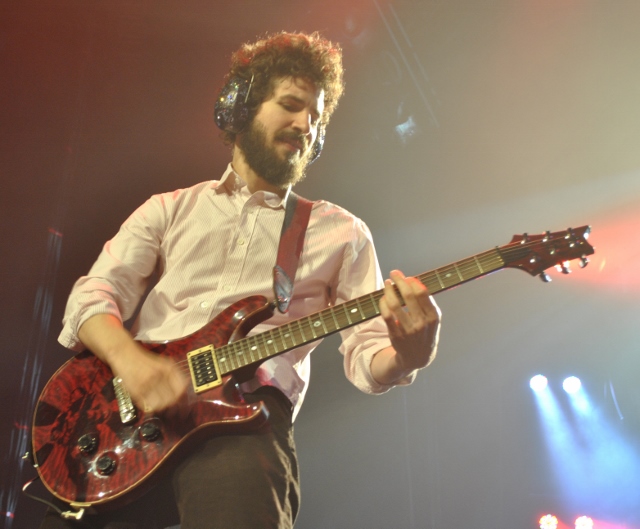 Brad Delson, Lead Guitar -- the LP guitarist who wears the funny sparkled headphones and seems to be in a different world is perhaps the most interesting character in the band. Brad Delson grew up with Mike Shinoda and attended Agoura High School with him. Studying for a B.A. in Communication Studies with a specialty in Business Administration at UCLA as a Regent Scholar, Delson is clearly no slouch mentally. In talking to him, it becomes immediately evident that Delson is a thinker. And a technology guy in addition to guitar player.
When Delson graduated from UCLA summa cum laude and decided not to head off to law school as he planned but concentrate on Linkin Park, I imagined the following scenario: Delson sitting in a big easy chair, palms up, moving up and down, saying, "Hmmm ... law school or Linkin Park ... law school or Linkin Park." (I should point out here, that in 1999 when Delson made this decision, Linkin Park's first album Hybrid Theory was not to be released until the next year and their rampant success was anything but ensured.)
There's a strong sense that Delson's childhood friendship with Mike Shinoda is the critical ingredient in this fantastically successful band. In sitting with them to talk about the band for this article, I felt that they still liked each other immensely and were very close; almost finishing each other's sentences like a married couple. It was this wonderful friendship which had Delson and Shinoda starting to write and record songs in Shinoda's makeshift bedroom studio while in high school. This one activity is most responsible for there being a Linkin Park today.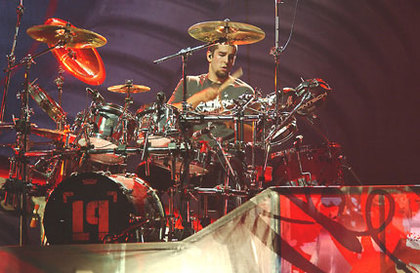 (Photo Credit: www.charitybuzz.com)
Rob Bourdon, Drums -- Rob Bourdon grew up in the LA area and first started playing in a band with Brad Delson. It was after he saw an Aerosmith concert that Bourdon started playing drums in the style of Joey Kramer. It has been said that Bourdon's mother had earlier dated Joey Kramer and that would've given the young man a clear vision to drumming for a rock band. Bourdon is very involved in social/environmental issues and sits on the board of American Forests.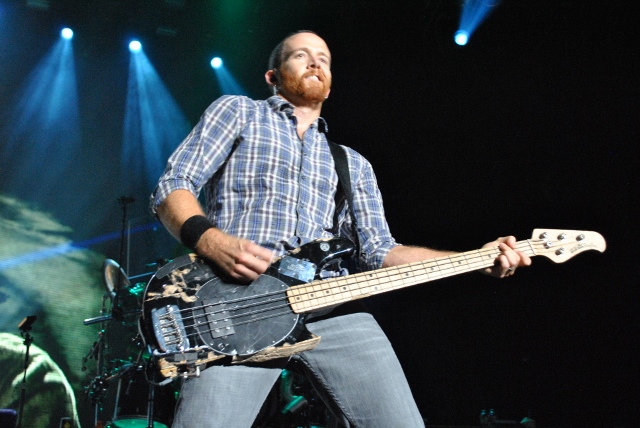 Dave "Phoenix" Farrell, Bass Guitar, Backing Vocals -- Dave Farrell was born in Massachusetts and like bandmate Bennington, had to move to LA to eventually connect with his soon-to-be Linkin Park bandmates. Like Bourdon, Farrell first connected with Brad Delsont, who was his roommate at UCLA after first being in a "Christian/Ska band." How unique; I don't think I've ever heard of such a musical combination.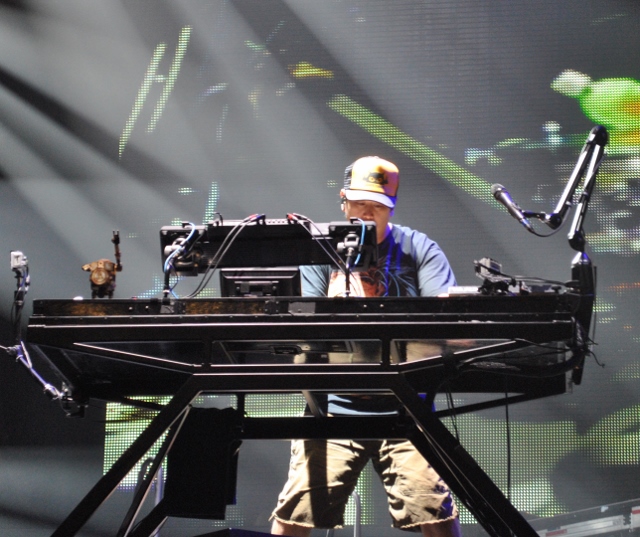 Joe Hahn, Turntables, Programming, Samples, Beats -- Yet another transplant in the Linkin Park family, Hahn was born in Dallas and had to migrate to LA to find his calling. Studying at the Art Center College of Design and meeting Mike Shinoda there was the pivotal bit of kismet. Hahn and Shinoda continue their artistic contributions to LP's graphic branding.
Hahn was the director of a number of LP's videos; contributed special effects work to TV's The X-Files; and was the first Korean-American to win a Grammy when Linkin Park won one in 2002.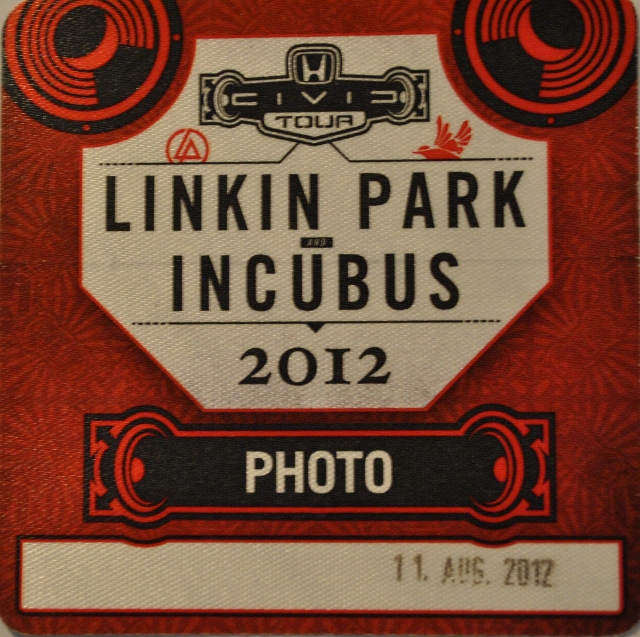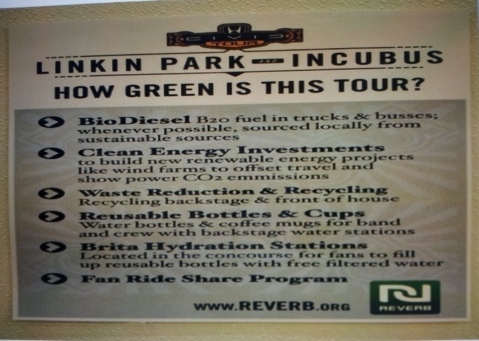 Linkin Park works hard to ensure environmental responsibility on their tours
Linkin Park was recently applauded by no less than The Wall Street Journal for planting more than one million trees to stem global warming. It is obvious that these smart, educated musicians truly care about our planet.
THE INSTRUMENTS
Sean Paden is Brad Delson's guitar tech. And a helluva nice guy. When he's not on a Linkin Park tour, Paden spends a lot of time working in his buddy's Nashville guitar shop, Southbound Custom and his real area of interest is making 'green guitars' for his company the Green Guitar Project. Not short on work or his own entrepreneurial endeavors, Paden also has a web site that makes effects pedals for guitar players, Roadiemade which eventually he intends to turn into an online "rent-a-roadie-for-a-day" site.
Paden, who worked for Axl Rose of Guns & Roses for more than five years and did a lot of custom guitar work for Ace Frehley of Kiss too, has a ton of great rock 'n roll road stories. I think he should write a book called "Confessions of a Rock 'N Roll Roadie" which would certainly be a best-seller.
Paden grew up in Texas; started working with bands on the LA Sunset Strip in the 90s; and has been working with Linkin Park for more than 10 years. He told me, "my every-show ritual is to grab some signature drumsticks and guitar picks and find some first-timers or kids to give them to." See, I told you he was a nice guy.
But back to Paden's Green Guitar Project (GGP) for a short sidebar anecdote: the way GGP got started is amazing. "A bunch of apprentice guitar makers and I were sitting around chatting and they were talking excitedly about what expensive, rare woods they would make their guitars out of and I had just had enough. I walked over to a dumpster and pulled out some discarded ply wood. I told them, 'We're going to build a great guitar out of this scrap wood and it'll sound just as good as one made from your irreplaceable rare woods.'" This is how Paden got the original idea of using materials that would be going into the landfill solving two problems at once: the landfill problem and the problem with formaldehyde that is used as a binding agent for plywood and causes all kinds of problems when plywood is put in a landfill. Now, Linkin Park is playing these guitars onstage.
(Some of Paden's LP tour photos can be seen on Instagram.)

Brad Delson's "Rory Gallagher" Legends Stratocaster
"This guitar is loaded with DiMarzio Humbucker pick-ups," Paden told me, "they help reduce that really annoying hum that can come during sound check."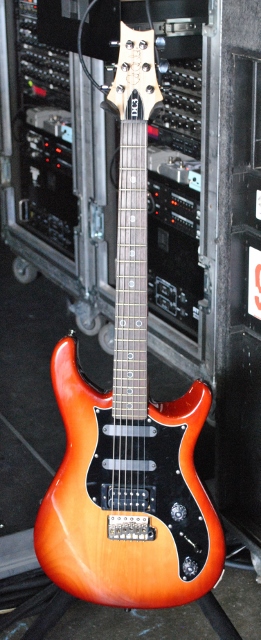 Delson's Paul Reed Smith DC-3
"I had two hours to modify this guitar before rehearsals began," Paden told me with a chuckle.

A Mexican-made Strat Delson uses

Delson's "Hybrid Theory" Paul Reed Smith used for recording as well as on tour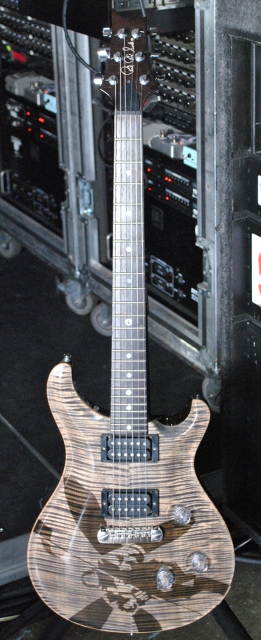 Delson's "Hybrid Theory" Paul Reed Smith used for "Somewhere I Belong"

A "Menace to Midnight" Paul Reed Smith guitar used on "Given Up"

One of Delson's original Paul Reed Smiths from the "Hybrid Theory" tour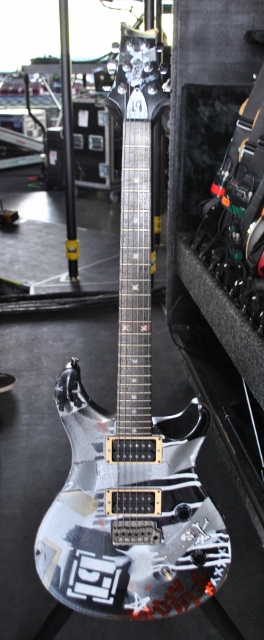 Mike Shinoda's self-modified "Somewhere I Belong" Paul Reed Smith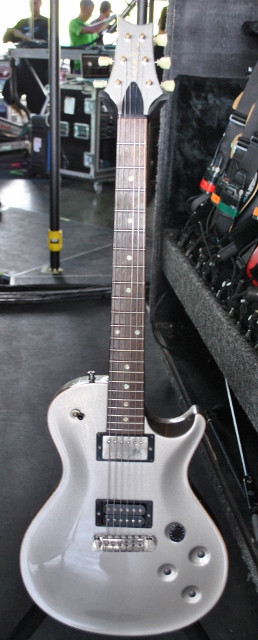 Shinoda's Paul Reed Smith
Paden said, "One of the last single-cutaways Paul Reed Smith made and used on 'Menace to Midnight' tour in 2007."

Mike Shinoda's 1986 Gibson SG Standard

Mike's 1968 reissue Custom Shop Stratocaster

One of Paden's Green Guitars that Mike Shinoda uses on "Lost on the Echo"
"Mike and his son painted this guitar," Paden recalled. "I had given Mike this 'green guitar' and he started playing it right in the studio.He took it home and when he brought it back his three-year old had helped him paint the back. It has a Baltic birch plywood neck and the fret-board is walnut made from scrap-wood a furniture maker gave me."

The signed artistic design of Mike's son, Otis Shinoda on the back

Chester's "Green Guitar" played on "Iridescent"
(For the true guitar geeks amongst my readers, Sean Paden recommends the "Guitars of Linkin Park" web site for more info than I could possibly give here.)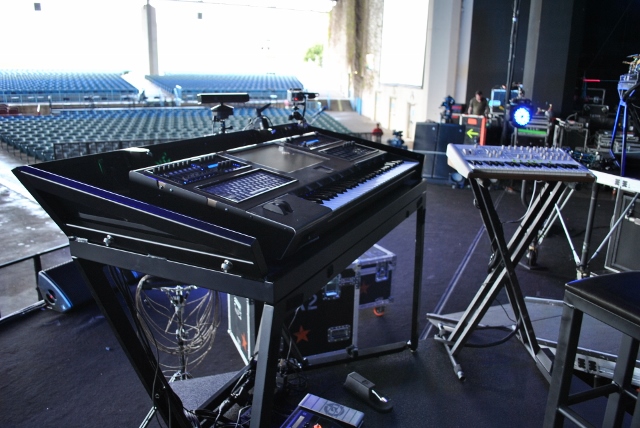 Mike Shinoda's high-tech keyboard perch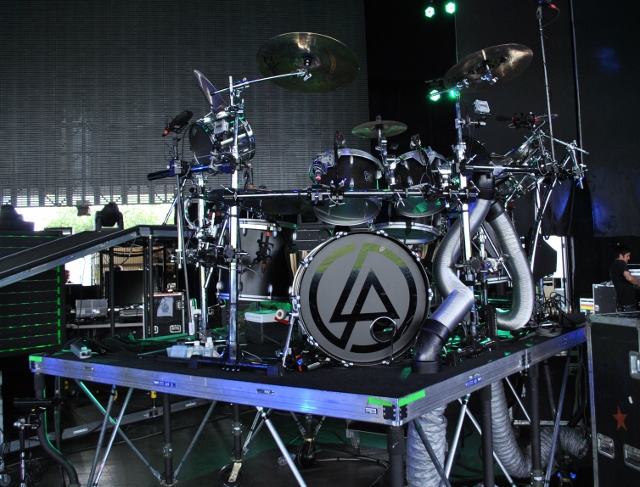 Rob Bourdon's Gretsch flat black drum kit ... killer!!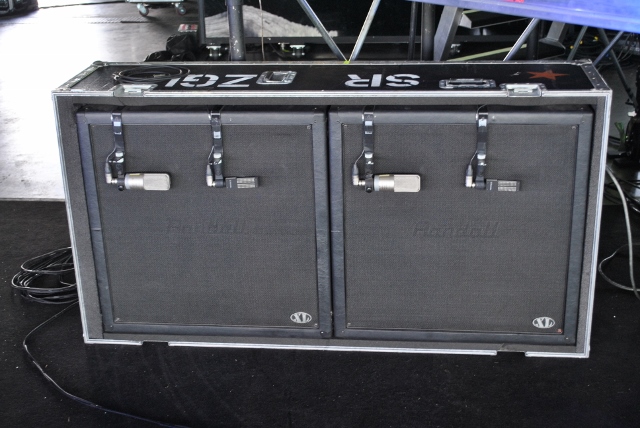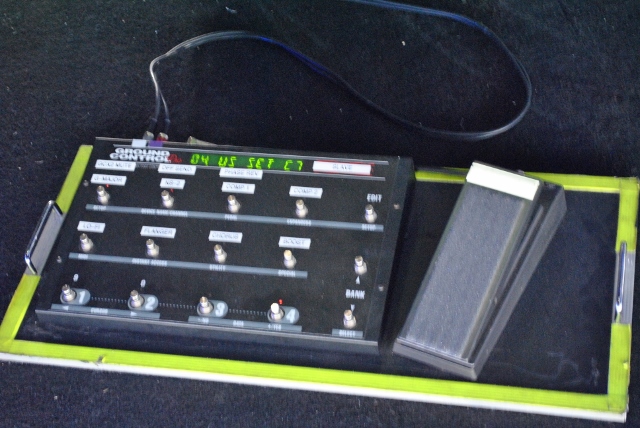 Brad Delson's effects pedals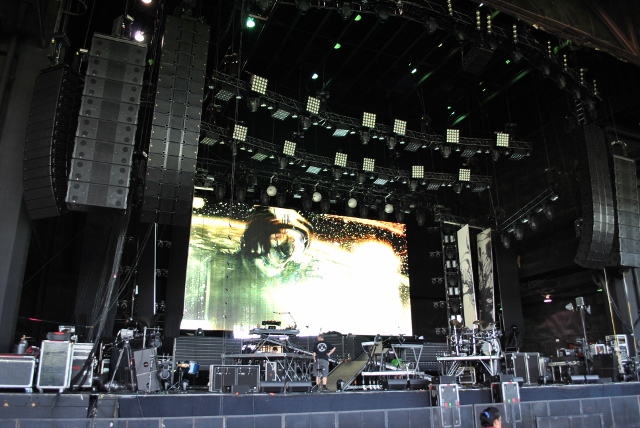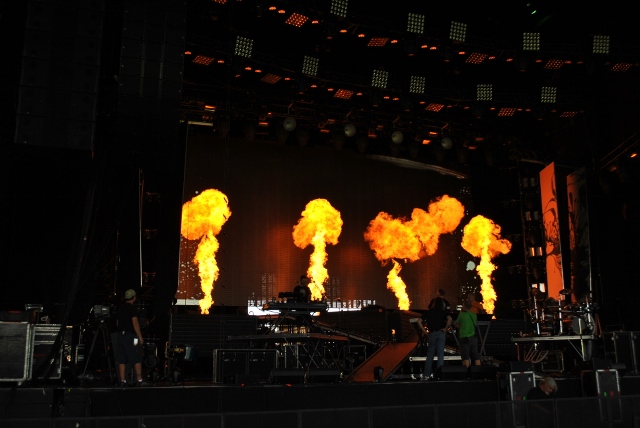 The pre-show pyro test. Just what I needed, more heat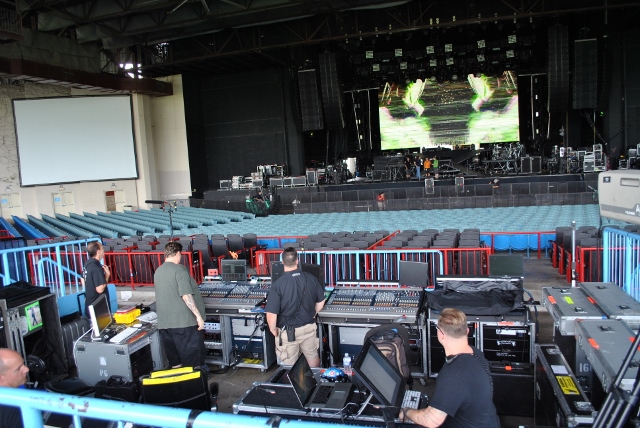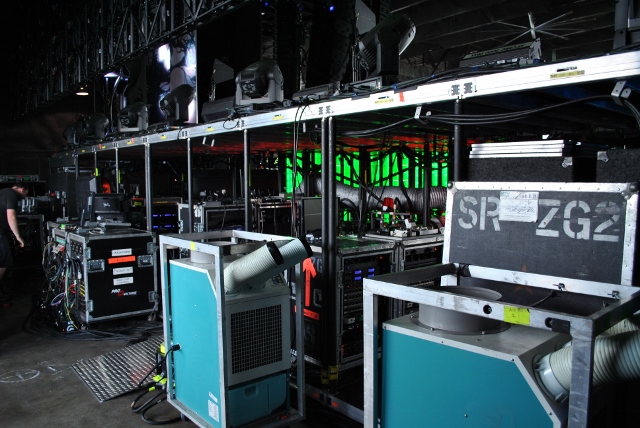 The underpinnings of LP's massive stage were impressive. The mobile air conditioners were cool too.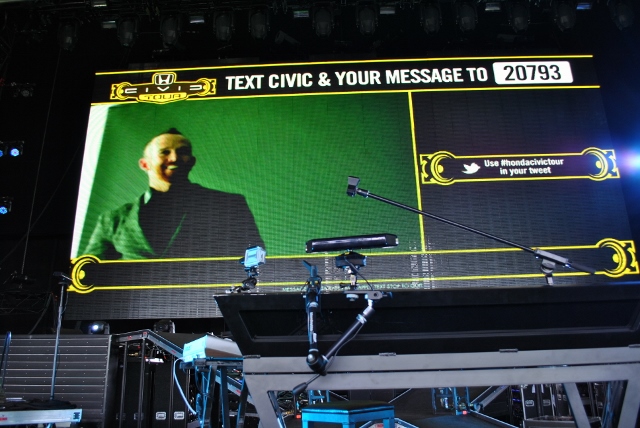 What's becoming more and more of a tour necessity: a huge screen showing tweets, texts and other content during the concert. Linkin Park is definitely one of the more switched-on, plugged-in bands.

THE VENUE
The Gexa Energy Pavilion in Dallas is your typical half outside/half inside amphitheater with an overhead covering for those upfront and a bowl-like hill where people sit on the grass and enjoy the show. The entire venue was packed, not just upfront which we've come to expect but also all the way back on the grass where there was a problem finding even a postage stamp sized patch to squeeze in much less place to spread out a blanket.
THE AUDIENCE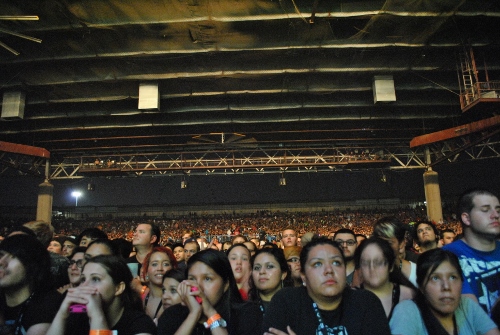 An example of what the boys in Linkin Park see every single night on tour
It was a sticky 95 degrees in Dallas that evening and the rowdy Linkin Park crowd looked mostly as if they might expire. But their energy level remained surprisingly high for their heroes' performance and they never let up all night long even for the opening acts MuteMath and Incubus.
As the opening sets built to a crescendo, so did the LP fans' collective metabolism. By the time LP came on, there was a tangible feeling of 'what's going to happen' and 'how good will they be tonight?' But these questions were soon answered by the band who did not disappoint the LP throngs.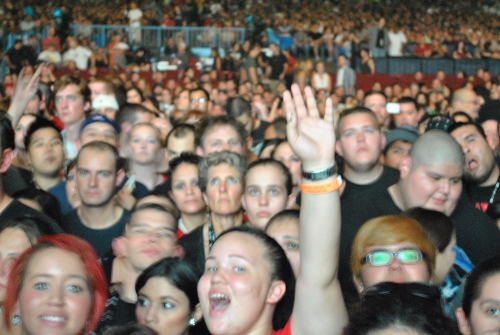 THE ARTIST COMMENTARY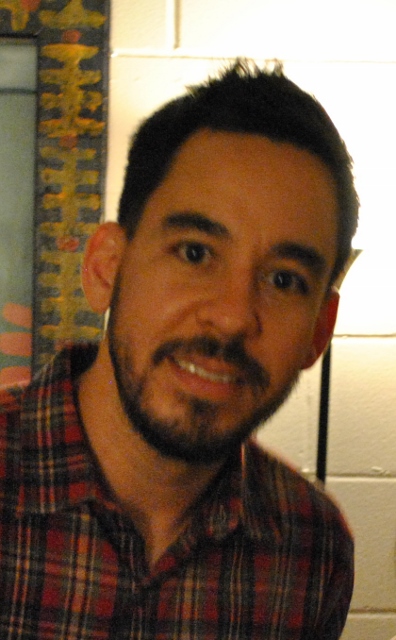 I asked Mike Shinoda how this LP tour was going and he told me, "One thing that makes this tour very special is that in all the years we've known Incubus -- and we've known them since high school (in Agoura Hills, Calif.), we haven't toured with them. So this is a really great experience for us. When I see Mike (from Incubus) backstage on this tour, we can talk about home."
"I like touring but like to keep a balance between touring and recording/writing. Songwriting is like a muscle, you want to exercise it and make sure it doesn't atrophy. We used to do what most bands do which is release a record and tour it until the cycle is over and then go back and write another record but for us it felt like when we went back home and hadn't written anything in a while it was almost like there was a soreness."
Shinoda and his LP bandmates have a sharp strategy of engaging their fan-base and keeping them engaged. For example, the band ran a contest among fans with the winner getting to contribute music to a Linkin Park album -- a great form of "crowdsourcing." "The band is always looking to push things on the technology side," Shinoda told me with extreme seriousness, "I mean, when we recorded with the kid in Poland who won, we never met him personally. We had the conversations and did all the recording over the Internet. We sent him some of the stem of our song -- like I give you pieces to a puzzle but you don't have the cover to the box, so you don't know what you're putting together. And out of thousands of submissions, we chose this kid's remix." The lucky winner's contribution can be heard in the Linkin Park song, "The Catalyst.
Could the Linkin Park sounds included in the new Dell/Open Labs/LP product StageLight and the Dell Linkin Park edition laptopsbe used as some kind of Linkin Park crowdsourcing contest tool where LP fans make their music using LP sounds and kick it back to the band for approval? "We absolutely intend to have more contests where bands can actively make music and submit it to the band for prizes."
THE SETLIST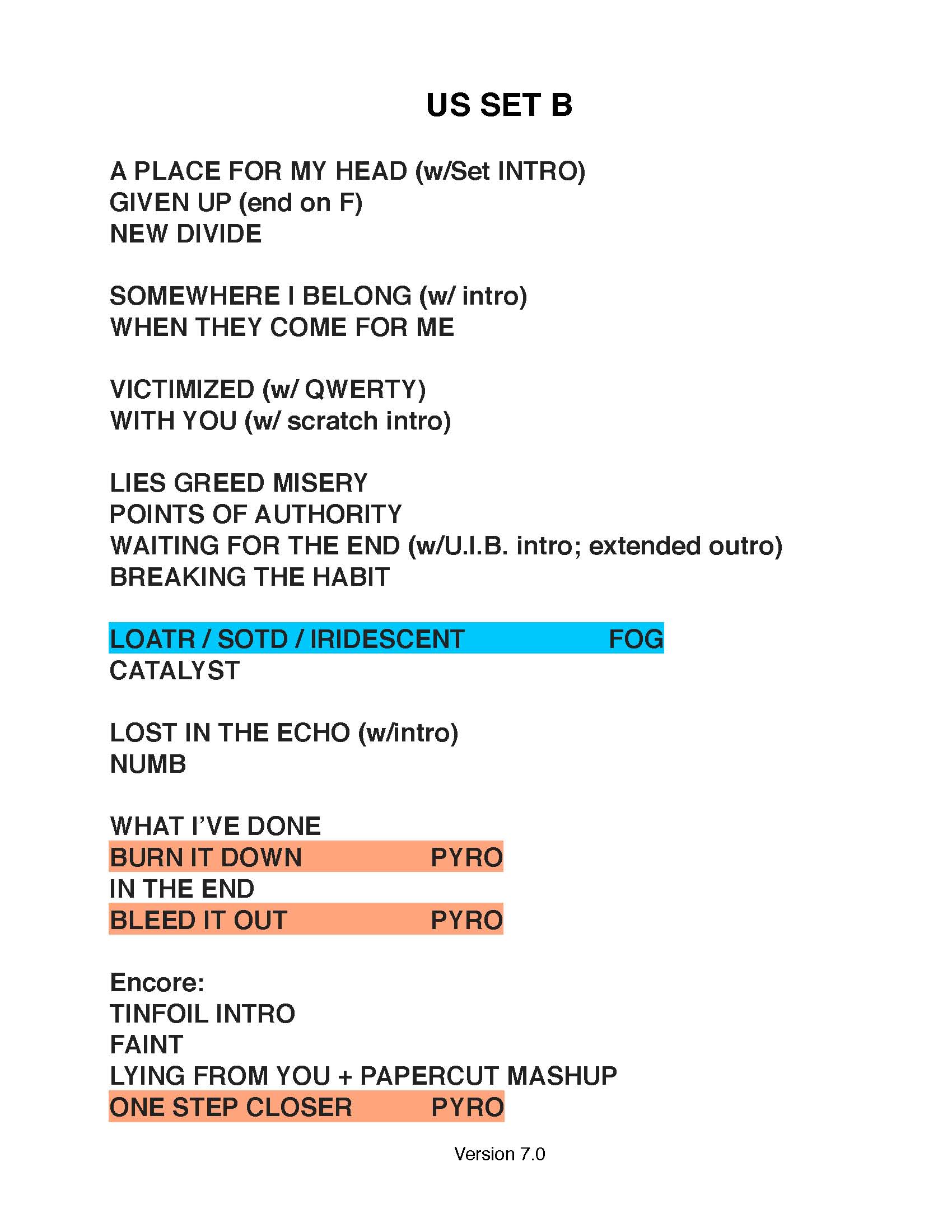 THE SHOW
This Linkin Park show was something else. I had never seen them live before. There was so much action exploding on the stage and it was so contagious to the crowd that I wondered how long it could continue. Well, it went on all night in the sweaty humidity and when I left, like most people I think, I was in terrible need of a shower.
As the house lights dimmed ... an eerie blue glow enveloped the stage ... and the crowd reacted with a tremendous roar.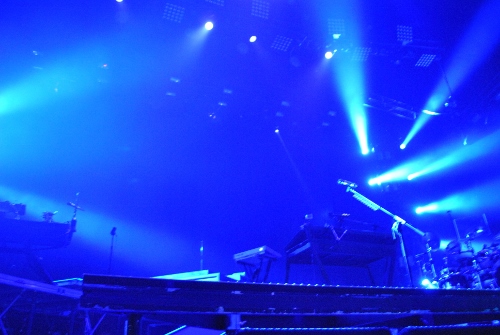 The band hit the stage with trademark aplomb with Chester immediately playing to the crowd and taking firm control.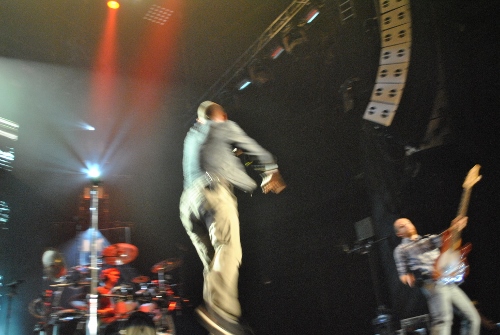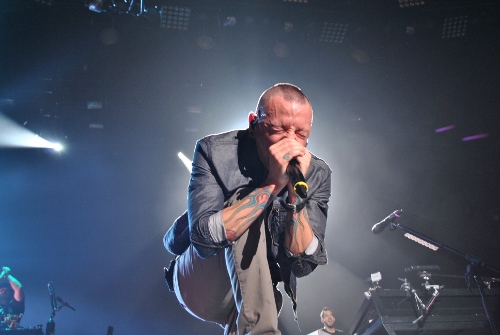 While Mike Shinoda alternated between his keyboards and guitar; playing both with muted but reckless abandon (if that's possible) while also breaking out with his trademark rap singing.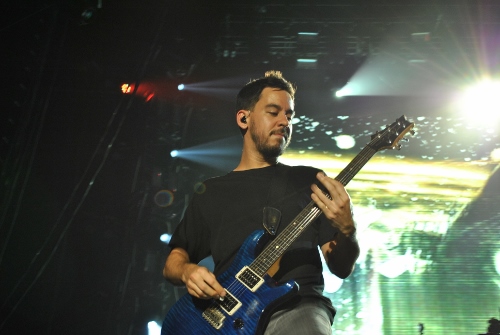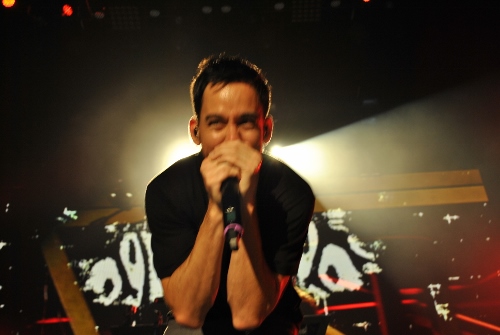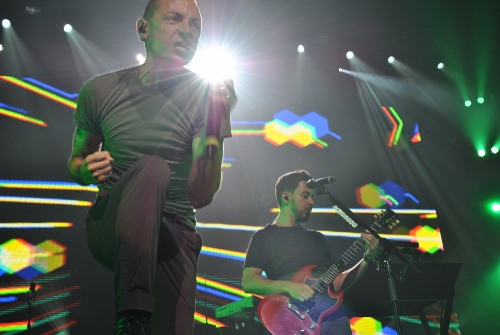 Chester and Mike are truly one of Rock's great performing tandems
Having already confessed to my ignorance of all things LP with the exception of my favorite songs like "Somewhere I Belong," "Breaking The Habit" and a few others, "Somewhere I Belong" came early in the LP set and it was magnificent. Even better than on the album -- which is a testament to LP's continuous striving to make their onstage show as synchronous as possible to the original studio recordings -- this song made my night.
As the show progressed, I became more familiar with the other LP repertory and particularly liked "Victimized," "Bleed It Out" and "Burn It Down." In particular, "New Divide" showed me a quite different aspect of Chester's voice.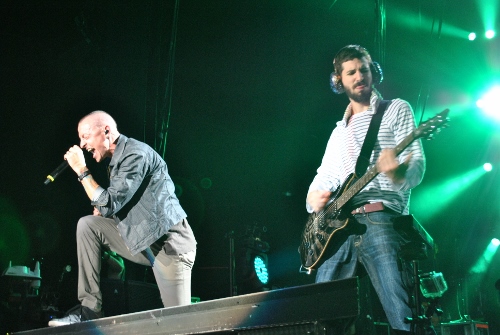 Brad and Chester in full swing
"Breaking the Habit" and "In the End" were performed with amazing energy and some additional high points for me. The crowd ratcheted up their energy when these two songs began (as they did with every LP song).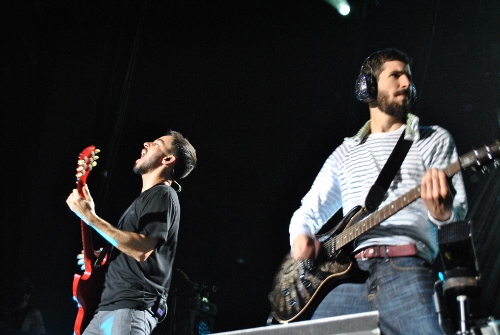 Shinoda and Delson ... two childhood friends still jamming together
The special effects added a tremendous amount to the performance which already incorporated the best in stage lighting and sound system.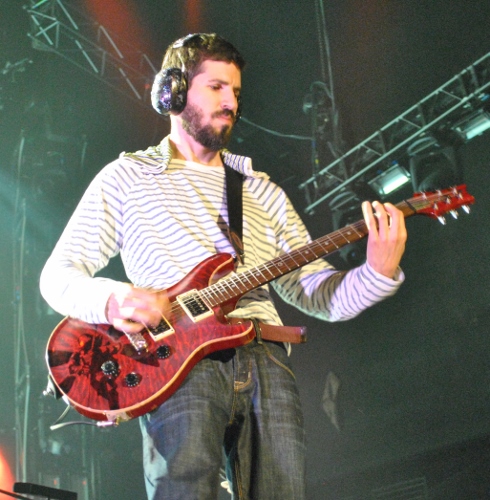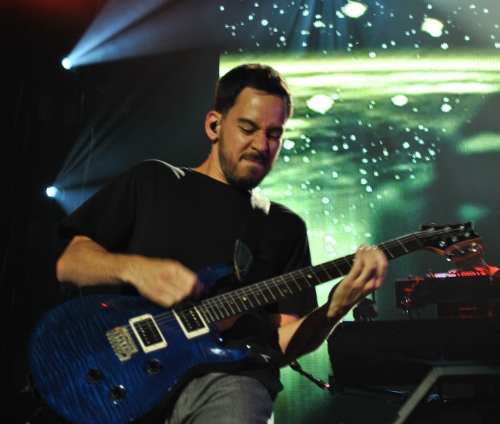 A four song encore left the sweaty fans exhausted but satisfied. After the last notes dwindled, it took a few exasperated seconds for people to figure out where they were and what had just transpired.
In my mind from the very beginning of this show, I kept thinking about the saying, "There's nothing like a Grateful Dead concert." Now I know Linkin Park's about as far away as you can get musically from The Grateful Dead. But the strong analogy remains: There's nothing like a Linkin Park concert.
(Please see my "TechScape" column in HuffPo on Linkin Park's technology base and their new, music-creation product, StageLight in association with Dell and Open Labs. Out shortly.)
All Photo Credits are Bill Robinson except as otherwise noted