The Israeli Defense Force (IDF) has done it again.
They've given another set of Israelis just doing their compulsory service for the motherland, the practical, entrepreneurial and technical skills to build another high-value, high-expectations tech start-up.
This one is called Mintigo and its founders come right out of the elite, IDF "Unit 8200" unit and into their own company. Think of the 8200 unit as a more competent, more efficient and more predictive National Security Agency (NSA).
And increasingly, the IDF is focusing in on with laser-like intensity on the Big Data area. Perhaps this is because more and more, the Israeli state sees itself as vulnerable on the computer side of their security rather than on their borders or in their skies.
This dynamic of elite training given to young minds and bodies, turning them on to computer science, advanced programming, hacking, network security, signal intelligence, all these and more; then, turning these specially trained computer commandos loose on the entrepreneurial world-at-large, is what Israel's "Start-Up Nation" moniker is built upon.
And it could never happen in the USA.
Imagine what we would do here, with our over-regulating, over-taxing and short-sighted government. We'd kill this incredible tech-entrepreneurial potential with gag orders, NDAs and all forms of entrepreneurial-killing policies.
But not Israel. Nope.
Look at their track record compared to America's. A tiny speck of a nation with about eight million people and no oil in a region besotted with it, produces more tech start-up successes by far, per capita, than the mighty start-up king America. There's Rony Zarom of Watchitoo, whom I wrote about here. There's Amnon Mishor of Leadspace, whose story I told here. And those were just the ones I covered and that didn't keep their IDF background from me.
Add to this list of Israeli/IDF notables, "Israeli Start-Up Soldiers" if you will: Uri Levine of Waze (acquired by Google for $1.3 billion); Yuval Kaminka and Roey Izkovsky of JoyTunes (I expect to be acquired soon); Roei Duetsch of Veribo (also expect coming acquisition); and finally of course, the irrepressible, impossibly funny, Israeli father of tech entrepreneurship, Yossi Vardi.
What can I say about Yossi Vardi? Except that his sense of humor is brighter than a thousand suns, truly, I can say that he really did kick-off Start-Up Nation for Israel with his sale of ICQ to AOL for $700 million when that was a very large sum in the Internet World, and then, becoming an omniscient investor in young Israeli companies and a stalwart supporter of Israel's tech education sector. Other than these things, not much (as he would probably joke). If you haven't met the man, you should make it your life's mission.
With 63 public companies on NASDAQ, Israel is the largest foreign country on that important market.
But I digress from the real story, Mintigo. Mintigo is a predictive analytics, CRM software that helps Enterprise customers get more helpful information on the decision-makers they need to close.
Started by Dr. Jacob Shama, Tal Segalov and Ehud Ben-Reuven, Mintigo is based in Ra'Anana, Israel with a US office in San Mateo, Mintigo looks well positioned and manicured for great success.
What gives me this idea? Oh I don't know, maybe it's the blue-chip investors such as Sequoia Capital, Adams Street Partners and Giza Venture Capital. Perhaps it's that Sequoia and Giza have already re-upped for a second round of financing, for a total according to Crunchbase of $19 million.
Or, it could be Mintigo's solid strategic technology partners such as Oracle/Eloqua, LinkedIn, Salesforce, Marketo and IBM/Marketpop.
All those things are important, to be sure.
But I think the future success is completely and utterly dependent and the current result of the IDF tech-training, experience and leadership of Dr. Jacob Shama. Let me explain why.
An old, possibly Sicilian proverb says, "The fish stinks from the head down." Meaning (some smart person intuited), that if the person at the top of an organization is corrupt, inefficient or inept, the whole organization can be doomed to failure. Well, like any contrarian thinker, I turn that on its head. I take it to mean in Mintigo's case, that if their leader is brave, fair and a real closer of new business and partnerships, the organization cannot fail. I think Shama is precisely that kind of leader.
Typical of a true leader, Shama doesn't megaphone his background and superiority. If you look at his Mintigo' website bio, it barely references his IDF background. His LinkedIn page refers a bit more to his background in the Israeli military but nowhere really does him justice in this regard.
Until you go to his BloombergBusiness profile where his background and IDF experience become crystal-clear. For more than 20 years, Shama worked in the IDF's Communications and Information Technology area, attaining the rank of Colonel. In his last position within the IDF, Shama headed the R&D Technological Center for the IDF.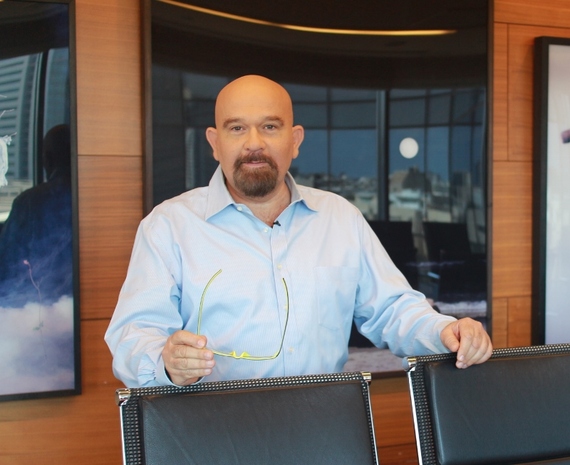 So when we make the jump from Shama's bio on the Mintigo website to his LinkedIn profile to the Bloomberg profile, we get a very different and certainly more compelling picture of Shama's likelihood of success with Mintigo. In fact, it skyrockets.
Factor in Shama's education and three degrees, a B.Sc.and M.Sc. both in Electrical Engineering at Tel Aviv University and a D.Sc. from George Washington University and coupled with his national security background, you have a powder-keg of tech entrepreneurial potential.
As a Colonel in the IDF, the final piece of the Mintigo/Shama puzzle for success has got to be his leadership skills.
When I asked him recently how it was that so many quality, high-tech start-ups come out of this IDF petrie dish, Shama told me, "There is the idea of an army, which in Israel includes the Air Force, Navy and Intelligence units. Think of the 8200 unit as the American NSA; they handle Security, Communications and Big Data. These are the types of companies typically come out of the 8200 unit like Checkpoint and Palo Alto Networks both started by Israelis out of the unit."
Then Shama bore down on two main reasons why Israelis have 63 companies on NASDAQ, "Two major competencies: Number One: Talent. We get the best of the best of our young people. The best at mathematics. The best at software programming and all the sciences. Number Two: We don't do any of this for fun. We do it for our survival. To protect our families.Though, the 8200 unit looks more like a Harvard or Stanford labs than a military organization."
How then Dr. Shama, did you take what helped you make Mintigo? What were the ingredients? "From 8200, none of the software or any other tangible assets but the contextual idea of being able to find terrorists out of the Big Data before they do bad things. The bad guys are very silent and hide below all the noise. With Mintigo, we find the good guys because they are much easier to identify than terrorists are. We find the customers."
What's it like competing in a CRM world dominated by the Oracles, Salesforces and Siebels? "What is a differentiator for Mintigo is we're coming from the Data Science side," Shama pointed out convincingly. "The three founders of Mintigo, Tal Segalov, Ehud Ben-Reuven and myself all have data science in our DNA."
Another Mintigo' founder, Tal Segalov spent more than 12 years in the 8200 unit with Dr. Shama. "I read somewhere that 8200 unit has more tech start-ups than any Ivy League university," Segalov began, "We were in the midst of building Big Data machines. Some of the guys I worked with had their Ph.D.s by 21; that's the level of talent I was working with."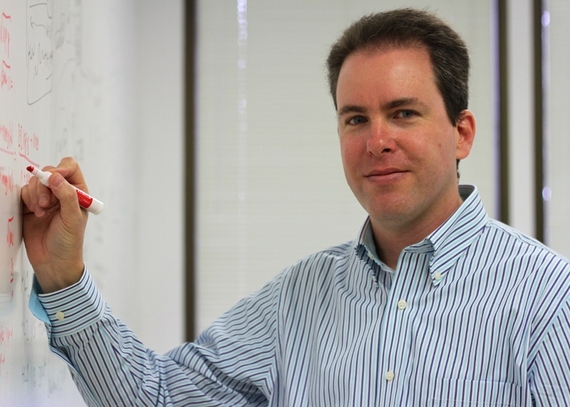 Segalov was just getting started, "Mintigo isn't predictive analytics, it's predictive marketing. Predictive analytics ties into over-analyzing marketing data. Marketers already have lots of scores to look at and don't need another score of the scores. We're a SaaS company and don't send in a team. We prefer Python, which is very popular in the intelligence circuits we come from. Python is easy to program. No SQL database, it wouldn't be able to hold that amount of data. We use MongoDB."
I've found there are few better sources for insight into tech start-ups than their investors. Gili Raanan, is a Sequoia Capital' partner, Mintigo' investor/board and entreprepreneur himself having sold two of his compaies to Facebook, one in 2011 and one in 2013. Raanan told me, "We at Sequoia, believe there's going to be a new generation of successful SaaS companies that disrupt the way marketing is done today. Jacob, Tal and their team have built a new software leader in the Predictive Marketing space, which represents an incredibly large market. They possess the background, training and talent to solve some of the most difficult problems facing marketers today."
John Bara is the President and CMO of Mintigo. He's got a top notch pedigree including a Harvard Business School' MBA and stints at Citibank, Intel, Interwoven, Citrix and other tech companies. "The future of Marketing is data. The current ROI of lead generation is horrible. If you think of any other profession where you got a 2% return, you'd be fired."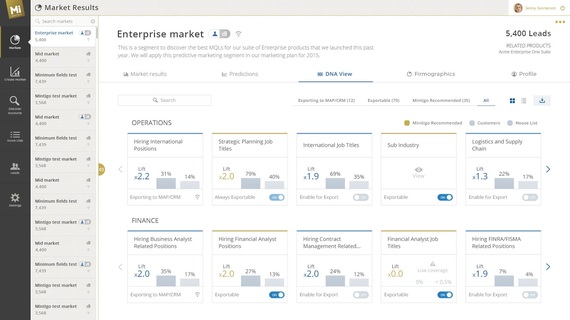 "Mintigo is solving a top pain for Marketers," Bara told me, "Data, Workflow, Behavioral Scoring, Predictive Marketing/Predictive Lead Scoring--we do it all. We help our customers predict their customer better and where they are on their journey. Should you reach out to the prospect on LinkedIn, Gmail, text, how?"
"We're a true SaaS product," Bara continued. "The next level: really giving Marketing an actionable task. It's not about a machine replacing a human in Marketing; it's about a machine being a tool for Marketers."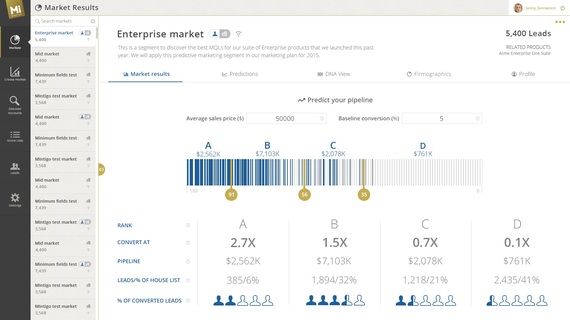 What lays in the future for Mintigo? "I think Mintigo will replace Marketing Automation," predicted Dr. Shama, "and provide a better solution than Marketo, Eloqua, etc." If Shama, Segalov and Bara can accomplish this, their investors, employees and customers will be very satisfied.
And the IDF will have another legacy start-up company on NASDAQ.