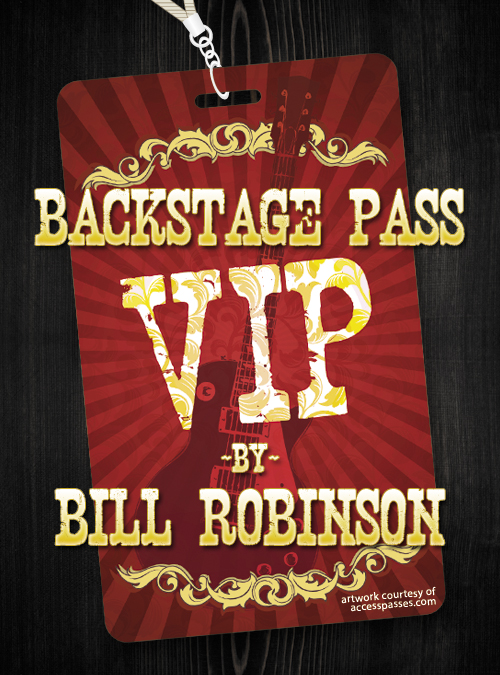 When asked why I love Mr. Buddy Guy so much, I respond, "Because he's always smiling and making me laugh! How can you NOT like a man like that?" What kind of person would you be?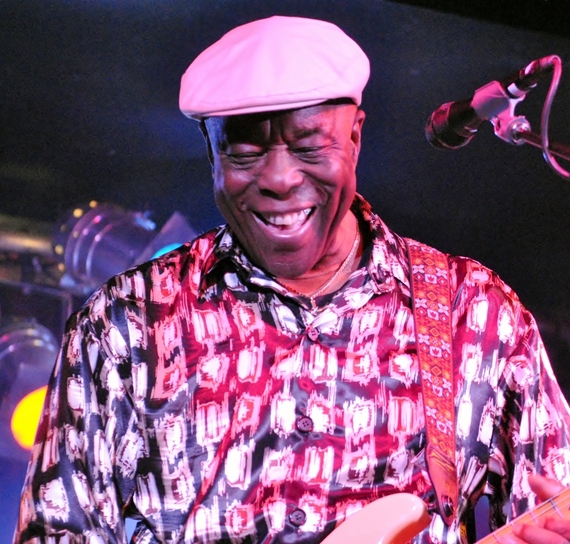 The all-encompassing, omnipotent and omnipresent 'Buddy Guy Smile'
To me, Mr. Buddy Guy is the most imminently likable guy in the music business. Sure, he has his serious moments onstage, where he shares with his audience of adoring fans some of his hardscrabble youth. And that touches everybody who hears his stories and feels them weaved into his songs.
As a close guitar-playing friend of mine observed, "Buddy Guy is the link. He's the link to Muddy and Howlin' and T-Bone and Honeyboy. He's the link all the way back to Robert Johnson and the 'Crossroads.' When he's gone, we will have all lost that link. That's why I had to see him now!" After that sunk into my psyche and reverberated for a few seconds, I thought how profound a statement it really was.
Buddy has played with most of them. And the contemporary Blues & Rock guitarists he's played with are legend. All of them idolize and revere Buddy Guy ... names that are idolized and revered themselves: Clapton, Richards, Beck, Page, and the late Stevie Ray Vaughan. Amongst musicians, there is a palpable respect that exceeds any respect for any of these names and even the epic forerunners of Buddy Guy.
And Buddy Guy was there to see one of them out. In one of the chapters of Guy's excellent book (and matching song), "Damn Right I've Got the Blues," he describes Stevie Ray Vaughn's last night alive leaving the Alpine Valley, Wisconsin festival in a driving storm after playing in one, final driving storm of guitars with Clapton, Cray and Guy. It sent chills up my spine.
He's made a lot of friends; few enemies, as far as I can imagine; and made even more good will for himself by befriending and helping very young guitar players get better by playing with him and advance toward their Blue's guitar-shredding dreams.
Take Quinn Sullivan, 15 from New Bedford, Massachusetts.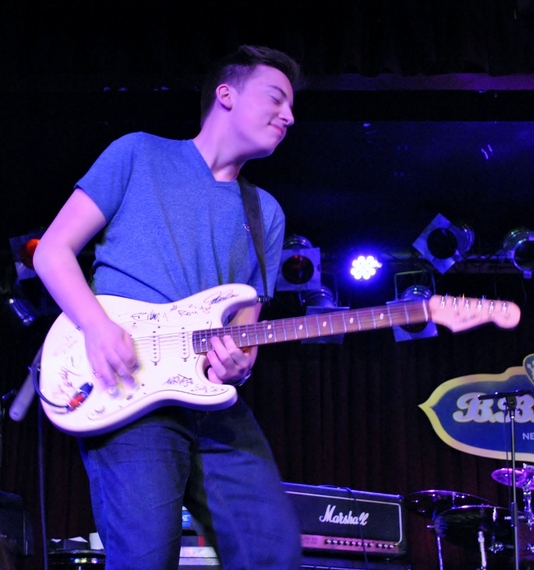 When he was seven years old, Sullivan was taken to a Buddy Guy concert in his hometown by his father, Terry. Intending to ask Buddy to sign his guitar, which he did, the boy and his father were over-the-moon when Guy asked the boy, "Can you play that thing?" When Sullivan ripped off some leads, Guy than said to him, "Be ready when I call you up on stage." The seven year old was ready and played hard with Guy on "Sweet Home Chicago" and the Hendrix classic, "Voodoo Chile (Slight Return)." (Here's a video of Sullivan and Guy playing together when he was eight years old.)
He's been opening up as many Buddy Guy' shows as his father and school would allow ever since. This "young man" as Guy refers to him continuously, can play a Strat in virtually any of the famous Strat players styles--Clapton, Hendrix, Vaughan.
So Buddy has become a mentor and friend to this young boy, currently growing into a man. And there are others we'll get into later. Guy is so much more than a Bluesman--but he is that to the nth degree.
THE PERFORMER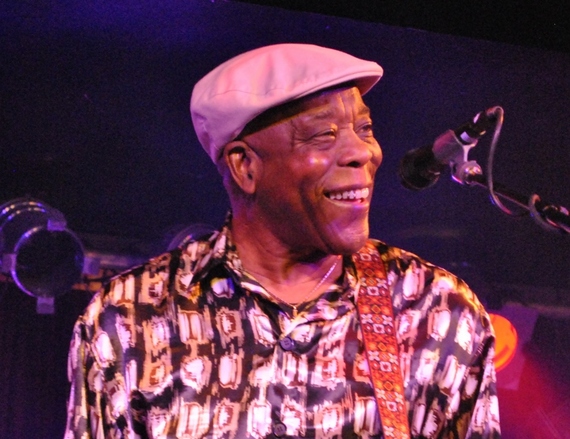 Mr. Buddy Guy was born into difficult financial circumstances in Lettworth, Louisiana on July 30th, 1936. The Great Depression was in full swing. (Guy talks about his childhood later in this article.) Using what humble resources the boy had available, Guy made what's called a diddley bow, a one-stringed, guitar-like instrument. It would be this crude device that would propel Mr. Buddy Guy and begin his ride through Baton Rouge, Chicago and eventually, the entire world playing his beloved Blues music.
Playing with some bands in Baton Rouge in the early 1950's, Guy learned a craft that must've infected his DNA as a boy in Lettworth. Given his current joy of giving others a chance to play with him in public, he undoubtedly had someone providing opportunities for him along the way. One gets the impression Guy is 'paying it forward' with each youngster he strums with and brings onstage.
THE MUSICIANS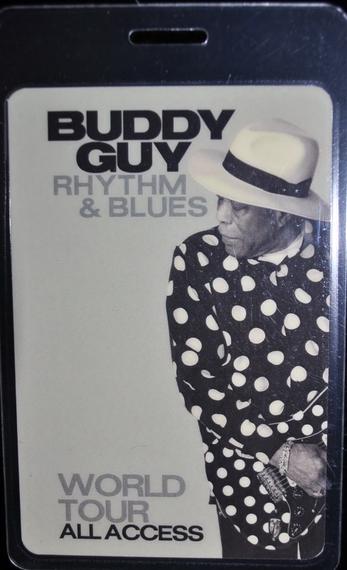 Ric Hall, Guitar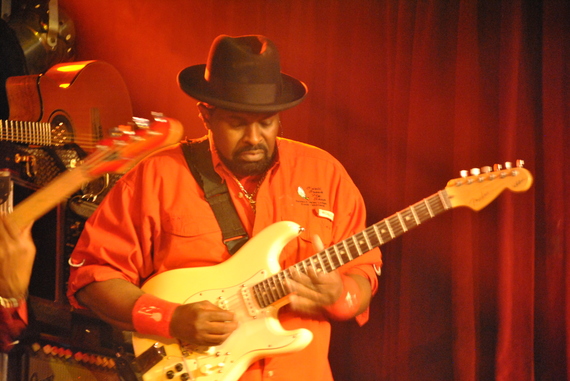 Orlando Wright, Bass Guitar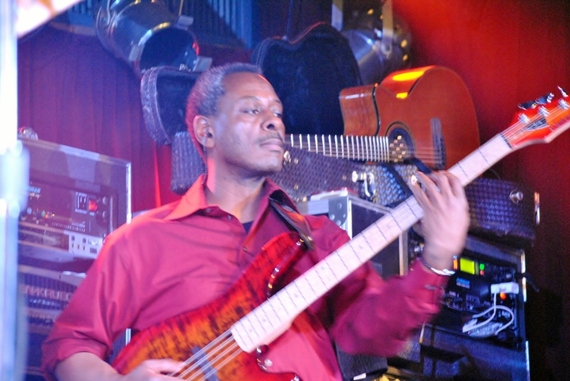 Marty Sammon, Keyboards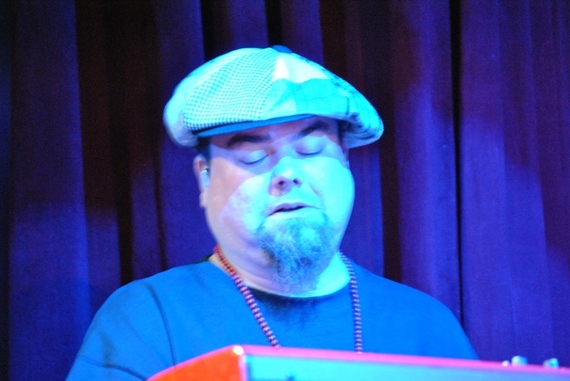 Tim Austin, Drums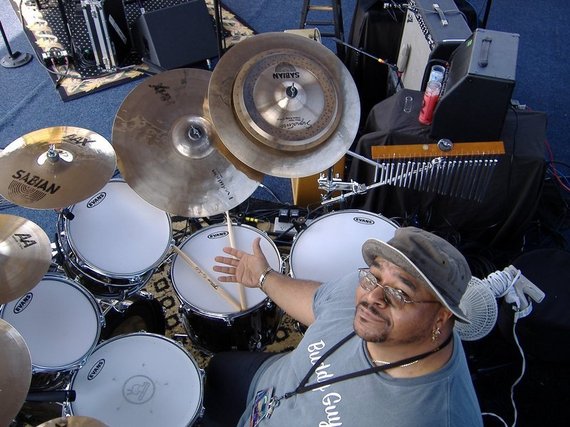 Photo Credit: Unknown
THE INSTRUMENTS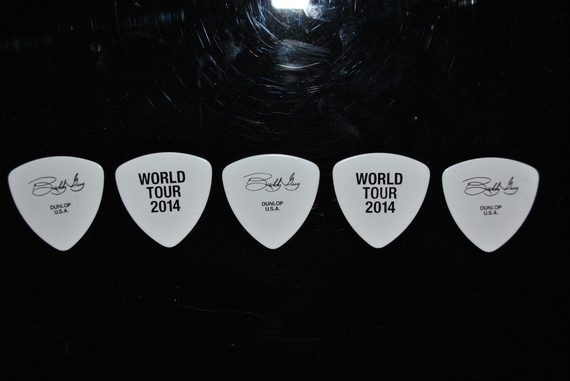 The 1989 "Buddy Guy Signature Strat"

This guitar was made by Mike Stevens of The Fender Custom Shop for Buddy Guy.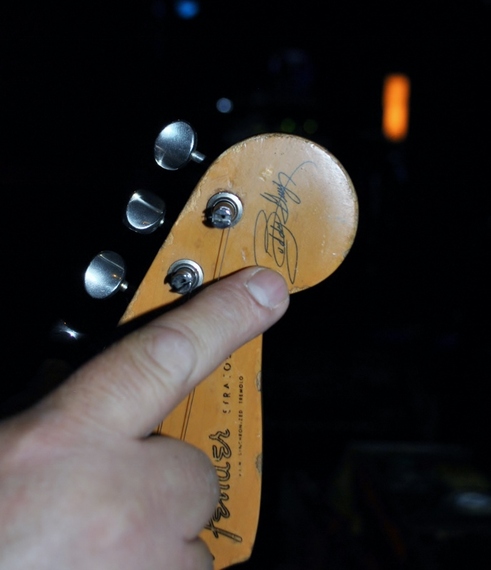 'The Back-up Strat'

"This guitar was an exact replica of the 1989 and was built three years ago by Paul Waller at The Custom Shop," Guy's guitar tech told me. "He cloned it to a 'T' ... inside, pick-ups, assembly, everything."

Guy's "Jerry Jones' electric sitar"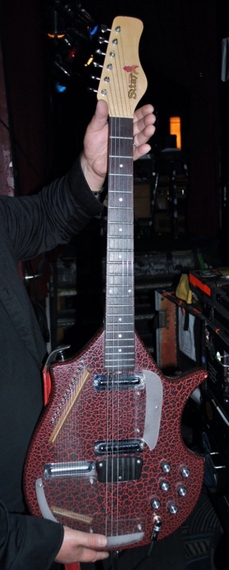 The Buddy Guy Signature Martin acoustic guitar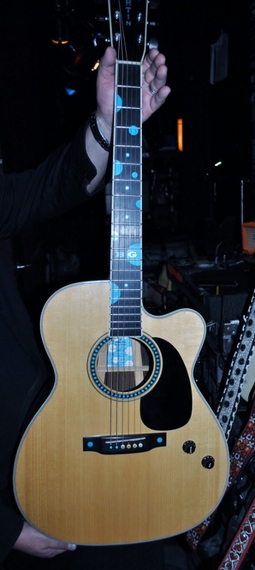 (I know, I know ... terrible photo by me cutting off the headstock. Sorry bout that!)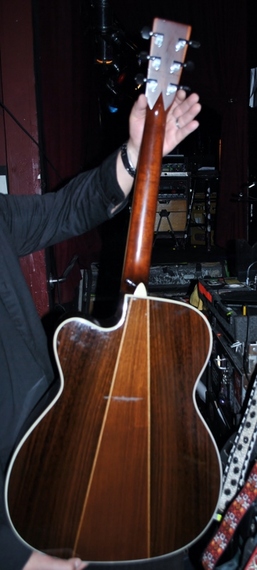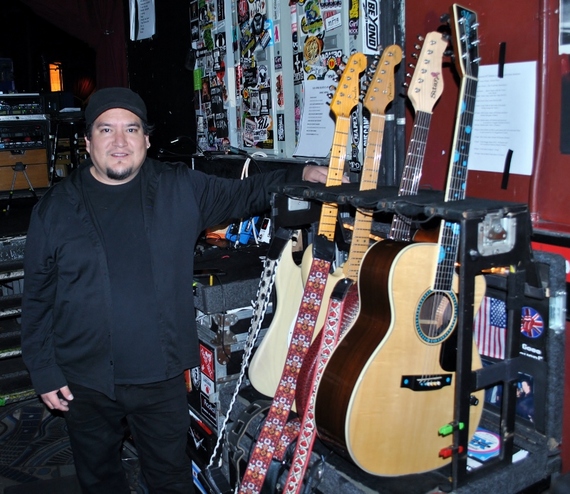 Gilbert Garza is Buddy Guy's guitar tech. He was kind enough to chat with me before the show. When Gilbert told me he was from Dallas, Texas, I immediately said, "Stevie Ray Vaughan" to him and he responded, "I'm from Stevie's neighborhood, Oak Cliff." Garza told me, "I've been working for Buddy for eight years straight now. Since 2006. Buddy bends his strings really, really hard. So I have to stretch them good before shows."
The crowd at shows had been shouting out and asking Buddy where his trademark polka dot guitars were. When I asked Garza about this and wanted to know myself, he opened a guitar case.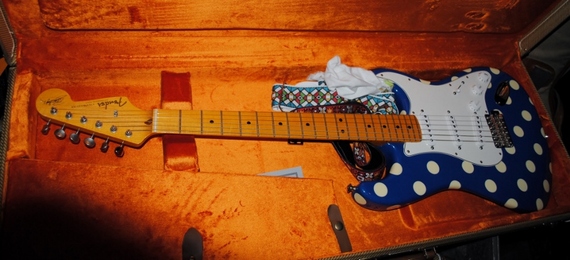 Asking Garza for other stories about Buddy's gear yielded this beaut about Buddy's guitar straps:
"Well, this one here is a company out of Chicago called Soldier Straps," Garza said. "And what it is, is this fabric ... if you look at Jimi Hendrix's pictures, he has the same design strap as this one here (holding the red cross and star strap in the middle). Now this is not just a replica strap to Hendrix's, it's made from the same roll of fabric that had been sitting in a warehouse in Chicago for years and years."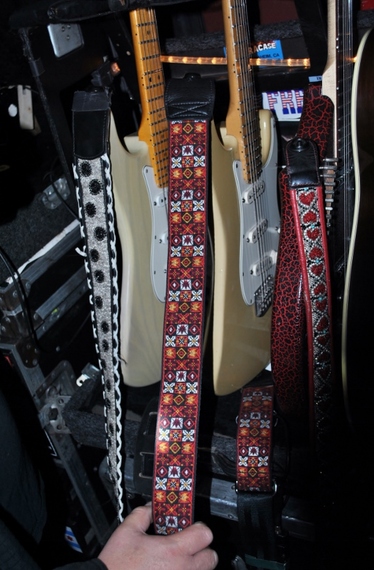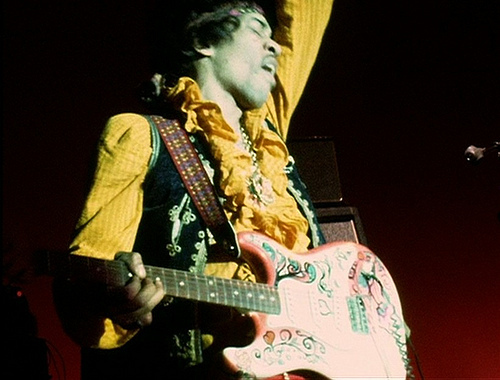 Jimi Hendrix with the same guitar strap from the same material as Guy's at Monterey in 1967
(Photo Credit: Unknown)
Buddy Guy's amplification stack consists of a Marshall head with 4x12 case ...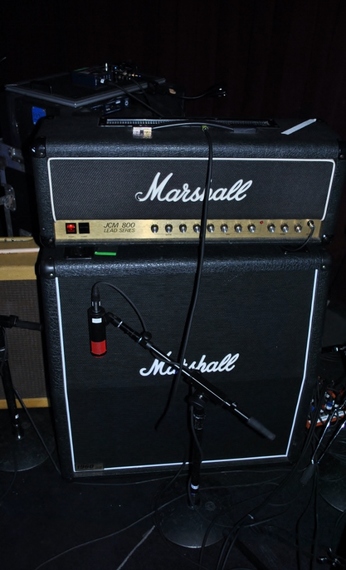 Slaved together with what looks to be a Fender '59 Bassman Combo amp ...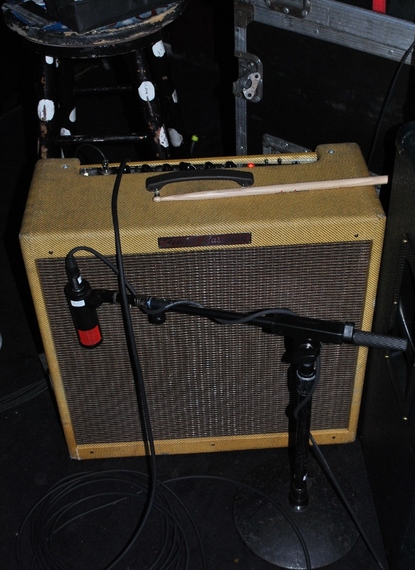 Guy uses a direct box and overdrive/booster only, while eschewing most special effects.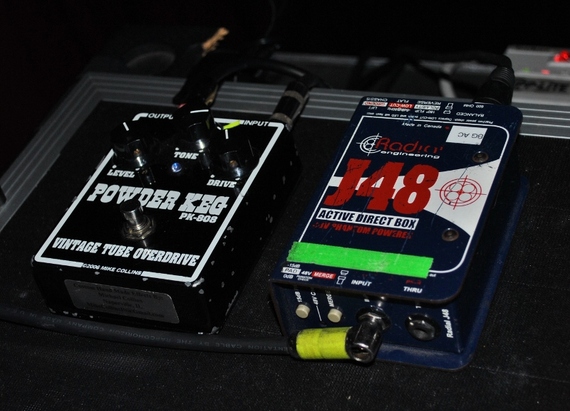 The only exception? His Buddy Guy signature Wah-Wah pedal.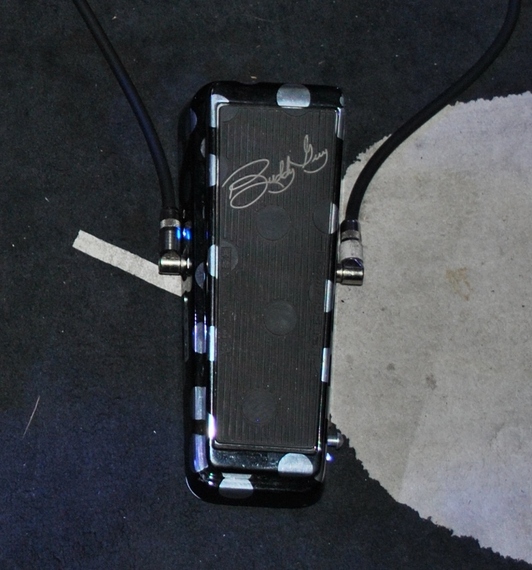 Buddy Guy's guitarist Ric Hall had a killer amp rack.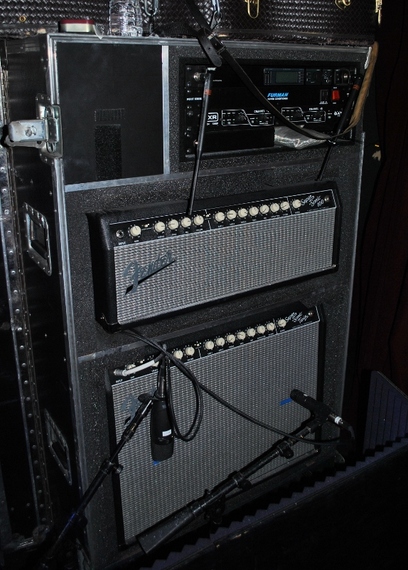 With a little something extra.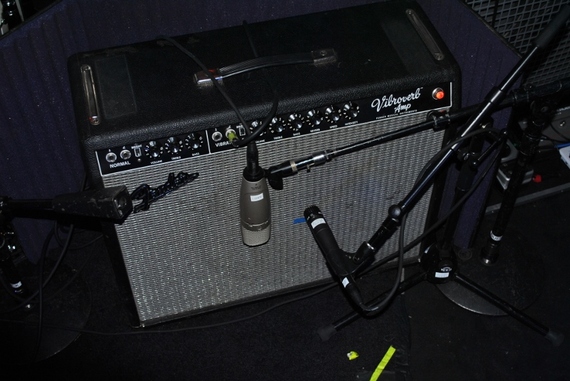 Hall's effects rack is impressive.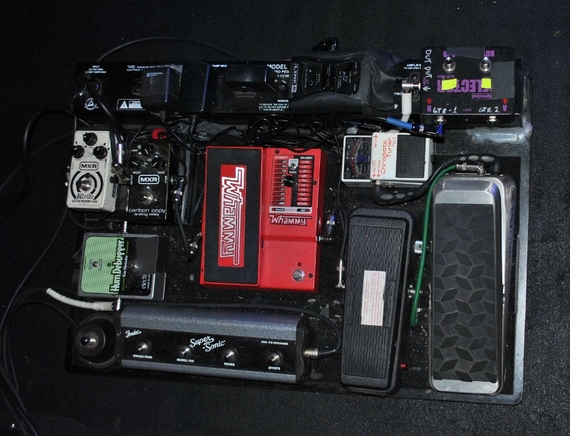 The booming Gallien Krueger bass amp tower of Orlando Wright.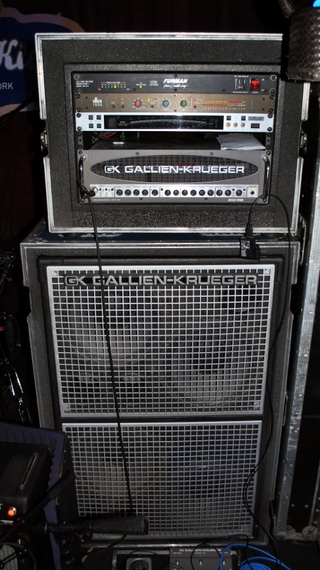 Marty Sammons keyboard set-up.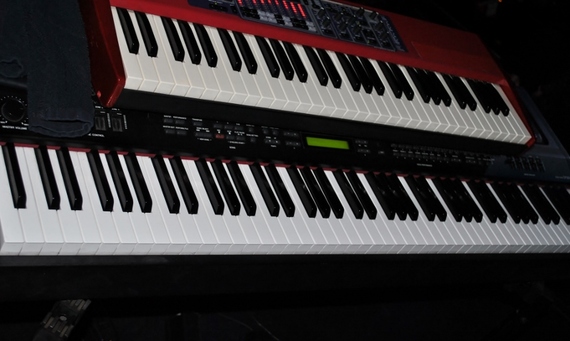 Tim Austin's Ludwig drum set.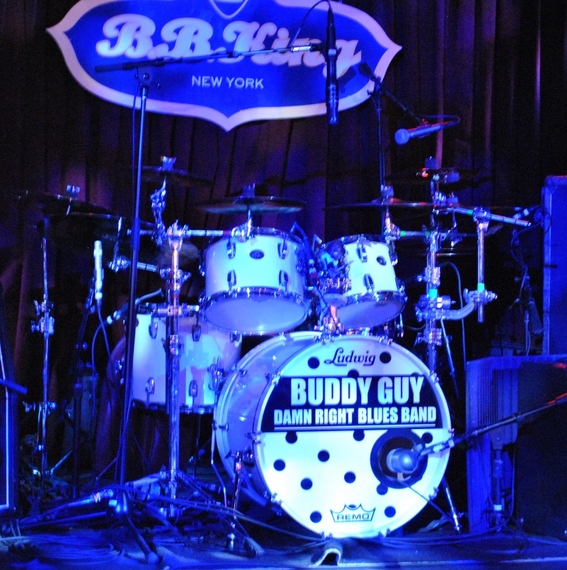 THE VENUE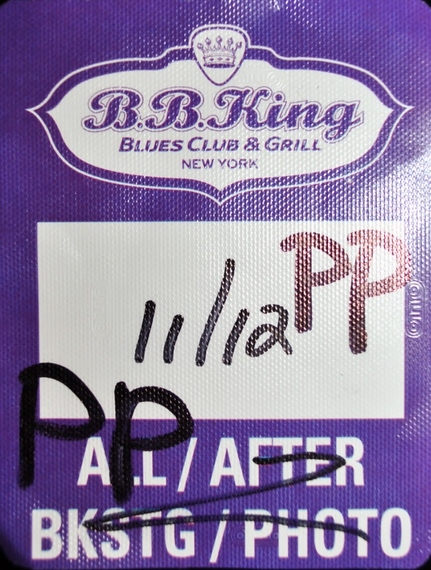 THE SOUNDCHECK
Mr. Buddy Guy doesn't do a soundcheck. But Mr. Quinn Sullivan sure does. The Sullivan soundcheck was almost like a mini-concert and really alerted me to exactly how good he is.
THE ARTIST COMMENTARY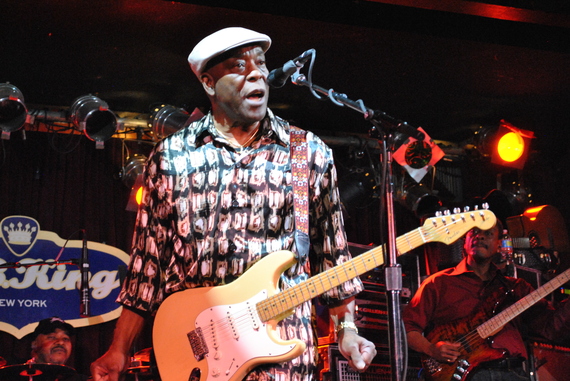 Always strong and passionate, I give you Mr. Buddy Guy ...
Guy: "Yeah, I've dedicated my life to this music I know so well, and uh, it's just something happened, I didn't plan for my life to be like this and at my age if you learn how to play a git-tar when you was seventeen or eighteen it stood out like a sore thumb. You just was a little different. Because there just wasn't as many git-tar players then."
Guy then cleverly directs the conversation to his young protege, Quinn Sullivan who would both open up the two BB King's shows playing a first set with what was essentially Guy's band backing him up but also come out and jam with Guy during his set. "You didn't find a young man like Quinn playing a git-tar onstage with me like he does because a git-tar and a harmonica was really obsolete until Little Walter and BB King, Leo Fender and Les Paul came along and amplified the git-tars and harmonicas. I remember you used to go to the music store and say, 'How much is the harmonica and the guitar?' And we didn't have the big the Guitar Centers and things like that ... it was just small lil' corner stores that sold 78s ... and they would say, 'I don't know man, just give me anything ... just to get it out the way so they would have room to put something else up there that could be heard. Cuz you know they would have the trumpets and the drums and things and the marching bands could be heard, and all you had was the acoustic git-tars and so you never did see that in the high school and college bands. For someone to learn how to play it, just to say for the love of music and I think that's what happened to me when I got the chance to play with the late Fred McDowell, Son House and Muddy and them. And that's the story I got from them and learned my lesson."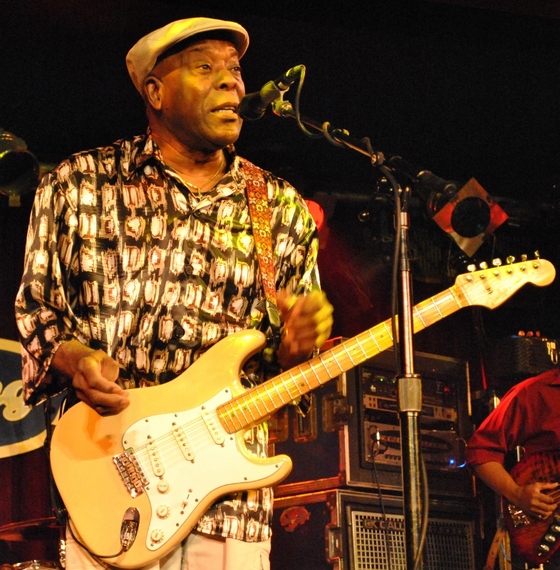 With a face so expressive ...
"It was somethin' about it, I was born so far into the country ... my parents didn't have electricity; we had a lamplight ... and of course, we didn't have running water. And I even started at seven, eight nine years old stretching rubber bands ... whatever I could stretch tight enough to hear noise ... I used to take a hair comb and put a piece of paper in it and if you could blow hard enough, you could get a sound outta that. I remember one of my Dad's old friends, they used to sit there and talk ... and he used to look at my Dad and say, 'That boy there, he gonna play music.' There wasn't anything like this kid Quinn, now I can say I looked at Jeff Beck, Jimi Hendrix, Eric Clapton and all these guys who made tons of money playin' the git-tar; you couldn't see that then. It was just the love of music that made me just keep pluckin' away at it."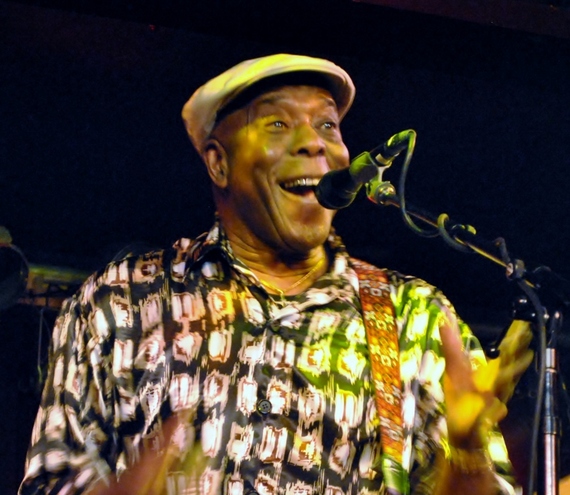 ... And a smile so infectious
"I had someone laughin' today at my record company, 'bout the fact that there was guys that came along with me, had a wife and I had a wife, and things got bad and they'd look at their wife and their wife would look at them and say, 'You gotta do somethin' better than this.' We wasn't makin' no money. Muddy Waters wasn't makin' no money. Howlin' Wolf, Little Walter wasn't makin' no money; so I thought, I can't complain cuz they got records out and I don't and they aren't makin' no money. And these great git-tar players could play way better than I could and there wives were tellin' them, 'You gotta get a job!' They'd just went and got a job and throw their git-tar in the corner. I didn't have that much sense, I took my git-tar and left my wife. And both of my ex-wives right now, I've bought both of 'em a brand new car the last two years and they both told me, 'I'm glad you took the git-tar and left.'"
Any children? "Man, I got eight children by the two wives I had and I fathered a couple of kids before I left Lou-siana, I was like 20 years old. And I got grandbabies, great-grandbabies now."
In timing that meshed perfectly with Guy's comments on his kids, Quinn Sullivan walked into the dressing room. "I met Buddy for the first time in my little theater in my hometown and my Dad took me to see him and I just wanted to meet him and maybe get my guitar signed. Then we got to go backstage and I had my little Squire, Fender Strat with me and he signed it. I never expected to play with him or anything. I had heard Buddy first play on Eric Clapton's Crossroads Guitar Festival in 2004."
Guy chimed in, "To do that at seven and know the chord changes and everything was just amazing." What were you doing at age seven? I asked Guy. "We couldn't even listen to a radio at seven because we didn't have one."
"I started giving away turkeys at Thanksgiving back in Lou-siana years ago and at first it was 16 or 17 turkeys I gave away. Then it grew and grew and eventually I called to find out how many turkeys I had to get and it was 600. So I just like to share some of the things I've experienced. You can't explain this to my kids and grandkids; where I was I had to eat what my parents had that night. I couldn't tell my parents, 'I don't want to eat this boiled potato now, you got to get me somethin' else.' There wasn't no somethin' else."
So how does a seven-year-old get that good at guitar? I asked Sullivan. "I started playing when I was three years old and my parents had a lot of music in the house. I was listening to the Beatles, The Grateful Dead, The Allman Brothers Band and just so many different influences. One Christmas my parents bought me a little first guitar, you know an acoustic guitar and I just remember being so drawn to it. When I was five, I started formally taking lessons and learning chord progressions."
Pretend Buddy's not here, I said to Sullivan, if you had to pick one guitar player, who would it be? "Probably Eric Clapton," Sullivan said quickly. Bingo! Clapton is mine too.
"I wanted to get this in," Guy offered up, "My Daddy never owned a git-tar (or played any instrument) but he wanted his children to be the best at whatever they wanted to do. He wrote a song that says, 'Son, don't ever be the best in town, just be the best until the best come around.' And every once in a while, I'd miss a note. But Quinn and BB and Eric don't miss notes. My Dad used to also say, 'Son, if you're gonna play, play like BB King. He don't make mistakes.' BB is 'Mr. Git-tar.' I mean we all got somethin' from that guy. Before he started bending the strings, they used to break a bottle off and were using pipes to make that sound. I tell all the other git-tar players, you gotta give that guy credit."
I then asked Guy about the two legendary shows he opened up for The Rolling Stones at the Beacon Theater in October, 2006. In addition to playing an opening set, Guy also joined the Stones onstage for "Champagne & Reefer," which was epic. Filmed live by Martin Scorsese for the subsequent film, "Shine A Light," the guitar duel toward the end between Guy, Ronnie Wood and Keith Richards is spectacular.
When you started singing the second verse of "Champagne & Reefer" Buddy, did you notice Ronnie Wood jump back in surprise at the strength of your voice? "I wasn't supposed to be singing it. Mick lost his voice. I was just supposed to play it and he came to me at the last minute and said 'You got to sing it.' You know he called me 'Mutherfuckin' Buddy Guy.' I was a little surprised but I remembered everything Muddy ever did, so I sang it." At the end of that song, Keith handed you his Gretsch guitar and said, "Here it's yours." Do you still have that guitar? "He didn't sign it. He's still so cheap he didn't sign it. I told him he's still got to sign my guitar. I had been asking for that guitar for over 30 years."
"And by the way, that was a real reefer Keith was smoking onstage. I thought it was just a joke for the cameras, but it was real."
"It's a long way from Louisiana, isn't it Buddy? You ever sit back and wonder?" I asked him. "I certainly do," he said reflecting, "I certainly do."
THE SETLIST
Buddy Guy doesn't have a set-list. He and his band "just wing it."
THE OPENING BAND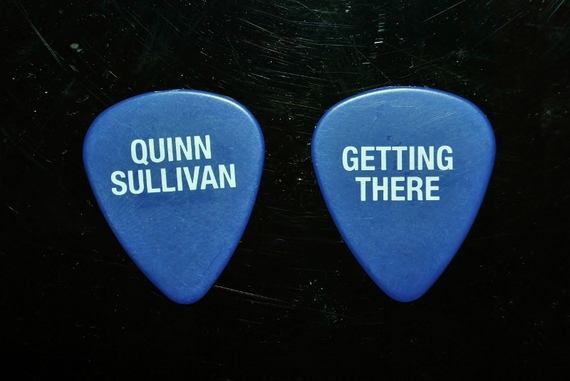 The opening band was Quinn Sullivan appearing and playing with Guy's band except for an exchange of drummers from Buddy's drummer Tim Austin for producer and drummer, Tom Hambridge.
THE AUDIENCE
Mr. Buddy Guy's audiences love the man. They just exude their love and respect for him with the way they welcome him, the way they respond to him. They are a happy audience, just like Guy. A Buddy Guy show is fun and happy. Guy jokes a lot with his fans and they love him for it. When he's funny (which is almost all the time), the fans try to joke with him too.
The sold-out, standing-room only (there was none) crowd for the two night stand at BB King's in New York City was about as packed tight and excited as any I've seen. There were more people there for those two nights, I would imagine, than for the namesake himself, BB King. And that's saying something.
Crowded sardines though they were, those not lucky enough to get a seat at the tables toward the front, didn't complain. After all, they were getting to see their Buddy.
Judging from the happy chatter and excited recountings I heard as the crowd filed out post-show, I'd say nobody much noticed the lack of breathing room.
THE SHOW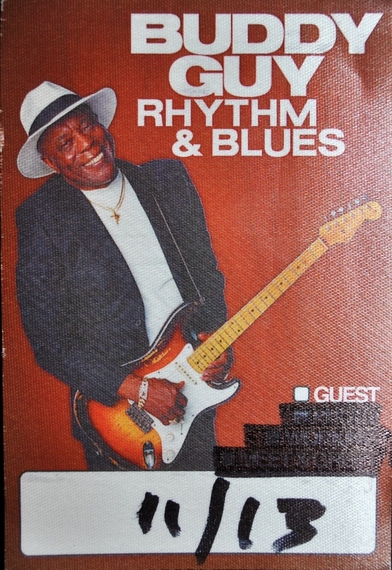 Opening with a slower arrangement of one of my faves, "Damn Right I've Got the Blues," Guy and band immediately seized the crowd by the throat and didn't let go.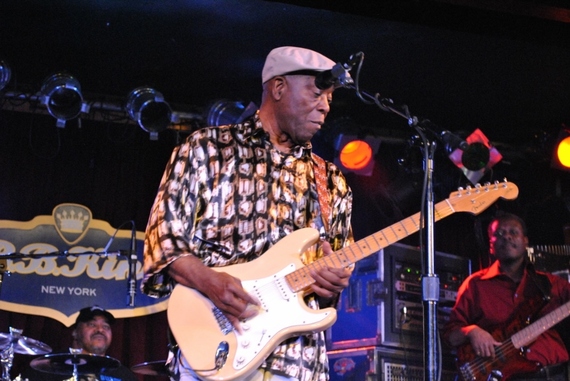 Always joking; always smiling; always playing his heart out, Mr. Buddy Guy poured his heart out to the BB King's crowd that Thursday night.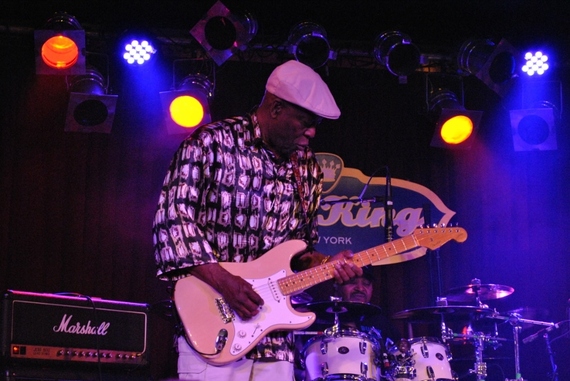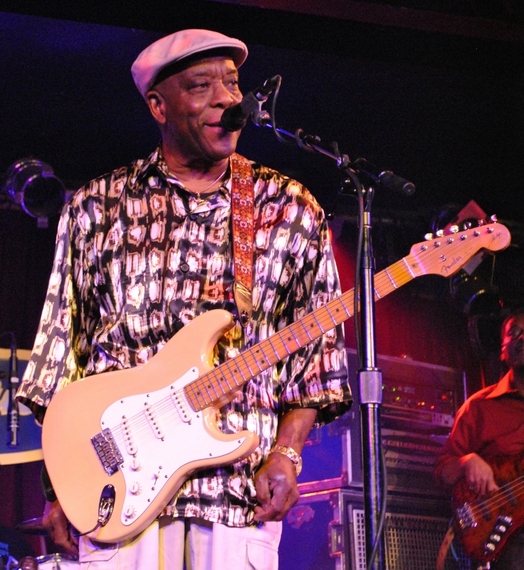 "Hoochie Coochie Man" turned the crowd into a bunch of rabid Blues dogs.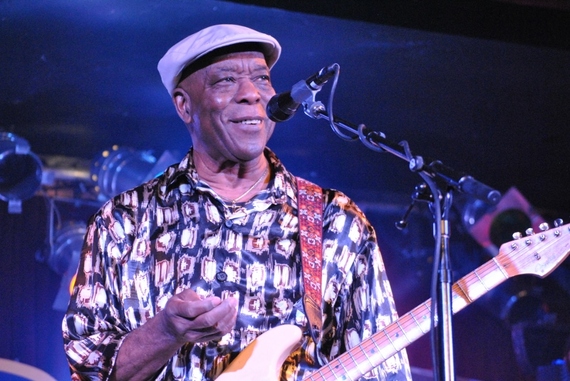 "I got a black cat bone ... I got a Mojo too ... "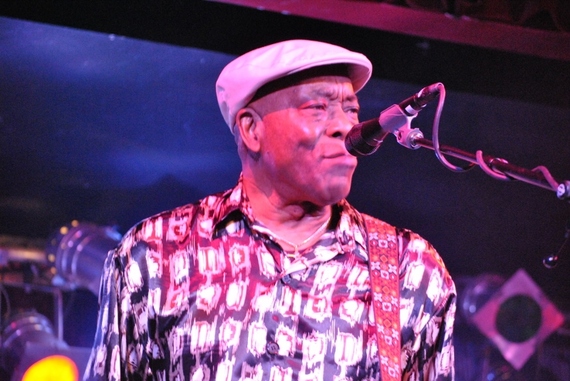 " ... I got the John the Conqueroo"
Guy gets serious when he plays this song and other iconic Blues standards but especially on this one written by Willie Dixon but first recorded and made famous by Muddy Waters, with whom Guy was an early session guitarist when he first moved to Chicago in 1957. Muddy was Guy's central influence.
Mr. Guy then played the opening strains of "Slippin' In" which really got the crowd stoked and roaring.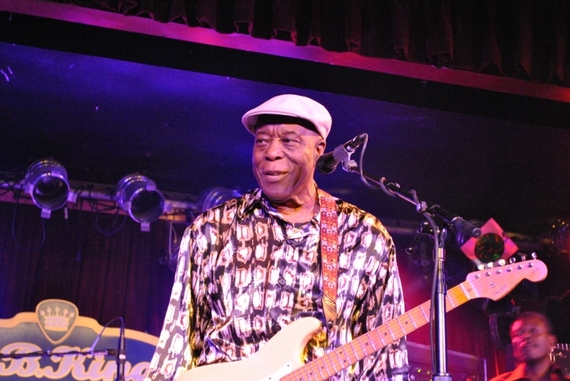 When Guy sensually began "Fever," he had the crowd silent and spellbound. Now this is a song recorded by everyone from Ella Fitzgerald, Madonna, Peggy Lee, The McCoys and Bruce Springsteen to Michael Buble, Elvis Presley, Rita Coolidge, Bette Midler, Beyonce and Bob Dylan. Written by Eddie Cooley and Otis Blackwell, it was originally recorded by Little Willie John in 1956.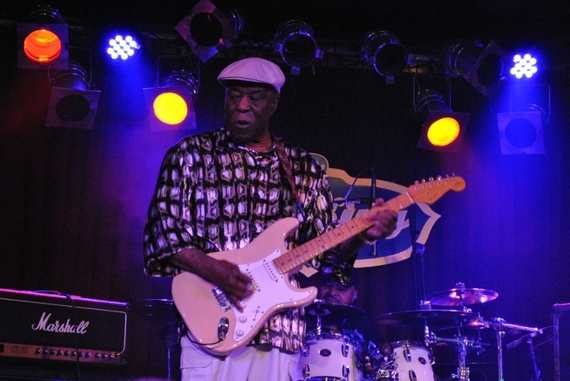 Guy Smokin'
Then in an uncharacteristic mood and show of emotion, Mr. Buddy Guy brought the smiling and enthusiasm down a number of notches; got very serious and told a story about growing up poor in Louisiana and something his Mother had told him, "It's only skin deep," which yielded the beautiful song "Skin Deep." Guy got unusually somber and as he spoke about his late mother and the words of wisdom she imparted to him years ago as a small boy, the crowd was right there with him. It was that personal a thing to share with the audience.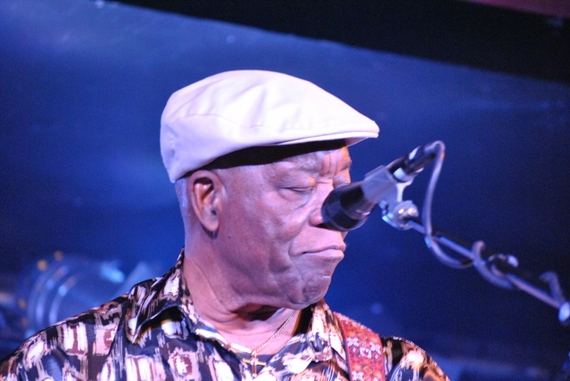 "Just like you can't ... judge a book by the cover ... "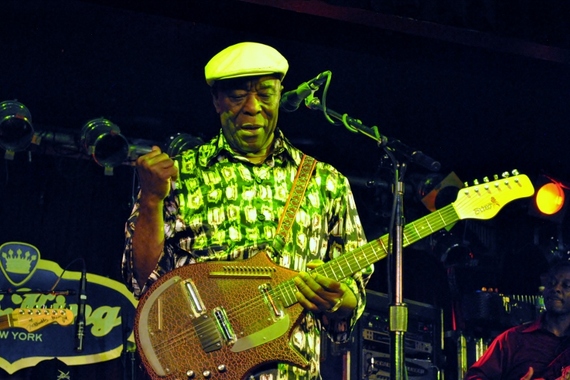 " ... we all ... got to be careful ... how we treat one another"
"Skin Deep" was written by Tom Hambridge, longtime Guy songwriter and producer who also came up to assist in the singing of the song with Guy.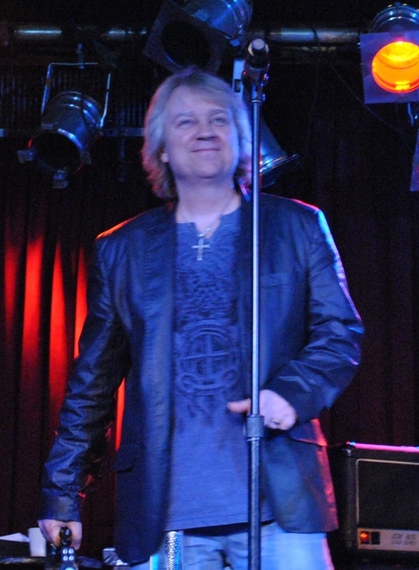 The level of musicianship of Ric Hall on guitar, Orlando Wright on bass, Tim Austin on drums and Marty Sammon on keyboards, was impeccable. These professionals were the backbone and guiding light of Guy's show.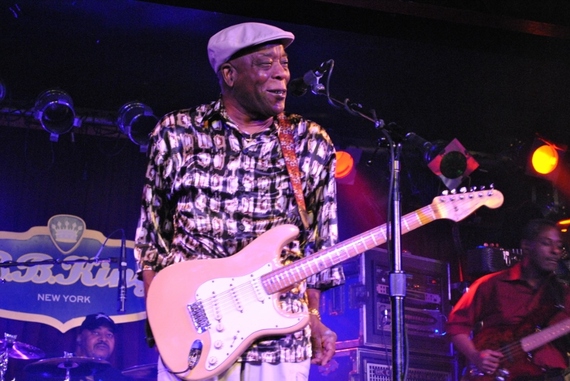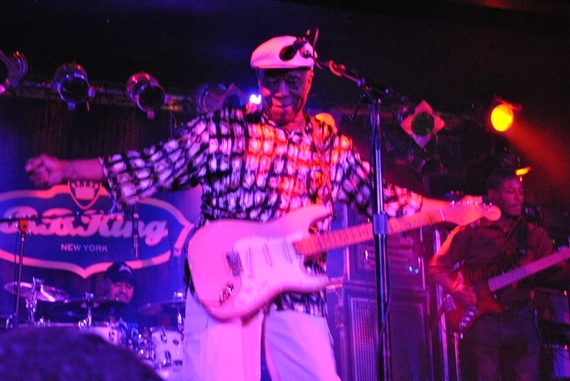 A more animated performer there isn't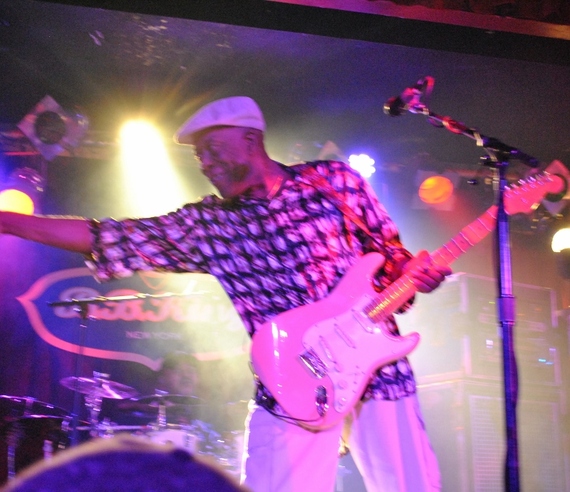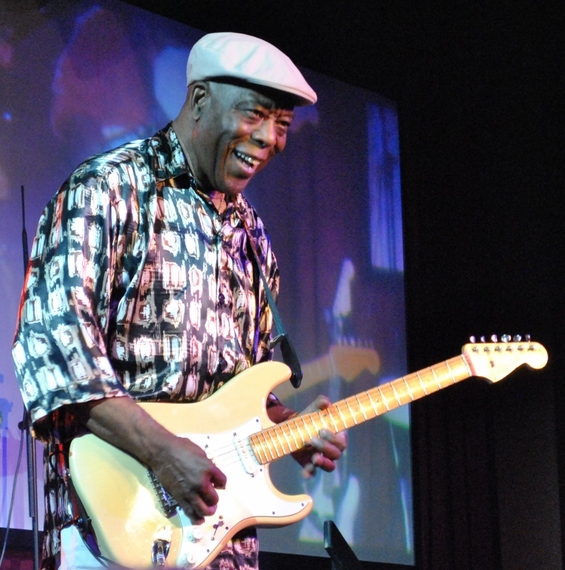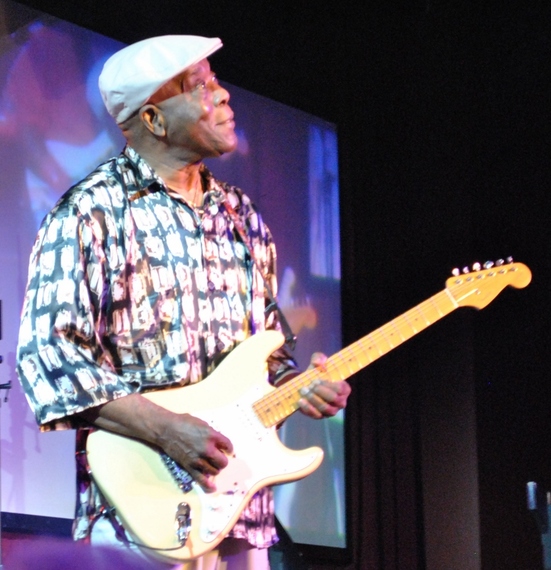 Looking skyward for inspiration?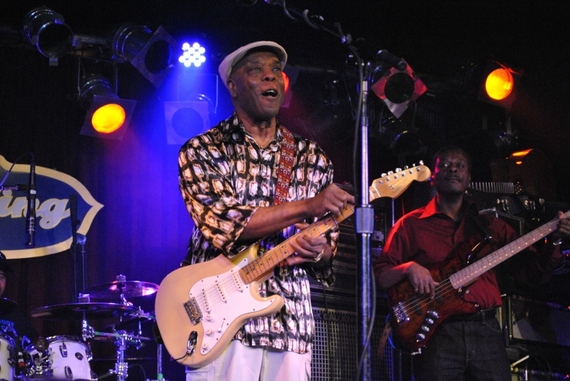 Notably absent was usual show closer, "Sweet Home Chicago" and one of the most beautiful ballads, "Feels Like Rain," written by John Hiatt for Guy's 1993 album of the same name.
Of course, Guy played his guitar behind his neck and with his teeth, in addition to turning the guitar backwards and getting some unique sounds out of scratching it against his body.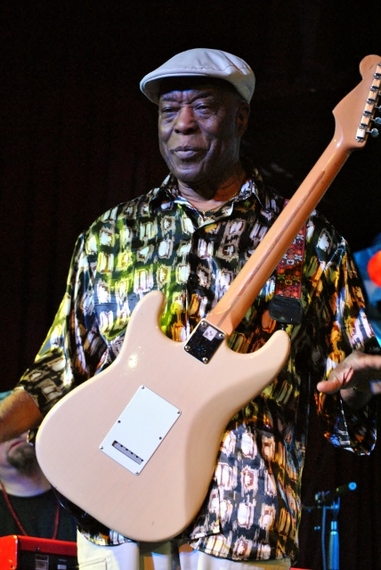 But Mr. Buddy Guy didn't forget his young buddy and mentee, Quinn Sullivan and brought him out for a most interesting set of guitar interplay. Cream's "Strange Brew" in true Eric Clapton style began with Guy singing and Sullivan taking the lead breaks most poignantly. Hendrix's "Voodoo Chile" and back to Clapton's "Sunshine Of Your Love" showcased Quinn Sullivan's stunning guitar pyrotechnics beautifully. As Guy sang back-up to Sullivan's lead guitar antics for the majority of these selections, it occurred to me how much he really adores this kid.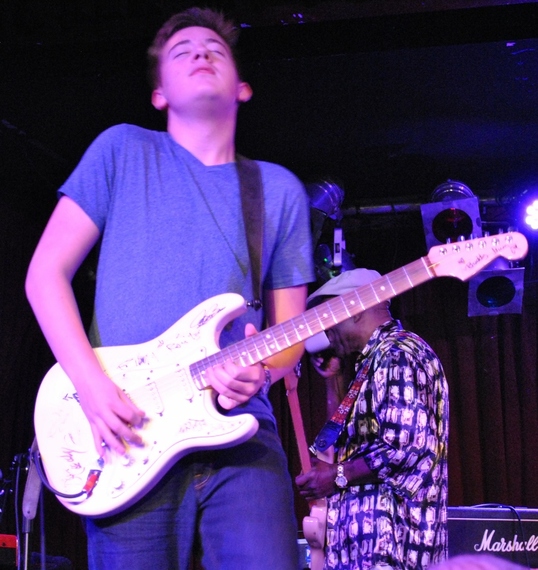 At a number of points during Sullivan's guitar heroics, Guy just stood off on the side of the stage smiling with admiration and pride.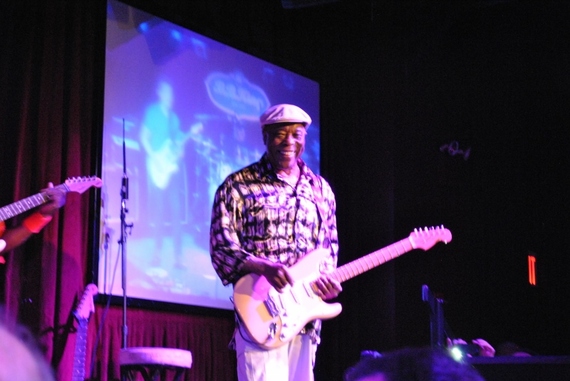 And Sullivan always reciprocated.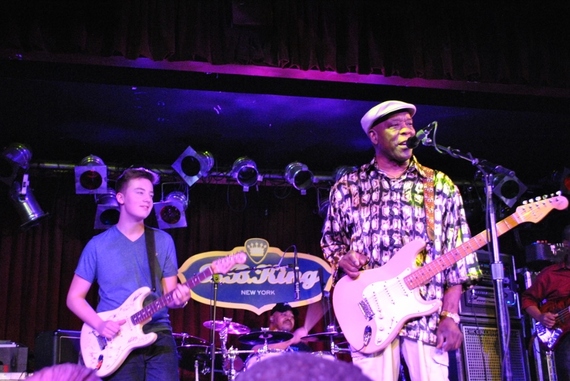 Jamming together in perfect harmony, this February/December pairing showed life's full circle philosophy.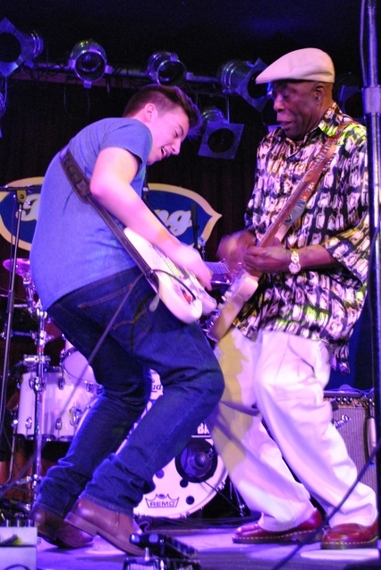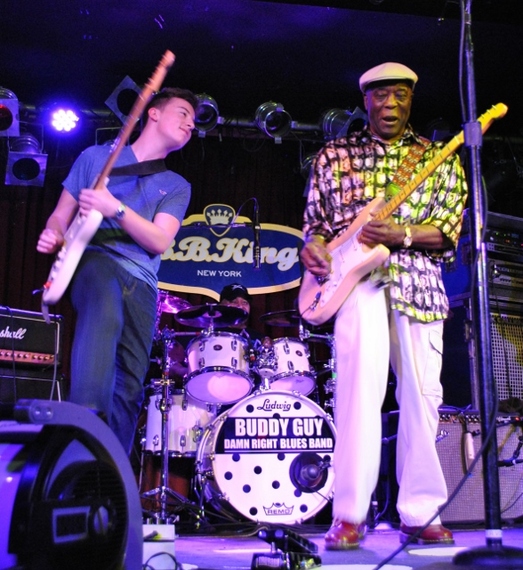 Even adding a coordinated "Rockettes" type flourish ... totally unexpected.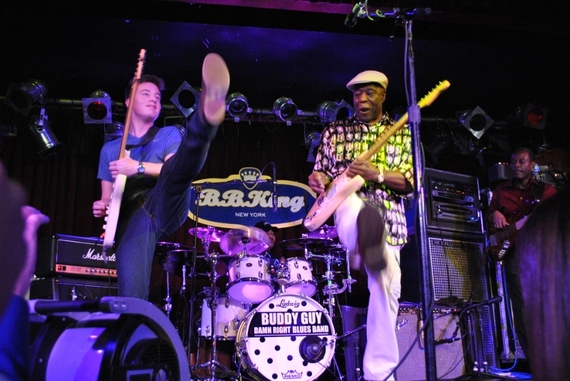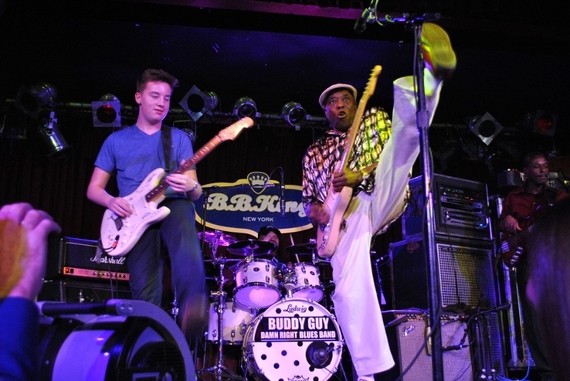 Still, in spite of the kid's advanced guitar skills, when Guy started playing again, he completely blew away Sullivan with a few notes on his Stratocaster. But what would you expect? He's Buddy Guy! He impresses and competes with Clapton, BB, SRV and all of the other guitar legends. The fact that Sullivan can play with Guy at all at age seven or 15 for that matter, is extraordinary.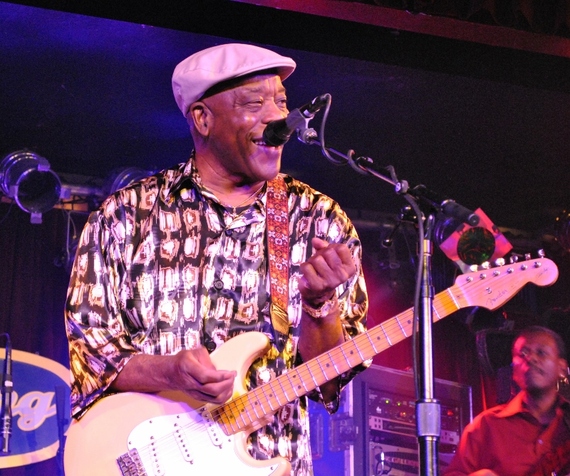 The below three photo series, aptly proves the "Buddy Guy transition;" from serious to singing to joyful. This transition occurs hundreds of time per show.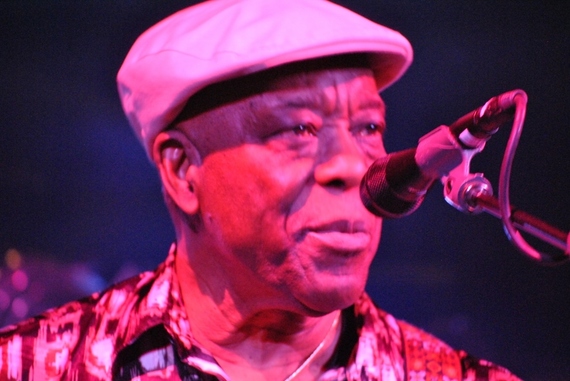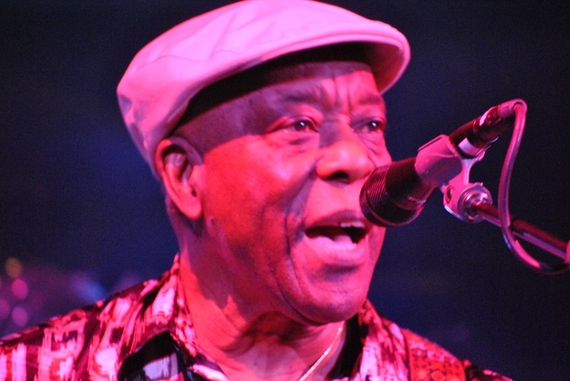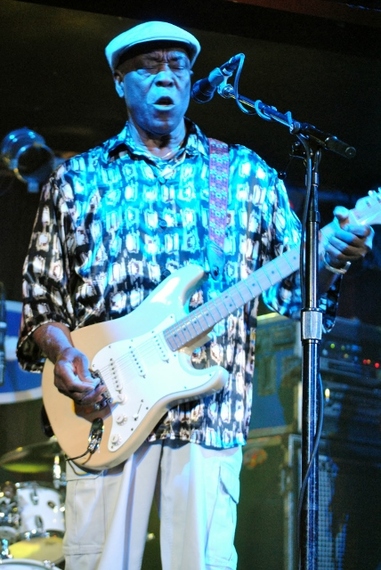 Singing it righteously
As the show wrapped up, there was another "Quinn Sullivan" yet to take the stage.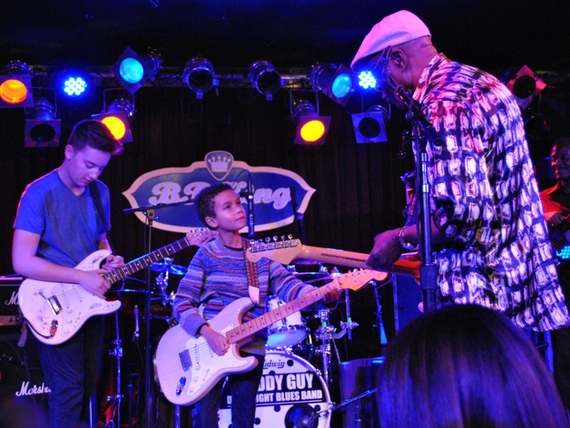 Jude Batiste, a nine-year-old from Brooklyn, New York came up and showed a lot of moxie as he strummed with Guy and Sullivan in front of a roaring crowd. Mr. Buddy Guy, of course, showed so much love and patience with the young guitar player, presumably as he did with Sullivan eight years ago.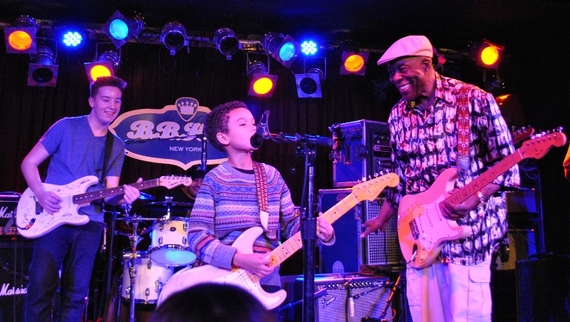 Guy's beaming smile at a new guitar protege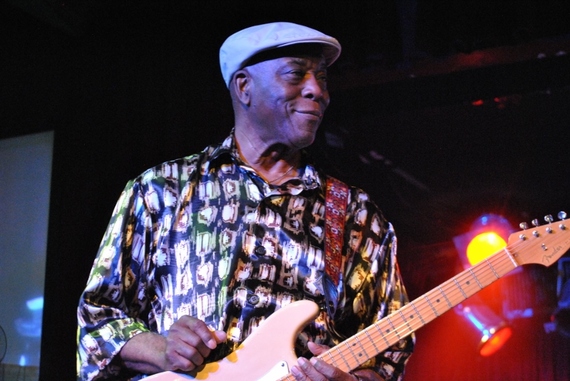 When we all left BB King's that night, we felt like Mr. Buddy Guy had poured his Blues' heart out for us. We felt, just like Quinn Sullivan, he had mentored us in the art of Blues' guitar and become a dear friend. This is the legacy of Mr. Buddy Guy.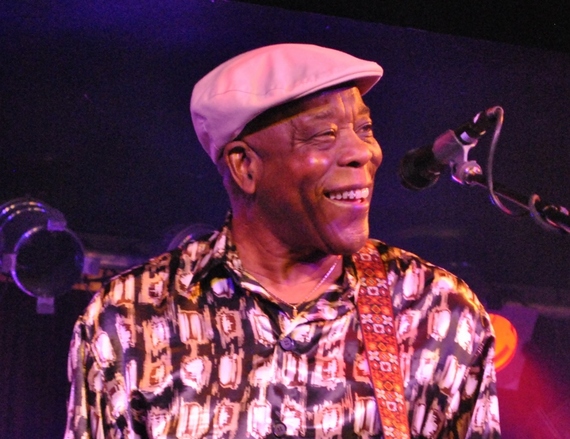 All Photo Credits are Bill Robinson except as otherwise noted