The first in a series of new columns on "NYC's Restaurant Row"
New York City restaurants are by and large known for their setting to conduct business. At the Four Seasons, you can see David Boies at the bar or Edgar Bronfman Jr. entertaining business associates. At The 21 Club, captains of industry conduct and conclude billion dollar deals.
For a special romantic occasion with their lover, New Yorkers might head to The Water Club, Bouley or the Rainbow Room for old school, art deco dining and dancing.
But there seems to me to be very few restaurants where either task, either effort might be satisfied simultaneously.
Then, a restaurant like Sojourn appears out of nowhere. This small, ultra-romantic ambiance restaurant and wine bar can just as easily provide a great first-date or singles meeting-up locale, as it can result in a networked business connection.
Regardless of which comes to fruition, Sojourn provides an evening filled with excellent food, fine wine and a uniquely warm and romantic experience. And the value, the pricing for customers is extraordinary.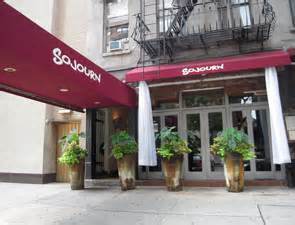 Located perfectly in the heart of the Upper East Side (UES) at 244 East 79th street (between 2nd and 3rd avenues), Sojourn is a well-known night and brunch spot amongst the other excellent UES eateries, bars and wine bars.
On Monday and Tuesday nights, soft acoustic music fills the air from a trio with vocalist as diners chat happily, then when the diners thin out, the bar and band begin to raise the audio level to full-on concert performance. These evenings can be fun for couples or singles as the two-faceted ambiance offers something for everyone.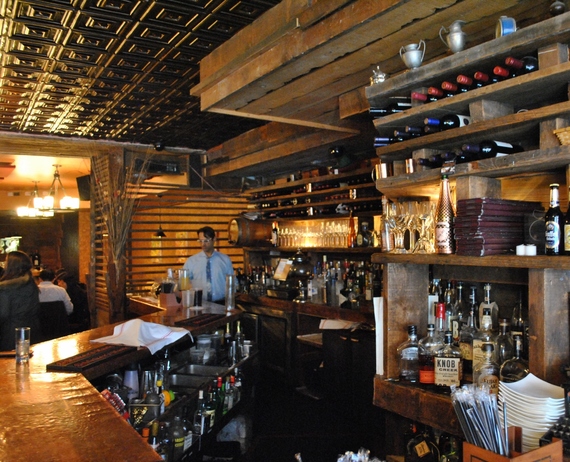 Sojourn recently got a solid Zagat rating of Food: 25, Decor: 21, Service: 22 and average meal cost of $53 (one dinner, a drink and tip). Zagat lists 21 to 25 in any category as "Very Good to Excellent."
The warmth of the wood; the subdued candlelight emanating from seemingly everywhere; and the strong European feel, make diners and drinkers alike float through an evening effortlessly.
The food is impeccable. Developed and overseen by Chef Peter Petti formerly of Eleven Madison Park (a three-star Michelin restaurant, I find the best in the world) and Lidia Bastianich's, Felidia, the Sojourn' menu includes staples such as Skirt Steak with Asian pear, soy marinade, scallion fried rice ($18); Organic Boneless Half Chicken with crispy potatoes, rosemary white wine jus ($17); and Roasted Salmon with Chanterelle and Crimini mushrooms, asparagus, truffle oil ($22).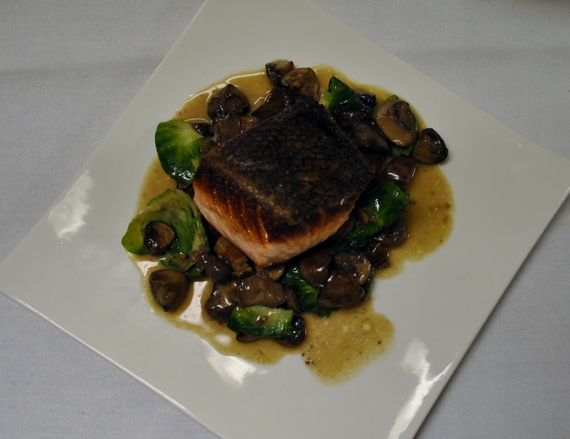 Starters include Wild Arugula Salad with Granny Smith apples, red onions, toasted almonds, blue cheese, lemon vinaigrette ($10); House-Smoked Trout Salad with watercress, cucumber, lemon & caper vinaigrette ($11); and a solid assortment of cheese and charcuterie.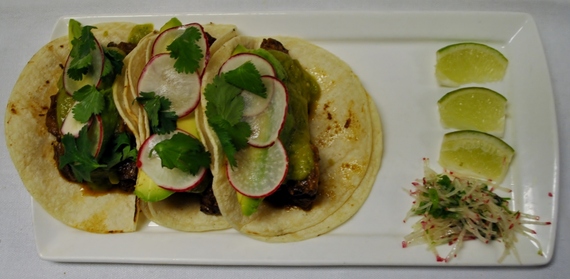 Sojourn's short rib tacos
Sojourn's signature dishes are Florida Red Snapper with sauteed spinach, seared artichoke, white wine sauce ($21); Long Island Duck Breast with peppercorn crust, French lentils, kumquat sauce, mache ($25); and house favorite, Black Pasta Lobster Arrabiata ($19).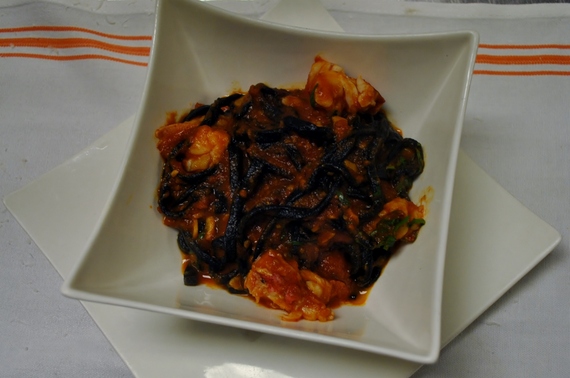 My personal favorite is--shockingly--something healthy. I never liked kale; never tried it before. Then I stumbled upon Sojourn's Roasted Butternut Squash & Kale salad. Comprised of shredded kale (the shredding somehow making the kale, for me, more palatable), toasted walnuts, goat cheese, shaved pear and champagne vinaigrette, I cannot get enough of this dish.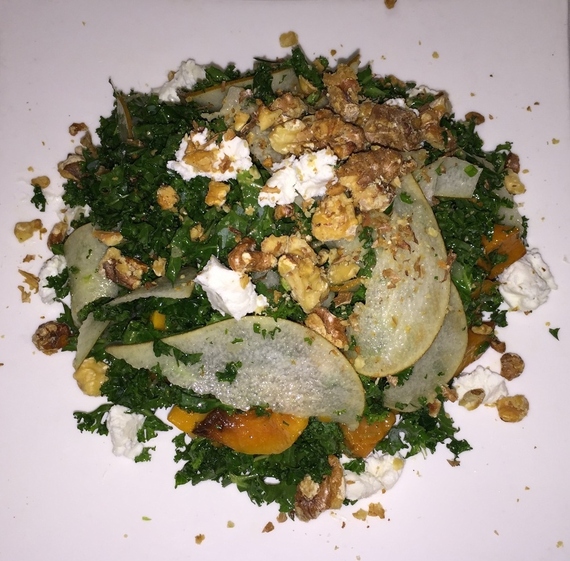 When asked about what lies ahead in his and the public's culinary future, Petti told me, "I feel like there's a growing portion of the population that's really into the healthy movement. I put a Branzino dish on our menu last week with kale and quinoa topped with a lemon vinaigrette. Quinoa is gluten-free, super-healthy and they call it one of these 'superfoods.' When I put it with kale and a beautiful piece of quickly seared fish, there's nothing that isn't healthy about that. Gluten-free is a major trend; I see even people who don't have to eat gluten-free, eating that way because it's healthier. We have a gluten-free menu at Sojourn now."
The wines are chosen with care and valued with the customers' enjoyment in mind. Sojourn's owners are focused on constantly scanning the wine industry's finest vintages which they can offer at great savings to Sojourn regulars. Whether dining or drinking wines, Sojourn's customers feel they are getting a real value for money.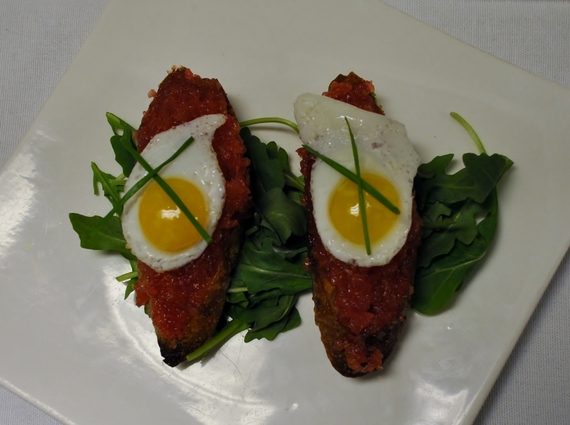 Spicy Yellowfin Tuna Tartare Crostini with sunny-side up quail egg & chives
Sojourn has wonderful desserts. The pièce de résistance though is their Ricotta cheesecake with blueberry sauce.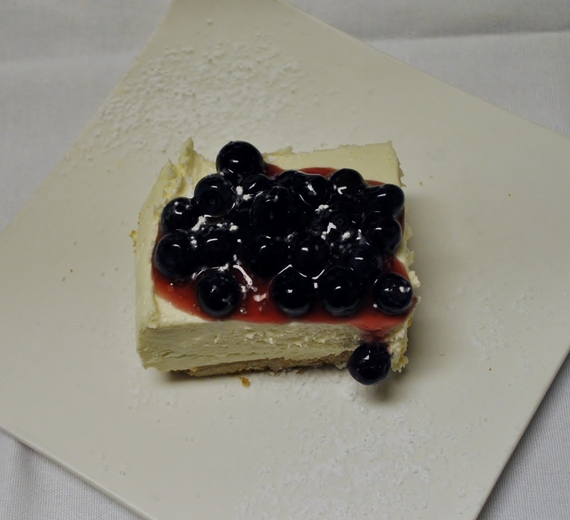 A wedding held at Sojourn featuring a Ricotta & Blueberry Cheesecake wedding cake
One very popular event at Sojourn is their wine tastings. Held at a beautiful natural wood Y-shaped table with porthole connecting it to the kitchen.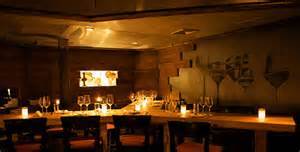 Featuring five courses paired with five wines, Sojourn offered Corn and Lobster Bisque; Roasted Shrimp Salad; Pacheri Pasta, with Roasted Eggplant; Long Island Duck Breast with Roasted Black Figs and Flour-less Chocolate Cake for an astounding $60 per person.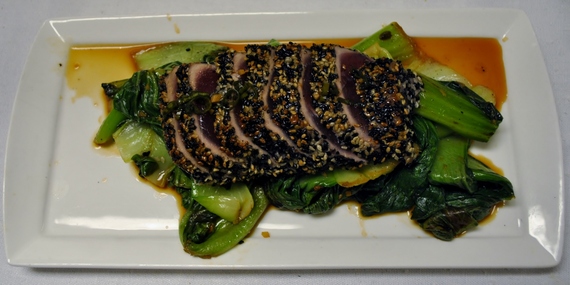 Sesame Crusted Tuna with Yuzu, soy vinaigrette and ponzu glazed, bok choy
Many local UES couples, married and courting have discovered Sojourn as a great 'Date Night' spot and local singles scour the Sojourn landscape for suitable mates. At one point, Sojourn was a regular venue for Match.com events and these packed them out with singles looking for love. The Sojourn ownership held these Match events earlier in the evening so as not to inconvenience their regular customers, whom they prize.
Enough of love for now.
Let's talk small business and entrepreneurship.
Restaurants are very hard businesses to start, build, run and maintain. They can be lethally expensive with capital expenditures such as costly kitchen appliances, ventilation, plumbing and bar construction. If you pick the wrong location, you're dead in the water. Pick an area with too much similar competition, and ditto, you're gone. Restaurants fail and go out of business at an even higher rate than non-restaurant businesses which go under at an alarming rate themselves.
So these business-killing speed-bumps make the story of Sammy Musovic even more fun and inspiring. Musovic came over to America when he was five years old.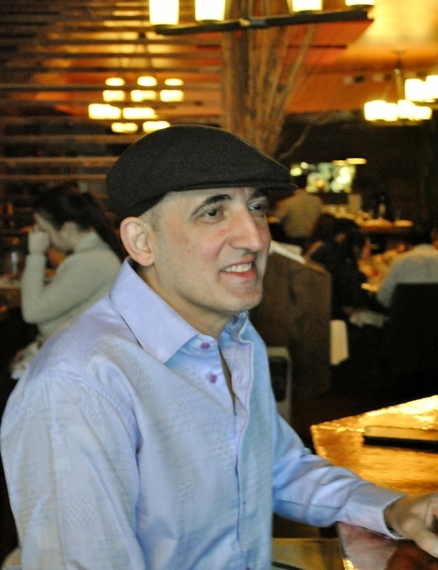 "In the early 70's, I came from Montenegro near the Adriatic between Greece and Italy--a beautiful place," Musovic told me recalling fondly. "I didn't speak the language properly. But America is the land of opportunity and I worked hard, went to school a little bit and started out part-time as a busboy and waiter. I started doing so well, that I realized that maybe I could get what I want without finishing school."
Musovic worked his way up so fast, he became the maître d at the famous Chinese fine dining restaurant, Mr. Chow on 57th street in Manhattan. "I met the elite people of the world; billionaires like Ted Turner, Warren Buffet, and others; celebrities like Madonna, Mick Jagger would come in with his crew and have a party there. Then Jagger would grab me and we'd pile into the limo and go out on the town. I really had a lot of fun. Ballplayers, you name them. Steve Rubell from Studio 54. Andy Warhol and Keith Haring were friends of mine. Julian Schnabel too."
"Then I moved over to Sparks Steak House, where I was one of the head waiters and learned so much about wine."
But whether a busboy or working his way up to maître d, the real entrepreneurial idea of owning his own restaurant never left Sammy Musovic. "The celebrity network I built at Mr. Chow was invaluable to me. When I decided to open my own restaurant, I had the contacts to help me with investment."
Johnny Musovic is 25 and has been working regularly at Sojourn with his father since it began almost seven years ago.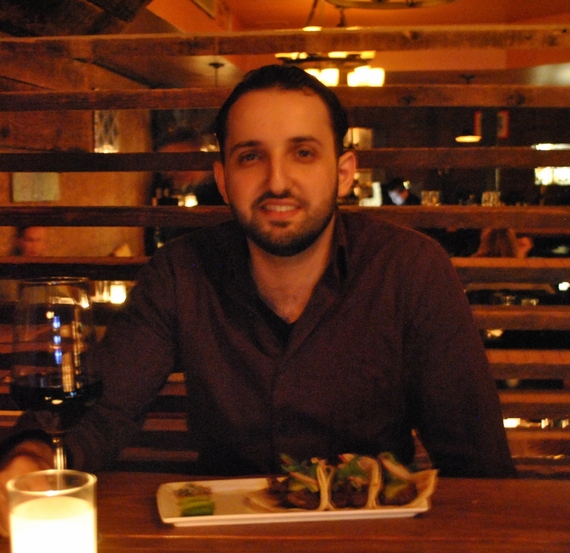 Like his Dad, he started as a busboy, delivery boy and pitched in generally, learning the business from the bottom up. "I remember when I was 15, wanting to make money and begging my Dad for shifts. 'You're too young to work,' he'd tell me. The only ones I would get, would be when people called in sick and we were short-staffed. I did anything I could get my hands on."
For Sojourn, the pairing, offering, sampling and promotion of great wines is crucial. "The wine side of our business is very important," Johnny Musovic told me, "we believe in value; we always want to give the customers the best value on their wines. People recognize a good wine and I've been to hundreds of wine tastings and events with these representatives from different wineries in different areas and I've gotten and informal education on wine. But my Dad is really the one who's had the experience and knowledge; Sparks has had one of the top wine lists for years."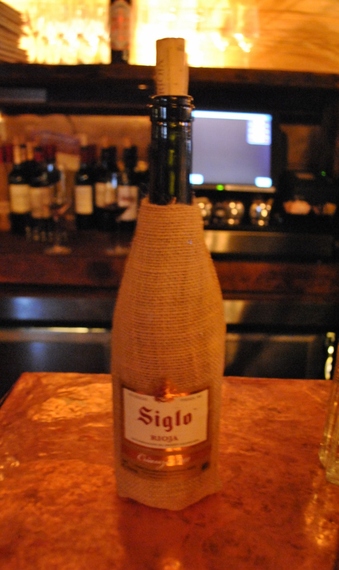 A Sojourn favorite wine: Siglo Rioja Tempranillo
As the Musovics and Sojourn grow and prosper, so do their enterprising ways. Recently, they have expanded their UES restaurant interests to include Vero, a popular wine and panini bar right around the corner from Sojourn at 1483 Second Ave. near 78th street. "It's become a big late-night spot," the elder Musovic told me. Vero has a great special on Monday nights where with every drink purchased, the customer gets a free panini.
And in a foray into Mexican food, Musovic recently bought the former Cilantro which had some negative reviews online. Now named Selena Rosa, I went there and thought it amazing. As promised, the margaritas were big and filled with four shots of tequila instead of just two. I had the chicken enchiladas in blue corn tortillas with roasted red pepper sauce which was astonishing. Musovic told me he was turning this restaurant around, and his early efforts show. "It's something I might consider franchising," he said passionately.
Like 'conglomerators' of years past such as Harold Geneen who built ITT Corporation, Musovic won't stop at three restaurant properties. He is, he told me, very focused on expanding his three eclectic restaurant styles into franchising as a way of growing a restaurant empire. With Vero's narrow, cozy layout, it seems like a winner to franchise into NYC's smaller commercial properties on the street-level. Selena Rosa would make a great mid-range Mexican chain to counteract the growing hoard of froufrou Mexican joints with $32 tacos. Just my opinion: Mexican food should be well-made and affordable.
When asked about his son Johnny, Father Musovic became effusive. "He's my right-hand man and has definitely made my life a lot easier. And because him, I got to evolve and expand the restaurants. Absolutely I'm proud of him. He's very motivated, very dedicated. We both work seven days a week and we enjoy it."
Now as the overall manager of Sojourn, Johnny told me, "I love it. I have a real passion for the service industry. It's something you get instant satisfaction from when someone eats your food, you see them enjoying everything and then they leave with a smile on their face."
To highlight that customer service-centric attitude, Inc.com recently did an article on Sojourn and Sammy Musovic's way of looking after their customers, entitled, "Why Your Company's Success Boils Down to How You Make People Feel." The writer of this piece may well have captured the Musovic' secret to success: making your customers feel special. This is no secret to entrepreneurs, but the difference between knowing they need to do this and being able to execute it flawlessly, is the real secret to behold.