Unless you're five years old and your Grandma is 40, the answer to the question above is probably no.
For too long now, our Seniors have been disconnected en masse from the Internet ... disconnected from the outside world in many ways. If they're in poor health or house-bound, they may be isolated, lonely and alone.
As a small boy, I spent a lot of time with my Grandma, who passed away in 1982. She had a huge role in my personality, ethics and life as they developed. There isn't a day that goes by when I don't think of her and her beautiful smile.
Our elder parents and grandparents deserve our love, attention and best effort to keep them an active part of our lives and the world as a whole.
And we're not doing them any good whatsoever by expecting them to conform to our user interfaces, mouses, keyboards and a mess of spaghetti wires to confuse and confound them. Hell, I've been called a "tech expert" by CNN and the BBC and I get so frustrated with the technology in my life on an almost daily basis that I want to throw it out the window and I understand how this stuff works.
A device made with Seniors in front of mind needs to be simplified, simplified, simplified--beginning with how they access their computer and the Internet itself. If they can't use a desktop computer; how in the world are they going to be able to get up to speed on a laptop, smartphone or tablet? The answer of course is: they're not.
According to some 2009 Neilsen numbers, less than 10% of Internet users are 65 and over. The report trumpets that "Six Million More Seniors Using the Web Than Five Years Ago." Now this is a good thing but not good enough. The entire thrust of this report is about how good those numbers are when this positioning only perpetuates the real problem: not nearly enough of our Seniors are online enjoying being part of their loved ones' lives.
The Pew Research Center has an arm called Pew Internet which performs all manner of surveys which are normally very reliable. But only to the extent that the reader/researcher keeps in mind that their bold sweeping statements refer only to those they surveyed.
So when Pew Internet published a report recently entitled, "Older Adults and Internet Use" they got my attention. Using the sub-headline, "For the First Time, Half of Adults Ages 65 and Older Are Online," I was shocked. "How could this be?" I shrieked in my head. Turns out the subhead was really misleading. Of course half of all humans 65 and over are not on the Internet, only half of those Pew surveyed were. My best guess is that something in the low 20s or high teens is the right amount of 65 and overs are competent on computers/smartphones and on the Internet. But perhaps much, much less.
The numbers I want to know are how many Seniors are not on the Internet. These are the millions, upon millions of people who can be helped and whose lives can be vastly improved; their memory extended; and their elder years made more enjoyable.
I believe the media in general and the tech press in particular are painting an overly rosy picture to the rest of us. Most of the articles I found were "look how great we're doing" articles as opposed to "sound the alarm" articles which is what I really believe is required when it comes to our Seniors and the situation with their technology exclusion. Here are two of the few articles I could find which which I wholeheartedly agree: "Get Old, Tune Out: Is Technology Leaving The Elderly In The Dust?" and US News & World Report's "Seniors Are Saying No To High Tech."
Clearly something has to happen to get our Seniors online and enjoying life again; something more than another trip over to try and get them on their Yahoo mail account, get them to Google, reboot their system or show them how to open jpeg pictures of their grandchildren ... operations which they always--bless them--quickly forget.
But there is hope for our Seniors clamoring to be included in all things digital. A Seattle born, bred and based start-up called Pure Devices has created a new device with several patents pending that makes good progress toward providing what we tech people would call an easy "UX or UI." (User experience and user interface.) To Seniors, this would be known as "getting the damn thing to work."
Pure Devices has taken a fundamental, core approach to this enigma of Seniors & Technology, by creating a simplified device that is really only a monitor, one small chip and a power source with a big, elder-friendly touch screen. This eliminates the need for the annoying claptrap of accessories such as the mouse/keyboard duo which always seems to create problems for Seniors. And finally, they connect this thin-client terminal to the Cloud with advanced software which acts as an always-on, virtual IT maintenance man--an 'Internet Buddy,' if you will.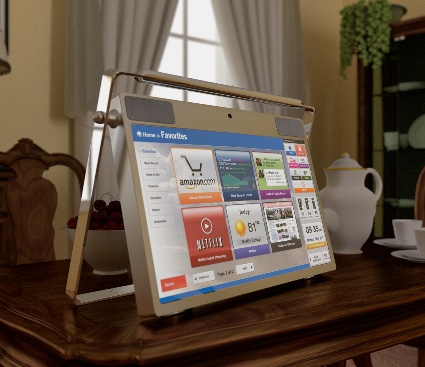 Can't you just see your Grandma sitting there with a cup of tea?
Though they haven't produced this device past a cool, working prototype yet and are seeking investors and early consumer feedback on Kickstarter (they've raised over $100,000 toward their goal of $150,000 with 14 days to go), these former tech and marketing employees of Microsoft, Intel and Amazon are on a mission from God. Their video on Kickstarter is not only snazzy and funny but is already creating quite a viral buzz on the Web. Those who pledge $200 or more get free devices but also free Cloud service for the lifetime of the device; this is only available during the Kickstarter offer.
Imagineered by former Microsoft employee turned tech company CEO, Eugene Luskin, the motivation or 'aha moment' of the Pure Devices machine was a true labor of love involving his grandmother.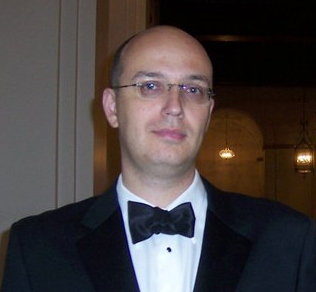 Luskin found himself making numerous trips across town to his grandmother's house to help her get her cable box remote back on track. Who of us hasn't had a similar experience with an elder loved one? Frustrated and exhausted by many emergency runs, he finally took a piece of paper, wrapped it around her remote and put three holes over buttons for her: on/off, channel and volume. All other buttons were covered and Luskin had no further problems because his grandmother had no further problems.
But it was this simple idea--eliminating all the other buttons (and unnecessary stuff)--that must've unleashed an idea into Luskin's mind: What if I made an Internet device which was so simple, so devoid of unnecessary crap that my grandmother and other Seniors couldn't mess it up?
Luskin's life has been a fascinating journey. Born in Nizhny-Novgorod, Russia (which was renamed Gorky after the Russian writer Maxim Gorky between 1932 and 1991) and migrating to Israel at 19, Luskin then entered the University of Haifa which has produced some of the finest tech minds around. He graduated with a bachelor's degree in Math and Computer Science.
After college, Luskin got a jobs in Israel at Parametric Technology and Intel. Moving from Israel to Seattle in 2001, he promptly got a job at Microsoft of increasing software to management responsibility. Then founding and heading an interesting 'Smart home and Smart buildings' company called Lagotek for about six years, Luskin embarked on his crusade to solve his grandmother's and other Seniors' difficulty in getting on the Internet.
In what is the first consumer-product use of Raspberry Pi as a fundamental technology platform, Pure Devices is using this new, credit-card sized computer as the basis for its device for Seniors. In this video, Luskin talks a bit more about Raspberry Pi.
Using this new technology motherboard and designing specifically for this unique market of our wise elders accomplishes several things that have never been bundled together for Seniors:
1) It gives them an easy, non-intimidating, non-confusing homepage interface over which they can control their own Web destiny. Big, clear buttons allow the Senior to easily control font size, brightness and volume. Creating a Senior-friendly desktop with big buttons and easy navigation required a fundamentally new operating system which is built on Rasberry Pi.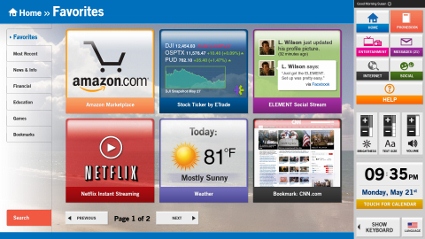 2) Instant access at the touch of a finger to the only really important applications they want to access:
Messages--Email, social media like Facebook, Twitter, Flicker for photos and others that their grand-kids are on.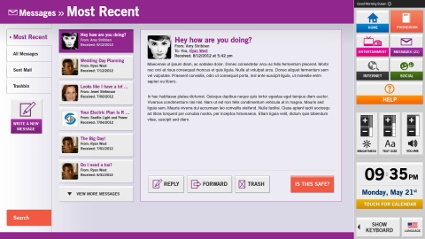 and ...
Contacts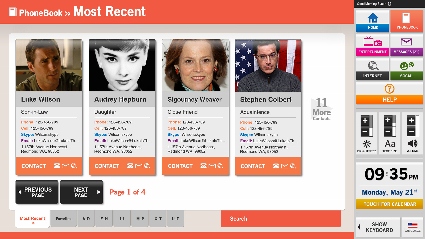 A clean, easy message screen that should be a breeze for those unfamiliar with 'computer-ese'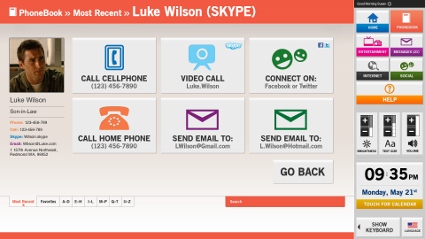 Well, Luke Wilson's mother-in-law won't have any problem getting in touch with him
3) In a long-overdue recognition of what Seniors need and don't need, Pure Devices has taken all the collateral, confusing and annoying boxes off the Senior's desk and put them all in the Cloud so there's no CPU, ugly wires or other clunky attachments. (Of course this has been done before most notably with the iMac and other 'media-center' type monitors but these previous efforts never cleared off the army of icons and file trees that confuse our elders and were not specifically developed for this Senior market, who needs it most.)
4) Part of the original problem Seniors had with computers was their justifiable fear that "something would go wrong," like a hard-drive crash, loss of data or ... Egad! ... the 'blue screen of death.' To completely eliminate these disastrous user scenarios, Pure Devices has created a totally Cloud-based software solution which frees the Senior user and puts all the control into the hands of the Pure Devices' support 'command center.'
5) If they have a problem with anything at all among the multitude of potential jack-in-the-box issues that our computers can spring on us, Pure Devices' support appears on their screen in a Skype-like chat box, takes control of their desktop, can encricle any relative icons in red and assist the Senior right on through the problem.
Luskin added: "Unlike the common desktop or laptop computer, this device is completely read-only. It will never ask you to install programs, upgrade your operating system or restart. All of these processes are handled by software running in the cloud, ensuring a user's experience void of upgrades, crashes, viruses, malware and other hassles."
Let's pretend that all the rational armament I opened this article with about what a struggle getting online is for Seniors isn't there; let's assume there's no problem that anybody knows about. If you go to "Senior Community Interviews," you will see caretakers, educators and Seniors themselves talking about the problem cogently, passionately and in a way that would make anybody sympathetic.
Isn't Pure Devices going to be perceived as a big, expensive and risky 'hardware play' by any VC investor? "This isn't really a hardware company," Luskin said, "not in the traditional definition of one anyway. It's a Cloud company because of the way nothing is stored on this device--absolutely nothing. And our company is also an IT services play as well. I will tell my customers that 'I will come by your home every morning at 9am--rain or shine, no holidays--and check your device while ensuring there's no problems and answering any questions you have. And, you don't even have to get out of bed or answer the door' ... I'll do it virtually, of course. So I see this as the ultimate Cloud/IT Support play; kind of a less expensive and annoying Geek Squad."
So why hasn't Apple or IBM or H-P, Dell or even some smaller tech start-up developed a device especially for the Senior market? Some have; half-heartedly. It's precisely because of this media perversion of the reality of Seniors being excluded from technology that more haven't. Otherwise, these huge tech OEMs most certainly would. Better for Pure Devices.
And Seniors are very price sensitive. Most of the attempts at a Senior device have, in my estimation, cost too much for those on Social Security or a small pension. Pricing will be crucial for Pure Devices. I asked Eugene Luskin about this and he was inordinately careful to say that all pricing is preliminary and will be set closer to the device's release.
"We expect the retail price of the device to be in the range between $199 to $299," Luskin predicted. "So it's approximately the same as the price of 19-21 inch touch screen monitor but much less expensive than an iPad or even some iPhones. The basic monthly fee is expected to be $9.95. Then there will be more expensive packages for larger storage/backups, video/audio streaming, unlimited long distance and international calls including calls to regular phones, etc. Now, if you compare it with owning a computer and referring to, for instance, Geek Squad a couple of times per year - you end up with much cheaper and totally predictable user experience."
And Luskin's Pure Devices' crew doesn't just plan to put a Senior device on the dining room table of every Senior in America; there are plans to make a plethora of mobile devices once the home device is well-established. Eugene Gershman is Pure Devices' CFO and also a Russian who was born in Moscow, moving to Seattle after high school. Gershman got an undergrad economics degree from the University of Washington, then an MBA. "We expect that our product line will expand beyond the senior market and into education and enterprise markets as well," Gershman said hopefully, "we will stay committed to the senior market and provide additional tools, accessories and useful, easy-to-use applications."
In order to double-check my opinions and assumptions with regard to what I feel is the slew of Seniors unable to surf the Net to a better life, I decided to go to an expert.
Laurie Orlov is a former Forrester Research analyst, author ("When Your Parents Need Elder Care"), public speaker and elder care advocate who knows both the Senior and Tech markets cold. Her sleek, data-riven web site is "Aging In Place Technology Watch." She told me that "You are absolutely right, I believe 100% of all adults and all ages--older people in particular--need to be on the Internet because all of the information we need to function is there. The biggest problem for the elderly is isolation." Eureka, I was right, says an expert. Ms. Orlov continued, "Fortunately we're entering a new world now and if you're 75 and have grandchildren they're going to be pressuring you to get online and open pictures and so on." She highlighted the blight of those Seniors not online by saying, "Coupons, discounts, product information, medicine, healthcare information it's all so important for the elderly. Even the Yellow Pages are not being updated as much anymore, so if the elderly are relying on them and not the Internet, well ..."
And it's not just about helping Seniors feel and be connected to the world through the Internet, it's also about keeping their minds active and fit. Robin Raskin is a veteran tech journalist who founded a cool web site called "Living in Digital Times." In a recent blog post entitled, "Free A Senior From Technology Hassles Today," Ms. Raskin makes many strong points about our Seniors but the one that caught my attention was the bullet point called, "Encourage a sense of play." Raskin wrote, "According to the Mayo Clinic, seniors who engage in cognitive activities, play games or participate in crafts enjoy less decrease in memory. A turn by turn game of Words with Friends, Draw Something with a family member, or brain games like Suduko are free or inexpensive. Some games can be played alone and others with friends or pickup friends (careful of scammers). Games based on scientific neuroscience from companies like Dakim and Posit Science cost more, but have more science theory backing them."
Can you imagine the boost to the economy and GDP if we could keep our Seniors' minds, expertise and wisdom razor-sharp and contributing to business and society?
"In Pure Devices, it's all about full circles of experience, perfectionism and responsibility," Luskin said starting to summarize. "If we can polish every small detail of the devices that we build - then the finished devices will be perfect. There is no feature nor function in the software that is not critical. When we say 'we care'--we really mean it. We care about doing things right for our customers, we care about their emotions. It takes a lot of effort to stay laser-focused on our customers' needs, instead of being constantly distracted by trying to improve ways of making profits and cutting expenses. It takes way more than just building the right devices and putting together the right software. It takes studies, focus groups, online services to support the experience, call centers and trained professionals to hold our customer's hand and make sure they feel really comfortable. We care about feelings of our customers, making sure they're not feeling offended by the new generations and not feeling totally dependent on someone who knows technology better than they do. It all started with trying to help my grandmother. And I want to be absolutely sure that I can bring what we have created to her and tell her that this is the best product she can use without any fear that she would push a wrong button. My personal confidence leaving the device with her or someone who has no understanding of technology is going to be a prerequisite to releasing such product to the market as long as I manage this business."
My Grandma witnessed some of the most amazing advancements of technology in history. She and her generation watched and lived as human transport went from horse and buggy to automobile; from auto to airplane; from airplane to jet; and then their method of finding out what's going on in the world from newspaper to radio; and from radio to TV. She was at Kitty Hawk to see the Wright Brothers practicing. She was an amazing lady. I only wish she was still here so I could help her set-up her Facebook page.