This is the first of a short series of columns over the next several days on the Warren Buffett & eBay Giving Works partnership benefiting Glide Memorial Church in San Francisco. This first column is kicking off the online auction for a NYC lunch with one of the richest people in the world--a once-in-a-lifetime opportunity--for the winner and seven of their family, friends or work associates. And, I will tell you all about how to pre-qualify, compete and if you want it bad enough, win. The online auction begins on Sunday, May 31st and runs through Friday, June 5th at 7:30pm PDT. My second column will report on how the auction is proceeding and hopefully, the third will be a recounting of events at the lunch with Warren Buffett.
I've wanted to write about the Internet and its vast potential for being harnessed properly and being used for good works for a long time.
I was just waiting for the right vehicle. Now I've found it.
And our story involves two very different men, from radically different backgrounds, one black, one white who have made the same decision at different times of their lives to give away everything to the needy, in need and impoverished. It's a miraculous conjoining of contradictory communities for the benefit of all. There must be some divine hand in it all.
This Sunday, an eBay Giving Works' online auction begins to raise money for Glide Memorial Church in San Francisco. And a steak with Warren Buffett will ensue.
Glide is epicenter in SF's "Tenderloin" district. And tender it is.
I lived in Sonoma County, California (just 50 miles north of SFO and very connected intellectually) and know the great humanitarian work of Glide and its omnipresent founder, Reverend Cecil Williams. He has been a mainstay for San Franciscans in need and a true Godsend for the community.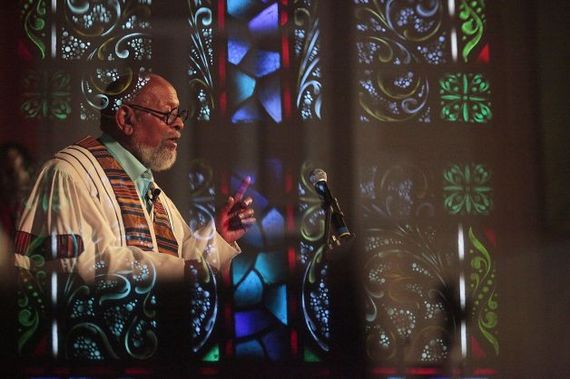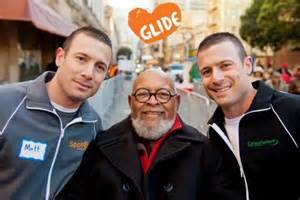 Williams joined Glide as Pastor in 1963 and has spent the last 50 years plus giving and care-taking San Francisco's homeless and hungry. Not stopping there, Williams also took his charity model on the road to college campuses and community centers across America, teaching others and setting up similar operations for minding the homeless, hungry, addicted, sick and AIDS-afflicted.
With his second wife, Janice Mirikitani, the Reverend and his poet/activist wife have worked tirelessly, together for others over the decades.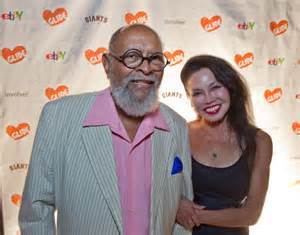 It was in the Will Smith' film, "The Pursuit of Happyness," that the iconic Williams breaks up a fight for the last beds for the night. The scene below grippingly highlights the crippling need of his "Tenderloin" district and the desperate condition of many of America's richest cities.
Ironically perched right above Glide and the Tenderloin are Nob Hill and Russian Hill, two bastions of Bay Area wealth. Right beside the gloom and tortured souls, is Union Square and its designer stores fulfilling the wildest handbag and shoe dreams of those with everything.
Given the barren, stark circumstances of areas like the Tenderloin to their ritzy neighbors, Williams' good works are more than necessary, they are crucial for survival.
Now of course, Warren Buffett comes from an entirely different lifestyle.
However! This does not mean he doesn't feel the pain of others less fortunate. Saying grace with my grandmother at her dinner table, "Dear Lord, Let us be truly thankful for the meal we are about to receive ... and, keep us ever mindful of the needs of others. Amen." I've had those words and the concept burned into my mind, psyche and imagination since I was in diapers. Warren Buffett has lived them.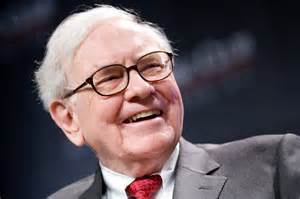 And Buffett has famously given away the vast majority of his fortune--upwards of $50 billion--to the Bill & Melinda Gates' Foundation. What's more, he's been a startlingly good and folksy arm-twister in getting other billionaires to bequeath their fortunes too, when they pass on from this mortal coil.
This subtle yet compelling Buffett' activity, gave birth to "The Giving Pledge" which is self-described as "an effort to invite the wealthiest individuals and families in the world to commit to giving the majority of their wealth to philanthropy." Beginning when Buffett announced his ginormous gift to the Gates' Foundation in 2006, The Giving Pledge snowballed from there. Bill Gates was the first to succumb and by April of 2011, 69 of the world's billionaires had signed on. By early 2015, more than 128 had signed and morally pledged. Buffett had become the billionaires' ambassador to the world's poor.
I'm not sure precisely when Buffett started his journey to become the world's greatest philanthropist, dragging Bill Gates along in his wake, but I can surmise it had a lot to do with his late wife Susie.
Cecil Williams told me, "It was Susie who opened possibilities with Warren that made sure we got connected. It was unconditional love that had us looking at doing something ingenious and magnificent. So we took the ball and ran with it."
Janice Mirikitani recalled, "Susie Buffett had been coming to Glide for several years and didn't use her real name because she wanted to make sure we were real. 'Susie Thompson' is how we knew her. (Thompson, as it turns out was her maiden name.) They're both very humble people."
"Susie traveled extensively with us," Mirikitani told me, "as we took a model of Glide out to college campuses and community centers. She was concerned about the hungry; we were giving away almost one million meals per year. She was very compassionate and exercised unconditional love. AIDS patients are rejected by their families and churches, so her AIDS work was so important to her. To Susie and Warren, acceptance of people, everyone was so important."
"We did a lot of praying on this," Mirikitani concluded. Pastor Williams summed up, "It's about the power of one lunch ... to help thousands of people."
In the past 15 years, Warren Buffett has helped Glide raise over 18 million much-needed dollars with simple lunches.
Warren Buffett told me:
On Reverend Cecil Williams and Janice Mirikitani's work, " ... what you are doing today is more important than what you were doing 5 years ago and 10 years ago and 20 years ago, and the momentum will not stop."

On Glide " ...everyone that has experienced Glide, comes away a believer. They have to see it to believe it, but when they see it, they do believe it."
On the auction "I've met a lot of people in connection with it, and met a lot of good people. Made friends, hired people, had a lot of steaks. Can't complain."
A point needing a tremendous whack, is that neither Williams nor Buffett are young men. Both in their 80's, these two kindred spirits don't take "no" for an answer and are a model for us all in staying young at heart by giving to others.
Another of the points I want to cover as I write is just how impossible this kind of mega-fundraising would've been before the Internet. To counter the bad effects of the Internet, eBay Giving Works has created this nifty mechanism to help non-profits, charities and the like sell things and offer promotions such as this with one of the world's richest and most giving people to raise much needed human capital to help humans.
An eBay has created a nice snap-on platform where they provide the 'storefront' for nonprofits and charities to auction off unique prizes. "eBay is committed to building a future that enables and inspires charitable giving at scale, and is grounded in what the company does best - technology enabled commerce," said eBay's vice president of Global Communications and Social Innovation, Claire Dixon. "Last year alone, we helped charities raise $91.6 million - eBay is a proud supporter and partner to Glide as we assist in its mission of helping San Francisco' residents in need." (My second column in this series will cover more about eBay's Giving Works and their role in this initiative.)
According to the recent press release: "The bidding starts at $25,000 and all bidders must pre-qualify prior to bidding. The winning bidder will have the opportunity to bring seven friends to join him or her and Mr. Buffett for lunch at Smith & Wollensky in New York City. Over the past 15 years, the winning bids have ranged from $25,000 to $3,456,789, with the funds going directly to support GLIDE's programs, which help people overcome hunger, poverty, homelessness and more. Last year's auction brought in $2,166,766."
So will it be another two million dollar price-tag this year? Or will it break the previous $3.4 million record? I'm betting the record is shattered.
To pre-qualify GO HERE. Pre-qualifying is required in order to bid in the auction.
Once you've pre-qualified and the auction is open, GO HERE to bid.
Stay tuned for the second installment in a couple of days covering how the auction is proceeding.