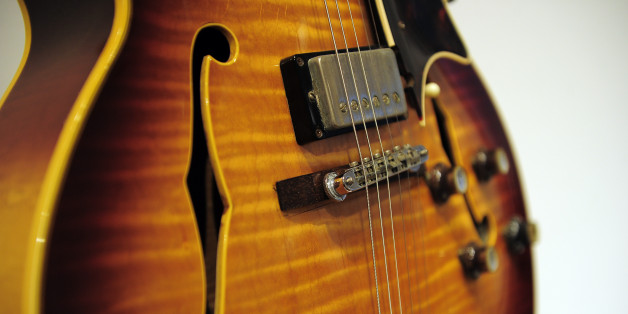 I collect guitars. Or, as it has seemed over the last few decades, maybe they collect me. This is not just a glib bullshit Snappy Opener. I'll explain...
First, if for absolutely no other reason than to provide the formidable Deke Dickerson, author of The Strat in the Attic 1 & 2, with bona fides that validate me as worthy of discussing his books in a public forum, I list some of the highlights of my own guitar collection... in alphabetical/chronological order by make/build date...
Danelectro September 1966 Guitarlin
Epiphone March 1961 Casino
Epiphone August 1961 Sheraton
Epiphone October 1962 Coronet (Dwight logo on headstock)
Fender November 1957 Stratocaster
Fender April 1964 Duo-Sonic
Fender October 1966 Telecaster
Framus 1962 Star Bass
Gibson February 1959 'sunburst' Les Paul Standard
Gibson March 1964 Hummingbird
Gibson January 1965 Firebird III
Gibson January 1969 SG Special
Gibson January 1969 Les Paul Custom
Gretsch October 1956 Chet Atkins 6120
Harmony 1957 Catalina
Harmony 1965 Meteor
Rickenbacker April 1965 Rose-Morris 1998
Rickenbacker September 1966 330-12
Vox 1967 Bobcat
Okay, that's quite enough of that. Jeeez! Braggart! Well, okay, yes, there's that.
My 'they collect me' line up there refers to my own extraordinary luck and timing over the years when it comes to fabulous guitars just strolling up to me, jumping in my lap, and cooing, "You can afford me."
In Deke Dickerson's two books, The Strat in the Attic 1 & 2, published by the smartypantses at Voyageur Press, (2 has just been released) there is almost none of that. Deke's got two categories of collectors...
There are the "canned" hunters who browse websites with their credit card at the ready. They see a 1958 Fender Stratocaster (the "Strat" in Deke's title) on a vintage guitar website, they put it in their shopping cart. Voila! You bad. You own a '58, dude. Ummmm, do you know how to play it?
Then, there's the serious "Thrill of the Hunt" guys... While the trees have been pretty much picked clean, you can still find those two or three fellas will still get in a car and drive over 1,000 miles in a weekend, going from small town to small town and stopping in every music store, thrift shop, antique boutique, yard sales, scouring for rare guitars being sold by folks who don't know. Deke's books abound with stories of the unlikeliest of guitars showing up in the unlikeliest of places.
A great example from Attic 1... A fellow obsessive finds Deke the only known Gibson Futura, a guitar that never made it past the prototype phase, sitting in the rear window deck as a piece of decoration, it's finished literally burned off by 30+ years in the naked sun, in a small town in Louisiana. WTF?
Before the internet, this was how you did it. You roamed and sought out. Or in my New York City Lazy Boy case, just stop into the same three or four shops 4 or 5 times a week every week.
With exactly one exception, the guitar I'm gonna discuss below, all my acquisitions have been face-to-face encounters, either in a shop, or someone mentioning a guitar they were thinking of selling and me following up. In a few cases, my 1959 Les Paul and my 1957 Strat, the two true jewels in my collection, as examples, I went looking for the guitar with pure zealot determination.
But, I also own guitars that you (or I) simply would never dream of actually Hunting Down. As in, never even bother to fantasize about. Two examples...
My little 'budget-guitar', the Dwight is one of maybe 60 made at the end of 1962. A botched promotion between Epiphone Musical Instruments and a music store in St. Louis, they were a flop. Probably 75% of them have been destroyed or mutilated. Beginner's models are next to impossible to find in good shape (my 100% original Dwight... a scorcher of an ax, too... is about an 8.4 on a 10 scale, if 10 is minty new).
My 1965 Rickenbacker Rose-Morris 1998 (that was the 'futuristic' model number) is the exact 'export-only' model Pete Townshend used for the entire debut album by The Who. It is the model he's windmilling on that famous black'n'white "Maximum R&B" poster. Rickenbacker made less than 400 and all of them were shipped to the U.K. and Europe. Finding one at Matt Brewster's wonderful 30th Street Guitars in New York ten years ago was not a dream come true. I'd never even bothered. As I've stated, it's almost always about timing. Five of my guitars had been on the floor of Matt's shop for less than 20 minutes. In every case, I was pretty much the first person to see the dang thing. Timing! These kinds of instruments never turn up on 'canned surf-aries' on the web.
But, man, this Deke Dickerson... This guy is of an altogether 'nother breed... He coined the term for his particular case of severe OCD... "Guitarchaeology".
This man will track a guitar for literal years. He will fly to small towns on the basis of a rumor. He will pore over sales records from guitar manufacturers and retailers from decades ago, looking for a scrap of a clue, he will wait years for an owner to finally give in and sell.Okay, here's who Deke Dickerson is, encapsulated in just one of his dozens of amazing and throughly entertaining stories...
If you look at my list above, the very first guitar listed, the Danelectro Guitarlin (so named because it had 31 frets instead of the usual 20 -22, like a mandolin, get it), turns out to be very rare indeed, as I just learned from reading The Strat in the Attic. It was a special order high-end item (made by a low-end company) that was created in very small batches between 1958 and 1968. When I was a tyke of 12 or so I saw a few bands, including The Who, use these weird guitars on shows like Shindig and was eternally hooked. I had to have one. Over the many years, I looked in every store I came across and often asked if they'd seen one (as in, back in the stockroom). The answer was always no. Always. It was over 35 years of just keeping the old eye out that led me to my 100% original 1966 Guitarlin, purchased off of eBay in 2005.
One of the most famous pioneer-purveyors of raw hoodlum distorted rock guitar was Dano Guitarlin user, Link Wray (shame on you if you're wondering "Who?" Google now! We'll wait... ). His "Rumble" instrumental was so exciting and even menacing that it was actually banned by some radio stations when it came out in 1958. Promoted juvenile delinquency, doncha know! Link recorded, performed, and posed with his 1958 Danelectro Guitarlin. Lots of photos exist of Link and his 'Lin. As you guitar-peeps already know, this Danelectro is actually sort of a mere sideshow curio-oddball in my batch 'o boys, especially compared to the Mighty Gibsons and Fenders. So, why do I highlight it here?
Well, it amply illustrates Deke Dickerson's obsession(s) as compared to a piker like me. I merely hankered after this particular model and kinda waited for one to cross my path. Deke was never interested in owning a goofy Danelectro Guitarlin. No way! Screw that!
No, Deke was intent on, and succeeded in, finding and acquiring Link Wray's Guitarlin, okay.
Link's.
The one in all the pictures. The one you hear on most of Mr. Wray's recorded works of the late 1950s and early 1960s.
Only took Deke years.

Another quick history lesson with the utterly-typical Deke Dickerson punchline... Wait for it...
In the mid-1940s, California was infested with superbly talented musicians playing what was/is called Western Swing... Jokey shorthand description... Cowboy gittars throw in a huge dollop of Count Basie into what you might call typical Country songs. Yes, there was twang and fiddles and bangos and odd and ends but, this music was created and performed by a group of men to whom the appellation 'virtuoso' seems anemic. The guitar players up and down the length of California in the 1940s were simply astonishing on any level, whether in raw freakish skill or wildly inventive writing.
Leading up to WWII, the guitar, more than any other instrument, seemed to go through a very powerful, if erratic, ascendency in popular music. Hard to believe now, but, bringing electricity to a guitar was born out of a brief but pervasive fad of that ultra-syrupy Hawaiian music with the slippery whining 'lap steel' guitars in the 1930s. Really just glorified planks with strings set an inch or so above it, to be played by applying pressure to the string with a steel bar and sliding to and from notes. Country music appropriated the sound and slicked it way the hell up with the pedal steel guitars any casual Country fan is thoroughly versed in.
By the end of the war, with tech-creativity booming, the idea of a fully electric solid-body (for purer tone and less noise) guitar was inevitable. A machinist, Paul Bigsby, who was also a player, knew many of the hotshot Western Swing guys in the region. In 1948, Paul decided to build solid body electric guitar for his friend Merle Travis and to show his various musician pals. Bigsby's guitar was phenomenal. Incredibly easy to play and with superbly rich tone and a fantastic primitive look that belies the exquisite craft. He also showed it to two local Cali pallies, Leo Fender (yes, that Fender) and Ted McCarty (founder of Gibson Guitars' electric division). Uhhh, yeah.
Paul Bigsby wound up making only 21 guitars. To call these rare is demeaning. Not only are there so very few, but, every one is accounted for and never for sale... except... that by the end of The Strat in the Attic 1, our intrepid guide, Deke D has bagged THREE of them. Yes, the man who wrote these two books, sharing his, and his fellow psychos' stories, owns three of twenty-one Bigsby guitars. You know that first-ever issue of Superman or that Upside Down Airplane stamp? It's like Deke owns three of each of those, okay.
So, are you ready for a book of Guitar Stories brought to you by someone that single-mindedly focused and, well, magically freakin' cool? Let me tell you, Deke has dug up, not just great stories, but, real-life characters a screenplay writer would discount as too good to be true. Every pioneer of electric guitars, almost to a man, was an eccentric... with the exceptions of Leo and Ted... perhaps a reason the names Fender and Gibson trip off our tongues and Mosrite, Del Vecchio, Microfret do not?
One of the strongest flavors to just drench every page of these two super-entertaining books is...
USA USA USA USA USA USA USA USA USA USA USA...
It's not jingoism... it really was a bunch of rough 'n' ready American fellers, most ex-GIs, at the beginning of the 1950s who created what we have called electric guitars for decades in their garages, dens, at their die-tool job after hours... Almost all of them just grabbing the problems presented by electrifying a stringed instrument by the neck (pun) and coming up with some amazingly clever solutions, along with the truly wacky ideas that always pop up in endeavors like this. Deke is as interested, or perhaps, even more interested, in the weirdos and one-offs from these early developmental years.
Yes, there are very cool stories about Les Pauls and Telecasters and White Falcons, but, frankly, and to my own surprise, I found the tales about guys like Harvey Thomas (making fiberglass triple-neck guitars in the 1960s) or David Bunker's insane 12 pick up gold-sparkle naugahyde creation for Johnny Paycheck more fun and informative than any of the stories about someone finding a "big gun" like a 1950's Gibson Les Paul or 1940s Martin acoustic. Yes, it's cool to read about guitars worth six-figure sums, but, Deke gives you so much more than just the aforementioned 'the thrill of the hunt'. With a wonderfully breezy writing style, Mr. Dickerson imparts newly uncovered history of one of the single most influential and culturally important items Mankind has ever devised...
The Electric Guitar.