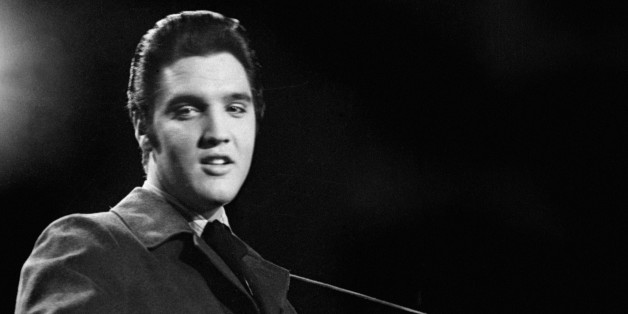 It's 1956, I am 3 and a half years old. My best friend is Corky. His dad is taking us, along with Corky's two utterly fascinating sisters, to the Central Park Zoo in his green Packard "woodie" station wagon. Corky and I were in the back seat. I can still see our little oxblood purple shoes on the seat in front of us. Corky and I were so tiny there was no leg dangling back there.

In the front seat, next to the driving dad, sat Corky's older sisters, Omeara and Thebe (cool and unusual Irish names). About 6 and 8 years old. For several minutes, they were pushing the buttons of the radio and whining about something that I didn't understand. Suddenly, in one voice, they shrieked "Elvis!" Their dad yelled to "Simmer down!" and we all listened to "Hound Dog." Omeara and Thebe were squirming and ooooo-ing and ahhhhh-ing and just about swooning throughout the entire song. And I, barely awakening heterosexual, was hypnotically transfixed by what this guy's voice on the radio was doing to these two women (for that's what they were to me!). I listened carefully. I remember the energy and drive of the music made me excited too. But mostly I was trying to figure out what was going on with Corky's sisters. I don't remember one minute of the zoo, but, all these years later, I have a TiVo in my head of that "Hound Dog" moment.
And, perhaps, because of that moment, Elvis has always been, and will always be, for me, The King.
Kitsch? Fuck you.
My intervening years as a music freak, guitarist, band guy are covered rather nicely in many of my past columns for Huffington Post. In particular, if you are interested in what it was like to be in a band in New York City through the Glam and then CBGB era of the 1970s, check out my ebook on Rhino, My Life In The Ghost of Planets - The Story of a CBGB Almost-Was. This link takes you to an interview I did for Rhino. After watching me blather on, should you be a masochist, there are links on this YouTube page to iTunes and Amazon where you can purchase said tome, homes.
At the end of January 1991, after more than a decade running record stores in the East Village and more than two ultimately fruitless decades playing clubs, I was hired by Bill and Rose McGathy, the heaviest hitters in independent rock radio record promotion for every major record label. I had called Bill to ask him to be a reference for a job I was going to go for at Virgin Records. Bill, being a no-messin'-around kinda guy, called the guy scheduled to interview me and told him, "If you don't hire Binky, I will! See ya!" click
An hour later, suddenly deciding his glib line was actually a very good idea, Bill called me and shouted "Fuck Virgin! You're coming to work for me!" Fuck Virgin, huh. I said, yes, please.
I was now an "indie."
I'd spend the day calling radio stations and attempting (and often succeeding) to instigate a relationship with the programming staff charged with putting new music on the air. It was an absolutely perfect job for me. I had the ongoing opportunity to throw around my semi-vast musical knowledge and New York-CBGB-Max's-Dolls-KISS, etc. pedigree while critiquing the living shit outta various merits of some 60 to 70 songs a week released on about 20 labels. We'd start 5 to 10 new songs every damn week and the same number would die on the charts and disappear. I became a trusted go-between for more than 50 radio programmers and all the record labels, getting airplay for the labels and promotional and marketing support for the radio stations. Non-criminal payola sorta. I was having a ball. And the perks of the job were just fantastic.
For instance, I went to the 1992 Farm Aid concert in Dallas. My first trip to that fabled City of the Grassy Knoll. I wam/am sorta kinda obsessed with JFK's murder and I planned on soaking up as much of Dealey Plaza's vibe as possible before the concert. This all-expense-paid trip was simply one of those "You're doin' great, kid!" perks.
As I got on the plane with my boss, Mr. McGathy, Oooo, look!, we passed a grim Paul Simon and Edie Brickell sitting in first class... on his way to perform at Farm Aid.

ALERT: The following dialogue is 100 percent exactly verbatim. I fucking taped it in my head...
About 45 minutes into the flight, two of the first class stewardesses pulled back the curtain and started slowing walking down the aisle of coach, scanning faces, left and right. I noticed them immediately because these were two very good looking women, extremely well put together. Tall, elegant, striking looks. One looked a bit like Catherine Keener and the other sorta like Morgan Fairchild. Both had long hair primly put up in a schoolmarm bun. Both had clearly earned their tenure as first classies. They had an innately dignified air about them.
When they got to me and Bill, "Catherine" looked at "Morgan" and said, "Yeah, I'm pretty sure."
Morgan nodded.
Catherine, the closer one to us, leaned down and in a hushed tone asked, "My colleague and I are wondering if the two of you are in the music business?"
Bill and I both laughed out loud. "Is it really that obvious?" I asked.
She smiled. "Well, we're hoping you can answer a question for us."
Bill held up his hands, "Of course!"
And here we come...
"The two of us were wondering... Is Paul Simon always a fucking asshole?"
The last four syllables venomously hissed through clenched teeth.
Bill was happily aghast. I spoke up.
"Well, he is mighty short, y'know."
Both women nodded solemnly.
"Thank you for clearing this up for us. Sorry to have intruded..."
And both ladies glided back to the front of the plane, pulling the curtains shut behind them.