June 7th... Quite a date in my life...
This week's story took place 43 years ago on that day.
It was, in fact, the two-part extended-mix version of the story below that marked my Huff Post debut, published on June 7, 2010.
Trust me, this version, even at this length, is the Cliff Notes.
For you wackos who can't get enough minutia... and, hey, with a love story thrown in...
http://www.huffingtonpost.com/binky-philips/40th-anniversary-of-a-nic_b_612963.html
http://www.huffingtonpost.com/binky-philips/pete-townshends-guitar-pa_b_620130.html

For the rest of you sane-types... Here we go...
Utterly obsessed fan that I was, I'd decided to sleep out for a full two nights under the marquee of the Fillmore East on 2nd Avenue and East 6th St. to buy tickets for The Who's Final Performance of "Tommy" at the absurdly ostentatious and downright silly venue, The Metropolitan Opera House at Lincoln Center.

Bill Graham was organizing and promoting the show, consequently, the tickets were going on sale at the Fillmore East's box office on the Monday morning of whatever week that was in early April 1970.
I was third on line behind two Deadheads who, incredibly, knew next to nothing about The Who...
"We like sleep out for Dead tickets like, all the time, and we thought, hey, like why not for The Who? They're like pretty cool, too, right!"

I was seething.
What in the fuck were these two idiots doing here ahead of me?!
But, virtually everyone else on line, and by Sunday afternoon there was at least a hundred of us, were indeed, True Who Loonies. In the early days of their American fame, The Who's fans were hard nuts in on the coolest possible secret.
Someone had brought a guitar, and around 3am, I banged my way through the entire "Tommy." Yep, at 17, I knew how to play, well, fake my way through, the whole dang album.
I'd seen The Who at the Fillmore East about 15 times and almost always sat in AA113, the first row on-the-aisle seat in front of Pete Townshend's mic stand (so often, that by now, The Who knew my name). I'd done my Met homework and knew, in advance, exactly what seat number was front row on the right aisle, directly in front of Pete. I was able to buy that seat for both the matinee and evening shows.
About eight weeks later, Sunday, June 7th, 1970... It was Show Time.
All the ushers from the Fillmore East were there, all dressed in actual tuxedos (a classic Bill Graham touch), augmenting the clearly-mind-blown staff of The Met. It was definitely the first and last time The Met smelled like a reefer den.
As I got to my seat I was instantly and seriously dismayed to discover the orchestra pit. I hadn't thought of that. The first row was a good 25 feet from the lip of the stage. The front row was more like the 8th or 9th row at the Fillmore East. FUCK!
There was no opening act. The lights dimmed, the crowd roared, and Bill Graham came out of the wings, and as he always did at a Who show, solemnly intoned with his deep voice-of-authority, "Ladies and Gentlemen... on bass, Mr. John Entwistle... on lead vocals, Mr. Roger Daltrey... on drums, Mr. Keith Moon, and on guitar, Mr. Peter Townshend... Please welcome, The Who..."
Off we went!
For some reason, Pete seemed truly angry and disgusted about something. His playing reflected it. He was ferocious!
Once a wonderfully performed "Tommy" was over and done with, The Who played a few 'oldies' and finished up with "My Generation." To my distinct disappointment, instead of the expected and much anticipated guitar destruction, Pete carefully leaned his Gibson SG Special against one of his Hiwatt amps without so much as one bang. The boys took their bows and left the stage.
The crowd was crazy for an encore. But, The Who had another show to do in three hours and besides, they almost never did encores. Hell, most of the time, the stage would be a shambles. But, suddenly, the lights went back down, the crowd bellowed, The Who walked back onstage.
As the roaring jam of "Shakin' All Over" was drawing to a close, Pete snuck a quick look at me. Our eyes met.

My intuition instantaneously somehow understood. I was now tingling. I could feel my breathing get quick and shallow.
While Keith and John and Roger thrashed through the big typical Who coda thing, Pete unplugged himself and walked to the edge of the stage, wrapping the strap around the guitar's body with elaborate care. He locked eyes with me. He asked me with his body language, Are you ready?
Surrounded by friends who understood and stood back, I nodded. Pete stepped back a couple of feet, judging the distance of the orchestra pit, and in a Zen zone, tossed his SG Special high in the air.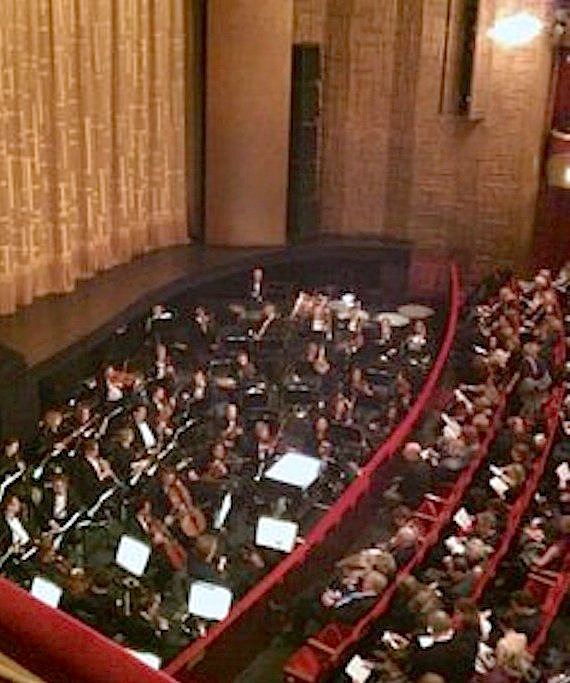 In slow motion, it arched towards me. Gliding in, face first, I literally caught it by its two pointed cutaways. Pete's perfect-touch toss would've made Joe Namath proud.
As soon as the guitar was in my arms, I looked back at Pete...
He smiled, a quick nod, his eyes saying, "Nice catch."
The lights came up.
Many dozens of kids were charging down the aisle, absolutely intent on taking that guitar away from me. A true mob!
Out of nowhere, one of Bill Graham's actual real-life Hell's Angels ushers, a tuxedo-ed 6' 6" linebacker with long blond Viking hair and a wandering right eye, suddenly materialized next to me.
As the hordes came charging toward me, looked down and growl/croaked, and I mean like fuckin' Lurch...
"You've been at every fuckin' Who show I've ever ushered. NO ONE is taking that guitar from you!"
And he was true to his word...
"Back off! Mess with him, you're messing with me. It's his!" [highly sanitized quote]... and.. Oh, yeah, they backed off.
He then led me and my date (first time I'd ever taken a girl to see The Who... Wow, was Esther impressed!) backstage and out onto West 66th St. via what seemed a semi-secret exit.
Although it's somewhat fragile (Pete did bang it around some before he tossed it to me), I have been playing the guitar for decades now. Plugged into a big amplifier, it sounds exactly like "Live At Leeds".
Fast forward, two and half decades...

My wife, Susan, and I were invited to the opening night of "Tommy - The Musical" and the gala after-party immediately following the performance on April 22, 1993.

After the show, while star-gazing and sipping champagne in the enormous ballroom holding hundreds of revelers, I spotted Pete Townshend and John Entwistle, off by themselves in a corner, chatting. I decided to say hello...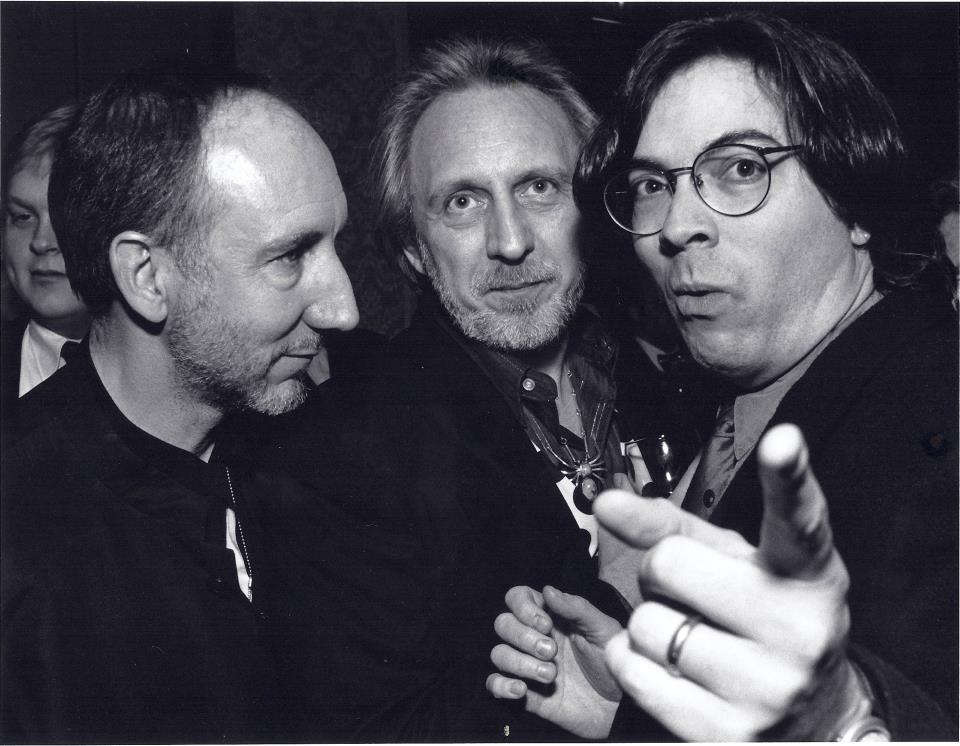 As I approached, Pete had his back to me. But John, recognizing me from my years in the front row, gave me a big "Look who's here!" smile, which made Pete turn to see who John was acknowledging. Upon realizing it was me, without a second's hesitation, Mr. Townshend said to me...
"Sorry, Binky. I'm gonna need that SG from The Met back. Could use a bit of ready cash..."
He was rubbing his thumb against his fingertips like an old pawnbroker.
John Entwistle, leaned in, looking me in the eye, and said, stone deadpan, "Pete's right, Binky. Sotheby's Rock auction's next week. Ya gotta give it back, man."
We all burst out laughing.
What hadn't occurred to me until just this year was that Pete was not just messing with me, he was also reconfirming 24 years later... "Yeah, I threw it to you, Binky."
Pete and The Ox and I weren't alone for more than 90 seconds before another couple of dozen party goers spotted "Tommy"'s two writers. Among those flocking to our little three-way tete a tete, was a guy with a snazzy camera who exuded License To Snap.
In this accompanying shot, I've just spotted that photographer and am letting him know...
"I wwwant a copy of that picture!"