When last we were wasting time together, I'd been in London for 13 days during the second half of June, 1970. I'd plunked down the enormous sum of $65.00 US for a pair of wild custom-made boots from the coolest clothes/shoes store in the world, Granny Takes A Trip. But, at the last minute, they weren't ready in time for me to wear on the plane. This made my flight home extra miserable. Not only was I leaving my newly-beloved London, but, I was leaving without my long-dreamt-of rock star footwear. So, enough exposition... here we go...

Back in Brooklyn, I was now itching for the mailman every day. Come ON, Granny's!
Two weeks later, on a sunny Saturday morning, I got a large package from London.
It was wrapped in orange and white striped paper with my name and address in really flamboyant black magic-marker handwriting. Oh my God. I was instantly breathless. Very carefully (I even still have it!), I peeled the striped paper away and opened the box to the most beautiful sight I'd ever seen that didn't involve an electric guitar or a naked woman.
MY GRANNY TAKES A TRIP BOOTS!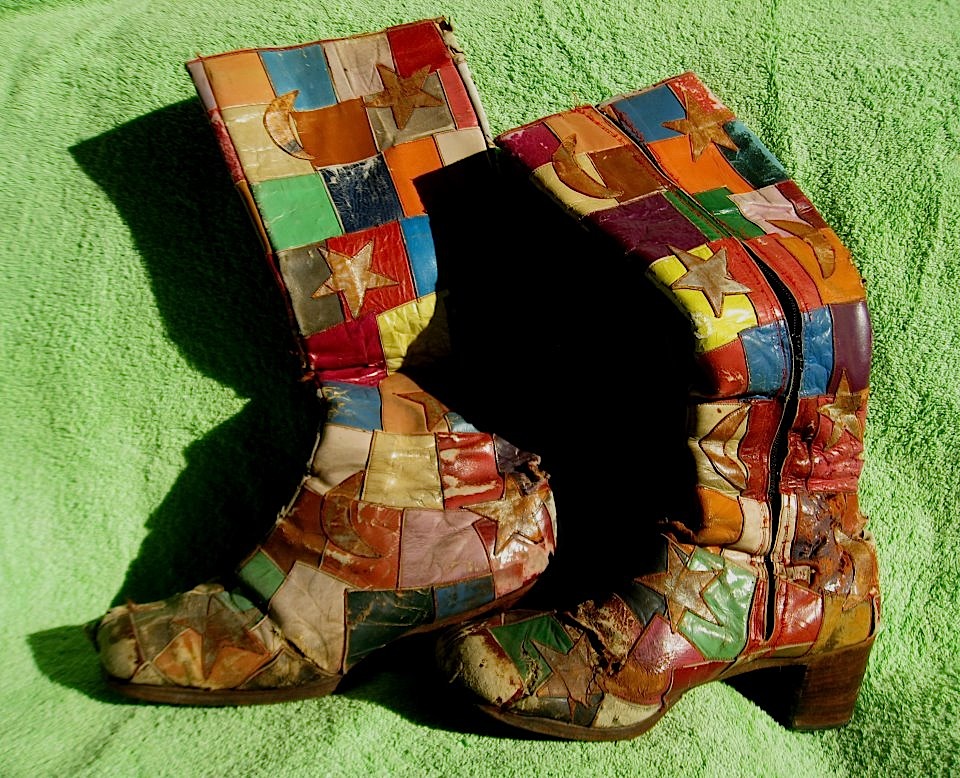 They were dazzling. Blasting with color! I was beside myself. They were even better than I'd hoped. I tried 'em on. They fit! I walked around my room, then, up and down our stairs. I found I could instantly deal with the heels, no problem. I took 'em off. I got a ruler. 2 and 3/4 inches heels. Yes! I carefully counted every single different leather patch. With about 100 patches per boot, the cobbler had used 64 different colors/shades. Sixty four! The same number as the classic Big Crayola Box.
I was now one of maybe a couple of dozen people in the USA with this wickedly badass Ultra-Rock Star footwear.
Disregarding the fact that knee-high double-lined leather boots in July and August were a form of self-torture, I took to wearing them every day. Every every every day. I'd walk through the Times Square area wearing them with cut-off jeans and could literally stop traffic. People would shout raucous compliments from across the street in jaded New York City. Blue collar workers had the best lines. "You get those from the Tooth Fairy, fella?" These boots were too insane not to love. Street kids on the subway would go wild, pointing and hollering, their laughter slowly but surely turning into overt envy. Every. Time. I must say, I felt like I pretty much totally rocked in them there 64-colored boots.
As I've already typed, about two weeks before my family went to London, I'd caught the Gibson SG Special The Who's Pete Townshend had thrown to me at the Metropolitan Opera House on June 7th. It was missing its headstock. Pete had stomped on it before the toss across a 25 foot wide orchestra pit.
About a week before I went to England, I'd taken the Pete/Met guitar to NYC's very hippest repair/modification shop, Guitar Lab, to see if they could attach another head onto the guitar's neck, a very tricky job, and one that usually fails. If your guitar's head breaks off, it's now a "parts car," nomesane. But, Guitar Lab had magically made it work.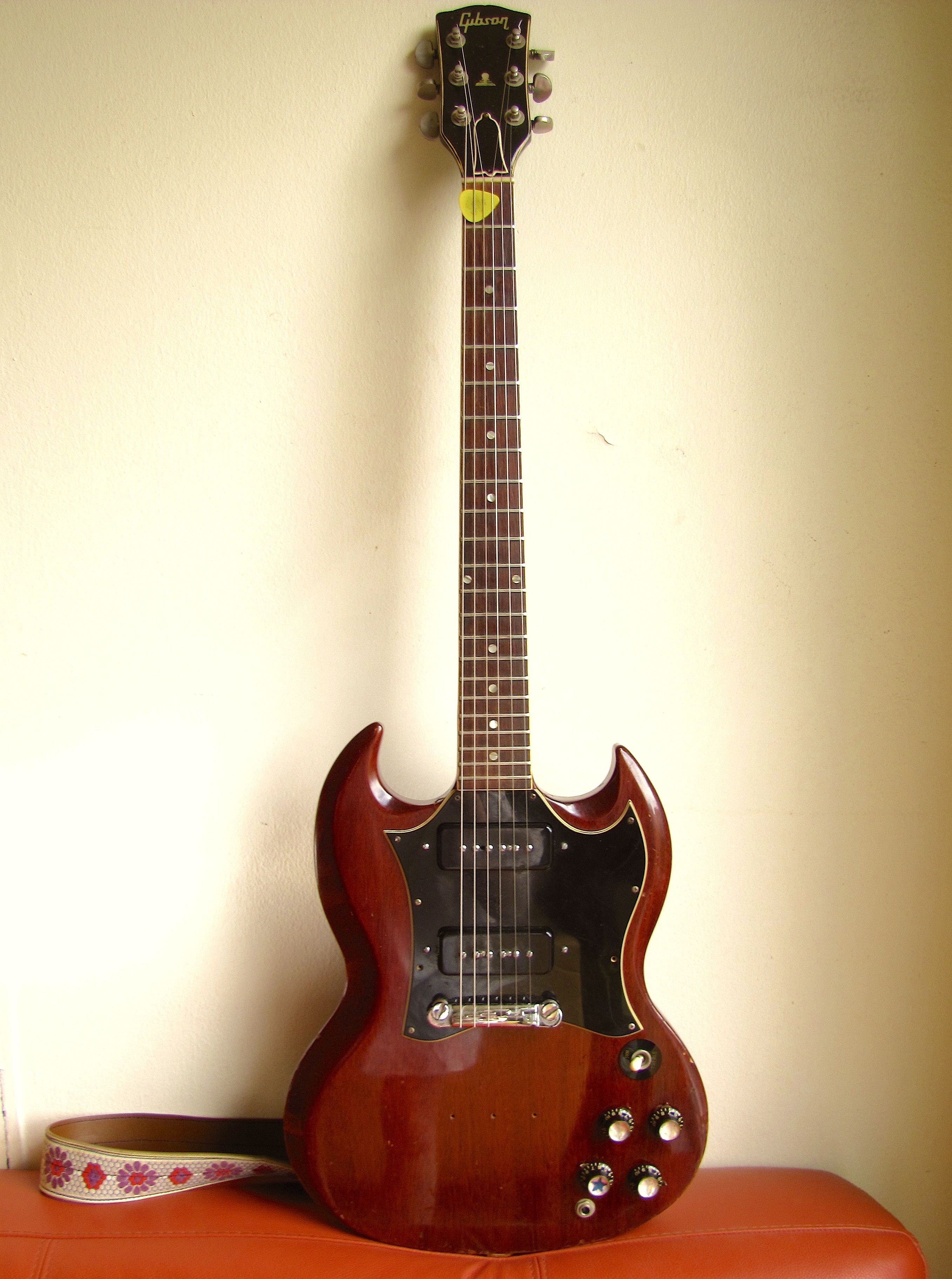 I was broke, those boots were very pricey. So, in exchange for building and attaching a headstock to the Gibson Pete had thrown me, it was agreed that, in return, I'd 'gopher' for Guitar Lab for the summer. The shop was just off 7th Avenue on West 47th St. Seedy, baby, seedy! I showed up every morning, got everyone coffee, cigarettes, changed guitar strings, rang up sales, ran various errands, cleaned up. Eventually, they even wound up slipping me some cash.
Two guys owned Guitar Lab, Carl Thompson (maker of world-famous electric basses) and a virtuoso classical guitarist, Charlie LaBue. Both were well known and very respected as repairmen/luthiers, and maybe more importantly, as players. Especially, Carl. He had been the head repair guy at Danny Armstrong's legendary shop. But, he was also wickedly swinging ultra-knowledgable jazz guitarist. Heavyweight session men hung out for hours; famous jazz players dropped in and jammed. I saw and heard Jim Hall, Bucky Pizzarelli and Eddie Diehl jam in the tiny guitar lesson room with Carl. I met Tal Farlow in Carl's tiny office. I met Peter Green along with Danny Kirwin and Jeremy Spencer from Fleetwood Mac who all spent about 90 minutes in the shop one afternoon. I also met Johnny Winter and Rick Derringer in that shop. Guitar Lab was The Place for those In The Know.
I was usually in the back room with Bruce Hoeb, a wicked-smart, hotheaded, not-politically-correct kid from Blue Collar Right Wing Long Island. Looking back, I wonder where Carl and Charlie found him. He was on the harshest end of the New York vibe and out of place, and with a chip on his shoulder about it all. But, Bruce was a prodigy-master repair and modification man at age 22, the stealth star of the shop, really. And he looked like fuckin' Paul Newman. He and Steve Blucher, the electronic specialist of the shop, and another smart mouthed back-room snob, would spend the day insulting each other. Sometimes they were funnin'. Sometimes they weren't.
Steve would wind up a dear friend and band-mate of mine years later, as well as head of design for DiMarzio. Yes, hundreds of thousands of guitar players' tone comes from The Mind of Steve Blucher.
I got along with both of them and I was happy to tussle with either one my own self. See, I was a wise guy, too.
Mr. Hoeb could be insanely fast at his gig.
He owed me a favor, I forget why. So, I asked him to put new frets on my beat up 1957 Fender Stratocaster, that I just happened to have with me that day. Bruce, as usual groused, grabbed my guitar, and then, all the while bitching like a fiend about his (ludicrously gorgeous) girlfriend, he did a fucking two hour fret job in 20 minutes! Those PERFECT frets are still on the guitar over 40 years later.
Anyway, one day, in his usual dry snide way, Bruce walked into the back room where I was changing strings on a customer's guitar and asked, with a bored leer...
"Hey, Bink! Ya wanna see Keith Richards with tits?"

Uh, yes, indeed I do. I followed Bruce out to the main customer area.
Standing center-stage, was this skinny whiter-shade-of-pale black-haired ragamuffin chick (I never use that word, but this was a chick) holding a beat up Fender Duo-Sonic (at the time, a total loser/beginner's guitar). She was just about falling out of a really over-sized and worn-out-to-paper-thin t-shirt, semi-revealing prominent and frankly fabulous breasts.

She was frantically and inarticulately explaining over and over again that her Duo-Sonic was...
"Buzzin'! It sounds like shit. I mean, it's buzzin'. It's buzzin' bad. You can fix buzzin', right? God, this sucks, it's bad buzzin' alla time. Really buzzin' bad, man. Why's it buzzin'?!"

Almost like she had Tourette's.
And, as it turned out, Bruce's description was utterly on the money.

Her haircut was exactly Keef's in Gimme Shelter. Her cheeks were high-boned and gaunt, the black eye-liner was thick, the dangling shark's tooth earring was in place, as was the skull ring, ditto old black ankle boots with beat-to-shit toes and rundown heels; actually, maybe more Bobby Dylan in the footwear department... what with the price of snakeskin, even then. No discernible hips in ratty faded-to-gray black skin-tight jeans.

Even at the age of 17, I could see that she was so immersed in her dream that she was genuinely unaware of the effect she was having on five 1970 chauvinist-pig guys who worked in a guitar shop. All were smitten and totally in novelty-lust with her. At least two Guitar Labbers kept her there talking for quite awhile. But, after a couple of minutes, I drifted away. I wanted to go back to opening the cases of drool-y guitars left for repairs.
I mean, I dug her. She was distinctly odd-pretty. Almost beautiful, really. Her look was down so cold, I was jealous, even in my ultra-uber-le-plus-ultra Granny Takes A Trip boots.
But, she seemed like she really was just a total urban-hillbilly goofball. And, actually, weirdly, kinda not sexy at all.

Yeah, it was Patti Smith.