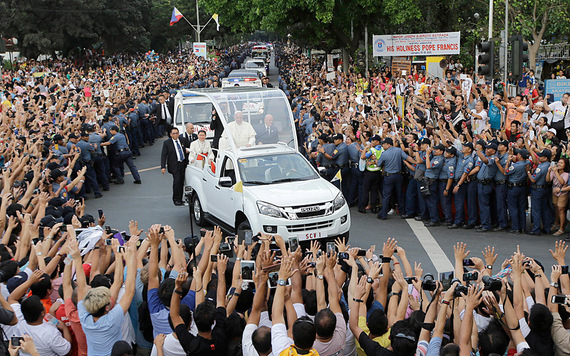 They say it's a world record: Six million hope-seeking people turned up on a rainy day to pay you homage in Manila, surpassing the number of devotees in the same papal venue in 1995. In 1981 when Pope John Paul II visited my alma mater, University of Santo Tomas, I was one of the young people with whispers of prayers in my heart, walking through of a flood of hopefuls for a miracle of some sort.
It is unfathomable, in this day and age (of reason) to see the sheer number of devotees flocking to catch a glimpse of one human being. But, if we understand the tragedy of bottomless poverty in the Philippines -- a country of 100 million, of which 25 percent live in poverty -- awe and wonder is easily put to rest. In fact, my boyhood prayers would not be so different from those of the six million people who came to see you on Sunday in search of a godsend, of a symbol of hope, albeit ephemeral, whose simple presence could inspire salvation from the curse of numbing poverty.
We Filipinos have a white savior complex, from our blue-eyed Jesus, to pipe-smoking Douglas MacArthur, to you and all the other previous popes. A lot is lost in the message of hope, for one can only hope so much in life. Of course, hope is better than surrender, but our brand of hope has been so extrinsically motivated and delusional that one would wonder when we would transition from the passivity of hope to taking action so that our sordid history stops repeating itself through the generations.
Waiting for a white savior to save us completely undermines the power of one to fight and pave a road for himself. What is hope without a message of strength and action? Where is strength in numbers without understanding the history behind the power of the wealthy and the privileged? What does a revolution mean in the Philippines today when the same "political dynasties" run the country regardless of the scale of their public scandals -- put to power by the same people waiting in line for the next symbol of hope?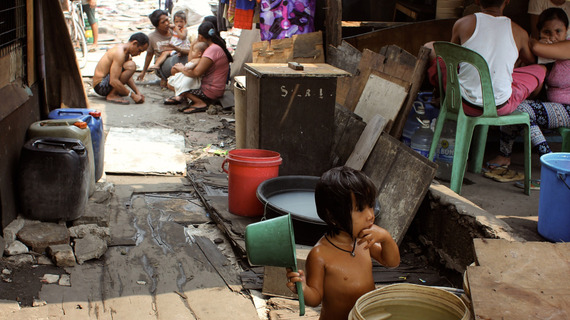 Wasn't Jesus a rebel? Didn't he stand his ground to face powerful people for principles he believed in so much he was crucified for them? It is this nature of rebellion for social justice that I no longer see present in the Catholic faithful. Six million people in a public park -- what must they be thinking? Idol worship and celebrity stargazing have not done any good for the poor people of the Philippines. They have kept their stomachs empty and left at least 20 percent of the population, earning 60 cents a day or less. Indeed, it was an impressive public display of unity through hope, at least for some people who are easily amused by the internet's colorful shock value.
It wasn't surprising to read such words as "record breaking" in the news outlets as a validation of mass support for the pope. Yet I wonder, if the same number of people come out to fight corruption in the Philippines and organize communities around a transformative and sustainable change for a corrupt-free country, wouldn't that be a better reason to break a record of attendance?
Almost 30 years ago, my prayers were answered. I left the belly of the beast to live in the house of our "white savior," Uncle Sam -- one of the biggest contradictions of colonial migrations. Having met our proverbial white saviors everywhere, I realized they were no different from me. I also learned to hope differently. In America, where I was told as a young boy in Manila that money grew on trees, I learned that there were no trees. But I had the seeds and I needed to plant them myself, if anything were to become of me. I learned to take action. I learned the art of failure. I learned the humility of success. I learned the power of one voice, my own, as a single source of my own strength. Most of all, I learned the power of prayers when I act to reach my dreams.
I was no longer the same boy who lined up in processions waiting to be redeemed by destiny. It is too crowded, this line. It was hard to breathe in crowds, and so I left them. I can admire you and your many rebellious words from where I stand, my dear pope. And from here as well, I can state my agreements and disagreements with many things that you say. While many of us hope for a better world while seated, I have chosen to get up and step out of the madness of crowds to make sure it happens.
Hope to Action,