Louise Hay may be the public face of Hay House, but Reid Tracy has been her right-hand man and partner in publishing for the past 25 years. The two first met in 1988, when Reid was Louise Hay's CPA, working for an accounting firm whose offices were across the hall from Louise. In 1984 Louise self-published a book entitled You Can Heal Your Life, based on workshops she was teaching in Los Angeles. One day Louise walked into Reid's office and told him, "Last week I was on Oprah's TV show and Phil Donahue's show, too. Now my book is really taking off and my business is exploding. Suddenly it's too much for me to handle. Will you come work for me?"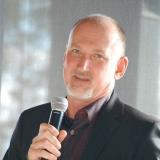 And the rest, as they say, is history. Two and a half decades later, Hay House is the world's largest independent publisher of empowerment books, with offices in all major English-speaking countries. Hay House has enjoyed 21 straight years of increased sales -- while many other publishers have struggled just to survive. (Photo: Reid Tracy, courtesy of Hay House.)
Recently I sat down with Reid and asked him to tell me more about his remarkable publishing success.
I'm sure people ask you this all the time, because others want to emulate Hay House... What's your secret? What's the key to your success?
I guess if I had to summarize the "secret" to our success, I'd say that we "learned by doing it." When we have a good idea or see an interesting opportunity, we just jump in and make it happen -- learning as we go along.
The publishing business has changed enormously over the past 25 years and if we hadn't changed too -- trying new things, launching new ventures - we'd be dead. In the beginning, 50 percent of our sales were to small bookstores. In those early years, even the chains were small. But all that changed in the 1990s, when Borders started to expand and the super stores were born and turned the world of bookselling upside down. Then the Internet and Amazon.com came along and turned that world upside down again. In publishing -- as in all business -- the motto is "Adapt or die" and we certainly live by that motto, too.
One of the things I've seen Hay House do that impresses me is your conference business. You have been enormously successful in creating a community of Hay House fans by hosting conferences and workshops around the country. Tell me how that started.
We actually started doing that a long time ago -- back in 1989 -- just a year after I went to work for Louise. We held our first multi-speaker conference in Santa Monica and it drew a crowd of about 3,000 people. It was a logical thing for us to do because of Louise's background conducting workshops. Her seminars existed long before she put pen to paper so it seemed natural for us to continue to host them, just on a bigger scale, with several speakers, not just one.
Today we host "I Can Do It!" conferences in several major cities across the U.S., as well as the Canada, U.K., Australia, Germany, and Austria. These events draw tens of thousands of people who want to learn from Hay House authors -- empowering themselves and creating visions for their own future.
In 2012, we launched a new event called "I Can Do It! IGNITE" conference in San Jose, California, featuring three well-known Hay House authors and 20 less-well-known authors. (We call it 20 x 20 -- 20 minute sessions with 20 authors.) We're doing this to help our up-and-coming new authors get established and expand their fan base as well as exposing our customers to new ideas from the next generation of speakers. An author's success (and a publisher's success, too) is contingent on their ability to build a strong fan base, connect with readers, and share the authors' wisdom as widely as possible.
The other impressive thing you did was launch Hay House Radio. I don't know of any other publishing house that has started its own radio network -- but I think it was a brilliant marketing move. Tell me more about how that came about.
Our goal was to give readers an opportunity to call in and get advice from their favorite Hay House authors: Cheryl Richardson, Dr. Christianne Northrup, Kris Carr, Dr. Wayne Dyer, among others. We wanted to provide an opportunity for you to connect directly, one-on-one, with the author(s) whose books are changing your life. Today we reach over a million people a month through Hay House radio -- and 50 percent of them are outside the U.S. Internet radio enables us to build a worldwide community of authors and readers -- healers and seekers -- spiritual teachers and their followers.
The bottom line in publishing is that you want to connect with your audience. In the beginning, Hay House was just a small house with a handful of authors -- sometimes we couldn't even get our books into bookstores! So we've had to be extra creative from the get-go. We've had to "think outside the big box" -- if you'll pardon the pun. Launching Hay House Radio six years ago is just one example of how we've built our business by connecting directly with our customers.
So, what's next for Hay House?
All of our innovation has led us to the launch of Balboa Press -- a self-publishing arm of Hay House. We receive so many book proposals each year -- way more than we can possible publish -- and many are quite good, but may not fit into our publishing agenda as closely as we'd like. So we wanted to find a way for these authors to get published -- and for us to test new markets at the same time.
In traditional publishing, the author has to build his or her audience before their book gets published. With our new publishing model, authors can publish their book and build their audience after it comes out.
Print-on-demand has become a viable option, thanks to today's technology. With print-on-demand there is no big financial investment, no inventory to store - keeping the costs down and logistics simple. Becoming a published author is now within the grasp of many authors who formerly would have gone unpublished.
And I can tell you, it has been successful beyond our wildest dreams! In the two years since we launched Balboa Press, we have published more books that way -- some 1800 authors -- than we've published through Hay House in 25 years.
Amazing!
But that's not all... Having a self-publishing arm gives us an opportunity to bring authors into Hay House through the side door, if you will. If a Balboa Press title really takes off and sells well, we have an opportunity to offer that author a publishing contract with Hay House and bring them on board with our other established authors.
For instance, we did that with a book entitled Top Five Regrets of the Dying by Bronnie Ware, an Australian author. She published her book with Balboa Press and "The Top Five Regrets" started to spread throughout the Internet, including posts by Maria Shriver. The next thing we knew, her book got three million hits on the website! That got our attention... and it got the author a contract with us.
Sounds a bit like baseball -- you play in the minor leagues and if you prove yourself, you get picked up by the Big Leagues.
Exactly.
Finally, what advice do you have for aspiring authors?
Build your audience! That's the key to everything. Your fans, your community, your ability to connect with many, many people is what makes the difference between a successful author, and one who dies with their story still inside them.
Cheryl Richardson and I do a seminar which will be in New York soon called "Speak, Write, Promote" to help authors learn how to expand their community/platform -- as well as learning the basics of giving speeches, which happens to be one of the easiest and most effective platform building techniques.
For more information about Hay House and Balboa Press Publishing, visit www.hayhouse.com