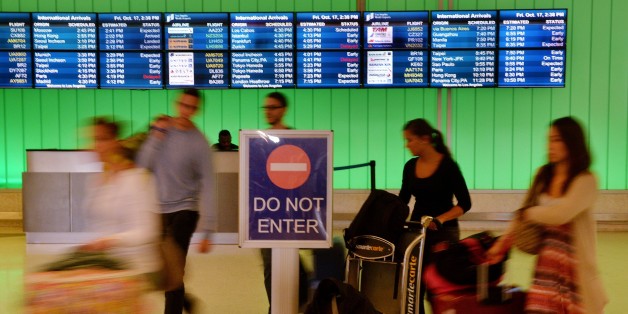 Three members of my family are living and working in Africa right now, and I am telling you that the current American obsession with isolation tents, protective gear, and quarantines is making me feel very strange.
My folks are not in "Ebola countries" (two are in Ivory Coast, one in Rwanda) and they are not treating viral fevers (two promote economic stability, one trains local surgeons). But they, like thousands of other expats and service members, are there because they care deeply about people and peace, and they believe that hands and hearts working together across global boundaries can make the world a better place for all of us. They do what they do at some personal risk and family sacrifice.
It's not the virus that's spreading rapidly in West Africa that makes me anxious about my family's health and safety. It's the fear that's spreading rapidly across America, which threatens to recast global humanitarians as risks, rather than assets. Suddenly they're people to be feared, rather than valued. Where is the "thank you for your service" that some (like me) might say is more appropriate?
I am aware of irony in my statement. I can't speak for other activists who took a stand against the War in Vietnam so many years ago. But, I, myself, remember very clearly feeling the near-impossible imperative of holding two deep and seemingly contradictory positions at the same time: opposition to a war I believed was wrong and appreciation for the individuals in uniform who were making a huge sacrifice for what they believed to be right. It's so very difficult to be "both / and," that popular opinion forcefully defined (and continue to define) us as being squarely in one camp or the other. Today, as those on both sides of that old debate continue to work for causes about which we are passionate, we remind ourselves, "Be hard on issues, but soft on people."
It was heartening to hear voices rise up in various media outlets this past weekend, challenging our narrowing fixation on trying to protect ourselves from our very own heroes in the battle against Ebola. It was especially uplifting to see that the African NGO Let Girls Lead has launched a public campaign, "I am a Liberian, not a virus." I hope there will be more.
But these voices are not yet strong enough to override the louder ones -- those of the pundits and policymakers who seem driven by their own fears and what they perceive to be the fears of their constituents. They promote an either / or position. Either we clamp down on everyone who may have been exposed to Ebola or the country will be overrun with virus.
This is America -- a country with some of the finest researchers and health facilities in the world. Surely, we can (and will) find and implement sensible protective measures to ensure the health and safety of the American people. But in doing so we need not punish our own citizens who are in Africa acting in our best interests to stop the devastation at the place where it is running amok.
This is truly a hard-on-issues, soft-on-people moment. I'm in favor of a broad and heart-felt grass roots movement that says "thank you for your service." What do you say? We can hate the virus and love the people who are fighting it at the same time. Maybe if we lead, the policymakers will feel that they can follow.