Here's a good story about 12 young Rwandans, born in a terrible time of violence and genocide, who are playing very positive roles in their country's growing hospitality sector. It's a funny story, too.
Today, these 12 are servers, chefs, and kitchen assistants at Heaven, a restaurant and social enterprise in the capital city of Kigali. A popular gathering place that provides space for an art gallery, a craft shop, and local cultural performances, Heaven is dedicated to "helping Rwanda develop its most important resource: its people." I had the privilege of working with the staff when owner Alissa Ruxin hosted a two-day training on customer service.
A challenge: How to teach interpersonal skills to young adults whose prior educational experience was in orphanages and dreary public schools, where students often sat all day on backless wooden benches and the teacher used a switch to keep pupils in line? As children, they were not encouraged - not allowed, actually - to speak up, think critically, or offer new ideas. Would they now accept more interactive learning techniques?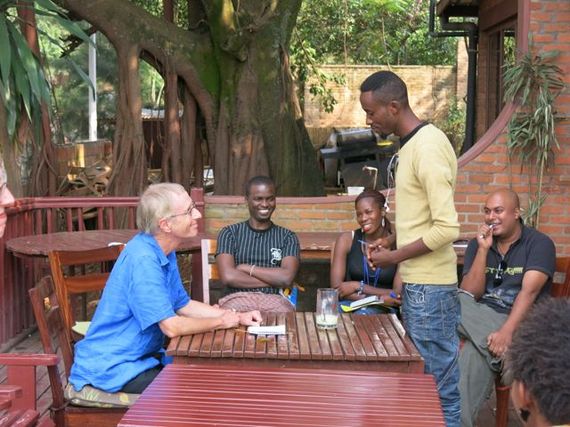 Our solution: Bloopers - a tool that's universally guaranteed to lift us outside ourselves!
We began our customer service training with four scripted role-plays, each one including outrageous mistakes on the part of the waitstaff. With some coaxing, volunteers came forward to act out the parts of customers and servers. When each role-play was complete and our laughter had subsided, we discussed the good and the not-so-good of each interaction. We then replayed the scene, this time with changes suggested by our insightful and forthcoming participants.
Encouraged by initial success, on the second training day we advanced to improvisational skits, in which the trainers provided only a brief description of the situation and the participants assumed roles and played the scene without the aid of a script. We dealt with a rude customer at the end of a bad day, one who was sloppy-drunk, and a parent unwilling to discipline an unruly child. Our restaurant-staff-turned-improv-players got fully into their roles and each of the imaginary customers was transformed from troublesome to satisfied, right before our eyes.
In each of these little dramas, a breakthrough came when the staff stepped past the customer's obnoxious behavior to engage with him / her in an emphatic and caring way. Often, two or more staff came together and tag-teamed to make it happen. When they did, you could literally feel the energy shift from confrontation to genuine communication and then to resolution.
One of the participants reflected: "If we truly love the customers, all the other things we've been talking about in our training (making eye contact, extending a pleasant greeting, listening carefully, paying attention) will just come naturally." Another said: "If we communicate well with other team members, we can come to a good solution for both customers and staff."
They're right: "the heart part," as we referred to it in our training, drives everything else. Psychologist and author Daniel Goleman reports that he "reviewed data from the hospitality industry showing that the most effective employees were adept at emotional intelligence competencies like emotional self-management (curbing negative feelings and encouraging motivation and engagement), empathy (which allows them to sense how others feel, and so be more effective communicators), and collaboration (so they work seamlessly as team members)."
The challenge for employers and educators is: How do you teach "the heart part"? I'm convinced that you don't teach it; you tap into it. That's what happened at Heaven, where we worked with individuals who might be described as disadvantaged, but whose most important characteristic is actually a deep well of resilience that far exceeds that of the rest of us. These young adults have spent much of their lives caring for and helping others in very difficult and unpredictable situations. When we see them in terms of their strengths, rather than their assumed deficiencies, we find that they have so much to bring to a challenge. At Heaven, learning and laughing together, we had a glimpse of the amazing resource that they are.
If you had been there, you would have laughed with us, too. After all, as Linda Graham points out in a summary of material from Ode, "the essential ingredient for laughter is other people. Laughter seems to be primarily a social lubricant, not a response to 'funny' situations. We are 30 times more likely to laugh in group situations than in solitary ones.... Laughter signals a shared understanding of the world; it's foundational to like-mindedness, interdependency, and intimacy."
Indeed. When participants and trainers at Heaven debriefed on our role-plays and skits, we were all "in stitches." In other words, the joy of learning-while-laughing ran through and between us like a thread, binding us together like no ordinary classroom experience could. Ha!