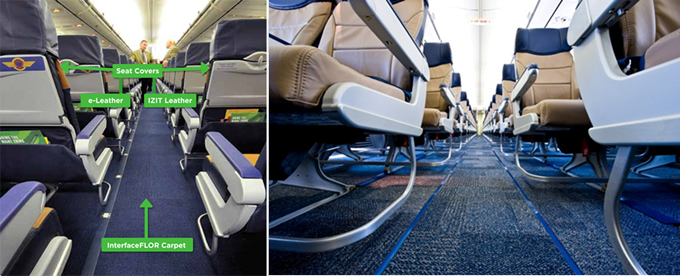 Time was when flying was glamorous, even in coach class.
You could arrive at the airport half an hour before your flight, check your bags and board at a leisurely pace. Coach seats were wide and comfortable, and chances were that the seat next to you would be free to put your newspaper.

But those days are all past. Passenger load factor -- which represents the number of empty seats per flight -- has risen 27 percent: from 65 percent in 1994 to 82.8 percent in 2012, according to airlines.org -- the highest load factor since 1945. The high average means a lot of flights are operating at 100-percent capacity. Good for the airlines. Not so good for the passengers and flight attendants.
Global airlines will post profits of $12.4 billion this year -- the industry's third best year since 2001, according to the International Air Transport Association. But, this has not stopped the airlines from literally shrinking their products and experimenting with news ways to increase profits. It's the economy-class passengers who'll feel the brunt of the changes, which include either adding to or reducing the number of seats, increasing legroom or cutting the distance between rows, according to FlyersRights.org.
For instance, Southwest Airlines' new "Evolve" interior involves retrofitting its fleet with seats that are six pounds lighter with thinner (more uncomfortable) cushions. The airline stated in a blog post that it increased the number of seats on board from 137 to 143, which means that the addition of six uncomfortable passengers per flight is more valuable to the airline than 137 relatively comfortable passengers.
JetBlue has long been celebrated for its increased legroom seats for a mere $40 extra per flight. Now the popular airline added even more "Even More Space" seats to its fleet of Embraer 190 aircrafts in April. What's the problem, then, you ask? If the airlines giveth, then they can taketh away, and economy class passengers are who they take it away from. Conde Nast Traveler reported that the larger legrooms are made possible by shortening the space of seats further back. For a democratic airline with only one class, Jetblue has done the impossible: further separated the "haves" from the "have-nots."
United Airlines chose a European-based seat manufacturer to design new seats for its Airbus fleet overhaul, despite the fact that it's an United States-based airline, and Americans tend to be significantly heavier, wider and taller than their European counterparts. The airline's 152 narrow-body aircraft will be outfitted with slimmer seats, which will allow an extra row onto the aircraft. United claims that this will not sacrifice seat comfort. Ok?
American Airlines has reduced its seat pitch by one inch in its new Boeing 737-800 aircraft, which contains two extra rows. To mitigate the reduction, the seats will not recline. The new seat bottom slides forward instead, while the back slouches within a shell.
If you get what you pay for, doesn't the passenger deserve to pay a smaller price for less legroom and comfort? I guess if they can shrink Snickers King Sized Bars (3.7 ounces to 3.29 ounces), tuna fish cans (6 ounces to 5 ounces), and Lay's Classic Family Size Potato Chips (16 ounces to 14 ounces), while charging the same price, they can shrink airline seats without anyone making too much of a fuss.
After the past years of nickel-and-diming, it shouldn't surprise us that airlines are finding even more ways to cut costs and generate revenue, like decreasing service and flying at a higher capacity so that planes are full most of the time. But, it's at no comfort to the passenger that the already uncomfortable economy class is steadily becoming more uncomfortable.
Perhaps it's a ploy to make economy class so unbearable that passengers are driven into paying significantly more for Premium and Business Class seats and the service and comfort that come with it.
Honey, they shrunk the airline seats.
Take it as a sign of the times.
Research by: Julia Jacobo of CookTravel.net
Write: jfleetwood@aol.com