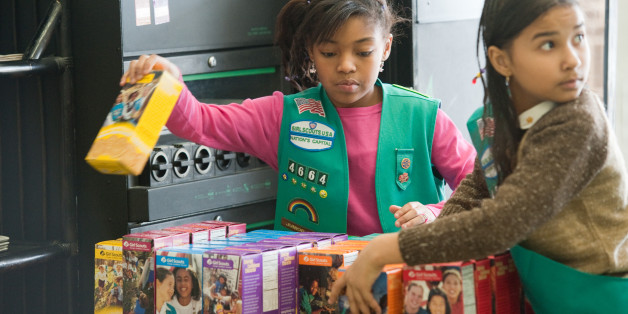 I did it again. I ate the last Girl Scout cookie in my house. The 2013 Samoa season is officially over for me. And, even though it happens just about the same time each year, I'm still never quite ready for it.
When it comes to selling cookies, you could say Girl Scouts take the cake. They sell about 200 million boxes each year, which brings in more than $700 million in revenue. (Dad, Girl Scout cookies are not made out of Girl Scouts, a joke he had to share with the CEO of Girl Scouts. I don't think she loved it quite as much as he did.) During the selling season, Girl Scout cookies become the bestselling cookie in the country, stealing the top spot from the other favorite, the Oreo.
So there's no doubt about it: Girl Scouts sell a ton of cookies each year, but that's really not their most important product. Girl power is, and if you're familiar at all with the Girl Scout program, you know there's plenty of this to go around. For the past 100 years, Girl Scouts have been inspiring and empowering girls to be the best they can be. It's about building courage, confidence, and character.
Girl Scouts make a promise to serve God, country, and to respect each other. We also strive to live by the Girl Scout Law, by being considerate, courageous, and trying to make the world a better place. And guess what? It works. Forbes magazine calls Girl Scouts the "ultimate pipeline for women leaders, in their families, their communities, their organizations, and their country." And, there are numbers to back that up: 80 percent of women business owners were Girl Scouts, and two-thirds of the female members of Congress were also.
For me, it may have been all those badges I wanted to earn and all those cookies I wanted to sell. I was an entrepreneur and I didn't even know it. I had to set my goals high, figure out how to get it all done, and just go for it. I thought I was just spending time with friends, pretty much unaware that I was learning how to work in a group, cooperate with my peers, and help others. I guess that's how the Girl Scouts is supposed to work, with people learning through life experiences, and having fun while they're doing it.
Yes, I am high on the Girl Scouts of America, or maybe it's just a slight sugar rush from my last Samoa. But whatever it is, I know more than 59 million women have spent some part of the life as a Girl Scout, and millions more will make their pledge this year to make the world a better place. That's what I call a pretty powerful business plan.
Peace Love Profits,
Blake
P.S. Just got to ask: Thin Mints or Samoas?