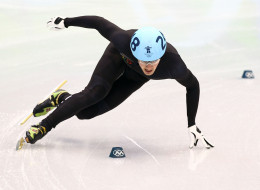 Blake Skjellerup represented New Zealand in the 2010 Winter Olympics.
As the 2014 Winter Olympics begin in Sochi, Russia, my passion and disappointment are at odds with each other. These Olympics in Russia are something that I have thought about every day for four years. Since the end of the 2010 Olympics in Vancouver I have lived, breathed and consumed myself into representing my country in Sochi.
As I sit here writing this, another advert for coverage of the Olympics passes across my television screen. It is incredibly difficult to watch. I get overwhelmed with two emotions, the first, anger.
I so very much wish I was there, I so very much wish I was representing myself, my country, my family, my friends, my communities, all those who have supported me so greatly over the past four years. I get so angry that my hard work and dedication was not realized, I feel empty in some sorts, as the visuals I focused on will never be realities. In hindsight however, I know I did my best, I know I did everything possible to be at my best, simply my participation in these Olympics was just not meant to be. People talk about silver linings, and they say it will all work out in the end, it is little consolation, but what other theory do I have to accept?
My second emotion is that of passion. I am so passionate about the Olympic Games. I have let them embody my life on such a grand scale, I can not help but be captured by their beauty and greatness. They are an awe inspiring event that brings the world together on a grand scale. I just love everything about what the Olympic Games represent and I cannot bring myself to look away, even though it hurts so much to not be there.
The Olympic games is a powerful sporting movement that does more than award the fastest, highest, and/or strongest athlete with a medal around their neck. The Olympic Games is a tool to showcase and highlight humanity, diversity, and peace. The Olympic Games in Russia unfortunately are far from a peaceful and diverse celebration of humanity.
Homosexuality is not propaganda. Anyone, no matter their sexuality, religion, or race, can play sports. One facet of who you are does not make you a weaker athlete. Being proud of who you are, and representing that makes you a stronger athlete, and the Olympic Games should be actioned in a place that provides that safety and opportunity.
The anti-gay propaganda law does not explicitly make homosexuality illegal per se. What it does do is make the education of homosexuality illegal to anyone under the age of 18. It makes displays of affection by two men, or two woman illegal. It makes gatherings of LGBT people illegal. In all common terms, this is oppression of LGBT human rights by the Russian Government.
Some people out there have been calling for a boycott of these games based on Russia's human rights violations towards LGBT people. A boycott would solve nothing. Being present and visible in and outside Sochi is what will make a difference. It is the year 2014, and the rights of LGBT people should not be used as a political pawn. The power of the Olympic Games has the ability to over shadow Vladimir Putin's oppressive Russia. The power of the Olympic Games has the ability to educate, and honestly show the nonviolent and non hostile nature of what it means to be LGBT. We are not a threat, we do not condemn heterosexuality, all we wish to do is love and live our lives.
At these Olympics we will see athletes speak out, I can guarantee that, and we will see an Olympic Games that shapes the course of the movement for the inclusion and acceptance of LGBT people in sport. This situation in Russia has people talking. Although it is a disastrous situation to be in for the people of Russia, it will shape the future of Russia, and it will start the conversation, and ultimately being about a change on ensuring the Olympic Games and sport is an inclusive, safe, and open place for all people.
I will be watching, I will be emotional, and I will be upset that I am not there competing. I really hope that these are a peaceful games, and that the safety and security of everyone involved is secure. I will be waiting for those small, or grand forms of solidarity, and I really hope there is one, just one.
This post is part of a series produced by The Huffington Post in conjunction with the Sochi 2014 Olympics. The series is part of our Impact Sports initiative, which examines the intersection of sports and social good. Many of the posts in this series critique the Russian government's draconian anti-LGBT laws, though other topics include climate change and censorship. Read all the posts in the series here.