By Kate Owsley, Lead Designer of Back Bay Florist in Boston, MA and florist on BloomNation
It's that time of year! Friends and family are heading over to your place for the holiday dinners. You have the recipes planned out, seating arranged and games for afterwards -- but what about the centerpiece? A well-dressed table makes a huge difference in the atmosphere of a party; it brings that extra seasonal joy and excitement for a night to remember.
Here are 6 tips that'll help make your holiday table spectacular: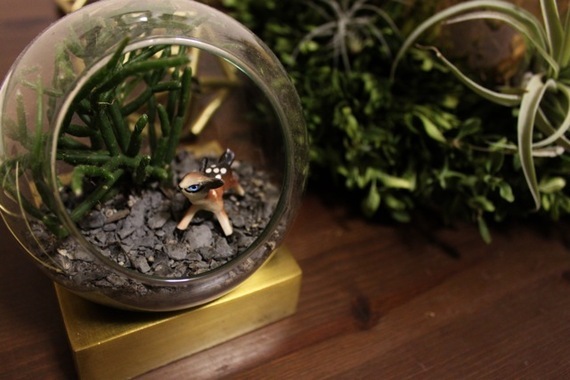 1. Try something unusual. Nothing creates the "WOW" factor like unexpected details, which is also a great conversation starter. Our table includes a deer figure peeking out of a terrarium and handmade geometric shapes that coordinate with the gold vase. Rudolf has joined the party!
2. Add something personal. A decorated table can feel indifferent without the personal touches. Write a quote from each person's favorite holiday movie on their place card, incorporate photos of your loved ones, or leave little notes telling each person how happy you are to have them with you. Your guests will be so touched by your thoughtfulness that worries over Uncle Joe and Rickie's usual holiday bickering will cede into the background.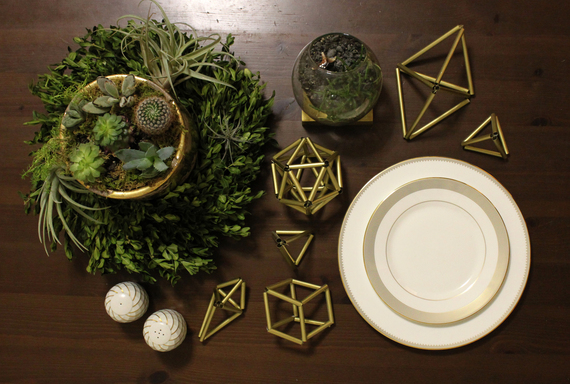 3. Use several coordinating, but unique, elements to unify the space. From the chargers and napkin rings to the vases and votives, repeat similar colors and textures to create consistency. Our tablescape is pulled together by a theme of geometric gold, deep green, and soft white. Even the salt and pepper shakers are decked with spiral gold pinstripes. Too many colors or styles can become confusing and stressful to take in, while a consistent look is soothing and enjoyable.
4. Good lighting will create the warm ambiance at your holiday table. Done correctly, a vase of flowers becomes the perfect subject for a romantic Dutch still-life, and the soft underlighting of votive candles brings out that lovely glow in your loved ones' faces for a scene you will not forget.

5. Add texture. Whether you are attracted to sparkly glitter or natural wood grains, contrasting textures can make the difference between a so-so centerpiece and one that impresses even the harshest of critics. The subtle differences in combinations such as soft leather with sophisticated brass, crisp white shellac next to rough reclaimed barn wood, or faux fur reflecting off of metallic gold make a powerful statement at your dinner party.
6. Don't forget to deck the kid's table (or wet bar). Bringing the look into other areas of your home reaffirms your design, making the table centerpiece the highlight of your décor rather than an island of style in an otherwise blank space.
With all of these elements, your guests will be so impressed by your holiday table that they will be posting pictures on Instagram and begging for all of your decorating secrets.
We wish you and your guests all the joys of the holiday season.
Photo Credits: Back Bay Florist