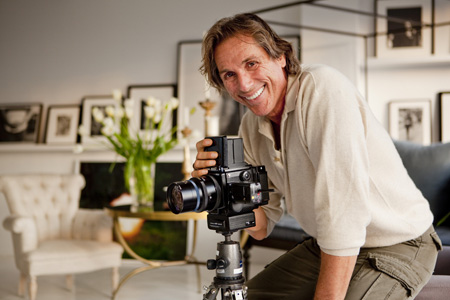 Vicente Wolf is one of the leading names in the interior design world. He has been in the business for more than 30 years. He is known for his deft mixing of modern, clean lines with antique pieces resulting in rooms that are fresh and new and with just the right patina of age and history. Other than his design firm, he oversees the product designs and merchandise of his retail store VW Home in Manhattan. He is also an avid photographer.
Below, Vicente Wolf talks about how you should always look like you just stepped out of the shower and why your budget may just be enough to hire his design services.
When I wake up... the first thing I do is jump rope and do sit-ups, quickly followed by spraying all my orchids and plants for their morning bath.
Before I go to bed... I read the book of the moment. Right now, it's That Woman about Wallis Simpson, Duchess of Windsor.
A well-dressed man/woman... should always look fresh like they've just come out of the shower with clothing that never looks overly-thought out and should never be overly-dressed.
Women should always... smell wonderful.
Men should never... wear too much jewelry.
The best thing that's been said about me... is that I am spiritual and like to give back to society with the same generosity that I was shown throughout my life.
The biggest misconception about me... is that most people think that I'm unapproachable and that their budget is never big enough for me. Wrong in both cases.
If I weren't doing what I'm doing today... I would be one of the many people who fell off by the wayside as I was fired from every job that I ever had. When I first started working, I was nervous about where I'd fit in. I tried acting, but I have no memory. I tried merchandising, but I didn't like the creative constraints. I tried advertising -- in the processing end -- but I'm dyslexic and it didn't work out. I was in modeling but I could visualize better shots than the photographer was taking and I wasn't the all-American type. If the interior design door had not opened, who knows?
My legacy... I want to be seen not as a one-dimensional individual, but as someone who was never restrained by boundaries. I want people to think that I gave back to society and didn't just take. Oh yes, and that I was creative.
A great idea... should always be acted upon, because if it's floating out there someone else will pick it up and you will kick yourself for not acting on it.
Botox is... great for migraines and good for the ego.
My mother... was a Capricorn like I am. Determined, a steamroller and highly-inventive and entrepreneurial.
The soundtrack of my life... has a great Latin beat.
The future... is the future but I can only deal with the here and now.
Happiness... is from within, and if you chase it outside it's never going to work.
There's a time and place for... work, but life is to be lived. We're not here just to work.
There is too much... sense of entitlement in our society.
In the end... it goes back to the beginning.
Photo courtesy of Vicente Wolf.
Follow me on Twitter: @bluecarreon
Read more from me on Style Intel