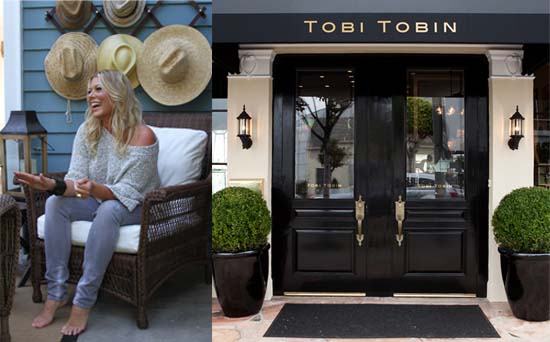 Tobi Tobin is a Los Angeles-based interior designer whose works have graced the pages of top magazines like Architectural Digest and House Beautiful. She has her eponymous store on Sunset Boulevard which perfectly captures her aesthetic that is largely about black and white and wood tones. It features a great mix of furniture pieces from Tobi's own collection as well as candles, chocolates, vintage jewelry and dresses.
Below, Tobi Tobin talks about building her brand, cocktail hour and whether she is or isn't the rock 'n roll Martha Stewart.
When I wake up... I am woken up each day by Theo my 110 lb Swiss Mountain Dog at six o'clock sharp. I feed Theo then I usually pick some oranges off my tree for fresh juice and make a fruit smoothie. Then go back to bed and check my emails and read for a while.
Before I go to bed... I shower and get a big pile of magazines on my bed, my computer and sketchbook. I usually work 3 or 4 house in bed before I sleep.
A well-dressed man... is a confident man.
Women should always... remember to move forward! Let the past be the past.
Men should never... miss out on a great opportunity to meet someone special. Just introduce yourself. Say "Hello, aren't you fabulous!". Trust me. That always works.
The best thing that's been said about me... The Los Angeles Times called me the "Rock n' Roll Martha Stewart".
The biggest misconception about me... I'm not the "Rock n' Roll Martha Stewart." I'm Tobi Tobin.
If I weren't doing what I'm doing today... I'd go crazy.
My legacy... is to build a significant architectural church in a town that does not have one.
A great idea... never give up a great idea.... keep pushing forward...
Botox is... weird... I would never... love natural beauty. Women are amazing, beautiful and sexy at every age. Botox ages you actually. Changes the soul.
My mother... is fabulous.
The soundtrack of my life... I can't choose. Don't make me.
The future... Tobi Tobin goes global. Coming your way -- fragrance, candles, body care and chocolate.
Happiness... is my faith.
There's a time and place for... cocktails. Always.
There is too much... bad news, exploitive news and not enough solutions. Let's talk about the people, places and organizations that are making a difference.
In the end... I have had amazing friends and family, traveled the world, loved my pets, laughed a lot, cried some, and never accepted NO for an answer. I have had great loves of my life and they will always be in my heart.
All photos with permission from Tobi Tobin. Portrait by Michelle Peerali.
Follow me on Twitter and Instagram @bluecarreon
Read more from me on Style Intel