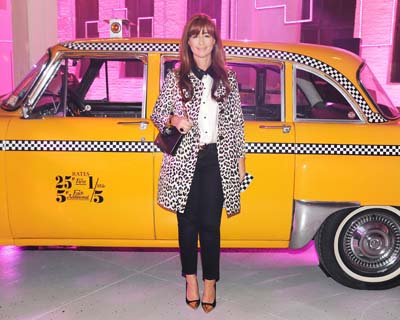 The president and creative director of Kate Spade New York, Deborah Lloyd, is credited for expanding and evolving the Kate Spade look into a fully realized lifestyle label that sells not only bags and shoes but clothing, jewelry, stationery, china, beddings and books as well.
This summer the label that deftly fines a balance between girly and lady-like made a splash in New York with the Kate Spade Saturday digital window shops which literally put a new spin to window shopping. Clients interacted with a touch screen window, that was part vending and slot machine, to order pieces from the Kate Spade Saturday collection, which were delivered in an hour anywhere in New York. Kate Spade Saturday is a younger and less expensive line -- a younger sister of sorts to the Kate Spade New York label.
Below, Deborah Lloyd, the creative brains behind all things Kate Spade talks about legacies and bows, women and mystery and reality television.
When I wake up... I smile.
Before I go to bed... I read a good book.
A well-dressed man/woman... is worth a second glance.
Women should always... have a little mystery.
Men should never... wear bad shoes.
The best thing that's been said about me... don't prod the cobra!
The biggest misconception about me... I'm always right.
If I weren't doing what I'm doing today... I would be in my garden.
A great idea... comes from anywhere.
My mother... is my biggest supporter.

The soundtrack of my life... Where Do You Go To My Lovely
The future... is a big adventure.
Happiness... is two black schnauzers called Stan and LuLu.
There's a time and place for... swearing.
There is too much... reality TV.
All photos with permission from Kate Spade New York. Above: Deborah Lloyd at the Kate Spade fall 2013 presentation. Below: Models in Kate Spade fall 2013 collection
Follow me on Twitter and Instagram: @bluecarreon