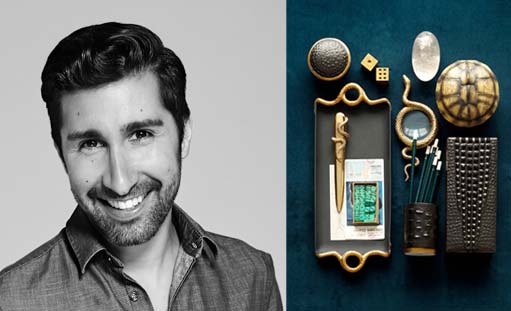 Ever since starting L'Objet in 2004, Elad Yifrach has been making luxurious and envy-inducing tabletop and home accessories that have -- and continue to -- graced many stylish homes all over the world. L'Objet's pieces are glamorous -- born out of marrying classical motifs with rich and modern materials.
Below Elad talks about great ideas, yoga and his definition of happiness.
When I wake up... I do 20 minutes of Kundalini yoga and take a nice, long, invigorating shower.
Before I go to bed... I flip through design or travel magazines, or try to read more than a few pages of a book before passing out.
A well-dressed man... should always travel with a beautifully tailored navy suit.
Women should always... leave some things to the imagination.
Men should never... be bitchy.
The best thing that's been said about me... is that I'm kind.
The biggest misconception about me... well, I hope there are no misconceptions because what you see is what you get!
If I weren't doing what I'm doing today... I would own and teach at a yoga and wellness center.
My legacy... has yet to be realized.
A great idea... is almost always a simple one.
Botox is... whatever makes you feel good.
My mother... wishes I lived closer.
The soundtrack of my life... changes with my moods. Everything from opera to Rihanna.
The future... is what I design for, which makes it challenging to stay in the present.
Happiness... is the Mediterranean.
There's a time and place for... almost everything.
There is too much... drama!
In the end... it's all worth it.
All photos (portrait and images from L'Objet's fall 2013 collection The Cabinet of Curiosities) with permission from L'Objet.
Follow me on Twitter and Instagram: @bluecarreon
Read more from me on Style Intel