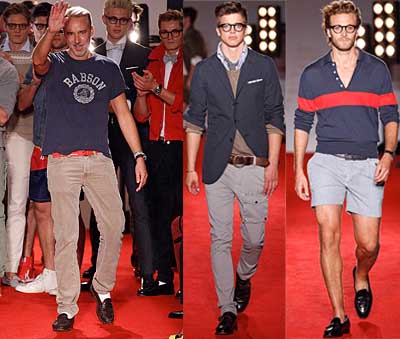 Michael Bastian is to be blamed for my current obsession with cargo pants. I never cared much for them until he showed them in his very first collection, spring 2007. Make no mistake, these were not the baggy, khaki versions that the Gap sold in the '90s. Michael Bastian's were in a pale gray color and what made them current was that he cut them in a slim shape and paired them with a blazer. Who knew that the humble cargo pants can be elevated from their working class roots to a smart casual aesthetic? Such a simple but genius idea. Now everyone is doing it.
I've been a fan of Michael Bastian since. I like that he makes clothes that any man can relate to. It doesn't matter if that man has a copy of GQ on his night table or if he is of the jeans and t-shirt uniform. Michael Bastian makes clothes that have lives past the runway show. They have the trademarks of classic American Ivy League style but updated (by way of shape and fabrication) to suit the needs of today's man.
His spring 2012 collection, a much-anticipated affair because the designer took a season off to sort out production issues, was an exploration of James Dean style, from Rebel Without A Cause to the actor's scrubbed up, black tie looks. There was plenty to love about the collection like the rugby shirts, the double-breasted blazers, and the pieces with racing stripes. I particularly love the loafers which Michael Bastian collaborated on with Stubbs & Wootton.
I have to stop gushing.
Below, Michael Bastian urges women to flirt with other women and gay men and talks about fast fashion karma.
When I wake up... I immediately calculate how many times I can hit the snooze button.
Before I go to bed... I take my vitamins, brush my teeth and read The New Yorker for a while.
A well-dressed man/woman... really has the power to stop you in your tracks. You know it when you see it.
Women should always... flirt a little -- even with other women and gay guys -- there's something very charming about it, and it's immediately disarming. It's a strong weapon only women can deploy effectively.
Men should never... take themselves (or their work or their appearance) too seriously.
The best thing that's been said about me... on an anonymous blog someone wrote "this guy is just making stuff I want to wear."
The biggest misconception about me... is that I somehow planned the career I have right now. The trajectory of my life so far has all been a big surprise to me. It's made me a huge believer in fate and luck.
If I weren't doing what I'm doing today... I'd probably be in advertising or a teacher, like everyone else in my family.
My legacy... for better or worse, this is still being written at the moment. But I'd be very happy with it being "he was truly a nice and considerate guy."

A great idea... needs to be acted on immediately, given away or dropped. Great ideas are very much 'of the moment' and endlessly mulling them over just takes up too much of your brain space, and might block your next great idea. Act on it, give it away or move on.
Botox is... a completely foreign concept to me. I really love expressive faces and it seems much 'younger' to me to just be yourself and not broadcast your insecurities so loudly.
My mother... did an amazing job of giving her kids independence, which is a rare gift. I never doubted my place in the world.
The soundtrack of my life... seems to change each season and to be very connected to the collection I'm working on at the minute. It really helps me solidify the mood of the season.
The future... is looking very bright at the moment. The movie I seem to be living in has gotten really exciting in the past few years and I'm looking forward to seeing how it will all play out.
Happiness... is directly correlated to gratitude.
There's a time and place for... criticism. And too few people know when that is exactly.
There is too much... fast fashion in the world right now. How many landfills are being packed with cheap jeans and T-shirts, not to mention the human rights issues of producing massive amounts of disposable 'fashion' in developing countries. It's got 'bad karma' written all over it.
In the end... I hope all the pieces suddenly come together and it all makes sense. Please let there be this huge epiphany at the end!
Read more from me at Style Intel.
Photos courtesy of Michael Bastian.