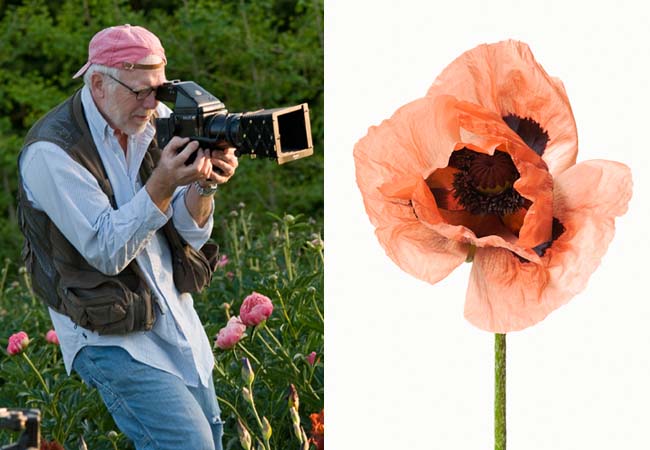 After decades of fashion photography, Paul Lange has recently set his lenses on nature, or to be more specific, to landscapes and singular blooms. His photos of flowers like peonies and poppies are so stunning that they've become instant favorites among the stylish set. The photographs capture the beauty of flowers as they burst into full bloom. I love them simply because they present beauty in its purest form.
As he opens an exhibit of his Big Blooms series at the Hagedorn Foundation Gallery (June 20) in Atlanta, Paul Lange talks about family, photography and the soundtrack of his life.
When I wake up... I kiss my wife.
Before I go to bed... she kisses me.
A well-dressed man/woman... should wear their hearts on their sleeves.
Women should always... be nice to my boys.
Men should never... be arrogant.
The best thing that's been said about me... is that I'm kind and caring... or was it kind of?
The biggest misconception about me... is that I work alone. My wife and I have worked together as business and creative partners for the last 35 years.
If I weren't doing what I'm doing today... I'd be doing it tomorrow. I can't imagine not making photographs.
My legacy... my two talented sons, Matthew and Christopher.
A great idea... requires great actions.

Botox is... not in my future.
My mother... is an amazing and active woman at 91 and she loves a good cup of tea.
The soundtrack of my life... the click of my camera.
The future... a cottage on the Maine coastline.
Happiness... is being with the ones I love.
There's a time and place for... kindness -- always and everywhere.
There is too much... to do in a day and not enough time for reflection.
In the end... I love the roller coaster of my life.
All photos with permission from Paul Lange.
Follow me on Twitter and Instagram: @bluecarreon
Read more from me on Style Intel