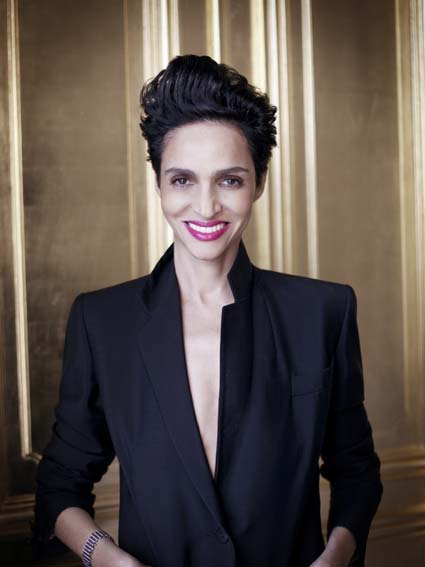 With the revival of the house of Schiaparelli in motion, I talk to Farida Khelfa -- model, muse to many designers, and now the ambassador of Schiaparelli -- about being well-dressed, Botox and the unending search for happiness.
When I wake up... I meditate and drink a big coffee made with my Italian coffee pot.
Before I go to bed... I read.
A well-dressed man... should wear a perfectly tailored suit like Fred Astaire.
A well-dressed woman... should always wear a perfect dress and shoes.

Women should always... put on light makeup .
Men should never... be rude.

The best thing that's been said about me... I don't know, I still have not heard it!
The biggest misconception about me... is that people think I am tough, when I am really the opposite!
If I weren't doing what I'm doing today... I would be swimming in the sea.
My legacy... not much.
A great idea... I am waiting for it to come.
Botox is... not for me (even if I need it).
My mother... embodies the true meaning of courage.
The soundtrack of my life... depends on the year!
The future... is instantaneous (or the instant).
Happiness... is a perpetual quest.
There's a time and place for... your own privacy.
There is too much... violence.
In the end... we all seek for love.
All photos (portrait of Farida Khelfa and the house of Schiaparelli) by Christophe Roue with permission from Schiaparelli.

Follow me on Twitter and Instagram: @bluecarreon
Read more from me on Style Intel