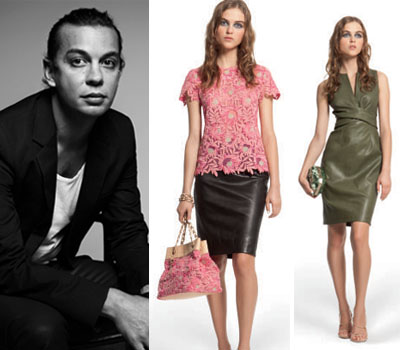 There is sweetness and modernity in the clothes designed by Michael Herz for Bally's spring 2012 collection. You can see this combination in the designer's brilliant use of lace and leather together -- say, in the form of a pink lace blouse paired with a skin-tight black leather pencil skirt.
Herz, who took over the creative direction of Bally's women's line following a stint at Aquascutum, said that his vision of the Bally woman is "chic, timeless, desirable, and beautiful."
Below, he continues to talk more about women, great ideas and the Madonna song he has on repeat.
When I wake up... I have a bath.
Before I go to bed... I brush my teeth.
A well-dressed man/woman... fills a room.
Women should always... be appreciated.
Men should never... think they're more important than they are.
The best thing that's been said about me... is that I am a pragmatist.
The biggest misconception about me... is that I'm a big party person.
If I weren't doing what I'm doing today... I'd be either a cowboy or an actor.
My legacy... is cooking wonderful dinners for my family and friends.
A great idea ... is something I secretly covet.
Botox is... a personal choice.
My mother... has great style.
The soundtrack of my life... is Madonna's "Cherish."
The future... is now.
Happiness... is being at home.
There's a time and place for... drinking champagne!
There is too much... going on!
In the end... love it or leave it.
Portrait of Michael Herz and photos of spring 2012 looks courtesy of Bally.
Read more from me at Style Intel