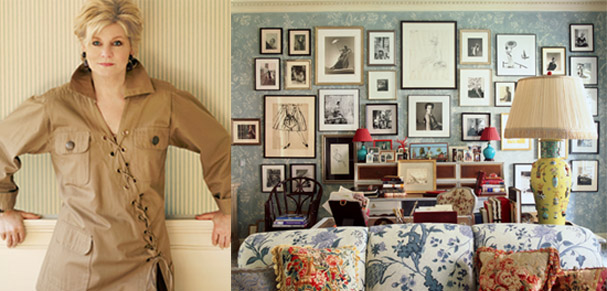 Charlotte Moss is one of the grande dames of the decorating world: iconic, revered and forever looked to for all things related to stylish and luxurious living. Through her books and her blog, she offers her admirers a firsthand account of her life, her world and what inspires her. And those who want to buy a piece of the Charlotte Moss lifestyle could do so with her vast array of products from furniture to china to fabrics to home fragrances. One of my favorite things to do on lazy weekend afternoons is to revisit her books A Flair For Living and Charlotte Moss Decorates, and for an hour or so I am transported to places where everything is bright and immaculate.
Below, Charlotte Moss shares some of her daily rituals and talks about maybe becoming a country singer.
When I wake up... I fix some coffe, check my iPad, then read a book for an hour.
Before I go to bed... I fix a chamomile tea, do my skin/face regimen, then sneak a peak at the iPad.
A well-dressed man... is always a refreshing sight.
Women should always... wear a smile and great lingerie!
Men should never... get dressed without looking in the mirror.
The best thing that's been said about me... is that I am generous and funny.
The biggest misconception about me... if they have one then they don't know me... I am pretty straight and direct.
If I weren't doing what I'm doing today... I would channel Russell Page and become a garden designer, or maybe Patsy Cline and sing country.
My legacy... a life that had a positive impact on others having created a little more beauty in the world.
A great idea... tell me!! I am always up for one. How about bringing back House and Garden or Vogue Decoration? We miss them terribly.
Botox is... a choice you make.
My mother... made home the center of our world. She is why I am doing what I am doing.
The soundtrack of my life... my backyard in East Hampton -- birds, the ocean, tree frogs and a crackling fire... soporific!
The future... is right now and made even better when you embrace that thought.
Happiness... is self-confidence. When you feel good about you, you're happy with everything and everybody.
There's a time and place for... most things! Manners tell all!
There is too much... time being spent in front of screens -- missing life and being unaware.
In the end... not ready for that one. Too busy working on now.
Photos courtesy of Charlotte Moss. Photo of Moss's sitting room by Pleter Estersohn.
Follow me on Twitter: @bluecarreon
Read more from me on Style Intel