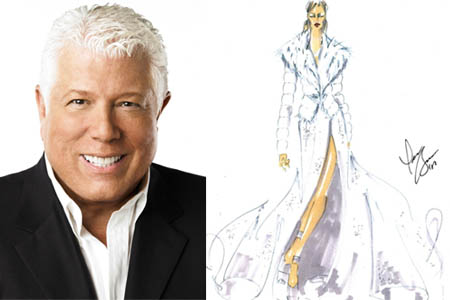 Any woman who dreams of owning a fur coat covets a Dennis Basso original, or at least one of the faux fur pieces he designs for QVC. But while Basso is the go-to designer of socialites in need of luxury fur coats, he also produces a ready-to-wear collection of fancy cocktail dresses and statement-making gowns. He also recently launched a bridal line.
Last November, Basso married his partner Michael Cominotto at The Pierre in New York attended by the couple's friends like Ivana Trump, Alina Cho and Tory Burch.
Below, Basso talks about being in love, the importance of friends, and why a great haircut is a must-have whether you are a woman or a man.
When I wake up... I'm always happy!
Before I go to bed... I always say a prayer.
A well dressed woman... should have a great haircut and perfect manicure.
Women should always... feel beautiful, confident and sexy!
Men should never... chew gum.
The best thing that's been said about me... is that I entertain beautifully.
The biggest misconception about me... is that I'm out all the time.
If I weren't doing what I'm doing today... I'd be in show business!
My legacy... will be for people to remember me for loving so many different types of people.
A great idea... is always fun to share.
Botox is... getting out of control.
My mother... was a spectacular woman.
The soundtrack of my life... "C'mon, get up and go!"
The future... is always full of surprises.
Happiness... is old friends.
There's a time and place for... work... and lots of play!
There is too much... jealousy in the world
In the end... nothing is better than being in love
In the above photo: Dennis Basso and a sketch from his upcoming fall 2012 collection. Photos courtesy of Dennis Basso.
Read more from me at Style Intel