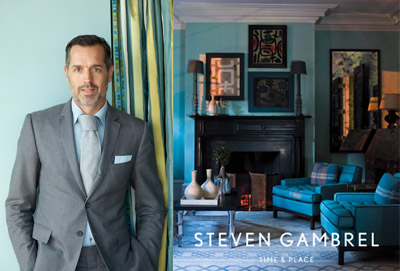 The much sought after designer Steven Gambrel has just added another feather to his cap with the recent release of his book Steven Gambrel: Time & Place. Gambrel and his interior spaces command multiple editorial pages in shelter and decorating magazines because he deftly combines smart and beautiful design with functionality. He is one of the rare designers who can flex his own aesthetics to match those of his clients without compromising his own creativity.
In his first book, he gives readers a tour of his 10 projects -- all them different from each other but all done with his signature flourish.
Below, Gambrel talks about good design, restoring old houses and living in the now.
When I wake up... I go out with my dog and then curl up with her and a cup of coffee for a few minutes before breakfast.
Before I go to bed... I take a hot shower and read architecture books.
A well-dressed man/woman... always has a uniform and dresses on a variation of that theme.
Women should always... consider fashion but make it feel nonchalant and non-contrived.
Men should never... talk finances at the gym.
The best thing that's been said about me... I have a natural sense for entertaining and a great personal style.
The biggest misconception about me... is that I am aloof.
If I weren't doing what I'm doing today... I would restore old houses one by one in the Hamptons with two Labradoodles and a truck.
My legacy... is that I've created my own take on how we live now.
A great idea... is the iPad.
Botox is... good in small doses but not for me, I like character.
My mother... is a great inspiration, she taught me a lot about style and lifestyle.
The soundtrack of my life... right now is Pieter Porters, a guy in Antwerp who mixes mysterious music and creates amazing environments.
The future... The present. I live for the present, not the future.
Happiness... is a wooden boat, my dog, and a Saturday afternoon on the Peconic Bay.
There's a time and place for... creating an environment, or a sketch, or a meal that inspires your soul.
There is too much... disposal of goods.
In the end... I want to be around friends and family.

Portrait of Steven Gambrel by Eric Piasecki. Photos courtesy of Abrams Books
Read more from me on Style Intel