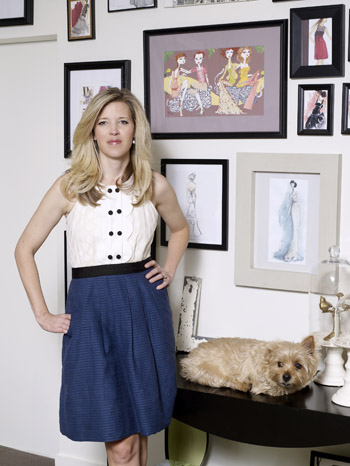 After a well-received spring 2012 collection of easy separates and pretty dresses in wonderful sorbet colors and painterly prints that recall the watercolors of Helen Frankenthaler, the fashion designer Lela Rose talks about being a mother, owning an ice cream store and playing a competitive round of Scrabble every now and then.
When I wake up... I contemplate the run I desperately do not want to go on.
Before I go to bed... I plan what I am going to make for lunch the next day and wash my face with with Clarisonic.
A well-dressed man/woman... wears many colors, not necessarily together. Just not basic black.
Women should always... stand up straight and be confident.
Men should never... be rude to their mothers. I have a son -- this is a preventative measure.
The best thing that's been said about me... is that I am a great mother. It's only been said once but I am holding onto that!
The biggest misconception about me... is that I am a staunch Republican. I am independent.
If I weren't doing what I'm doing today... I would own a homemade ice cream store and spend the summer in Jackson Hole.
My legacy... I hope I leave one!
A great idea... should be thought through to make even greater.
Botox is... a beautiful thing, at least it makes a more beautiful face.
My mother... is tireless and a true inspiration.
The soundtrack of my life... Diana Ross' "Ain't No Mountain High Enough"
The future... comes too quickly.
Happiness...is a cold margarita and hanging on the stoop with the kids and husband.

There's a time and place for... a competitive game of Scrabble.
There is too much... work to be done before a fashion show!
In the end... I want to be happy about my choices.
Photograph of Lela Rose courtesy of Lela Rose.