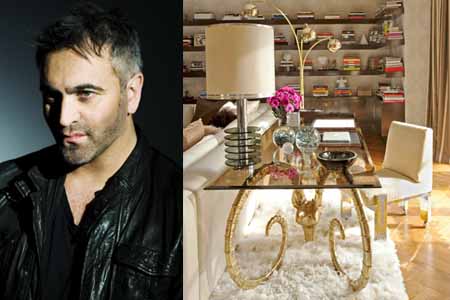 The British-born decorator Martyn Lawrence-Bullard likes to layer color, textures and cultures into the spaces he designs. You can see this in the houses and apartments he's designed for his A-list clients -- Ellen Pompeo, Tamara Mellon, Sharon Osbourne and Daisy Fuentes to name a few. The rooms are rich and lush with a sense of drama. His personal motto is "live, love, decorate," which also happens to be the title of his first book.
Below, the star of Bravo's Million Dollar Decorators talks about reality television, singing in the shower and small doses of Botox.
When I wake up... I immediately have a cup of earl grey tea. Can't help it... my English roots!
Before I go to bed... I slap on my Strivectin face cream. It seems to be somewhat combating the signs of wear and tear on my weathered face.
A well-dressed man/woman... is always a delight. There's nothing more exciting than seeing people express their personal style through their dress sense.
Women should always... be elegant. There is nothing sexier than elegance (that goes for men too ).
Men should never... forget their manners.
The best thing that's been said about me... is that I have a great sense of humor. Humor to me is everything.
The biggest misconception about me... is that I'm snobbish. I'm the least snobbish person I know!
If I weren't doing what I'm doing today... I would have loved to be a singer. I adore to sing. Just in the shower though these days.
My legacy... I hope will be the fabrics, furniture, fragrances and decorative items I've had the pleasure to design. I hope generations in the future will continue to enjoy these.
A great idea... is to make sure we take time out of everyday to laugh. Laughter cures all I believe.
Botox is... a clever tool when used in very small doses.
My mother... is an amazing woman who has been my number one fan and supported me unconditionally with her love and passion throughout my life in everything I have done. I'm very blessed.
The soundtrack of my life... would have to be My Way, Frank Sinatra's version of course!
The future... is very exciting with amazing jobs and my products expanding around the world. A new season of Million Dollar Decorators airs at the end of this year and my TV show starts to film in the UK soon. I'm incredibly lucky and enjoy working incredibly hard to keep up my high standards on all of this.
Happiness... is sharing quality time with my family and friends.
There's a time and place for... all things!
There is too much... prejudice and hate in the world!
In the end... love will heal all.
All photos courtesy of Martyn Lawrence-Bullard.