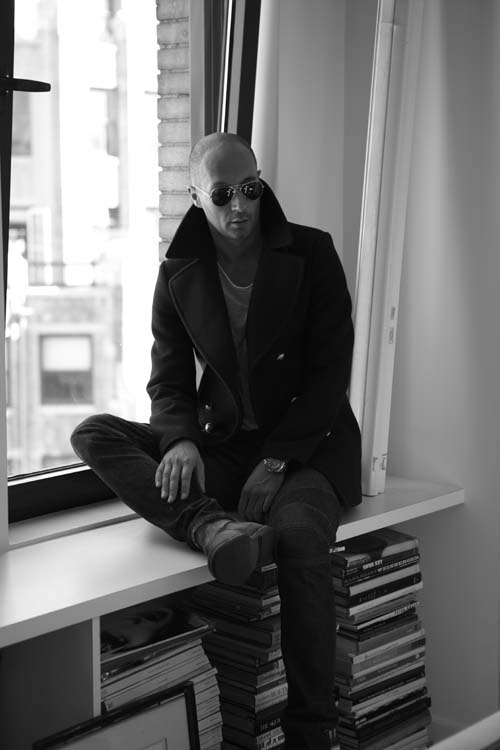 Is there anything Milan Vukmirovic can't do? Here's a checklist of his past and present roles: fashion designer, creative director, magazine editor, curator, consultant, boutique owner and arguably the king of street style blogs. With his incredible and oft copied personal style, Milan cuts a cool and unaffected figure in a sea of overly-dressed people at fashion week. During his brief stint as creative director at Trussardi, he made the sleepy Italian label the hottest thing in menswear.
Below, Milan talks about waking up next to his loved one, being shy and the one thing women should always avoid.
When I wake up... I feel happy and lucky to be next to the person I love.
Before I go to bed... I take the person I love in my arms.
A well-dressed man... knows how to wear clothes which can only enhance his personality, his beauty or sex appeal. It s about being confident and cool with yourself.
Women should always... avoid tattoos.
Men should never... wear white leather shoes.
The best thing that's been said about me... is that I am a multi-talented and free spirited person.
The biggest misconception about me... I am very shy and some people take it as me being cold or arrogant.
If I weren't doing what I'm doing today... I would be a psychologist.
My legacy... is all I create.
A great idea... always the next one.
Botox is... not cool.
My mother... is only love.
The soundtrack of my life... always a work in progress.
The future... is now.
Happiness... is enjoying the most simple moments of life with your loved one.
There's a time and place for... any of our dreams.
There is too much... stressed people.
In the end... love and be loved in return is only what matters.
Photo courtesy of Milan Vukmirovic.
Follow me on Twitter: @bluecarreon
Read more from me on Style Intel