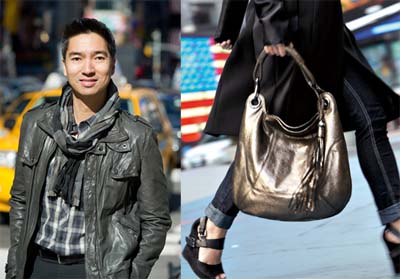 After a one-year hiatus, bag designer Rafe Totengco is reclaiming his rightful position in the fashion world. He has his own bag label, Rafe, whose fans include stylish women like Amanda Hearst, Eva Longoria and Zani Gugelmann. He also oversees all the bag lines under Jones Group. This includes Nine West, Anne Klein, Jones New York, Rachel Roy, among many others. To say that Rafe's carrying a heavy load is an understatement.
Below, the designer takes a break from his crazy schedule to talk about social networking, Adele and laughing until it hurts.
When I wake up... I turn on the news, check my emails and various social networking sites and then have breakfast.
Before I go to bed... I usually flip through magazines and sketch on my notebook or iPad. Sketching is one of my favorite things to do to unwind.
A well-dressed man/woman... should be comfortable and confident with their personal sense of style.
Women should always... smile.
Men should never... talk about money in public.
The best thing that's been said about me... is that I make people happy.
The biggest misconception about me... is that I'm a serious person. I love to laugh until it hurts.
If I weren't doing what I'm doing today... I would be teaching kids how to draw. Creativity should be encouraged at an early age. Sir Ken Robinson gave a famous talk about creating an education system that nurtures and supports creativity instead of discouraging it. I couldn't agree with him more.
My legacy... if there should be one, is that I hope I made a lot of people happy with my work and with my friendship.
A great idea... should be realized as soon as possible especially if it improves the lives of others. Recently, I was so inspired by the Liter of Light Project (http://isanglitrongliwanag.org/) Such a great idea!
Botox is... a personal choice but it's not for me. I like seeing the lines and expressions on people's faces. Growing old gracefully is a beautiful thing.
My mother... is my hero. She showed me by example how I can live my life with integrity, compassion, honesty and curiosity.
The soundtrack of my life... should be a mash-up between Adele and Sergio Mendes and produced by Mark Ronson, at least for this season.
The future... depends on what decisions I make today.
Happiness... is a day on the beach with my family in St. John.
There's a time and place for... work and play.
There is too much... social networking these days. I'm as guilty as everybody else. If there's an app for it, I probably have it. Once in a while I surprise friends and make an actual phone call.
In the end... I hope I get to check off everything on my list of things to do and places to see. It's long list so it will take a while but I'm enjoying the journey.
Portrait of Rafe Totengco and photos of his fall 2012 collection (below) courtesy of Rafe.

Follow me on Twitter: @bluecarreon
Read more from me on Style Intel