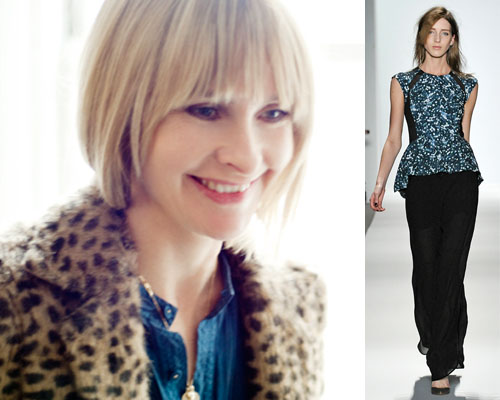 Fashion designer Rebecca Taylor is known for her feminine dresses but she confesses that she's a tomboy at heart. Below, she talks about her fashion aesthetic and her own personal style as well husband's and credit card statements.
When I wake up... I am surrounded by my children, who are jumping on my bed.
Before I go to bed... I like to read my Kindle and have a glass of wine to unwind.
A well-dressed man/woman... is always comfortable in their own skin.
Women should always... smile.
Men should never... check their wife's credit card statements!
The best thing that's been said about me... is that my clothes make women feel beautiful.
The biggest misconception about me... is that I dress girly, since my clothes are very feminine. I'm actually quite a tomboy!
If I weren't doing what I'm doing today... I'd be a makeup artist... or a dolphin trainer.
My legacy... we will see!
A great idea... is taking my children to Disney World this month. We're so excited!
Botox is... genius.
My mother... comes to New York from New Zealand every season to help with our show. I couldn't do it without her!
The soundtrack of my life... would have a lot of David Bowie.
The future... hopefully involves a beach.
Happiness... can be found in the simplest things.
There's a time and place for... tequila shots.
There is too much... violence in the world.
In the end... anything is possible!
Photo of Rebecca Taylor and a look from her fall 2012 collection courtesy of Rebecca Taylor.
Read more from me on Style Intel