At the recently concluded MTV VMAs, the singer Adele brought class and elegance to an otherwise strange and slightly amateurish event. In a black scallop edge custom dress by the designer Barbara Tfank -- a favorite of Michelle Obama -- Adele tugged the heart strings of the live audience and those watching in their homes as she performed her latest single Someone Like You.
Adele and Tfank were introduced to each other by Anna Wintour in 2009, when the singer was first nominated for a Grammy. Since then, the two have developed a relationship not unlike that of a designer and her muse. Here, Barbara Tfank shares her thoughts on dressing the Grammy award-winning singer who has become the poster girl for good girls.
How did you develop your relationship with Adele?
I met Adele through American Vogue. I was asked to design a couture dress and coat for Adele to wear to the Grammy's where she went on to win two awards. I have continued to work with Adele and most recently, I designed her dress for the MTV VMAs.
What makes you continue to want to work with her?
I find Adele so inspiring and I always enjoy working with her. Adele has a real sense of personal style which I find refreshing. I always follow her lead. Adele is a lioness!
How would you compare dressing her to Michelle Obama?
We are talking about women with extraordinary presence. Powerful communicators. Women who offer great inspiration and heartfelt warmth. I think of myself as a facilitator. My work as a costume designer has helped me meet the requirements of each. I'm truly honored.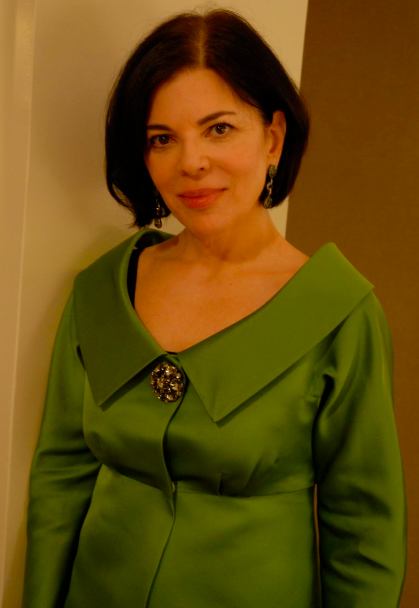 What do you think is the appeal of Adele?
Adele's talent is massive. I recently attended her concert at the Greek Theatre in LA and really understood the effect her music has on people... grown men in the audience were brought to tears. Adele's music goes straight to the heart.
What fashion lessons can women learn from Adele?
Always be true to yourself and be comfortable with your clothing choices. There is no limit to ones beauty.
What would you like to see her wear?
I would love to see Adele to wear one of my sweeping floor length opera diva coats.
How would you describe her style?
People say Adele has a retro look. I do not see it as retro but rather, like her voice and music, Adele pulls from many different moments in time and makes them her own. In a way this is similar to my design approach ... timeless and fun!
Photograph of Barbara Tfank (by HThomson) both courtesy of Barbara Tfank.