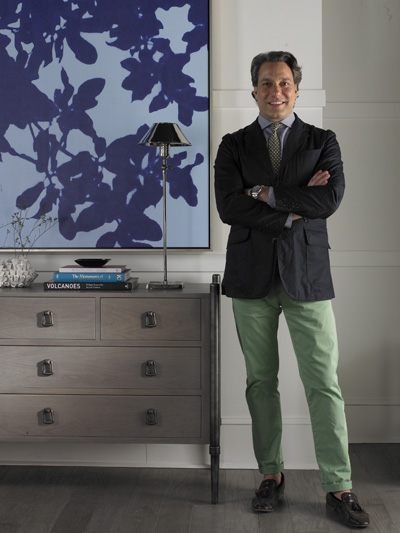 If you haven't been to this year's Kips Bay Decorator Show House, I suggest you plan a trip ASAP before it closes this Thursday, if only to see the room decorated by Thom Filicia. The decorator, author, and television personality lacquered the walls and ceiling of a small foyer in a shade of green. The color was reiterated in varying shades on fabric treatments, tabletop accessories and the choice of art. It is, quite simply, a stunning room. One that I am confident will inspire many design addicts.
Below, Thom Filicia talks about dirty jokes and dogs on life preservers and why you should always remember Coco Chanel's most important fashion rule.
When I wake up... I have a panic attack because I'm usually 15 minutes behind schedule.

Before I go to bed... I look up to heaven and I think to myself, "If I die before I wake, I'm going to be sooooooo pissed off because my apartment is a wreck!"

A well-dressed man... should never be too well-dressed and a well-dressed woman should be effortless.

Women should always... take off one accessory before they leave the house.

Men should never... overly man-scape.

The best thing that's been said about me... is that I've inspired them through design and humor and that they appreciate my salt-of-the-earth sensibility.

The biggest misconception about me... is that television design is my primary platform, which couldn't be further from the truth, as I have had an established design firm in New York City for many years.

If I weren't doing what I'm doing today... I'd be a ski instructor by day and a spokesperson for Kettle One Vodka by night.

My legacy...is encouraging the democracy of design.

A great idea... airplanes. I still don't understand how they work.

Botox is... moronic.

My mother... always said to tell a dirty joke and you'll quickly figure out who's up for a good time and who's not.

The soundtrack of my life... The Big Chill.

The future... is optimistic, exciting and happening right now!

Happiness... is sitting on my boat with a fabulous glass of wine, great friends and couple of dogs wearing life preservers.

There's a time and place for... most things I say, but not most things I think.

There is too much... square footage in new bathrooms.

In the end... you should be judged for how much fun you had and for how many people you shared it with.
Portait of Thom Filicia (above) and photograph of the room he designed for the Kips Bay Decorator Show House (below) courtesy of Thom Filicia.
Follow me on Twitter: @bluecarreon
Read more from me on Style Intel