Serving in the Peace Corps is an interesting beast. The experience varies from one person to another, from one country to another, from one village to another. You might spend days reading in your hut, after heat or rain canceled all your meetings. Or you could be busy from dawn till dusk.
I served as a community health volunteer in Swaziland from 2012 to 2014, finishing in August. I had my share of long, dull days, and I had a few extremely busy ones. But much of my time went to a girls-empowerment program called Girls Leading Our World.
GLOW brought teen girls together from all over rural Swaziland for an annual camp. Swaziland, if you're not familiar with it (I wasn't), is a country about the size of New Jersey that's bordered on three sides by South Africa and one side by Mozambique. It's one of two blobs on the map that appear to be floating in South Africa. (Lesotho is the other one, fully surrounded by SA.) About a million people live there.
Here are some sociopolitical things you should know about Swaziland: It has the highest HIV prevalence in the world, it's the last absolute monarchy in Africa, and 63 percent of people live in poverty.
Here are some more important things you should know: The people are largely kind, friendly and welcoming; many smart people are working hard to improve health and address poverty-related issues; and singing and dancing are an integral part of daily life. Oh, and many really do understand the importance of educating and assisting girls.
This is the context for GLOW.
A Swazi friend and I started a GLOW club for sixth-grade girls in our area. We held biweekly meetings, talking about self-esteem and leadership issues, singing and dancing, and discussing reproductive health. This led up to the five-day camp, which three girls from our club attended.
Oh, and let me be clear -- dozens of extraordinary Swazi women work tirelessly as GLOW counselors and partners on this project. It's by no means a Peace Corps-only deal.
My friend, Ncobile Hlophe, described why she thinks it's important for girls to go to camp: "To be empowered, to be a good leader, to make positive choices, to be a good role model to other girls in the community, to be educated, enlightened and make informed decisions."
She said the three girls we took, Zinhle, Thandeka and Sicebile (pictured with Ncobile below), came away as skilled public speakers and good role models for other girls.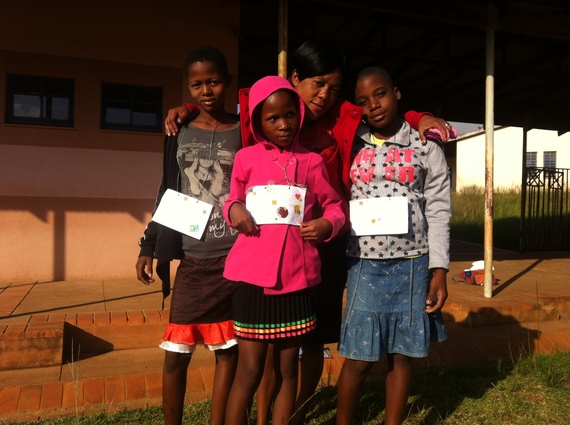 The camp is uplifting and empowering to the girls. It's truly incredible. Many girls start the week nervous and shy. By Saturday, they're hugging one another, showing off and goofing around. We finished the week with a talent show, where the girls performed skits and, of course, sang and danced. The volunteers and counselors were brought to tears when a shy girl with a physical disability took the stage and sang her heart out. The cheers were deafening.
This year, GLOW is expanding. The Peace Corps volunteers and the Swazi counselors are putting on two camps, one for older girls and one for younger girls. They'll continue to work alongside the incredible Swazi women who volunteer as counselors.
If you want more information or care to support these guys, go here.
And if you want to make connections and learn about another culture in a unique environment, you should check out Peace Corps. Every volunteer's experience truly is different.
The opinions here are my own and do not represent the views of the U.S. Peace Corps or Peace Corps Swaziland.