Great ski towns these days aren't just about great slopes. While that is of supreme importance when choosing a mountain to ride, it isn't all that matters when deciding on a ski getaway destination. A beautiful and quaint town, artisan boutiques, friendly locals and personalized lodging are just a few of our criteria.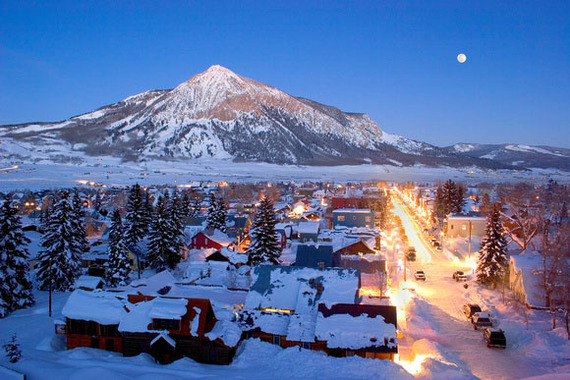 So with winter winding down in North America, it's the perfect time to get away and enjoy a few more weekends of riding before spring arrives. From the Northeast to the Southwest, we've listed some of our favorite American ski towns and where to stay while visiting.
Waitsfield, Vermont
The twin Vermont villages of Waitsfield and Warren -- adjacent to one of the East Coast's most unnerving old-school ski mountains, Mad River Glen and one of the East Coast's most upscale ski mountains, Sugarbush -- are filled with artisans' studios, organic bakeries and laid-back locals. Both towns offer rustically charming restaurants and lodging options for every taste. The Yellow Farmhouse Inn, located in Waitsfield, is a secluded retreat offering eight spacious rooms, all individual in look and feel. Vermont Casting Stoves and Whirlpool tubs are just a few of this inn's luxuries that will soothe your tired muscles after a long day on the slopes.
Windham, New York
The Catskill Mountains are located approximately 100 miles northwest of the island of Manhattan. The rugged beauty of the rolling hills and the steep valleys makes this region a photographers dream. This area is culturally rich and offers an array of old world-meets-new culinary experiences sure to satisfy any palate. By day, ride Windham Resort and Hunter Mountain, by night, relax at the family-owned -- Catskill Lodge. This beautiful three-story 1893 Queen Anne Victorian is a Registered Historic Site and sits high on five acres of natural landscape. This quiet and relaxed B&B uses only local and fresh breakfast ingredients to fuel you for a long day on the slopes.
Nellysford, Virginia
While traveling along Route 151 in central Virginia, you will eventually run into an aggregation of local artisan shops, farmers markets, wineries, breweries and even a cidery. This special enclave is the small town of Nellyford, Va. Nestled in this antiquer's dream of a town is The Mark Addy Inn Bed & Breakfast. Built in 1840, and host to such historical figures including Thomas Jefferson and Charles Everett, this 10-bedroom, historical landmark offers rich history, excellent cuisine and unique décor. Just a few miles away from the inn is the Wintergreen Resort, an 11,000-acre, four-season mountain retreat on the eastern slopes of the Blue Ridge Mountains. This "Mountain Top" resort is built on peaks and ridges making this noteworthy ski destination a perfect compliment to the uniqueness of the The Mark Addy Inn and the charms of Nellysford.
Crested Butte, Colorado
Away from the glittering boutiques, celebrity eateries and swarming crowds (both on the slope and off) is the lesser-known slope haven in Colorado, Crested Butte. Designated as a National Historic District the town of Crested Butte is a true Western ski town with innovative boutiques and locally owned atmospheric eateries. Located in the heart of town is the historic Purple Mountain Lodge Bed & Breakfast. After undergoing a major renovation in 2003, this B&B has been rejuvenated into a chic, ski town retreat. The originally restored 1927 wood façade, reclaimed hardwood floors and stone hearth and mantel set this cozy five bedroom inn apart from the rest. The Elk Mountains are this regions backbone, and Crested Butte Mountain remains legendary for its steep and rugged terrain.
Taos, New Mexico
This dramatic desert town is surrounded by the ancient Sangre de Cristo Mountains. Artists have been finding inspiration here for decades. With the likes of Ansel Adams, Georgia O'Keeffe and Willa Cather -- the art-colony spirit still thrives here today. Just outside of this museum/artists mecca is the Adobe & Stars Bed & Breakfast. Having opened their doors to guests in 1996, this inn specializes in high level hospitality within a majestic, earthy setting. Conveniently located between the historic Taos and the Taos Ski Valley, this spacious and contemporary B&B was designed with views in mind. Big windows, decks and patios are mixed with traditional Pueblo style features creating a luxurious haven of star gazing, sunset viewing and southwestern ambiance.
-- Mary White, Founder of BnBFinder.com