This past summer, at the venerable and (mostly) sensible age of 60, I found myself getting married for the third time. Each of my three weddings has been distinctive, and wonderful in its way. But while there have been plenty of pre-wedding jitters, heartfelt promises, champagne, cake, and flowers, there has been no white lace on any of these occasions, and no bride either; for I am a gay man, and in all three ceremonies I have married the same wonderful guy.
A little background here. Growing up in New Jersey in the 1950s, and realizing quite early that I was gay, I never expected to marry at all, let alone three times. Marriage just wasn't an option for gay people in that time and place. In the mid-1970s, when I met my first love, Jay, we knew we wanted to spend our lives together, and we did exactly that. We lived in Manhattan and Washington, DC as a committed couple -- and best friends -- for 17 years, until his death in 1993. That loss, although we had expected it for some time, shattered me. For months I could only mourn him; it seemed inconceivable that life could go on after such a blow.
Rubbing salt into the deep wounds of that period, it turned out that despite our many years together, Jay and I had none of the protections under New York law that any heterosexual couple would have had. The property we had accumulated together could not simply become mine; it was taxed as though Jay had left it to a stranger. My accountant let me know that I would have to sell most of it just to pay off the brutal estate taxes.
Fast forward to 1994, ten months to the day after Jay's death. I had wandered to the Upper West Side to watch some of the events in that year's Gay Games, and had got swept into one of the parties that followed such events. And there was Rik: tall, blond, wonderfully athletic, with a warm, easy smile -- and Dutch. (He was running with the Dutch track and field team.) More than 18 years later, we both still recall that moment as love at first sight.
I'll go pretty far for a good date, so when he invited me to Amsterdam I didn't say no. Four months later I relocated to Holland for good. It was a big move. I am a lawyer, and was solidly established in my profession. I gave up my job, my useful professional knowledge, a wide circle of friends, my apartment in Manhattan, and even the home Jay and I had rebuilt together near Sag Harbor, Long Island. I had to learn to speak Dutch and to adapt to a very different country.
But I didn't really expect that move to be permanent. I assumed America would eventually let me sponsor Rik for a green card, and we could move back. But in 1996, Congress passed a particularly nasty thing called the Defense of Marriage Act, which forbids the government from acknowledging any same sex relationship. In effect, Rik was now officially barred. No way we could return. Despite our love, life was turning a little sour.
Many people have their politicizing moments: that was mine.
Fortunately, the Netherlands is much friendlier to its gay citizens -- and their partners -- than the U.S. is. Same-sex partner migration opened up there in the 1970s. So getting a visa so that I could live there with Rik was no problem at all.
Wedding One
In 1998, the Netherlands made it legal for same-sex couples to sign up for "civil registration." Essentially, this designation conferred all the same rights as marriage. Rik and I grabbed the chance. And assuming that this would be the only wedding we would ever have, we decided to do it up right. We invited all our close friends and family members, many of whom flew in from the United States, while others gathered from all across Europe. My mother, my sister Joan, my cousin Alice, my old friend Paul from Washington were there, as well as Rik's parents, his brother and sister-in-law, and our many friends. Among them was my boss, the MD of the company I worked for, who entered our house that morning carrying a burning candle in a beautiful candle holder, to say, "today is a day of light and joy."
I confess, until the morning of that first wedding, I hadn't understood what marriage meant. I vaguely assumed we were giving a sort of theme party, and the theme was "wedding." But when the great day arrived I realized viscerally how significant this would be. In fact, I became more than nervous. I just lost it. I was unable to speak. I remember offering one guest before the ceremony "a cup of cake or a piece of coffee." At that moment, I realized I would just have to float through the day hoping I could manage.
It was indeed a day of light and joy. We married in the central hall of a grand house -- called "the House of the Heads" for the row of carved stone heads on its facade -- on a beautiful canal in Amsterdam. That house had the distinction of serving as the headquarters of the Amsterdam Monuments Commission. Oddly enough, on the wall of the broad hall where our wedding took place hangs a large 17th century portrait of "The Regents," early mayors (burgemeesters) of Amsterdam, sitting around a wooden table wearing black suits and large frilly white Dutch collars from that period. The painting gives the impression that the men are looking out on the room. Their eyes follow you. I glanced up during the ceremony and thought: "I'll bet those guys never expected to see THIS kind of wedding in their fair city."
Rik and I wore grey morning suits with tails -- as did, purely by chance, the tall, blond city official who conducted the ceremony. The three of us could have been taken for triplets; a stranger couldn't have told us apart.
I remember being beyond nervous. I felt literally unable to speak. My Dutch was still poor in those days, and I had practiced my little speech for days, but was suddenly unsure whether I would be able to deliver it at all. But there was Rik, holding my hands, steady as a rock, as always. And so I managed to make the traditional vows, in both Dutch and English, from the heart: "To have and to hold....till death do us part."
For my friends and family to have flown in all the way from America to hear us make those vows meant a huge amount to me. For me, the spiritual impact of marriage comes from its public declaration, to the effect: "We are a couple. Please recognize and support us now." And all those people had come there just for us, and were committed to doing that very thing. It was incredibly moving.
After the ceremony, we had planned to serve wedding cake and champagne in the beautiful city garden behind the house. We had ordered an elaborately elegant vanilla champagne mousse wedding cake topped with two men in tuxedos, which had been delivered as promised earlier in the day. The music too was going to be very special: we had hired the carillonist of the Westerkerk (Western Church, whose tower Ann Frank was able to see from her house, and which she mentions in her diary) to ring the church tower bells, playing songs we had chosen specially, including "Tulips from Amsterdam" and a few other local classics.
This was before cell phones. So the drill was that our Master of Ceremonies (our good friend Menne) would wave a white handkerchief that the carillonist could see when it was time to start the music. So there we were, Rik and me and some 40 guests, lined up in the garden waiting for cake and flutes of champagne. And Menne waved his handkerchief.
At which point the heavens opened up and the rain came pouring down in buckets. We all rushed inside, scrambling to save the remnants of the cake. We never did get to hear the music, alas. But we did enjoy the champagne and cake. And shortly afterward the skies cleared. So, only slightly damp, the entire party strolled outside and boarded one of Amsterdam's beautiful canal boats, on which we sailed regally through the canals, with people waving from the banks and all of us waving back, on our way to a brilliant lunch.
Despite the rain, it was a perfect wedding. Reciting our vows in the presence of family, friends, and colleagues had transformative power.
It's an amazing thing, a wedding: two become one. I hadn't understood that before. Now I do and I think it's terrific.
Wedding Two
In 2001 the Dutch revised the law so that same-sex couples were entitled not only to "civil registration" but to actual marriage. But converting from the earlier designation to the new one wasn't automatic. We had to go to Amsterdam's city hall and sign some papers in front of a clerk.
Some people might question our decision to bother with this procedure. After all, we already enjoyed all the legal rights and privileges attendant on the married state. How much would it mean to us to be able to say the word "married?" But Rik and I -- as gay men and also as lawyers (he is now a judge) -- believe that when governments expand the list of rights they offer you, you should take them up on it.
And so we decided to have a second, far smaller wedding. Our original concept was to head over to City Hall by ourselves, or with just a couple of friends as witnesses, then enjoy a quick lunch and hop on a plane to Paris, where we would celebrate in grand style. Inevitably, however, word of our plans got out. And each person who heard about it had the same, quintessentially Dutch response: "A WEDDING?! How wonderful!"
So that by the time the date rolled around, we found a warmly enthusiastic crowd of friends and family awaiting us at City Hall. With due solemnity they watched us sign the papers, and then there was nothing for it but to all head out for a lengthy, champagne-soaked lunch. As the lunch wore on, slow course succeeding slow course, I began to get testy. This was not what we'd planned, after all. But then I looked at Rik, and he looked at me and grinned and assured me that we would still make our flight to Paris. And of course he was right, we did, though just by a hair. And I realized that it had been, yet again, a perfect wedding.
Wedding Three
A decade later, when New York's State Legislature approved same-sex marriage, I knew immediately that I wanted to marry there. After all, New York is home, where my heart beats faster. I'm a member of the New York bar. Finally having the right to return and be married in my hometown meant a lot to me.
There was a practical reason, too: American estate taxes. Currently, our Federal government still taxes bequests to surviving same-sex partners -- even those who have legally wed in states where that is now possible -- just as harshly as if the dying partner had left the money to a total stranger. I had already been down that road when Jay died, and I don't want us to do it again. But hope springs eternal: if -- when! -- America repeals the Defense of Marriage act and reforms the federal tax code to recognize gays' marital rights, if I die first, I want Rik to benefit. Clearly, an American marriage certificate would constitute more effective evidence of our relationship, from the Feds' point of view, than a foreign one. So, marry we should.
And thus it was that at 10:30 on a hot, sunny Tuesday morning this past August, Rik and I, attired in almost-matching pale linen jackets, white shirts, and summer-weight pants, took our place in line in the gorgeous art deco building at 141 Worth Street, next door to City Hall. With us were 18 of our closest friends and relatives, all festively attired and celebratory. Someone had brought us a fine bouquet of big rosy red hydrangeas, which we shared.
Ahead of us were nervously happy couples of wildly diverse ethnicities, ages, and fashion sensibilities; directly behind us, an entire wedding party from Glasgow, including the bride in white lace, her father in a kilt, three bridesmaids in indescribable purple dresses, and 33 additional kith and kin. We and our relatively modest entourage had a lot of fun with that gang, and in fact with the whole line of soon-to-be-wed parties. As far as we could tell, we were almost the only gay couple getting hitched that morning. But it didn't matter; we were all awash in happy anticipation, and full of warm feelings for our fellow celebrants.
The line inched forward. Each couple went up to the window, signed the forms, and moved on to a side chapel to exchange their vows before a city official, emerging with tightly clasped hands and variously rapturous/shy/sheepish grins. Finally it was our turn. Amazingly, despite the kitsch and the hoopla, and despite 18 years of daily life together -- or perhaps because of that deep history -- that moment of taking Rik's hands and exchanging our vows was as moving and meaningful as either of the earlier ceremonies.
And then we were on our way out the door into the hot August morning, and our friends were showering us with rice. We paused only briefly at the stands nearby so that Rik could buy a pair of t-shirts emblazoned with I GOT MARRIED IN NYC, and then, holding our bouquet aloft like a triumphal banner, led our boisterous bunch across town for a festive Italian lunch.
Today, in our apartment in Amsterdam, the vase that held those flowers stands in a place of pride in our entryway. Inside it are the flowers themselves, carefully dried to last many decades -- as well as the two figurines of men in tuxes that garnished our first, rained-on wedding cake.
I want to express my appreciation to Mayor Bloomberg, the City Council, and my Congresswoman Carolyn Maloney from the Upper East Side. They have done a fantastic job promoting same-sex marriage in New York. The city's website could not be more inviting. It shouts to gay people, in effect: "Come ye, come all! We want to marry you!" And they do a beautiful job of it, too. I especially want to thank President Obama for his support of same-sex marriage and opposition to DOMA.
When the city official pronounced us wed, he did something special. He said: And by the power invested in me by...THE GREAT STATE OF NEW YORK... raising his voice on those words with great resonance. It touched something in me. I wanted to cry, to hug him, and to thank him. Most of all, I wanted to thank my city and state for finally making me a full citizen. I hope that one day soon my country will do that too.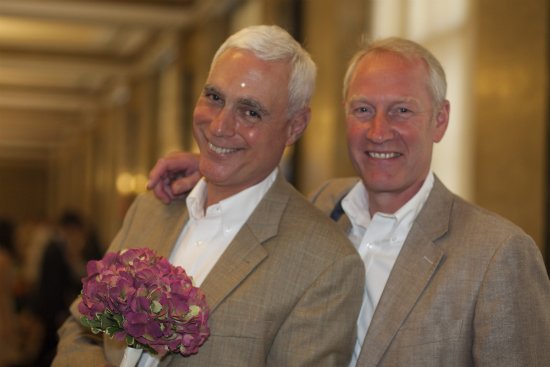 Bob and his partner Rik at their New York City wedding.
Bob Bragar is a member of the Democratic National Committee representing Democrats Abroad. He lives in Amsterdam, the Netherlands, with his Dutch partner, Rik Kruisdijk.
Bob is also a board member of Love Exiles Foundation, an organization that supports LGBT couples who have chosen or who are considering exile in order to be together.
The views expressed here are Bob's own and are not necessarily those of any other person or organization.