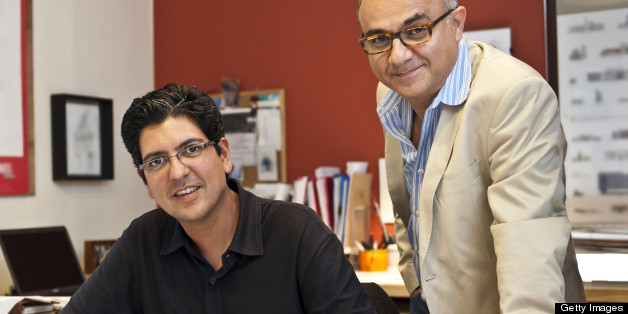 The diaspora experience has long been "America's Story." As Russell Shorto's book, The Island at the Center of the World, details, seventeenth-century Manhattan was a microcosm of the much larger American diaspora to follow: Among the island's then-400 inhabitants, 18 different languages were spoken. Centuries later, this description not only fits New York, but also the U.S. as a whole. Today, almost one quarter of Americans are first- or second-generation diasporans.
My grandparents came from Eastern and Central Europe. Getting here wasn't easy and neither was life when they first arrived. But America welcomed them. Inspired by the welcome my grandparents had received, on May 14, I felt particularly honored to welcome the 500 participants of the 2013 Global Diaspora Forum hosted by the State Department's Global Partnership Initiative and USAID. My remarks emphasized the importance of America continuing to give an enthusiastic welcome to people from foreign lands wanting to come here to make a better life for themselves and their families and, in so doing, help make a more prosperous and dynamic America. Diversity, I emphasized, enriches our country and the experience of living here.
Members of diaspora communities also are grassroots ambassadors, often returning to their countries of origin or heritage to speak about America's values. They bring language and cultural familiarity. They also understand business opportunities in those countries. For such communities, supporting diplomacy and development in those countries is intrinsic and personal, not simply a matter of traditional policy or diplomacy. Supporting higher living standards, economic growth, and political stability there is about helping their friends and families.
Remittances are one basic connection, and provide an important lifeline for millions of households around the globe. According to the Hudson Institute, in 2010, remittances from the U.S. to other countries totaled $95.8 billion. Diaspora communities also provide critical business linkages to global markets for countries that may be struggling to capture the benefits of globalization.
In the United States, immigrant-owned companies generate an estimated $67 billion in business each year. Strikingly, immigrants are 30 percent more likely to form new businesses than U.S.-born citizens. Nowhere is the role of diasporans more prominent than in Silicon Valley -- the innovation capital of the world: 52 percent of all start-ups there have been founded by immigrants. These companies generated $52 billion in revenue and employed 450,000 workers in 2005. Immigration, across many decades and generations, has created jobs for millions of people in the U.S.
Diasporans here have also created job opportunities in other lands. In fact, diaspora "Marketplaces" -- which encourage diaspora entrepreneurs to invest and start businesses in their countries of heritage -- target economic growth through job creation in those countries. It is a major initiative spearheaded by the International diaspora Engagement Alliance (IdEA), a multi-stakeholder platform launched jointly by the State Department and USAID. Under the auspices of IdEA, we have successfully completed three Marketplace competitions targeting African diaspora and Caribbean diasporas. The Latin America IdEA Marketplace was just launched over the weekend and is accepting applications from diasporan entrepreneurs.
IdEA also provides a platform for diaspora-led philanthropy and volunteerism. Last year, IdEA launched two major partnerships to promote giving through an alliance with Global Giving, which has created an online marketplace for development projects in communities around the world. Creating opportunities for mentors in the United States to share their experiences and expertise is another way U.S.-based diasporans can give back.
And last year at the State Department's Global Diaspora Forum, a new initiative was launched: Networks of Diasporas for Engineers and Scientists, or NODES -- a partnership between State Department, the American Association for the Advancement of Science, and the National Academy of Sciences. NODES connects diaspora scientists across boundaries. In the past year, it convened scientists and diaspora groups from over 30 countries.
The State Department has worked especially hard to strengthen the links between American diaspora communities and Middle East countries in transition. There are, for example, nearly 200,000 Egyptians living in the U.S. The potential of these diaspora communities is vast. It goes far beyond serving as a source for remittance flows. They offer critical sources of investment capital and business skills that Middle East countries in transition need in order to place themselves on a sustainable path to development. We also have a multitude of excellent scientific exchanges between the Iranian diaspora here and colleagues in Iran. Deepening and expanding diaspora networks can do much to make America a more responsive and effective world leader. We can develop stronger bonds with other nations.
When I walk down the streets in my other home city -- New York City -- I am always proud to see so many people from different countries, cultures, and ethnicities living and working together. It also makes me proud when I see the contributions that waves of immigrants have made in the U.S.
For America to remain the world's beacon, as well as its most dynamic economy and society, we need to keep our doors open and be a land of opportunity for all. We need to invite, welcome, and honor those from around the world who want to come here for a new life. They enrich America, are deeply committed to its success, and make us a more innovative and energetic country.