Who says the EPA's Clean Power Plan is bad for business?
Not Midwesterners Greg Smith, Ga-Young Park or millions of other businesspeople all across America.
Truth is, the EPA's plan to cut carbon pollution from existing power plants has widespread support among businesses and others.
A New York Times/Stanford University poll earlier this year found an overwhelming majority of Americans - 74 percent - support action by the federal government to address climate change. An ABC News poll released in April showed that 59 percent of Americans want the next president to be someone who favors government action to address climate change.
In a snapshot of business sentiment in two states, polling by Environmental Entrepreneurs (E2) found that small business owners in Virginia and in North Carolina support the Clean Power Plan and want lawmakers in those states doing more to cut carbon pollution and increase clean energy. Numerous polls by Small Business Majority in states across the country found similar support.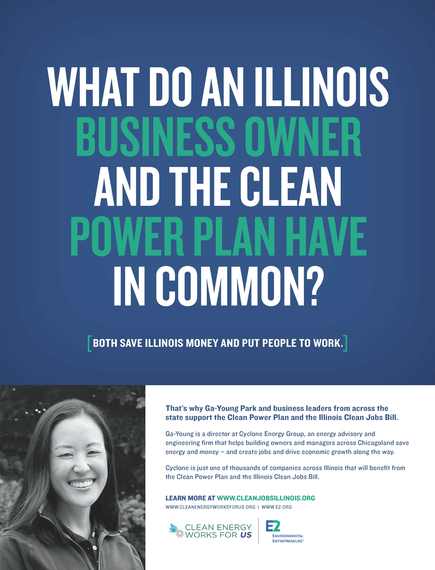 Which brings us back to Greg Smith and Ga-Young Park.
Numbers show only so much. To put a face - literally and figuratively - on the business support for the Clean Power Plan, E2 is featuring businesspeople in videos, stories and advertisements publications throughout the Midwest and beyond.
We'll also be showcasing businesspeople just like Smith and Park at E2's first-ever Midwest Summit in Chicago on Wednesday. The half-day summit will feature business owners, investors, government leaders and others from six Midwestern states.
Our latest ad, featuring Park, a director at Chicago-based energy efficiency company Cyclone Energy Group, is running this week in Crain's Chicago Business.
Earlier ads featuring Smith, the founder and owner of another energy efficiency company, Energy Optimizers, Inc. ran in business publications in Cleveland, Columbus, Cincinnati and elsewhere. You can also watch a cool video of Smith and his company here.
The media spots point out what the business owners and the Clean Power Plan have in common: They're creating jobs, driving economic growth and helping our environment along the way.
Basically there are three ways the Clean Power Plan, which calls for a 30 percent cut in carbon emissions from existing power plants, is good for business and our economy.
States can make their existing buildings - offices, schools homes - more energy efficient. That creates jobs and drives economic growth (and saves money).
States can clean up their existing coal and gas power plants and make them more efficient. That creates jobs and drives economic growth.
And finally, states can replace dirty energy with clean, renewable energy like wind and solar. Guess what? That creates jobs and drives economic growth.
When you think of those reasons, it's clear why smart businesspeople support the Clean Power Plan: It's good for the economy - and good for the environment.