With Fashion Week in full swing here in NYC, it's hard not to have style on the brain. There are buyers, journalists and fashion stars -- all converging on our city and eagerly anticipating the rollout of top designers' takes on Spring style. That said, I'm recently back from Boston where the fashion on display at the Museum of Fine Arts offers a look back at the age of incense and peppermints.
Most fashion mavens will be the first to tell you that while always looking forward, top designers also look to the past for inspiration in their design work. I was transported in a fashion time capsule to the late 1960s and early 1970s for a trippy, fun, inspiring exhibit aptly titled "Hippie Chic."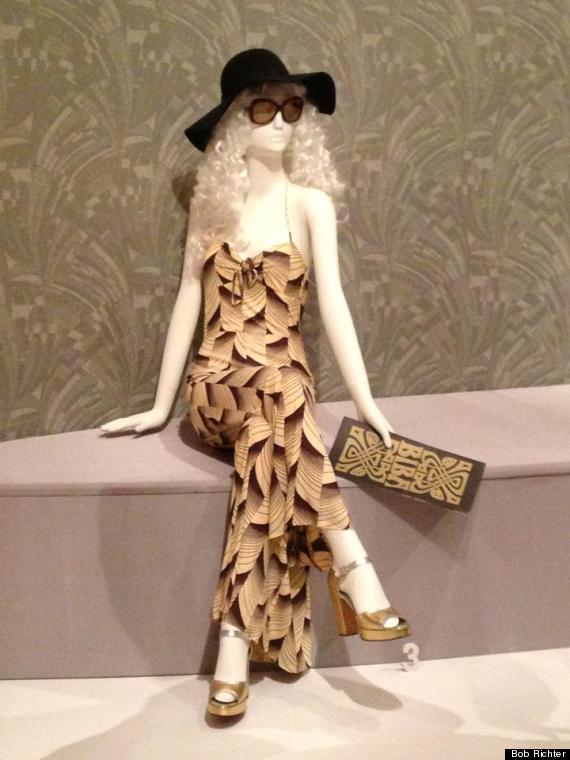 Complete with a jukebox setting the mood with psychedelic folks songs from the age of free love and peace, Hippie Chic created a mood that was nostalgic for an era and respectful of the risk-taking fashion that defined it.
With no velvet ropes, no pomp or circumstance, the exhibit drew fans of all of ages (I was sharing the space with a class of grade school art students who were sketching the pieces), and this lack of pretense seemed fitting for the time that was being represented. Much to my amazement and delight, even the museum guards were laid back...and encouraged non-flash photography (try taking a picture at The Met or even The FIT Museum here in NYC!)
As for photographs, I've included some of my favorites, which feature a nice sampling of the diverse offering that this exhibit serves up. I'll be quick to admit that at first I raised an eyebrow at the notion of haute couture and hippie style co-existing, but the fashions on display are the proof in the pudding.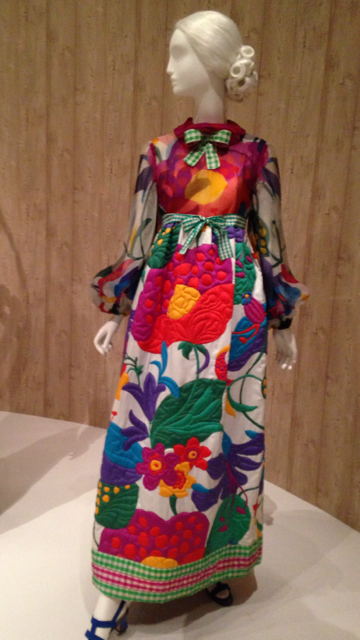 Broken down into sections (Trippy Hippie, Retro Hippie, Fantasy Hippie, Ethnic Hippie and Crafty Hippie), the exhibit features the work of big names like Halston, Yves Saint Laurent and Betsey Johnson and lesser known houses like "Granny Takes A Trip" (a London shop that churned out psychedelic styles until the mid 1970s -- the fab star-spangled boots on the model in the wooden egg chair are from their vault).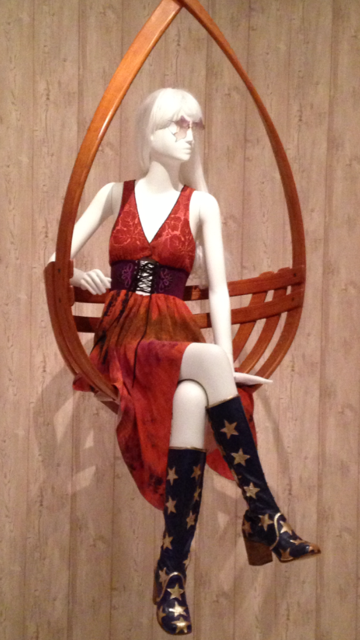 Unlike many museum fashion exhibits, at Hippie Chic, menswear was not ignored. There were some fantastic suits and a caftan that would have raised the bar on style at any pool party that swinging era could have conjured up. I got quite a kick out of it.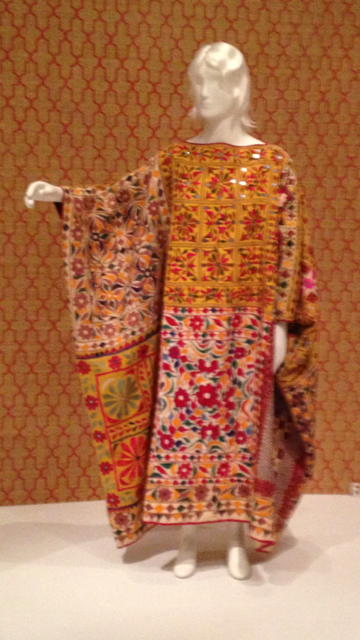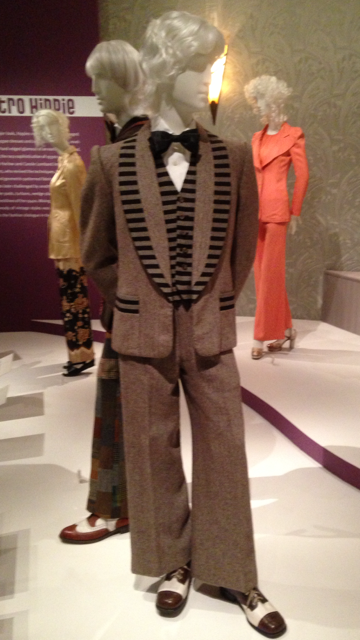 While many of the fashions look like they belong to the era and will remain in that space in time, some could easily be in Lincoln Center this week, heading down the runways.
The Hippie Chic exhibit is at the Boston Museum of Fine Art through November 11th. If your travel plans are taking you there, this is a must-see. Peace.