As both an antiques dealer and a collector, I often think of myself as a foster parent for 'stuff.' I find things I love, live with them for a while, and then pass them along into the world. One of the many things I've always been drawn to is Belgian art pottery from the early part of the 20th Century. Turn over any given vase in my home and you're likely to see the mark of a Belgian company.

Having said that, I'd never traveled there, and have long wanted to see where so many of my favorite pieces were created. Last year, it was my love of Hungarian art pottery that led me to Budapest and that trip certainly did not disappoint. I figure any country that makes gorgeous decorative arts must also have a lot of eye candy for design and architecture buffs like me. And in the case of Brussels, I was spot on with that assumption.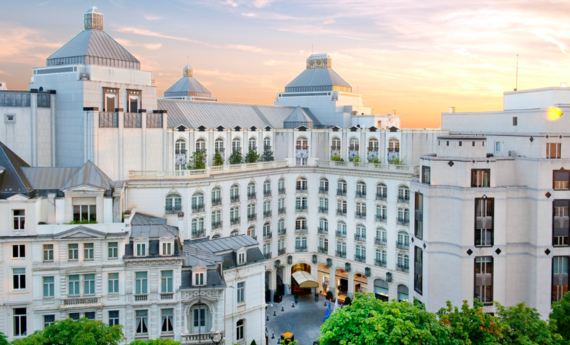 Wiltcher's Steigenberger Hotel

Five Star Accommodations
In my opinion, any great trip starts with a great hotel to serve as home base. Centrally located, beautiful and delightfully comfortable, Wiltcher's Steigenberger Hotel offers old world charm within the walls of a relatively new building.

Our room (a junior suite) was spacious and filled with amenities that make a time change feel pretty seamless. A spa-like bathroom with Aigner products, a super comfy bed and stairway leading to a small living room and office area made settling in a breeze. The espresso maker also helped enormously in resetting our internal clocks! In-room dining was also excellent.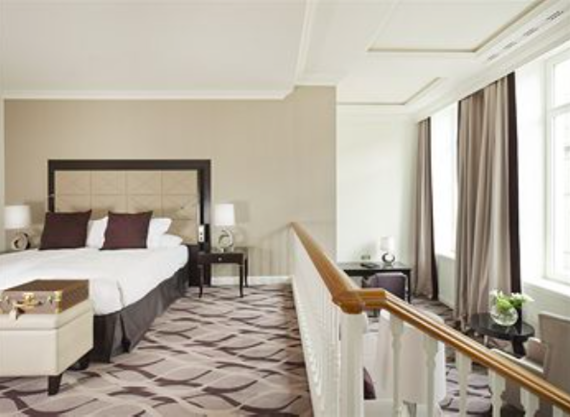 Our room at Wiltcher's Steigenberger Hotel

The suite's furnishings were a little stark for my taste, but once I got used to the modern look, it felt like a home away from home. Other areas of the hotel, such as restaurants and bars have more wood and other organic materials as well as great artwork. The lobby is quite grand and everyone from the doorman to the concierge was as kind and as helpful as could be.

Brussels is a wonderfully navigable city and we walked most places, but the concierge always pointed us in the right direction and gave us the best tips for what to do and see when we arrived at our destinations.

The Grand Place

Chances are if you've seen photos of Brussels, this is the place that was featured. A wonderful square filled with stunning medieval buildings, many of which feature a relief indicating whether it was a tavern, a butcher, a baker, etc. These former guild houses include Hotel de Ville and Maison du Roi.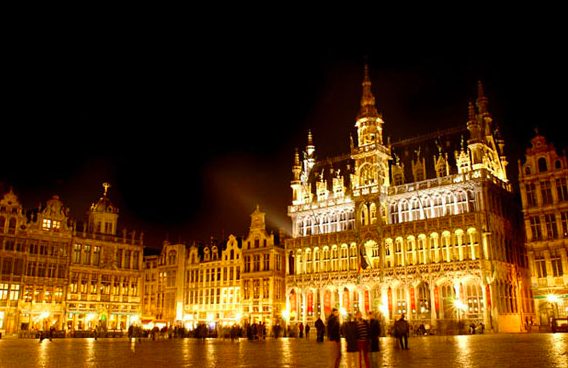 The Grand Place at Night

Equally stunning in the day or at night, this area is pretty touristy, but it is a must-see. You'll want to take lots of pictures and probably pick up a few postcards while you are there.

The truth is that one of the reasons I loved Brussels so much is that this is really the only touristy area. In fact, when I wanted to buy a souvenir near the hotel as a gift for someone, there were no stores that sold them. I had to go back to this square. I love that!

Also near the square is the iconic Mannequin de Pis---you know, that little peeing boy that is so ubiquitous when Brussels is mentioned somewhere? Well, again, he's worth seeing if you're nearby, but the truth is he's kind of underwhelming in general.

All that said, the beauty of Brussels is everywhere. There is lovely architecture and an easy yet refined energy to the city. Since it is the capital of the European Union it feels like a business city and a cultural hub---but not a party town. And that combination is perfect for me.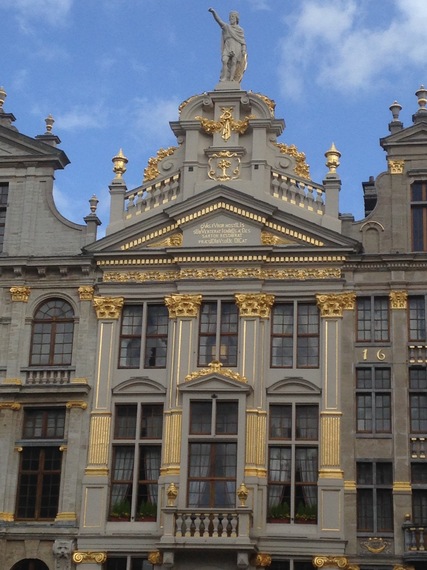 One of many beautiful facades at The Grand Place


Place du Petit Sablon
A less touristy and very charming little park called the Place du Petit Sablon is in one of the loveliest neighborhoods in Brussels. (It's also the antiques district, so I made sure I was in there on the first day to get oriented). This small square filled with carefully manicured greenery and surrounded by 48 bronze statues representing laborers of every variety.

Inaugurated in 1890, this garden area across the street from the Church of Notre-Dame au Sablons, which is also worth a visit.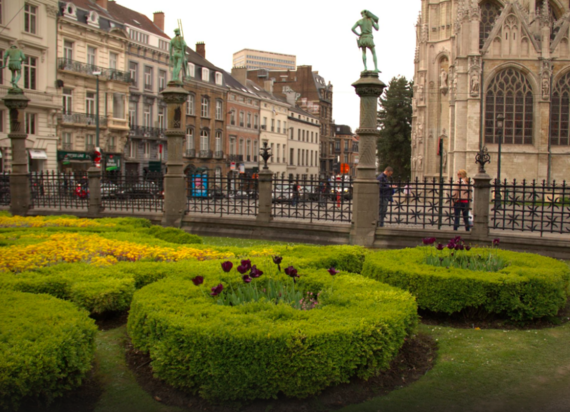 The Place du Petit Sablon

A little history about the area....the name refers to the time when this location was still situated outside of the city walls of the 12th century. It was originally a sandy road along which people had access to the city gates. Because of all of the traffic, this road eventually became hollow revealing a yellowish layer of clay called 'zavel' in Dutch and "sablon" in French.

Very soon the area became more populated and was enclosed within the 14th century city walls. In 1450 the little chapel had been transformed into a beautiful gothic church, the Sablon church or church of Our Lady of the Victories.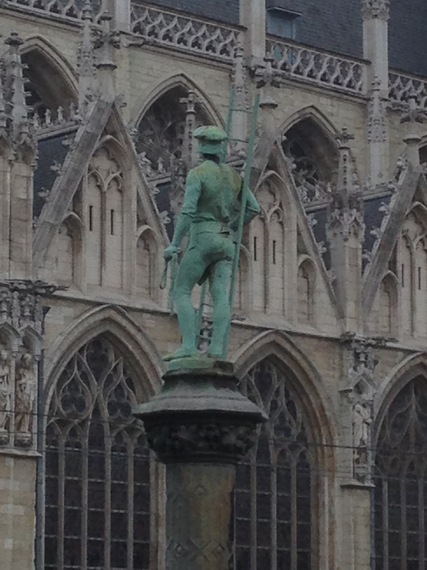 One of the statues lining the perimeter of the Place du Petit Sablon

In the center is the statue of the counts of Egmont and Hoorne who were executed at the Market Place by order of Philip II of Spain in 1568.

Even if you're not that interested in the history, you will surely be charmed by the place. It's a lovely spot for a romantic stroll and even a lunch break on one of the benches. Since it's on an incline, there is a formal, graduated feel that is quite unique and impressive.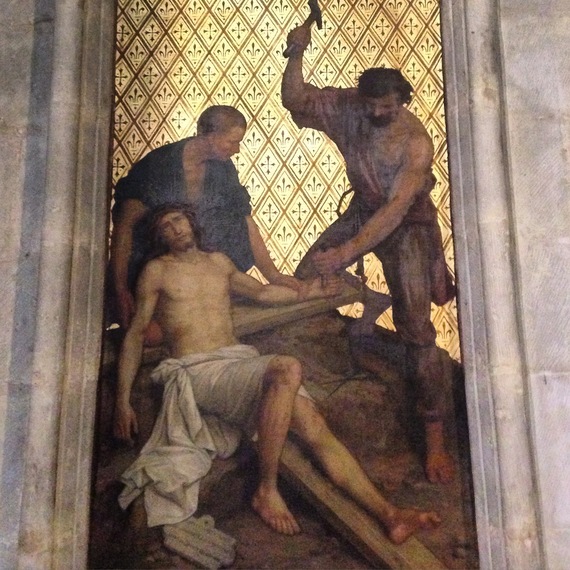 One of many beautiful murals at the Church of Notre-Dame au Sablons
Sensational Flea Markets


Directly across the street from the park is a wonderful flea market that happens every weekend. As much as I love the visual appeal of the area, my heart and feet picked up the pace when I walked across the street.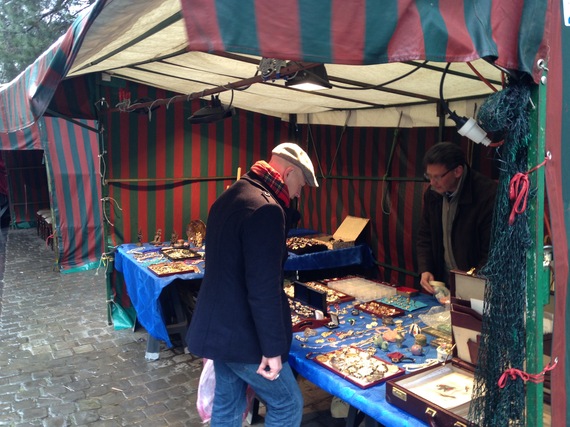 Shopping the flea market at the Place du Petit Sablon

The burgundy and green tents were filled with fine antiques, many of which were pricey, but some of which were bargains. I found that dealers were open to bargaining, and I walked away with a pair of French malachite bookends and some green leather fleur-de-lis cufflinks.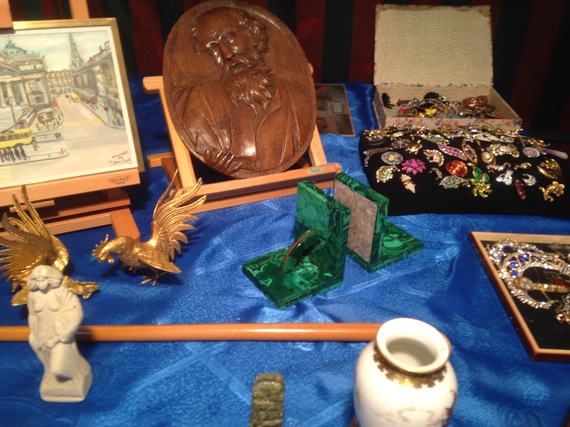 Zeroing in on the pair of French malachite bookends at the flea market at the Place du Petit Sablon

The best flea market, however, is one that's about 10 minutes away by foot. It's called Marolles Flea Market on Place du Jeu de Balle and is active seven days a week. Frankly, any town that has a flea market every day of the week is my kind of town.

It's far less structured than the Sablon flea, and is typified by dealers selling items strewn out on blankets and sheets or off the back of their trucks. In short, it was heaven! And the fact that it was raining didn't put a damper on the dealers or the day.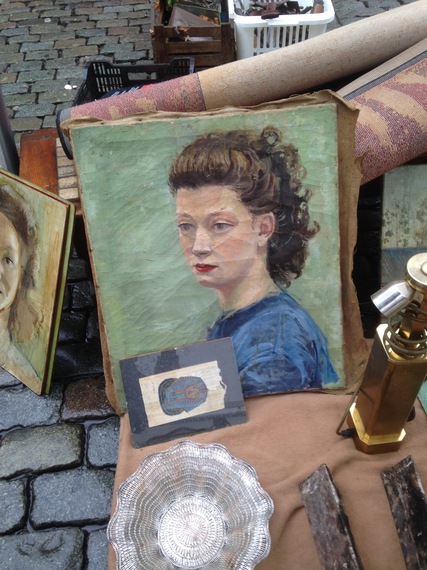 Artwork was plentiful at the Marolles Flea Market
There I found a English tea set in a sunny yellow with a Greek Key design, a German Midcentury Modern Vase and Belgian art pottery bowl. The prices were sensationally low (I paid just 20 Euros for the tea set!), and all the dealers were happy to bargain. I was happy to find a piece of Belgian pottery, since that is what led me to want to visit in the first place. But I was also taken by the great international mix of finds. I always say that flea markets are great sociological representations of areas, and you can see that Brussels is a diverse place, with items hailing from all over Europe.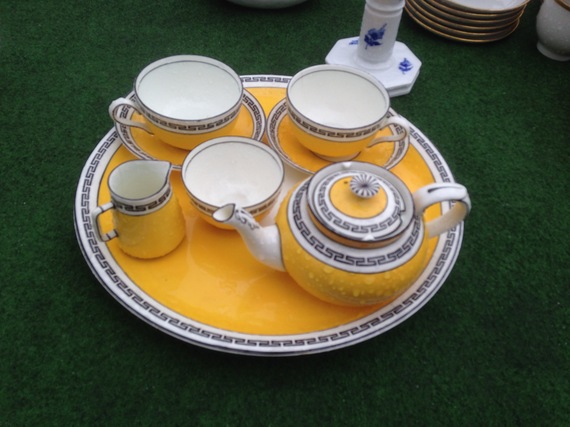 An English tea set I found at the Marolles Flea Market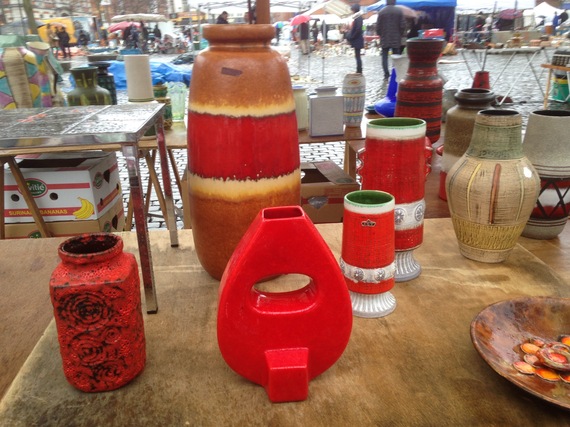 An array of German Midcentury Pottery (with the red orb shaped vase I purchased) at the Marolles Flea Market

Another reason I love this market is that it really is a cultural hub for Brussels. It's been a staple since the last quarter of the 19th Century and is world-famous for a reason. While I love the Paris markets (stay tuned for my next piece all about those) this market is a place where you can find the same quality of merchandise for about half the price.
While you're there, make time to stroll around the area, which is peppered with many great antiques shops filled with affordable treasures.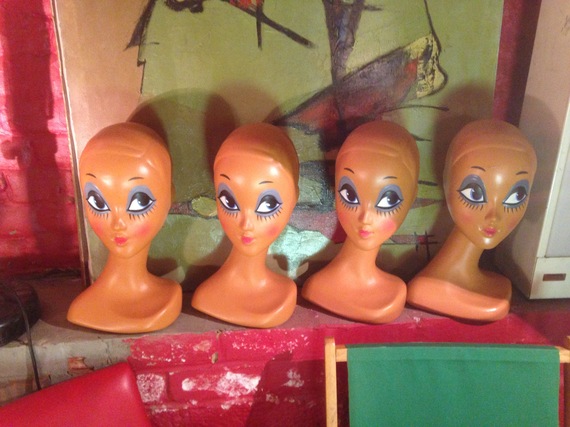 Mod mannequin heads I loved at one of the many antiques shops near the Marolles Flea Market


Royal Museums of Fine Arts, Belgium

No trip for me is complete without one or two museum visits, but often it's hard to choose which ones. In the case of the Royal Museums of Fine Arts, the decision was made easily for us, since it is actually several museums in one. There are special galleries dedicated to art of the 15th-18th centuries, another dedicated to art from the 19th and early 20th centuries and even a whole museum directly connected that's dedicated to the great Belgian painter Magritte.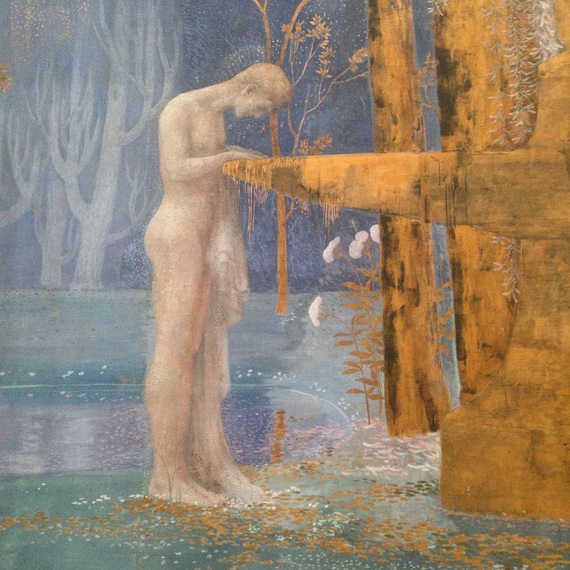 Detail on one of the large panels by Constant Montald in the entryway of The Royal Museums of Fine Arts

The building itself is magnificent, and the way it is structured is very manageable. Unlike the Louvre in Paris, this is not an overwhelming place. It is, however, pretty magnificent. In fact, I'd venture to say it has one of the greatest collections in Europe. Some of the most important works are the "Death of Marat" by Jacques-Louis David and "The Fall of Icarus" by Pieter Brueghel the Elder. There are also masterpieces from Hans Memling, Rubens, and Jordaens.
My favorite paintings there were a pair of enormous panels in the entryway by Constant Montald. The dreamlike quality and soothing colors caught my gaze for a good, long time.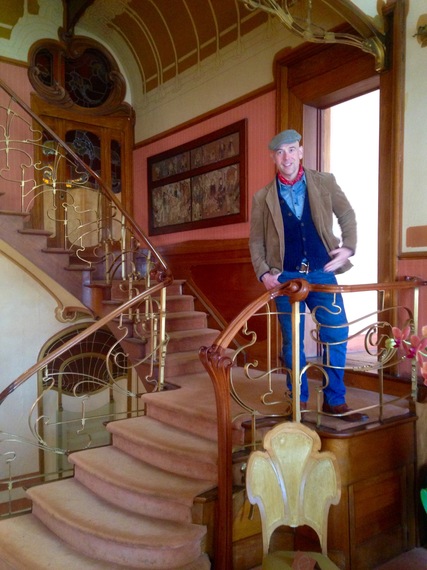 The ornate Art Nouveau staircase at the Horta House Museum
Horta House Museum

Considered by many to be one of the founding fathers of Art Nouveau, architect Victor Horta's home is now a lovely and intimate museum in he heart of Brussels. This Art Nouveau gem is a well-preserved mansion he built in the late 1800's. The interiors have been lovingly restored and are furnished with period masterpieces, many original to the house.

The natural and floral forms are highlighted in every archway, window and railing. The light blond wood throughout was considered exotic at the time and remains quite stunning today.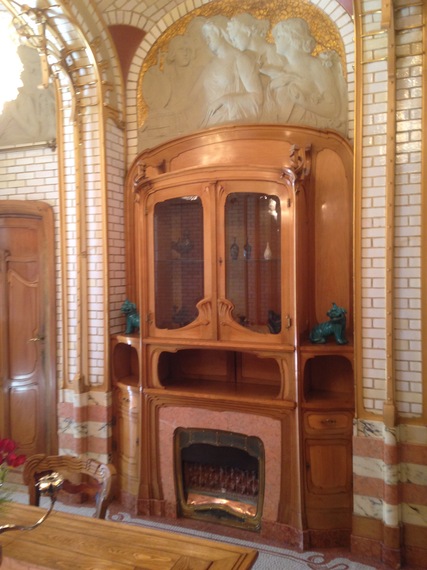 The fireplace in the dining room at the Horta House Museum

The furniture feels like an extension of the home and shows off fine craftsmanship and artistic flair. I was especially taken with the dining room that felt both intimate and opulent.

Another wonderful feature I was happy to see in the basement of the home, was a display geared towards children. It was all about educating them on the Art Nouveau movement. By showing butterfly and bat wings (yes, actual taxidermied butterflies and bats) and flowers, and featuring them next to photos of the home's architectural detail, the guide explained how Art Nouveau took its inspiration from natural forms.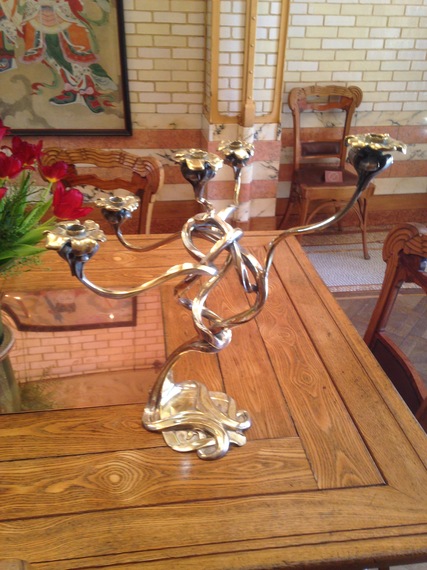 One of the silver Art Nouveau candelabras in the dining room at the Horta House Museum


Try to build in extra time to visit the area where the house is located as there are many other Art Nouveau buildings to see.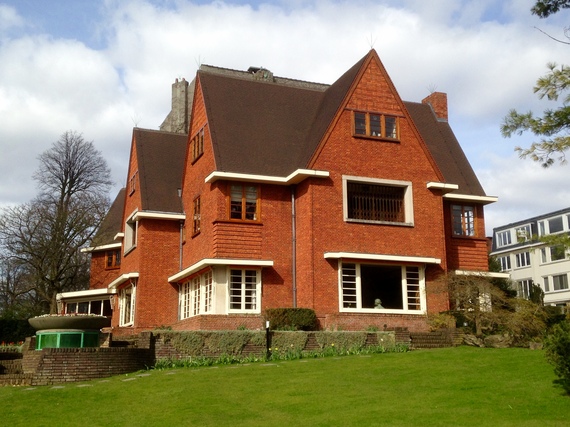 Exterior of The Van Buuren Museum


Van Buuren Museum

In my years of writing for The Huffington Post, I've never referred to any travel moment as a spiritual experience. Until now. For many moons now, I've ogled a photo of the staircase of the Van Buuren House and wanted to one day see it in person. That photograph resides on my "Design Inspirations" board on Pinterest, but I had no idea just how magnificent it would be in person.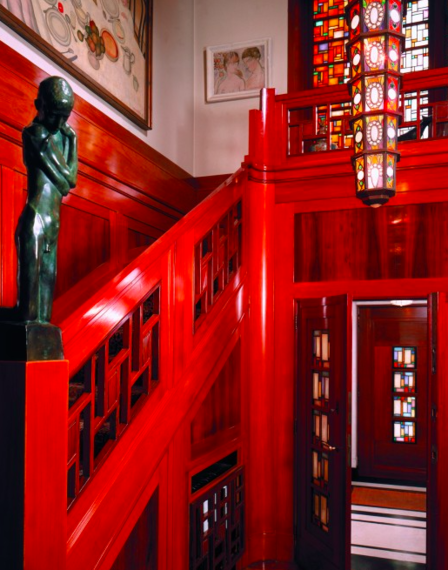 The staircase in The Van Buuren Museum

What is a very matter of fact, almost prairie style home from the outside, the Van Buuren Museum is a perfectly preserved Art Deco jewel inside.
When we arrived, we were asked to take off our shoes and slip on plastic slippers. We were handed printed handouts detailing the art and furnishings in each room of the house, which was a private residence of David and Alice Van Buuren.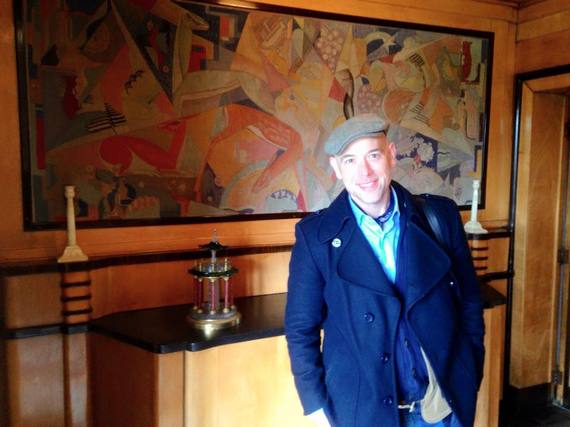 The dining room at The Van Buuren Museum

Built between 1924-1928, the house was furnished with items the Van Buurens handpicked at The 1925 Paris Exposition. Among them was a breathtaking stained glass chandelier that served as the inspiration for that staircase in the photo I'd so long admired.

Lucky for us, we were the only visitors, so we had the entire house to ourselves. Since the Van Buurens had no children, the home looks like it did when they lived there. The rugs, the art, the pottery and the furniture are all original to the home. The rugs retain their vibrant colors and show off the high Art Deco geometric style. Another featured textile is horsehair wallpaper, which serves as a marvelous backdrop to the incredible artwork in the home.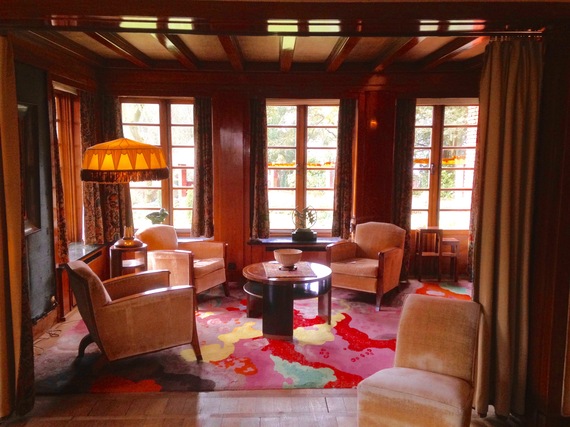 The sitting room at The Van Buuren Museum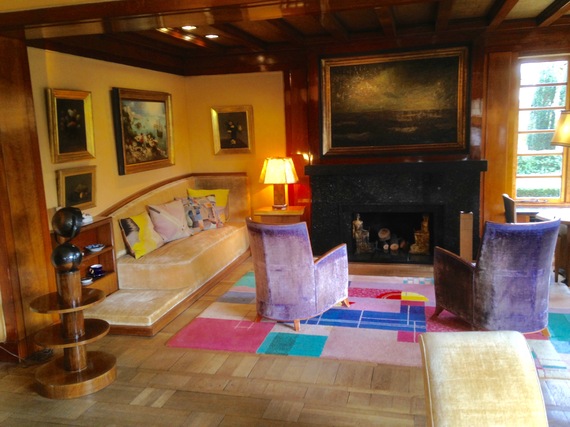 The living room at The Van Buuren Museum

Clearly patrons of the arts, the Van Buurens carefully selected avant garde works by Woestyne and many others.

They fled to NYC when WWII broke out, but left the house in the care of the staff, who preserved everything for them. Upon their return, they clearly had many more happy years in the home. After David's death, Alice set to work on building out the garden in his honor, and even had Elvis come and perform there.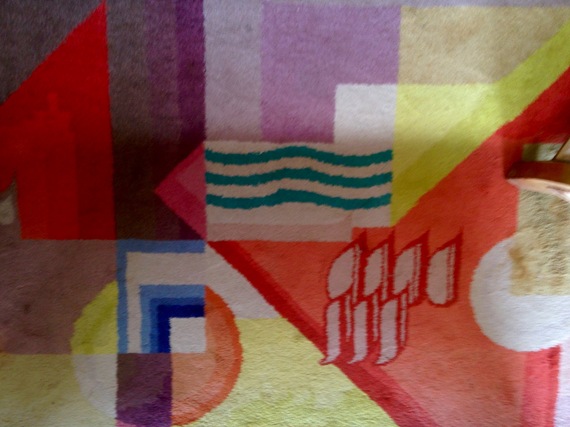 Detail on one of the many Art Deco rugs at The Van Buuren Museum

In my world of art and antiques, its rare that I see things in their original setting, just as they were placed 90 years ago. Add to that impeccable taste, choices made during my favorite design movement and thoughtful, artistic placement of it all.....and, well, that's my spiritual experience. With no velvet ropes, and no guards at every turn, this felt less like a museum and more like exactly what it was----someone's home. I felt as if they'd just stepped out and I was taking a peek around. It was a rare and wonderful treat I'll never forget.

I clearly recommend visiting this very special home. In all of my travels, it's truly my most favorite place.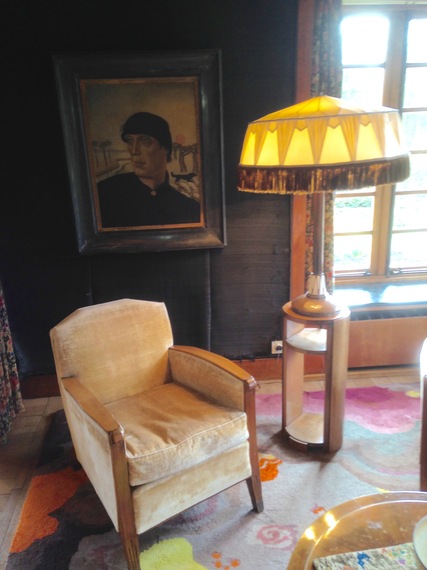 A soulful painting by Woestyne hung on a horsehair-covered wall at The Van Buuren Museum


I'd Like Fries with That

Brussels is known for its beauty and sophistication---but it's also known for its food. Chocolate is serious business and it's available in lots of venues. Of course, Godiva is Belgian, so there are outposts galore, and our hotel even gave us a nice assortment. While I've had Godiva plenty of times in the USA, somehow, it just tasted better in Brussels. I also sampled a variety of chocolates from smaller companies, and all were excellent.

The other famous Belgian food---frites or fries, live up to their reputation of being superb. It was explained to me that they are actually friend twice, which makes them extra crispy. Served with a bit of mayonnaise, they are nothing short of sublime, whether in the hotel, at a restaurant, or even from a little outpost that sells them in paper cones on the street. Oh, and by all means, don't call them "French" fries! They are unique to Belgium and served with local pride.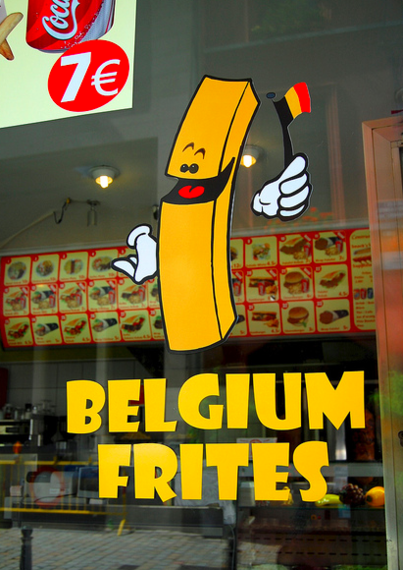 Delicious frites are available at every turn in Brussels
I think the best frites I had were at a restaurant called Brasserie La Quincaillere, which is close to the Horta House. In fact, it is located in a former ironmonger's shop designed by a student of Victor Horta. The place is loaded with ambiance and everything I had there was downright delicious.
Oh yes, and make sure to try another typically Belgian treat: waffles. There are food trucks galore that sell them and they are carb-o-licious!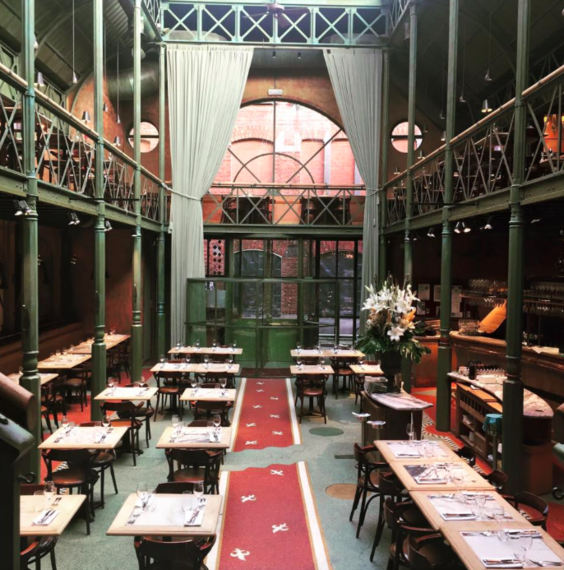 Interior of the wonderful La Quincaillerie Brasserie

Once you've finished with the chocolate, fries and waffles, your pants might be a little snug, so make sure to walk it off by heading in just about any direction and discovering new and wonderful architecture and cultural venues which abound in this wonderful city.

WATCH THE VIDEO: Check out my visit to the sensational flea markets in Brussels:

Wiltcher's Steigenberger
http://www.wiltchers.com

The Horta Museum
http://www.hortamuseum.be/en/Welcome

Van Buren Museum
http://www.museumvanbuuren.be/en/maison.php
Brasserie La Quincaillerie
http://www.quincaillerie.be/en/
My Design Inspirations Board on Pinterest
https://www.pinterest.com/bobrichter/design-inspirations/
Also on HuffPost:
PHOTO GALLERY
Stunning Images From Around The World