As someone who isn't interested in soliciting drugs or prostitutes, I was warned Amsterdam might not be for me. The famed "Red Light District" with its seedy reputation and the "hash" cafe hype admittedly gave me a moment of concern. But that moment quickly abated when I thought about images I'd seen of quintessentially Dutch architecture, the charming canals, and the fascinating history associated with the city.
I also knew there were important works of art house there, along with a world-famous flea market. So for those reasons, Amsterdam found its way on my travel schedule, and now that I've returned, I'm glad it did.
A Hotel that Defined the Amsterdam School of Architecture
No matter where I travel, a great hotel can make the trip. It serves as a comfortable home base, and a gateway to culture and information. Upon arrival, it was clear that The Grand Hôtel Amrâth was a stunning, historic and luxurious place to hang my hat.
As an architecture buff, I was instantly impressed with the façade and great nautical detail carved in stoned and forged in iron around the entrance. Once Amsterdam's "Scheepvaarthuis" or Shipping House, this hotel is arguably the most beautiful structure built in the style of the Amsterdam School. Designed by Joan Melchior Van Der Meij, The Grand Hotel Amrâth Amsterdam is the only five-star hotel in the city with a Dutch parent company.
Our room had views of the canal and the highest ceilings I've ever had the pleasure to sleep beneath. The room was also well-appointed, and included an espresso machine, bottled water and snacks.
Our concierge, Peter Hikspoors, was enormously helpful and made us feel like we had a dear friend in the city who recommended all of the best places for us to visit, dine and explore. The entire concierge team, including Peter and Jeffrey, was great, and always wiling to help make our stay be the best it could possibly be.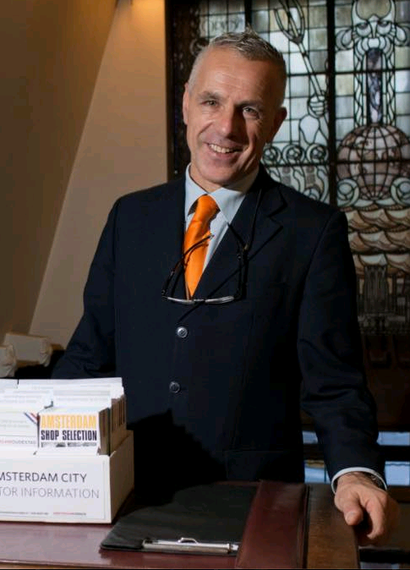 Our Beloved Concierge Peter Kikspoors
As I strolled around the interior of the building, I marveled at each chandelier, clock, staircase, and doorknob. All were original, and all highlighted the nautical theme, and spoke to the rich commercial activity that had echoed through the building before it became a hotel.
Centrally-located, yet just far away enough from the masses, the hotel truly became our home for the week we stayed in the city.
Amsterdam's museums are world-class and feature some of the finest works of art and objects found anywhere on Earth. While it would have been impossible to get to them all on one trip, we tried our best. I'll highlight the ones that impressed me most.
The Rijksmuseum
If you visit just one museum in Amsterdam, I'd recommend this be the one. Its collections are breathtaking, fascinating and rival those of any museum I've seen. It was just recently renovated after being closed for a decade, so there is a freshness about the entire place that is palpable.
As a designer and antiques dealer, I was immediately drawn to the collection of furniture and decorative arts. I was inspired by the rich finishes and charming detail on just about every object.
Speaking of detail, I was also hugely impressed with the collection of dollhouses (which I learned were not made for children, but rather for adult women to show off their wealth). These houses are also quite special because many are completely intact, and unlike their life-sized counterparts, their contents were not broken up and sold off. The result? A fascinating screen grab of what a well-to-do home in Amsterdam looked like hundreds of years ago.
Of course in its 80 galleries, there is truly something for everyone. The Van Gogh paintings had hoards of tourists around them, and while I certainly enjoyed the works, I loved learning about Dutch artists that, prior to this visit, were unknown to me.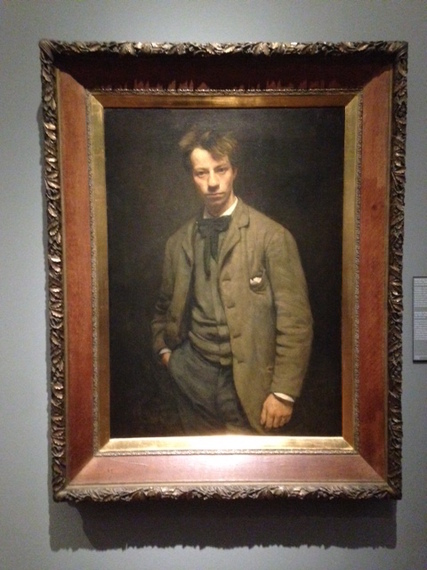 My Favorite Portrait in The Rijksmuseum -- "Portrait of Albert Verwey" by Jan Veth
There are over 8,000 objects that tell the story of 800 years of Dutch art and history, and they run the gamut from primitive to mod. I guarantee you won't be disappointed.
The Van Gogh Museum
While I am a fan of Van Gogh, this museum was not my favorite. Of course, it was fantastic to see his great works up close, but it felt like something was missing (and not his ear).
I enjoyed seeing masterpieces that are ubiquitous today like "The Bedroom" and "Almond Blossom," and I also enjoyed seeing the progression of his work, along with learning a bit more about his life.
That said, the lines were enormous (as they were at all of the large museums), and this felt like the most touristy of all of the museums to me. I frankly enjoyed the handful of his works at The Rijksmueum more than many that were included in the collection here.
The Rembrandt Museum

In addition to Van Gogh, Amsterdam's other most-famous native son was certainly Rembrandt.
The Rembrandt Museum is interestingly and intimately located in the building that was the artist's actual home.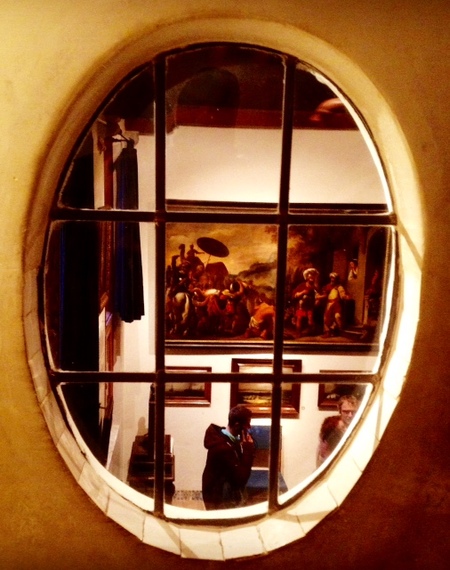 An Interior Window at The Rembrandt Museum with Views to His Work

Given my interest in home furnishings, I was particularly fascinated by the kitchen and its accessories, as well as the sleeping quarters (beds were literally in alcoves in the wall -- and they looked quite cozy).
Of course, the museum is a shrine to all things Rembrandt, and includes many of his works that are so vivid and expressive that it was a joy to see them up close.
Unlike most museums, there was not a line for Rembrandt, and it was easy and fun to navigate. I'd recommend it as it truly gives a sense of not only the artist's work, but also his life.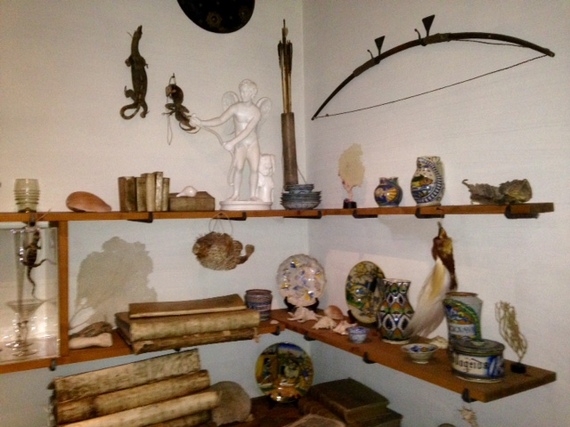 Objects Rembrandt Would Have Used in His Still Life Paintings Were On Display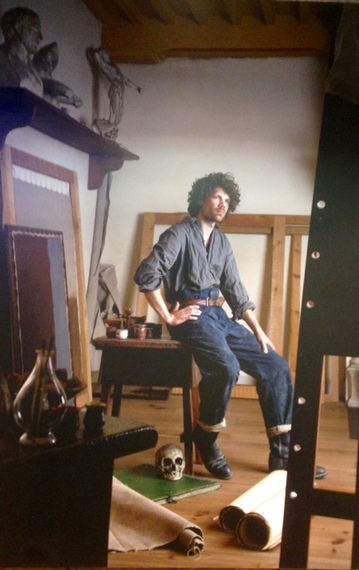 A Contemporary Photo on Display Calling out Rembrandt's Fashion Sense
The Stedelijk Museum Amsterdam
It's hard to miss this modern museum, since the exterior is built to resemble a giant bathtub. The architecture is fun and inviting, and inside, we found a truly international offering of modern and contemporary art and design.
Of course, I gravitated once again to the decorative arts. Everything from China, to mantle clocks, to furniture was well-curated and well-displayed.
While most of the decorative arts pieces were Dutch, the art featured works by Jeff Koons, Andy Warhol and many other modern masters.
Like the Rijksmueum, the Stedelijk offers something for everyone and feels as both visually compelling and truly educational. Also like the Rijksmuseum and the Van Gogh Museum, there were long lines and enormous crowds.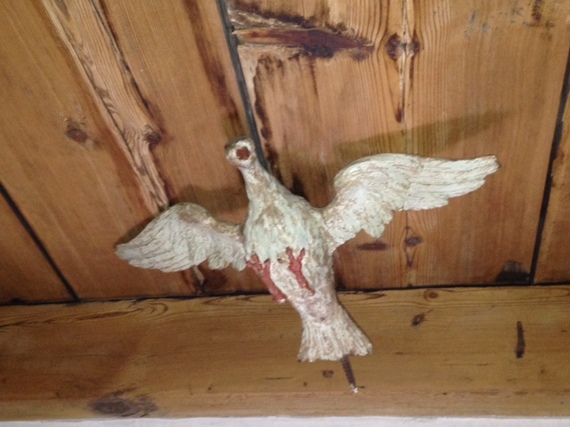 A Carved Wooden Dove is One of Many Original Details at Our Lord in The Attic
Our Lord In The Attic
One of my favorite experiences in all of Amsterdam was our visit to Our Lord In the Attic, which is Amsterdam's second oldest museum. For certain, it is the most uncommon museum in town. Outside, we see a 17th-Century canal house, but inside there is a hidden church.
As the story goes, during the Reformation, in 1661 a man named Jan Hartman bought three adjacent buildings. He and his family lived on the ground floor on the canal-side houses, but he converted the loft into a secret church.
At the time, Catholics were officially forbidden to openly worship, but protestant governors of Amsterdam turned a blind eye if the churches were not visible from the street. As a result, Our Lord in the Attic was born. The beautifully-preserved church includes the original organ, which is still played. It also includes an eye into the priests' quarters and a fascinating history lesson about how Catholics found a way to worship at this time.
I greatly appreciated all of the details, including wallpaper and paint that were created to match original samples found in the church.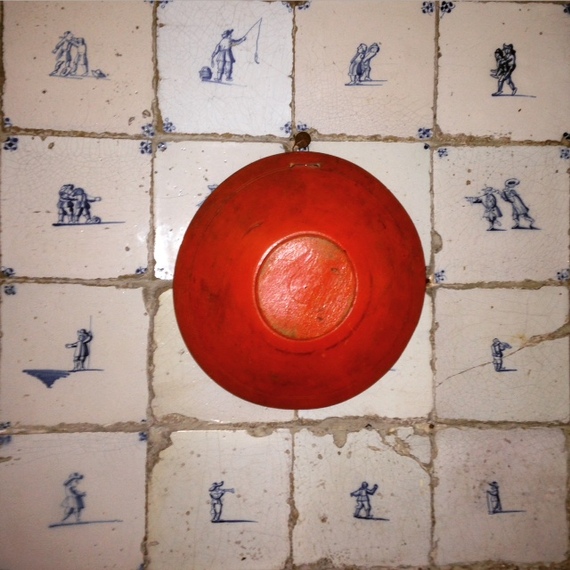 A Glimpse at The Kitchen with Original Delft Tiles at Our Lord in The Attic
Het Grachtenhuis
One other museum worth a quick mention is the Het Grachtenhuis. We stumbled upon this gem of a place while walking along a main canal. It's a great introduction to Amsterdam, and a quirky Amsterdam museum inside of a canal house that's been lovingly restored.
It is a great way to get educated about this old city and how it was built. I learned so much in a very easy to digest manner. For this reason, I'd highly recommend this museum for children. Also, for architecture buffs like me, it was fun to see the inside of a 17th Century canal house.
Best of all, it's not crowded!
Begijnhof
I loved the architecture in Amsterdam, and especially enjoyed the canal houses that seemed to be leaning to the side (and on each other). The truth is that they were built on stilts, and like some of the drunks I saw in the streets, they literally hold each other up. The canal homes also feature hooks on the top windows, which were made to hoist heavy objects into the homes. The style and the colors are charming and provided a lot of enjoyment for me.
That said, the oldest house in Amsterdam is not on a canal, but rather, in a courtyard known as Begijnhof, which is a courtyard that seems to be frozen in time (and of course for that reason alone, I love it). Built in 1528, "Houten Huys" at 34 Begijnhof is not only the oldest house in Amsterdam, but one of the few wooden homes left.
Dating back to the Middle Ages, the Begijnhof courtyard features many original structures and features tile work that denoted who lives where. Since many couldn't read at this time, symbols were used to reveal one's profession, whether it was nun, shipbuilder or cobbler. Many of these tiles are now on display outside of the courtyard.
The chapel is also quite lovely and peaceful, and provides and peaceful place to sit and reflect in a city that can seem quite chaotic.
Waterlooplein Flea Market
Of course, I couldn't visit Amsterdam without seeing the city's oldest flea market, Waterlooplein. This flea market is really more of a bazaar, selling many new items and artists' wares.
I was impressed that the market is big and vibrant enough to be held daily, and I was also able to find true vintage and antiques objects.
While I was tempted by some fun coffee grinders, I left with a few tins with great graphics. One was for tobacco, and one was for apple syrup (to be pour atop the delicious Dutch pancakes which are a staple of the cuisine.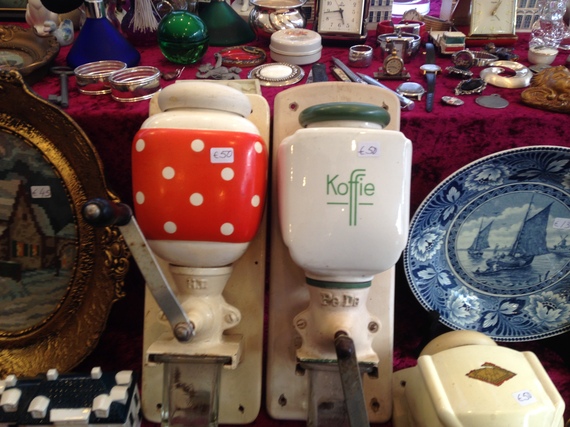 Vintage Coffee Grinders That Caught My Eye at The Waterlooplein Flea Market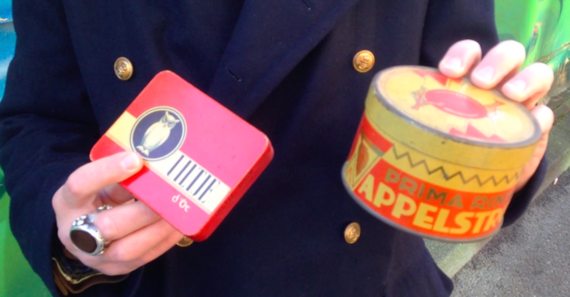 Tins I Brought Home as Vintage Souvenirs from The Waterlooplein Flea Market
As is always the case, I like leaving with a few regional souvenirs of everywhere I travel, and this market allowed me to do just that -- both easily and inexpensively.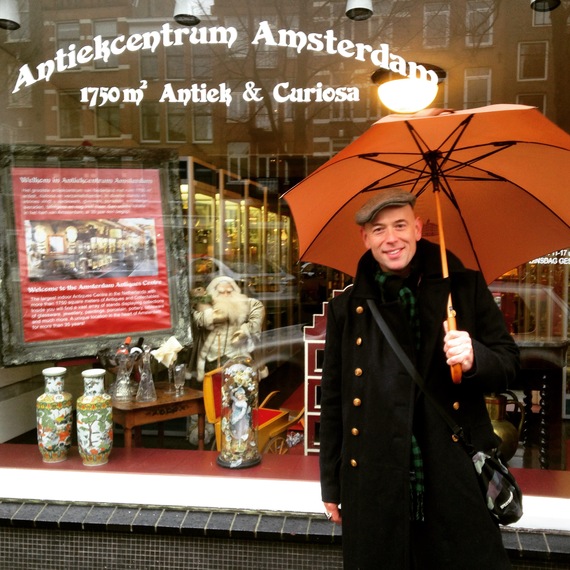 The Antiekcentrum Amsterdam Delivers a Fantastic Shopping Experience
Antiekcentrum Amsterdam
By far the shopping highlight of my trip to Amsterdam, the Antiekcentrum is a fantastic complex of stalls filled with treasures.
I saw some museum quality furniture and decorative arts mixed with kitsch and everyday objects. In short, it was my kind of place.
While I could have easily spent a great deal of money there, I chose to keep my spending light and buy a few antique Christmas ornaments. Since I'm a big fan of vintage Christmas, I always look for pieces to bring home from my travels.
The delicate ornaments I purchased were carefully packed by the lovely woman who helped me and they'll be on my tree next year.
Another great thing about the Antiekcentrum? They totally get customer service. There are buzzers to ring at various points in the shop, and when you do, a salesperson comes to unlock a case and carry your finds off to the register while you continue to shop. I thought that was a particularly nice touch.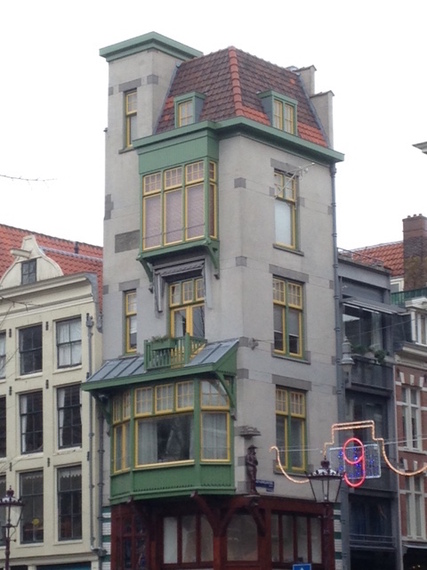 One of Many Great Examples of The Amsterdam School of Architecture
A Farewell to Amsterdam
Since I live in New Amsterdam (a.k.a. New York), I am certainly not a prude and I'm accustomed to navigating crowds, smells and sights that sometimes make me want to avert my eye.
That said, Old Amsterdam, as I was warned, can be a challenge if you don't want to get high (or even a contact high). There were, indeed, wafts of cannabis in the streets and the famed seedy "Red Light" district is indeed, seedy.
Because there is so much more to Amsterdam's rich culture, I was actually able to navigate past all of that (although, I sometimes had to hold my breath).
Truth be told, the pot and the prostitution were minor challenges compared to what I consider to be the thing that is the most irksome about the city: Its countless bicycles coming at you from every direction. They made the city feel chaotic and claustrophobic at times. I'm told there are more bikes than people in Amsterdam -- and I believe it.
If you go, I recommend all of the sites I've discussed here. But look both ways before crossing any street. And before crossing, look again.