As a designer, antiques lover and collector of many things, I feel quite at home at a flea market. In fact, I first started going to local flea markets in Pennsylvania with my brother, who passed the vintage baton to me while I was still in grade school. After more than 30 years of flea marketing, not only do I have a pretty intense history with vintage treasures, but I also have relationships with some fascinating vendors who find, curate and sell merchandise across the globe.
In fact, if I'm going somewhere, I always add the local flea market to my itinerary, especially as we head into summer, which coincides with high flea season. For those on the fence about flea-ing while on vacation, I always say if you want to understand a place and the people who live there, go to the local flea market. It's really a sociological and historical representation of just about anywhere you can point to on a map.
While strolling a flea market, it's impossible not to learn a few things , even if not one purchase is made.
• What was on the cover of that magazine from 1960? Why did someone save it?
• What were popular items in men's closets in the 1940s?
• What is that household item -- and what was it used for?
All these questions and many more can lead to engagement with the locals... helping offer a vacation experience that rivals any that a typical tourist destination can provide.
No matter where they are located, flea markets bring together a community of like-minded people -- people who are usually pretty passionate about preserving and curating beautiful objects; people who at the same time do their fair share of learning and teaching. In fact, if you befriend flea people, not only can they help you find treasures beyond your dreams, but they can also help you get smarter about collecting. And on a vacation, by interacting with these people you might also pick up some advice on must-see non-touristy attractions and restaurants as well.
San Telmo Flea Market in Buenos Aires
Speaking of vacations, I'm just back from a lovely trip to Buenos Aires. It was pretty fantastic, all around. Luckily, the San Telmo flea market there (held every Sunday) is one of the best on the map. In fact, National Geographic recently rated it as one of the top three flea markets in the world.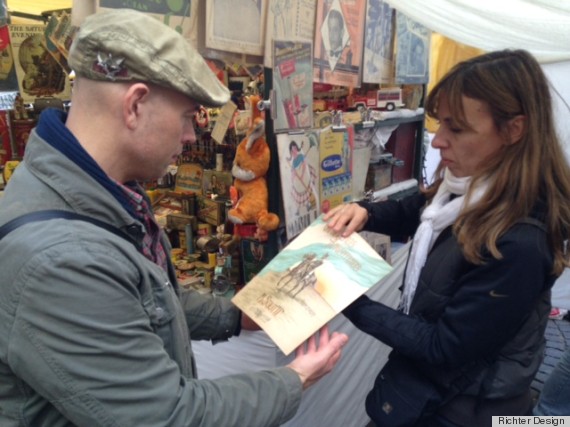 When we arrived at the market, it was bustling with activity -- and within minutes, I'd made my first purchase (a pair of silver knot cufflinks, still in their original box -- a gift for my traveling companion). I went on to find fantastic ephemera (including sheet music, Hollywood fan magazines, and some really interesting signage). I'll frame most of it (in vintage frames). That will make it last much longer mean more than any other kind of souvenir I could bring home.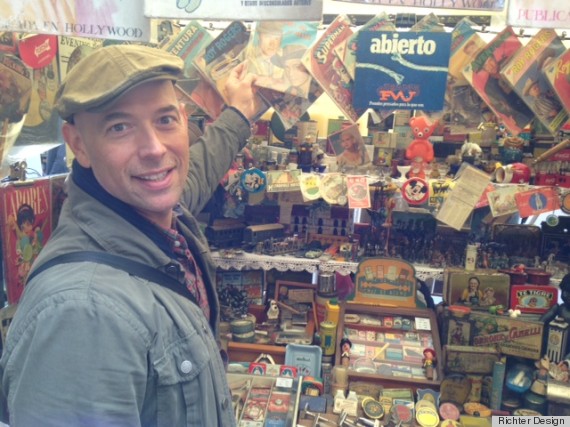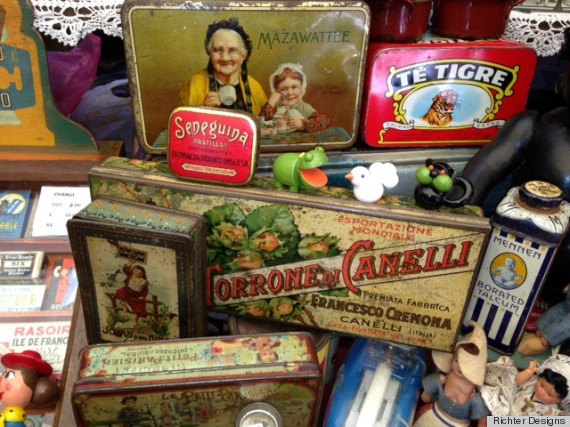 As we passed through the stalls, we found the collection of objects told a story, which included a lot of patriotism, sophistication, glamour, and even some laughs. The strong European influence and American pop culture fascination combined to create a very interesting screen-grab of the 20th century. Of course the love and staying power of Eva Perón was evident, as just about every vendor had several Evita items (and not one was related to the Madonna film!).
With the exchange rate wildly in our favor, there were lots of bargains. But even when there are good prices, part of the flea market culture anywhere on the map is about negotiating, so while my Spanish is in no way perfect, it is good enough to negotiate... and negotiate I did. I got better deals on all of the items, and I find that showing a little respect and curiosity, and making an attempt to speak the language all help in the art of international flea market bargaining.
Other Favorite Flea Markets

On the international front, some of the best flea markets I've shopped are as follows:
Paris, Porte de Vanves (Saturday and Sunday): This is my favorite European market. There are still bargains to be had, treasures galore, and motivated sellers. Vendors line the streets and because there are no permanent stalls, prices drop a lot towards the end of the day. Some of my favorite finds include 19th century apothecary jars, and a 1920s oil painting of a well-appointed room (with the street address written on the back).
Paris, St Ouen/Porte de Clingancourt (Saturday and Sunday -- some vendors are also open on Mondays): This is the most famous flea market in France, and as such, the bargains are harder to find, but they are there. Some of the most exceptional Art Deco antiques I've ever seen have come from this market. My best finds include a pair of drapes that came from chateau in Normandy and currently hang in my living room. I also found a pair of cool electrified Art Deco candelabras that are on my mantle.
Madrid, El Rastro (Sundays): This flea market has a lot of local color, and the merchandise runs the gamut from museum quality items to the mundane. The energy is electric and there's great people-watching. My favorite finds include 1940s fan magazines featuring some of my favorite Hollywood stars, and some really great vintage dress shirts.
Lisbon, Feria Da Ladra (Tuesdays and Saturdays): This market offers up a lot of small items, perfect for those who don't want to check bags when heading home. My favorite finds include figural Bakelite napkin holders, a vintage watch and some fun 1950s pulp fiction with great cover art.
London, Portobello Road (Fridays and Saturdays): One of the largest flea markets in the world, there's really something for everyone here. As for me, I collect Art Deco china, and since English china companies like Royal Doulton created so many beautiful patterns, this market really gets my blood pumping. I've found some treasures here that I use every day on my dining table.
Back in America
Here in the states, markets are mostly on the weekends (some are only certain weekends of the month), but always do an Internet search before planning, as some markets are on Mondays and Thursdays as well. There are too many great markets to list here, but some of my favorites include: New York, NY: The Garage; Pasadena, CA: The Rose Bowl; Lambertville, NJ: The Golden Nugget; Kutztown, PA: Renninger's; Miami, FL: Lincoln Road; Cumming, GA: Lakewood 400; Canton, TX: First Monday Trade Days
Additional Tips:
• Don't feel like lugging items home? Most flea markets offer shipping services, or vendors can ship directly.
• For international fleas, have local currency handy. And keep money in your front pockets, as many markets have a reputation of pickpocketing (although I've never seen this).

• Not sure if there's a good flea market in your travel destination? Do an Internet search of the name of the location and the words "flea market," and you'll have your answer.

• Bring a bottle of water and hand sanitizer. No matter where you go, flea markets are notorious for being light on refreshments and restrooms.

Truth be told, no matter if you buy anything or not, a trip to a flea market on vacation is a great way to interact with the locals and see some great objects. In fact, some of the most beautiful things I see at flea markets while vacationing stayed at those markets, but it is always fun interacting with the characters and taking in all of the eye candy. It's kind of like a museum with interactive guides -- and price tags.