Most New Yorkers know Housing Works because their stores dot our city and offer up a treasure trove of donated merchandise. The infamous windows are immensely popular and the items featured in them are sold via online auction where they often spark bidding wars. Like many, I both shop and donate as part of an ongoing process of moving things around the world. Not only do they sell fantastic items, but all of the profits go towards caring for New Yorkers living with HIV and AIDS. It's a great incentive to shop!
Aside from their bustling retail outposts, Housing Works holds an annual event called "Design On A Dime." The show features some of the top designers in the country who get together and create and furnish rooms to benefit the charity. I happily attended Opening Night this year, where 62 designers showcased fantastic merchandise, all at 50-70 percent off retail. In addition to the rooms, there were satellite stations set up with high end merchandise donated by major retailers.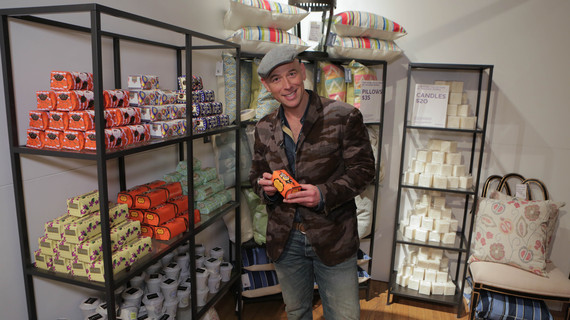 I had the privilege of visiting the rooms before the event kicked off, so I was able to take in all of the creativity and talent. It completely blew me away. As a designer alumnus of this event, I know how much work goes into creating a room (a 10' x 12' space). Designers use their resources to get donations. What they don't get donated, they pay for themselves. Rooms are designed, painted, papered, furnished, decorated and appointed to the max, and each one represents time, effort and talent.
When the event begins, however, those beautiful rooms get torn up from the floor up, as attendees scramble to snatch a bargain, a bauble or a big-ticket one-of-a-kind item. Just like at the thrift stores, prices run the gamut. The selection can't be beat.
The Highlights
Seeing the rooms before they were ravaged for charity, I was able to really appreciate the visionaries that put them together. This was the 10th year of the event, and it was the biggest and most diverse one as well. While it's impossible to pick the best, since it is largely subjective, there are certain rooms that stood out to me for different reasons. I broke them up into categories:
Best Overall Design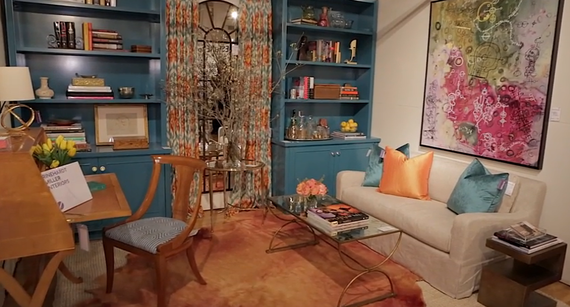 I'm really going out on a limb here, but of the 62 rooms at the event, there was one that stood out to me as a place I'd love to hang my hat. It was warm, inviting, comfortable and ready for me to move right in. Created by Rinehardt Miller & Co., the room was a symphony of teal blue and honey.
With custom bookcases flanking a mirrored 'window' dressed with gorgeous Ikat drapes, the room featured an oatmeal loveseat, a mirrored coffee table, and a wonderful vintage writing desk and chair. Everything was perfectly chosen and cohesive, right down to the custom-dyed honey cowhide rug. There was even a custom bed for Rover, created by the designers.
When I researched them, it came as no surprise that the team has both design and construction expertise. The harmony of masculine and feminine energy and the comfortable yet sophisticated vibe of the room was mirrored by the designers themselves (Leslie Rinehardt and Marvin Miller) when I met them just before the festivities got under way.
While many show house rooms are 'concepts,' this one was a true room that somehow managed to be both on trend and timeless. BRAVO!
Best Use of Primary Colors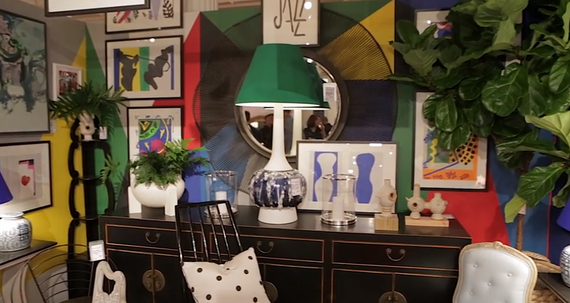 A darling of most shelter magazines of note, Miles Redd is a fan of bold color and it is often the signature of his work. With a great deal of furniture and lighting featured in his room, the primary colors gave the eye a path to follow. With punches of green, yellow, orange and blue, Redd created a fun and immensely popular room.
Much of the color was in the form of accents, like lampshades, which I learned that Redd and his team painted themselves. Great DIY tip, by the way: If you want a specific-colored lampshade, buy some paint and get to work. In Redd's room many of those lampshades were on vintage lamps, so the brightly colored shades gave them new life and made them feel quite contemporary.
Redd took inspiration from the famous Henri Matisse famous book "Jazz," and he literally blew up pages and papered his room with them. Another great DIY idea! Of course, the pages featured black and white line drawings and the same primary colors Redd chose for his room.
Best Vintage Finds
Stephen Henderson is a writer, artist, designer, world traveler, chef and humanitarian. All of those aspects of his personality were shining brightly in his room. While most designers at the event had a mix of new and vintage items, Henderson's room was strictly vintage. As such, it was right up my alley. His trips to favorite flea markets in Mexico City and Paris were represented with a dizzying array of merchandise that ranged from sentimental to saucy to sophisticated.
What's more, Henderson created amusing vignettes to showcase his finds, and each was tagged and described in detail with his signature dry wit. I purchased five pieces of art from Henderson's room (three French, one Mexican, one American). He purchased all of them unframed and then had each framed professionally before bringing to the event. All of this work was done with a curatorial eye and a clear desire to preserve ephemeral pieces that might otherwise get lost in the shuffle over time.
I had problems narrowing my choices down to five, but since I'm a Manhattanite, I only have so much wall space...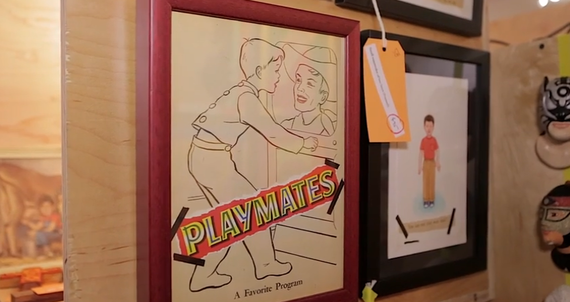 Aside from his support of Housing Works, Stephen is the founder of an organization called Cooking For Others, which aims to shed light upon how poor and hungry people get fed from India to Indiana. Stephen has worked in soup kitchens across the globe getting to know the everyday angels who help others as a way of life.
Most Creative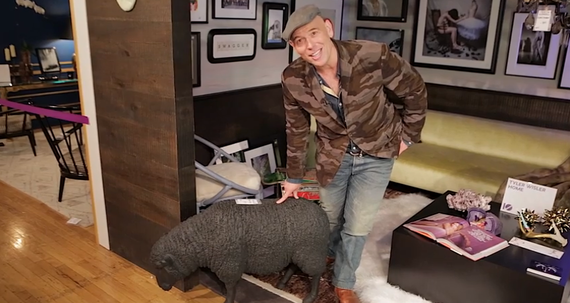 Designer Tyler Wisler clearly has a sense of humor, and he's not afraid to express it in his work. Greeted by 'faux taxidermy' mounts of a unicorn and a jackalope, I knew I was in for a treat when I decided to further investigate his room.
With dark walls and dimly lit space, Wisler's room featured a lot of fun art (like framed playing cards) hung gallery style. While many families keep their black sheep at a distance, Wisler brought his right into the living room with a very cool life-sized resin sculpture of the barnyard animal.
Also notable was an ottoman made from recycled skateboards. I love repurposing, and I was very entertained by this unexpected one-of-a-kind piece.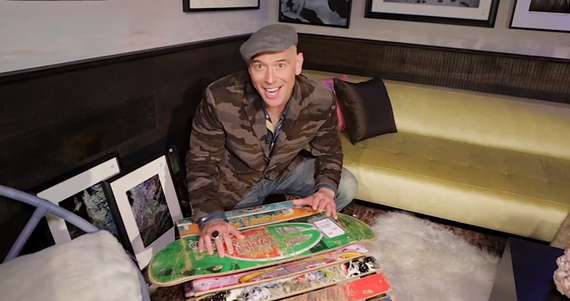 Wisler lighted up the dark room with a large celery-colored chenille sofa that would've come home with me had it not been about two feet too long.
All in all, this artsy man cave felt very contemporary without feeling cold. And with a skateboard ottoman, it seemed to invite everyone it to put his or her feet up and stay awhile.
Best Brand New Bling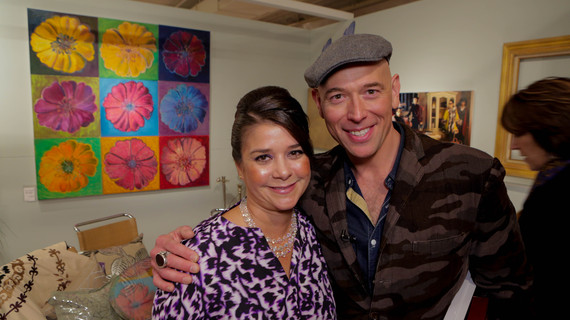 Veteran Design On A Dime Designer Arlene Angard is a vivacious Venezuelan beauty who is not afraid of a color. Her room was an international garden of brand name designer pieces from Pierre Frey, Stark, Waterworks, Bungalow 5 and Christofle---to name just a few.
Arlene leveraged her relationships with vendors to fill her room with high end items, all of which were deeply discounted, which is why when the shopping began, people descended upon it from every direction.
She also had some fun pieces of pop art, one of which featured a baby and a machine gun, and another that was a Warhol-esque piece with color-blocked daisies. For those seeking one-of-a-kind artwork, her room offered a lot of great choices.
I particularly liked the deep blue cocktail tray and stand donated by Pierre Frey. It sold almost immediately.
When I caught up with Angard, she was positively gleeful, since she'd just purchased the Christofle champagne flutes from her own room.
What It's All About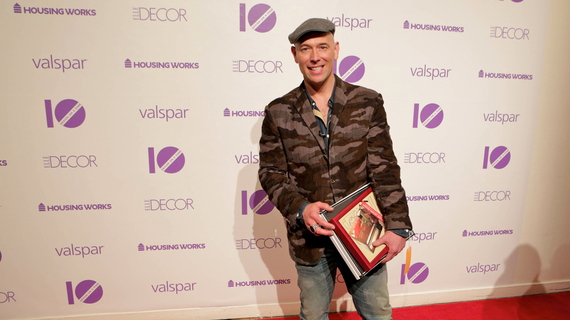 It is truly sensory overload at Design On A Dime. That's why I made sure to take a break and chat with event founder James Huniford and Housing Works board member Joe Magnone. Both confirmed that in its 10th year, this event is bigger, better and more profitable than ever.
Shortly after the event, I got word that over $1.1 Million was raised this year. That money is going directly to people living with HIV/AIDS. Those people receive food, shelter, rehabilitation, job training, job placement and much, much more. Design On A Dime is Housing Works' biggest annual fundraiser, and judging from all of the fantastic work that was done this year, it'll be even better next year. I'm told the planning is already underway.
WATCH THE VIDEO: For more, check out this video feature with some of my favorite moments from Opening Night at Design On A Dime, including more rooms, merchandise and fun:
For More on Housing Works and The Designers:
http://www.rinehardtmillerinteriors.com
http://www.cookingforothers.com/
http://www.tylerwislerhome.com/
All Photos By Blake Drummond
Video Feature By Blake Drummond