During last week's heat wave, I did everything I could to stay cool.
One surefire way for me to do that is to think, "Christmas in July." To set the mood, I popped in DVDs of favorite holiday classics and cranked up the air conditioning. I also began my annual holiday shopping both online and at some of my favorite brick and mortar haunts.
When it comes to decorating, giving gifts and entertaining, I find most of my bounty at flea markets, auctions and antiques shops. That said, I start my shopping early, since just like in retail stores, certain merchandise at these venues fluctuates in price depending upon the season. The truth is that any winter item is the last thing on someone's mind... so I take advantage of that fact and rake in the bargains.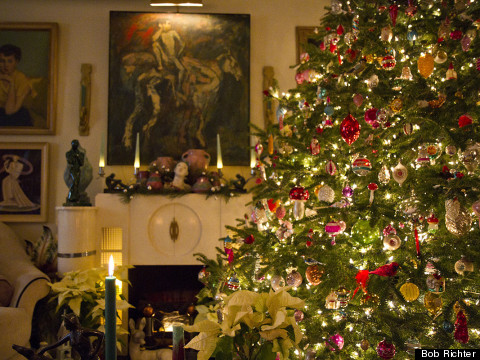 Deck The Halls
Every year I decorate my home with vintage ornaments, lights and decorations from my ever-expanding collection. While I add to it each year, the basic foundation for my collection was laid when I was a young boy. My dad would take me to auctions. One July day, when I climbed in his pickup truck, he handed me a box of beautiful ornaments including a blue jay, a Santa Claus, some bells, ice cream cones and other special figures. "It's time you started collecting something," he said, "and I know you like Christmas."
So collect I did -- and still do. That original box has grown into a collection that hovers at around 2,500 pieces and counting. I have to be pretty judicious about adding new items, but I still find some that I can't pass up when the price is right. And usually the price is right in the dog days of summer. The closer to Christmas, the higher the prices.
Most in my collection date from the early 1900s. Much of it also German, but I also have pieces from Japan, Czechoslovakia, Poland, and yes, the United States. In fact, some of my very favorite ornaments are American and were made during WWII. While the earlier European figural ornaments have the most financial value, the ones made in the U.S. during the war strike a sentimental chord. They are un-silvered striped balls with paper caps.
During those years, most metal was conserved for the war effort, so these 'no frills' ornaments serve as a reminder of how the country came together and rationed important materials. I love that.
For those interested in starting to collect vintage ornaments, I'd suggest going to ANY flea market at this time of the year. Basic round balls are always the least expensive. Figural ornaments are on the higher end of the price spectrum. Auctions, too, have lots of great old holiday décor, as most homes had boxes of Christmas decorations in the attic.
In the summer months, this décor is literally a quarter of the price it will be in October-December, when dealers mark it up to for impulse shoppers who are in the holiday mood and on a mission.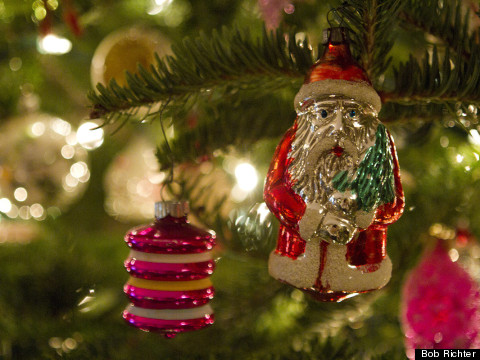 Make Your List and Check it Twice
My friends have come to expect a vintage gift from me each year.
Vintage jewelry and accessories, home furnishings, classic books, ephemeral childhood items, china and much more can be found all year long, but I start ramping up on buying them now. You never know when that perfect gift is going to appear, and whether or not it will be there in the future.
Some of the best vintage gifts that I've already stocked away for the holidays include a silver cigarette case I'll gift as a business card holder (I just insert the biz card of the recipient or one of my own), an Art Deco champagne bucket and a mirrored picture frame.
Toasty Vintage Clothing

Some of my favorite vintage sweaters and coats have been found in the dog days of summer at flea markets, thrift stores and online auctions. Just like décor, it's not what shoppers want in the moment, so if vendors want to move these items, the prices have to be rock bottom.
My summer steals on winter clothing include a 1940s leather, bomber jacket for $30, a 1950s leather biker jacket for $20, 1960s cardigan sweaters for $5 each, a 1930s tweed hunting jacket for $10, a 1970s Lanvin blazer for $15, and finally, some very cool 'new' old store stock, 1960s Big Yank sweatshirts for $1 each. While not always a joy to try on these pieces in the heat, the bargains can't be beat. I can't wait to add all of these items to my fall and winter lineup.
While the aforementioned clothing is for me, I also found a pair of 1960s, French policeman's gloves and several 1940s neckties, which will wind up under the Christmas tree, for sure.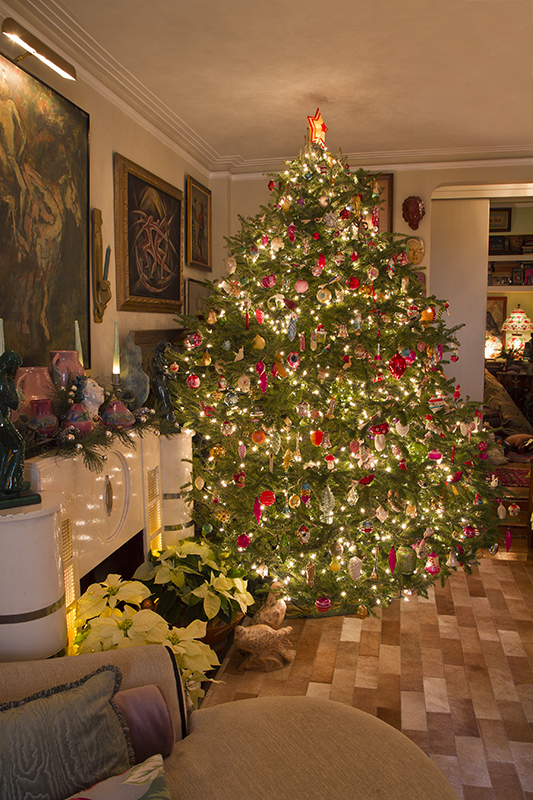 It's A Wrap

A nice touch to vintage gift giving is to outfit the offerings in vintage wrapping paper. A roll on a table at a flea market in July will cost a quarter of what it will cost in November, so snap it up. The same goes for cards and tags. I often find boxes of unused greeting cards in my travels (since it's high season for tag sales and garage sales, keep an eye out in these places as well), and I always buy them.
People are usually very charmed by vintage wrap and cards. They're nostalgic, uncommon and fun. And who needs to know that all of it can be had for a small fraction of the price of their new counterparts?
So go ice the hot cocoa and get shopping... there are lots of bargains to be had out there. That said, the only thing to be vigilant about is noting where you stash the loot so you don't have to turn the house upside down looking for it all when the holidays arrive...