If there's ever a chance to feel like a 1930s movie star, I'm in. That's why I was over the moon recently when I had the great fortune to stay at a hotel that was the inspiration for the 1932 film "Grand Hotel." The movie won Best Picture that year, and the lavish sets designed by the great Cedric Gibbons perfectly depicted a Five Star hotel in all its grandeur.

The place that inspired MGM and Gibbons is the Hotel Adlon Kempinski in Berlin. In fact, many scenes including the one where Greta Garbo utters her famous phrase, "I want to be alone," were filmed on the property. I couldn't wait to arrive, and when the time came to depart, I found it difficult to leave. It was lavish yet unpretentious and refined yet comfortable. In short, it was heaven.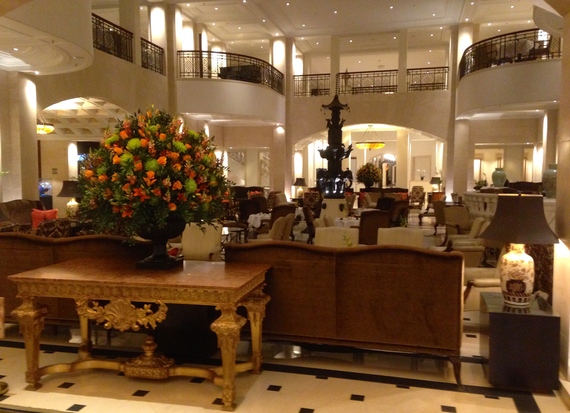 Entering the lobby at the Hotel Adlon Kempinski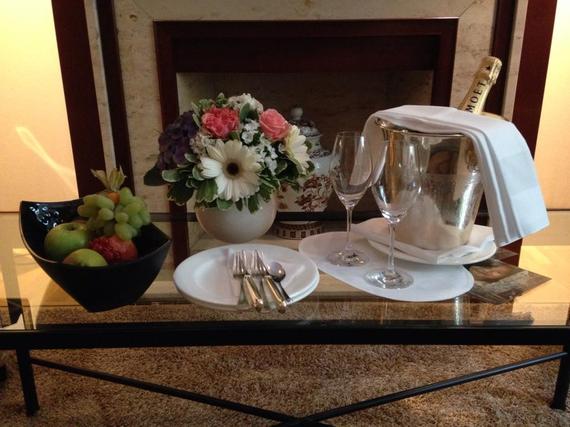 Fresh flowers in the room and other touches made this hotel feel very special
I'm always amazed by people who say they don't care about their accommodations when they plan a vacation. For me, a home away from home is what good travel is all about, and a wonderful place to hang my hat is the baseline of my happy trip somewhere. Given that criteria, the Adlon experience left me positively gleeful.
Of course, being a designer and antiques dealer, I am always interested in the marriage of comfort and luxury. I'm also impressed with good design and the historical importance of a location. The Adlon offers all of these things and more.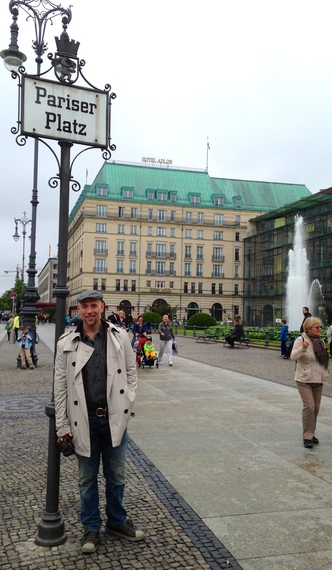 Outside of The Hotel Adlon Kempinski
A Palace Fit For a King
Built in 1907, the Adlon is credited as the first hotel to see beyond standard accommodations to fostering a fashionable meeting place environment. Its first guest was Emperor Wilhelm II, and other luminaries soon followed, from Albert Einstein to Charlie Chaplin to Teddy Roosevelt.
Like most buildings in Berlin, the Adlon was largely destroyed in WWII. In 1997, however, it was re-built and its original grandeur was restored. Painstaking efforts were taken to re-capture all of the detail, and it shows. The rooms are generous and beautifully appointed, the dining areas are warm and lush, and the lobby is right out of a 1930s movie.
The concierge service is perfection and little details like complimentary shoe shines are ways the Adlon makes guests feel pampered. Just leave your shoes outside the room at night, and by morning they are back, perfectly shined.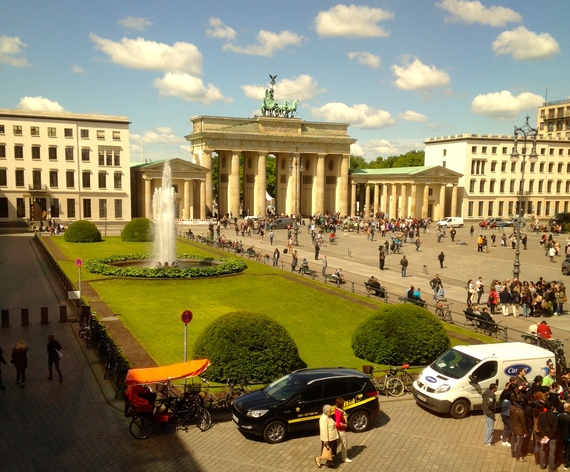 View of The Brandenberg Gate from The Hotel Adlon Kempinski
Location, Location, Location
One of the Adlon's many virtues is its location adjacent to the Brandenberg Gate, which many regard as the most famous structure in Berlin. There's an idyllic view from many rooms, including the second-floor dining salon. The former city gate, this impressive neoclassical arch is an important piece of Berlin's history.
Completed in 1791, the gate was badly damaged in WWII and then isolated next to the Berlin Wall. A decade after the wall came down, the Brandenberg Gate was restored to its original beauty. As I walked through it everyday I thought about all of the war and strife the gate has seen, and there it stands, now considered a symbol of European unity.
Speaking of unity, just steps away from the gate is the Riechstag Building, which is where Germany's reunification ceremony was held in 1990. Like all of the other buildings I've mentioned, it also has a complicated past and interesting present. It was largely destroyed in WWII and fell into greater disrepair until the reunification. After that, it underwent about a decade of reconstruction.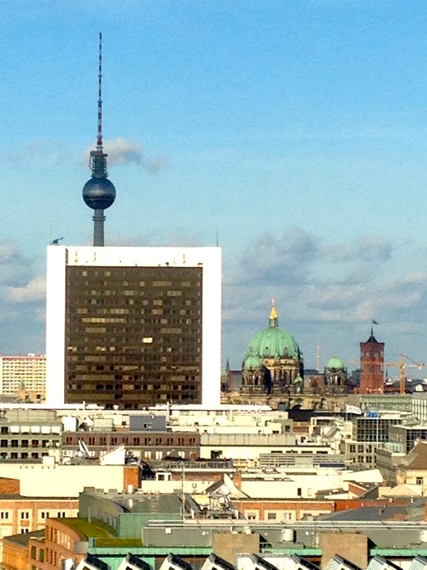 A view of the Berlin Radio Tower from atop the Riechstag Building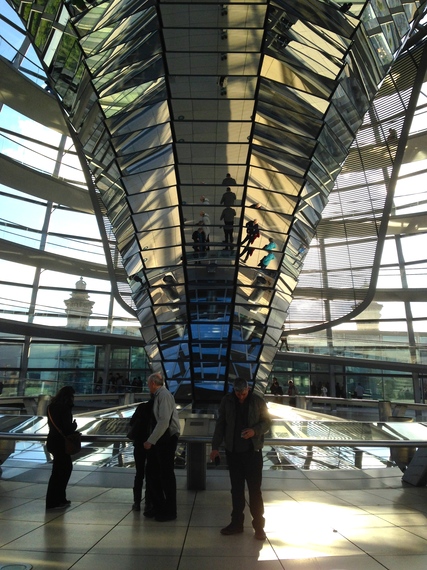 Inside the glass dome of the Reichstag Building
Now one of the top attractions in Germany, the restored classical building has a very modern glass dome in its center. Tourists line up to ride the elevator to the top, where the views of Berlin are pretty breathtaking.
War Remembered
It's impossible to visit Berlin and not be reminded of war. It seems this is not only unavoidable, but also very intentional. Also in the direct vicinity of the hotel is the monument to the Memorial to the Murdered Jews of Europe. Completed in 2004, the brutalist structure takes up an entire city block and serves as an architectural metaphor for the horrors that befell Jewish people during WWII. Inside the somber building are hundreds and hundreds of photos and letters revealing the atrocities of the concentration camps.
Also in the vicinity are many remnants of The Berlin Wall, and tourists line up to take photos with one foot on either side of where the wall once stood. Also in this area are many buildings half-destroyed by WWII, now restored with new architectural elements like steel and Plexiglas. While I'm usually an architectural purist, I felt these restored buildings symbolized a city that did not want to forget, and at the same time, had emerged stronger, more transparent, and ready to move ahead.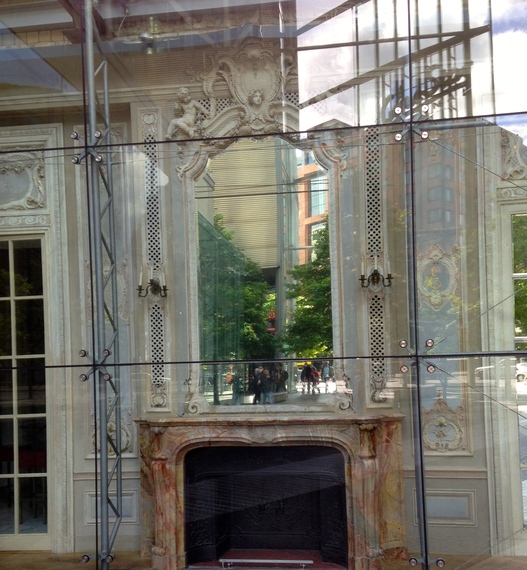 A restaurant, largely destroyed in WWII, now preserved behind Plexiglas
Strolling throughout Berlin, bullet holes pepper every pre-WWII building and statue. Some have been restored and some have not, but all bear the mark of war. The museums, too, are reminder of Germany's tumultuous history. My favorite was the German Historical Museum, which included many artifacts from The Third Reich, and paints a very grim portrait of Hitler.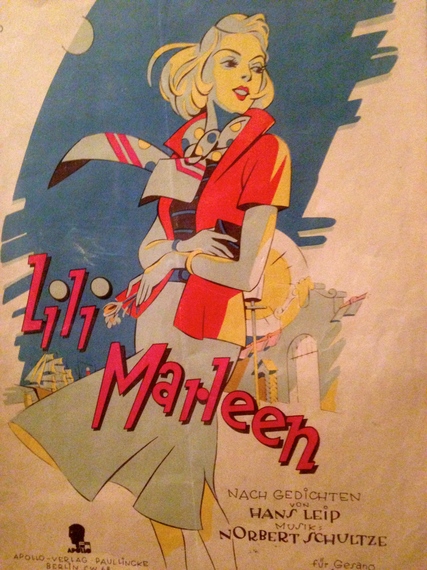 Sheet music for the popular wartime song, Lili Marlene, displayed at the German Historical Museum
Another favorite stop of mine was the iconic Checkpoint Charlie outpost I recall from spy movies. Also known as "Checkpoint C," this Cold War remnant marks the crossing point between East Berlin and West Berlin. While the wall is long gone, this is, in some ways, like a Civil War reenactment in the U.S. The signage remains, and military personnel 'stand guard,' but it is really a 3-D historical marker. The soldiers also really seem to enjoy posing for pictures with tourists.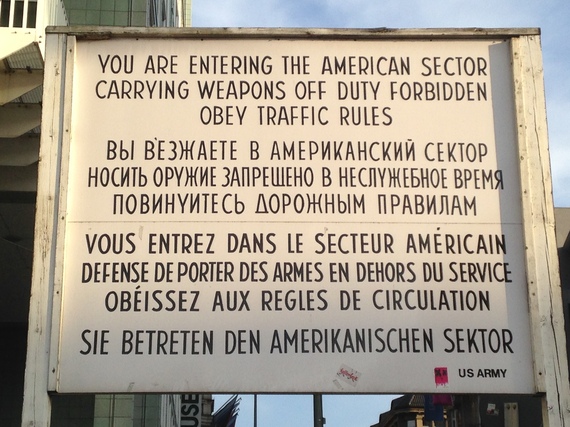 Sign at Checkpoint Charlie outpost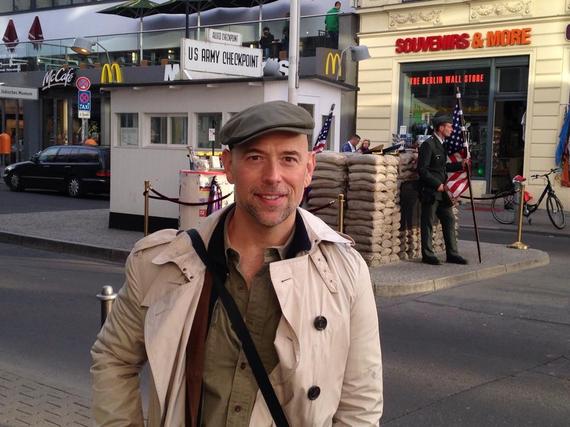 Outside Checkpoint Charlie gate
The Flea Market Capital of Europe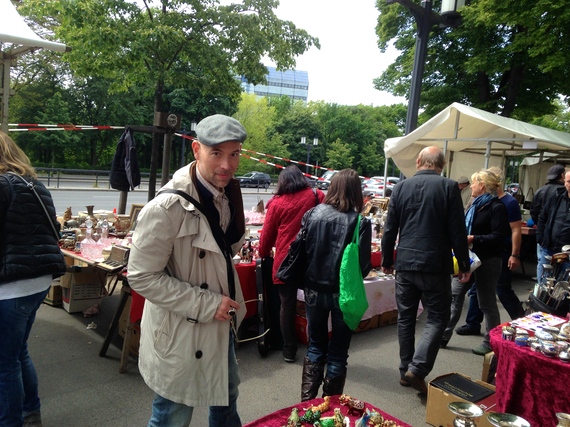 Perusing the Tiergarten Flea Market
You don't need to know much about me to understand that when I discovered Berlin had over 40 flea markets, I was sold on a trip there. No matter where I go, a flea market is always on the itinerary. My ideal souvenirs are ones that are at least 70 years old, and have had a few other lives before winding up in my hands.
Because time was limited and I wanted to hit the best flea markets possible, I talked with the concierge at the hotel who helped me find a few that were large, authentic and the most visited by locals. I always say if you want to understand a place and its people, go to a flea market.
My favorite was the Tiergarten Market in Central Berlin, also known as the "Original Berlin Flea Market." It was bustling with vendors and shoppers and had lots of items that were calling my name. While I've been known to shop European markets with reckless abandon, I didn't want to ship items home on this trip, so I passed on some larger items like lighting and furniture. Believe, me, it took a lot of willpower. There's one lamp that is still haunting me....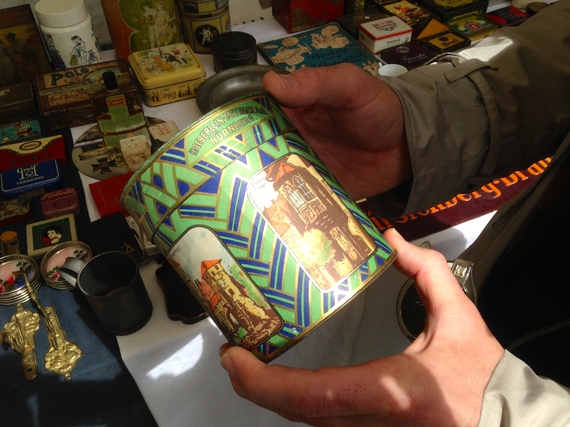 A vintage candy tin I brought home as a souvenir
Once I'd made the decision to buy small, I chose a few tins and some ephemeral finds. I often pick these things up at a flea market abroad because they are easy to pack and I can always find a place for them when I get home. One tin is a candy container from the 1920s and the other is a tobacco case from the 1950s. Each has fantastic color and design. I can store odd and ends in them, and they look great sitting just about anywhere.
In addition to enjoying the merchandise, I was quickly charmed by the people. No matter where I go, I find flea market folks have a universal language. We love 'stuff' and we tend to bond over it. Even though I don't speak German, I was able to haggle, and get very nice prices---as well as making a few new friends.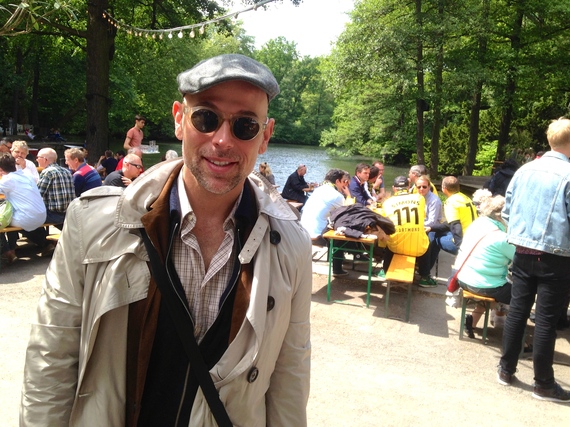 Enjoying a Beautiful Day in Tiergarten Park
Tiergarten Park, which is lovely and lush, runs along the center of Berlin, and after the market, we walked inside for a while and enjoyed a stroll, which led us to a traditional German Beer Garden. The crowd was enjoying good music and good weather, and it was fun to be among them. We also had a hearty and delicious brunch after working up an appetite traversing the flea market.
From the hotel to the tourist attractions to the time spent with locals, Berlin was one of the best trips I've had to date. The city is fascinating (and immaculately clean!); the people are friendly; the food is delicious, and the whole place is easily navigable by foot, which is a huge plus for this New Yorker.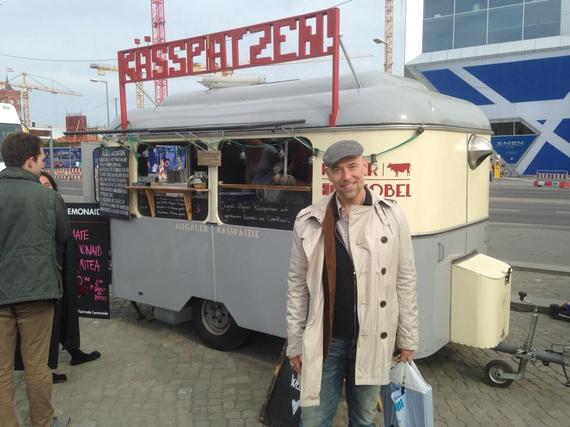 Outside one of many food trucks offering delicious homemade German food
WATCH: Tag along as I shop the Tiergarten Flea Market in Berlin:
THE HOTEL: http://www.kempinski.com/en/berlin/hotel-adlon/welcome/
THE FLEA MARKET: http://www.berlinertroedelmarkt.com/home.html