Most people know that flea markets start early in the morning. In fact, dealers usually begin setting up their booths well before dawn. At that time there are often people there with flashlights, hoping to find the proverbial Hope Diamond. Certainly those early birds catch a worm every once and a while, but they are generally professionals who sell antiques for a living.
For civilians, I advise sleeping in and showing up later in the day. Why? Because dealers don't want to pack up everything and take it home again, so prices often drop, or they are more willing to negotiate. Chances are for larger items like mirrors or furniture, prices might just drop in half, especially if you have cash and are willing to carry the item away.
Of course some items will have been scooped up early in the morning, but frankly, what you don't know won't hurt you. There are plenty of treasures to go around, and for those just looking for items to furnish their homes, there are lots of great things to be found at any time of the day.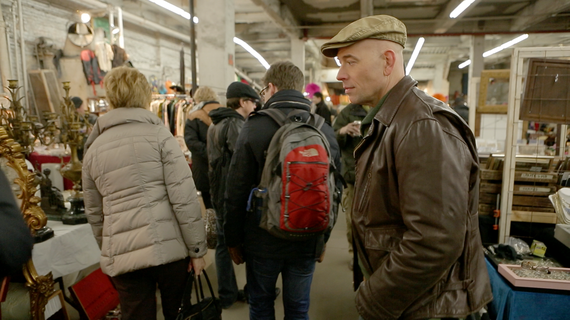 To Get Great Prices, Try A Little Kindness
Many people fear flea markets because they don't feel comfortable bargaining. The truth is that bargaining at flea markets is just part of the language and culture, and it's been going on for centuries. For those who are still uneasy, I offer these six easy tips:
Show genuine interest in an item and don't point out its flaws to the dealer.
Ask the price if it is not marked.
Ask for their best price -- it should be a little lower than the first number.
If you are still hoping to get the item for less money, make an offer of about 10-20 percent less.
Cash is king. Dealers don't want checks and most don't take credit cards.
Become a repeat customer. My regular dealers give me great prices because I buy from them regularly. This is a business of relationships.
Also, in regards to pricing, keep in mind that dealers work long and hard to find beautiful things --combing estates and auctions to handpick their merchandise. This time is factored into the cost. Also, think about what you'd pay in a retail setting for a new version of what you're buying. If the price is significantly less (which it always is), then you are getting a bargain. This is especially true with furniture and housewares.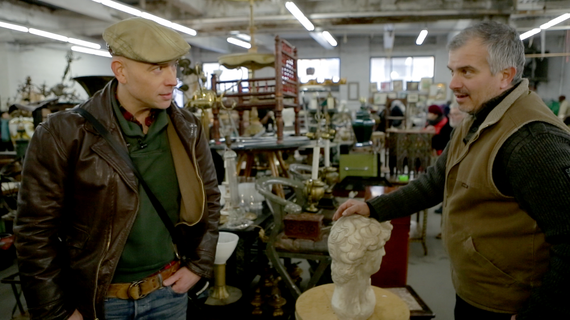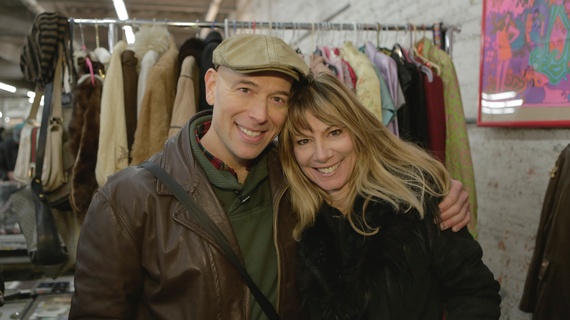 Flea Markets Are Like Department Stores
My home flea market in NYC is called "The Garage," and I've been shopping there for over 20 years. As such, I've got great relationships with dealers who are like family to me. Many dealers have specialties, and I go to some for furniture and others for art, vintage clothing, etc.
That said, I often liken flea markets to department stores. Just like department stores, flea markets have everything from jewelry to housewares to furniture. Keep in mind that you don't have to hit every booth. This is particularly good advice for those who feel overwhelmed by flea markets. It's easy to glaze over when you see all of the booths, people and stuff, but if you're looking for something specific, you'll skip over a lot of booths just by doing a quick scan. This helps keep things simple.
For example, if I'm shopping for art, I'll go to the booths where I see paintings and concentrate my energies there. That said, I'm normally looking for a variety of things, so much like a department store, my local flea market is a one-stop shop. I'm fortunate because dealers at The Garage come from all over the Northeast, and bring wonderful things -- most of which originally came from department stores. It all sort of comes full circle.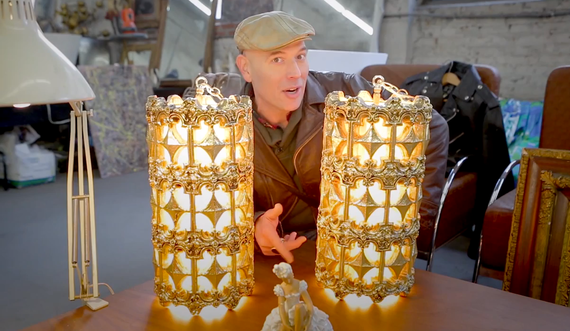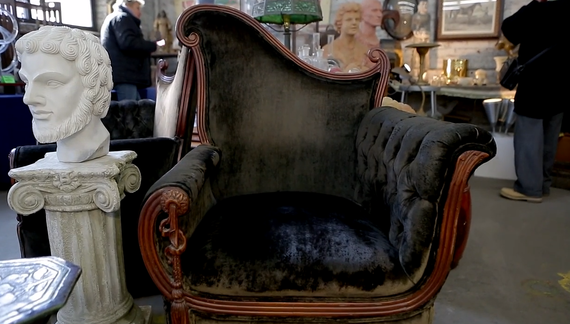 Art for Art's Sake
Everyone's heard the stories of people finding a Picasso at the flea market. That's certainly possible -- and what keeps many hunting. I've been fortunate to discover a few undervalued pieces of art as well.
One of my best finds was a painting by my favorite artist McClelland Barclay. He was a very successful commercial artist who died in WWII, so original works are few and far between. It's worth ten times what I paid, but I love it, so the monetary value is just an added bonus.
That said, what about just finding art that looks great to hang over the couch? As a designer, I find this is generally what my clients need. So I head to flea markets to find original, inexpensive art and photography.
There are many undiscovered artists who did beautiful work. You can bring some of their pieces home from a flea market for a fraction of the price you'd pay in a comparable retail setting. Look for what you love, in a color palette that's pleasing and fits with your interior, and you can't go wrong.
Frames are also a great find at flea markets and generally cost about 80 percent less than their new counterparts. I always keep measurements in my phone, and throw a tape measure in my bag. In case I forget the tape measure, a dollar bill is exactly six inches, so that helps in pinch.
Mirrors, too, are great bargains at flea markets, and like furniture, they can be large and heavy, so they tend to go for bargain prices. Again, dealers don't want to carry them home, or risk breaking them.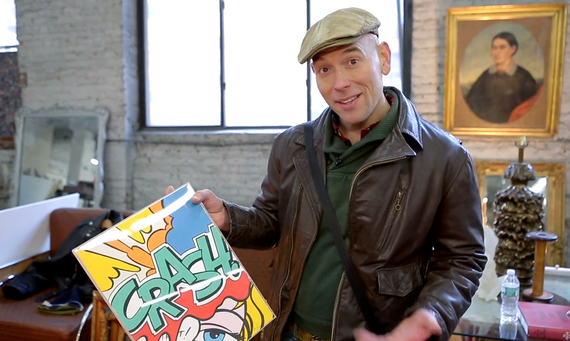 Think Gifts
Everyone in my life receives vintage gifts on birthdays and other holidays. I find that flea markets make excellent hunting grounds for unique, fun and memorable gifts. A few ideas that never fail to illicit smiles from recipients:
Costume Jewelry
Concert T-Shirts
Sunglasses
Vases
Books
Cufflinks
Framed Prints
Holiday Decorations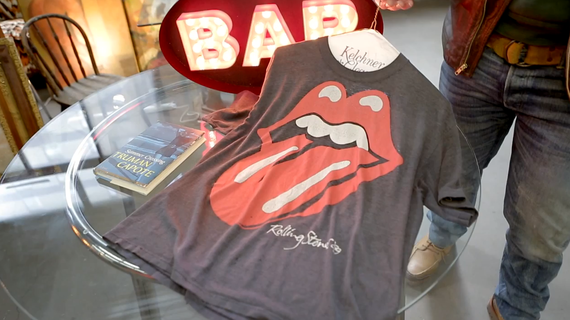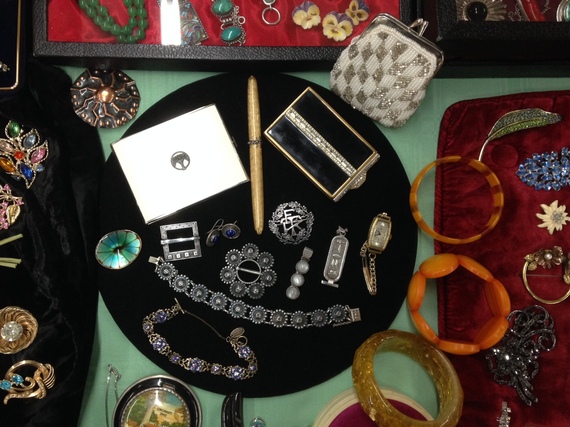 On my most recent trip to The Garage, I found a beautiful turquoise and silver necklace for $25, and a signed lithograph from a well-listed artist for $250. Both are gifts, and each recipient is very pleased. People appreciate unique, thoughtful gifts, and flea markets are full of them.
While it's generally not polite to reveal the price of a gift, my friends know I'm a bargain hunter, so I don't mind sharing the cost. I'm also proud to mention that upon researching the artist, I found that his work sells for significantly more than I paid!
No matter what I'm looking for on any given day that I visit a flea market, I always stumble upon things that surprise me, inspire me and pique my curiosity. Flea markets are a fantastic way to learn about the past, develop new interests, start collecting and meet fascinating people. Bring an open mind, a sense of fun and a bottle of water.
Oh, and don't forget some hand sanitizer as most flea markets have restrooms that aren't for the faint of heart. It's all part of the adventure. Happy Hunting!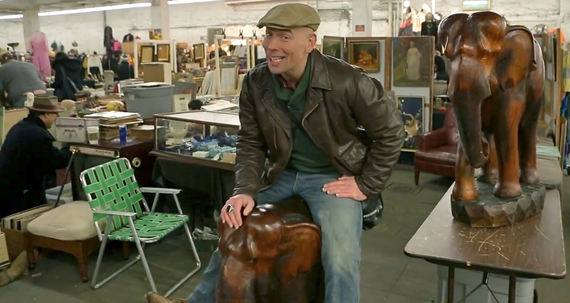 Check out my recent trip to The Garage Flea Market in Chelsea, NYC, where I've been going for decades. On this Saturday afternoon, I find a vintage motorcycle jacket, a piece of pop art, a turquoise necklace and a walnut side table:
Photos via Bob Richter